Last year I started to share more information about our travels and to give advice in case you want to travel to one of these places as well. Regarding our Florida trip, I already shared something about two of Miami's districts as well as one beach, and this week I want to talk about rental cars as well as my favourites places in and around Miami and I want to share eight facts about our Florida trip. And if you have read the caption, you already know, that today's post will be about those eight facts. Those facts are pretty random; it's about how we booked, what we experienced, what we liked the best and what we didn't like. And if you have been to Miami as well, I would love to hear about your experiences in Miami, what you like best about this place and what you don't like. But first read the eight facts about our Florida trip in the following:
1. When we arrived, we had only booked accommodation for the first two nights
Usually, we prefer our travels to be planned with all accommodations booked and knowing where we will stay and what we will do. But this time we didn't have enough time to plan everything. We booked the flight about two weeks before departure and we didn't stay as long as first planned. We first wanted to be in Florida for at least two weeks, but due to a lot of meetings and events, we had to shorten it to one and a half weeks.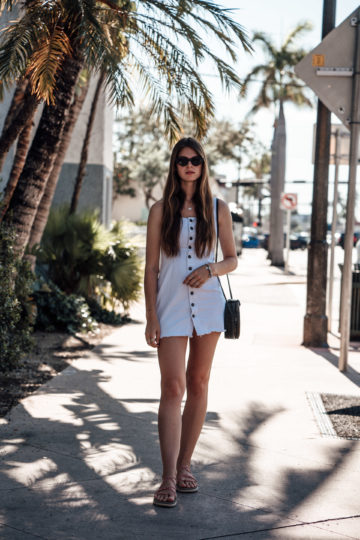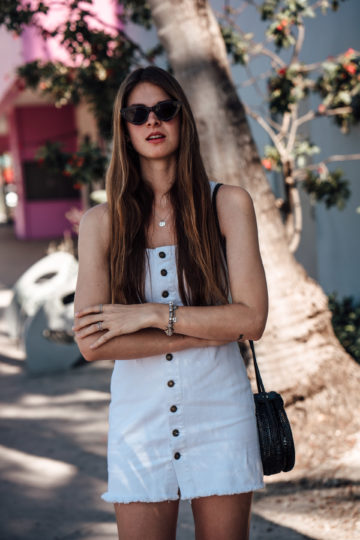 Even though we had less time, we did not only stay in Miami. We wanted to travel around a little bit and see some more parts of Florida. But until the day of our departure, we hadn't decided where to go. We knew that we would spend the first two nights in Miami Downtown because it seemed to be the perfect starting point for our trip. But afterwards? Good question. We ended up not travelling around that much. We rent two apartments, one about 30 minutes from South Beach and the other one in Hollywood, about an hour away. Due to that, we got to see a little bit more than just Miami, and it definitely was the right decision even though we still were very close to South Beach.
2. I changed my view on Miami
It wasn't my first time in Miami, the first and last time I was in Miami was in 2013. I had a great time back then, but I didn't keep Miami in mind as a place I would love travel to again. Everything seemed so artificial and I don't know, I just didn't feel it. Maybe it's because we didn't see that much of the city back in 2013 or maybe it's just because I was younger. But this time I got to see so much of Miami, parts I hadn't seen before. We did different things, and I definitely changed my view on Miami. Now I would definitely want to travel there again, I would plan the trip differently, but I would want to come back.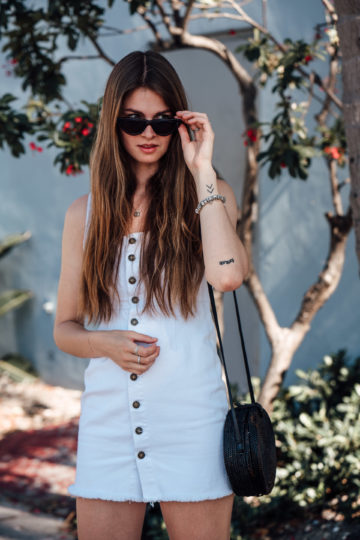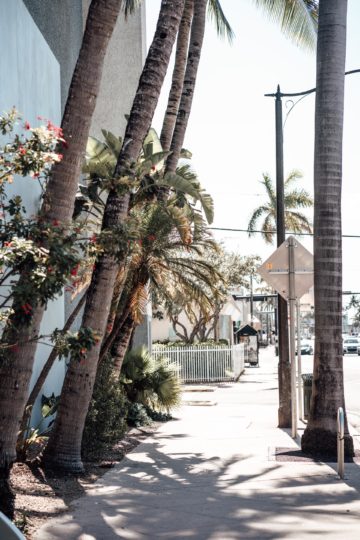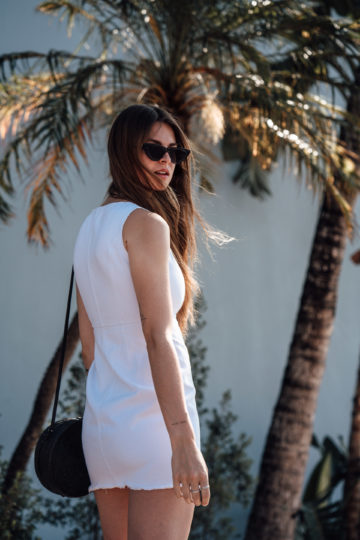 3. You can eat healthy in Miami
When I think of the United States, everything but healthy food comes to my mind. And I have to admit, that I was a bit afraid, that we wouldn't find good and healthy food spots in Miami with reasonable prices. I googled a little bit, scrolled through my Instagram feed and guess what? I found plenty of healthy food places in and around Miami. Of course, the prices were a bit higher than what we are used in Berlin – but Berlin always is cheaper hahaha. And most of the places were really good. There were a few where we got quite small portions for a too high price, but overall I was pleasantly surprised.
4. April is a good time to travel to Florida
I think the weather in Florida is always good compared to Germany haha, but it actually was quite perfect when we were there in April. Yes, we had a few rainy days, but it wasn't that bad. It wasn't raining all day long, and in between some rain showers, the sun came out, and we got to enjoy some time on the beach or wherever we were at this time. It also wasn't too hot or too cold end of April. We got to enjoy temperatures around 30°C, but due to the breeze, it felt more like really nice 25°C.
5. We really enjoyed driving around in our Jeep Wrangler
It was the best decision to get a rental car and to get a Jeep Wrangler in particular. I absolutely fell in love with this car, and now I want one in Berlin as well hahaha. We drove around 500 miles, that's around 800 kilometres, and it wasn't exhausting or stressful at all. Driving in the United States is so different from driving in Germany. The streets are bigger, and everybody seems to be so much more relaxed.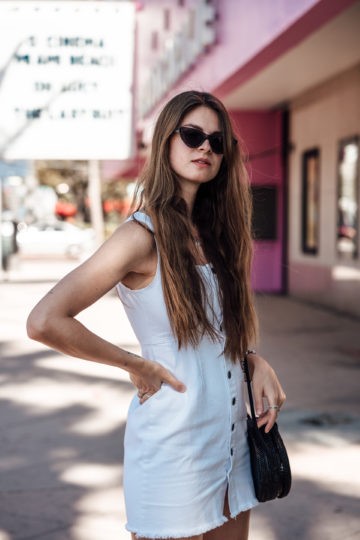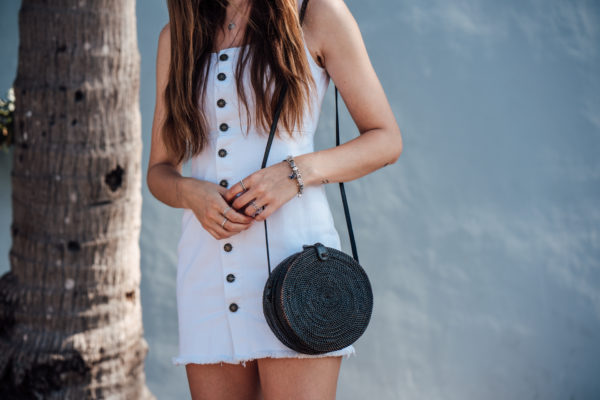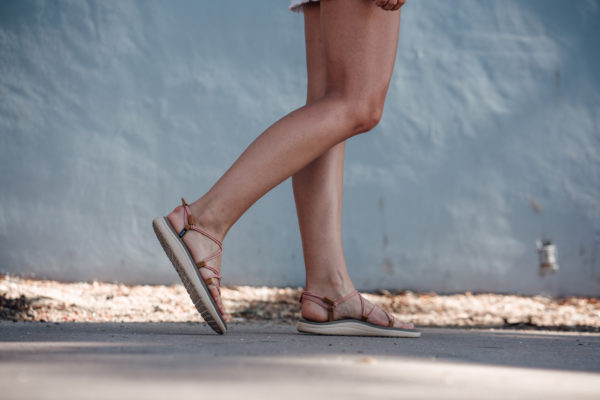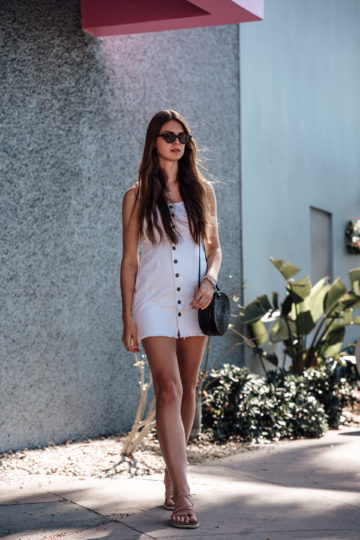 6. I could have spent hours in the supermarket
Guys, I love supermarkets in the United States! They are sooo big and have such a wide choice. I could have spent hours there just strolling through the alleys haha. My boyfriend got annoyed everytime we were in a supermarket because he just wanted to buy what we need and leave asap. But I wanted to see everything and to buy what we don't have in Germany. You may know, how much I like food, I really enjoy eating delicious things. That's why not checking the whole range would feel like missing out on something!
7. You will find shooting locations everywhere in Florida
Finding nice shooting locations in Florida wasn't a real challenge. I could have taken pictures everywhere. One reason is the great light, another one the tropical plants as well as all the colourful houses and the beautiful beaches with its lifeguard stations. If you follow me on Instagram, you might have seen all the pictures I have shared so far, and I still have quite a few left. The pictures I take in Berlin are usually very minimal and monochromatic. In Florida, I enjoyed taking pictures in front of colourful walls and with palm trees in the background. Especially Wynwood was a shooting location heaven with all the graffiti walls and the street art.
8. I bought four pairs of new shoes
I truly don't like going shopping, and it actually wasn't something I had planned for our Florida trip. But as it was very rainy one of the days, we didn't know what to do but driving to an outlet mall. And guess what? I ended up buying three new pairs of shoes there. I finally got the plateau Converse shoes I was looking for for months (almost years). I got them in white and in black because the price was about 50 percent lower than what you have to pay here in Germany. The third pair of shoes I got are Vans Sk8-Hi. I was looking for a particular colourway, but I couldn't find it in my size. Then I found a similar colourway and couldn't resist.
The fourth pair of shoes I got are Dr. Martens you might have seen on Instagram. I wanted a pair of Dr Martens for sooo long, and now I finally got them, you probably can imagine how happy I was once they arrived. 🙂 I was wearing them on one of our last days in Miami, and I will share the outfit pictures on the blog later this week, so stay tuned.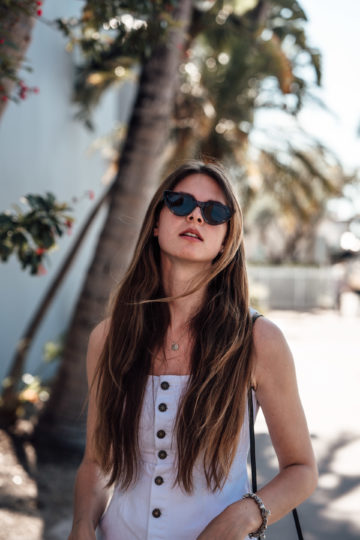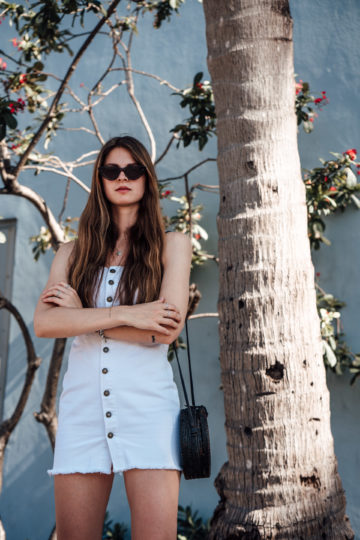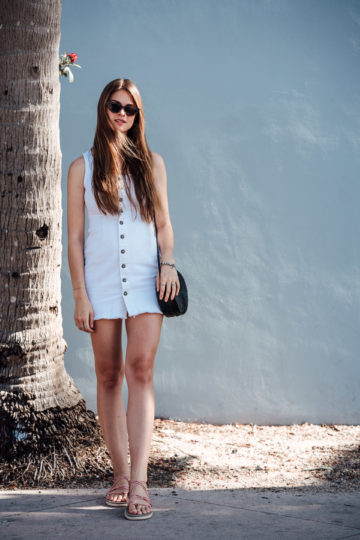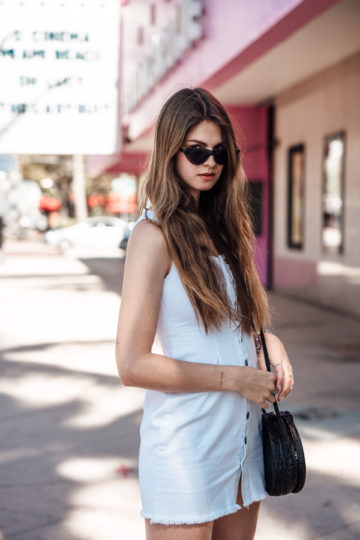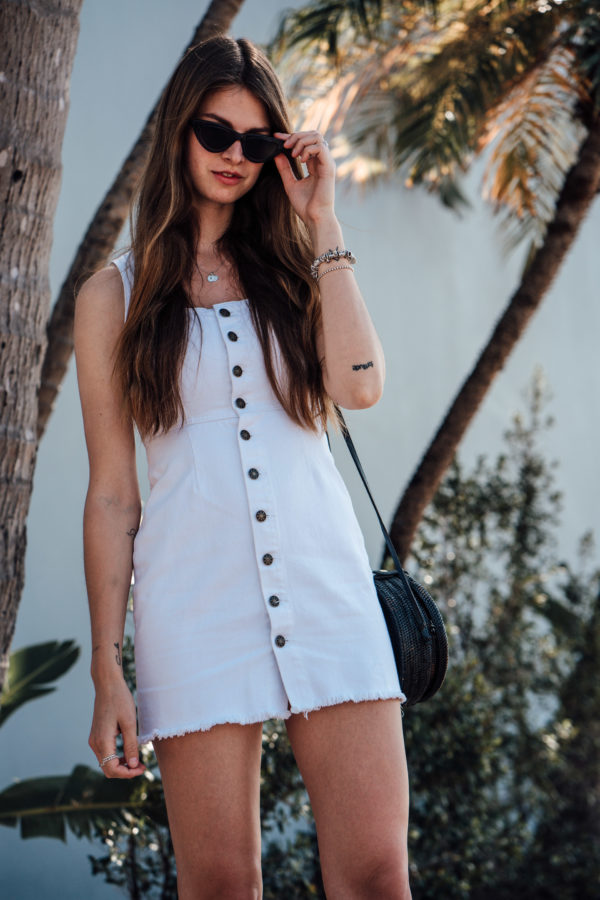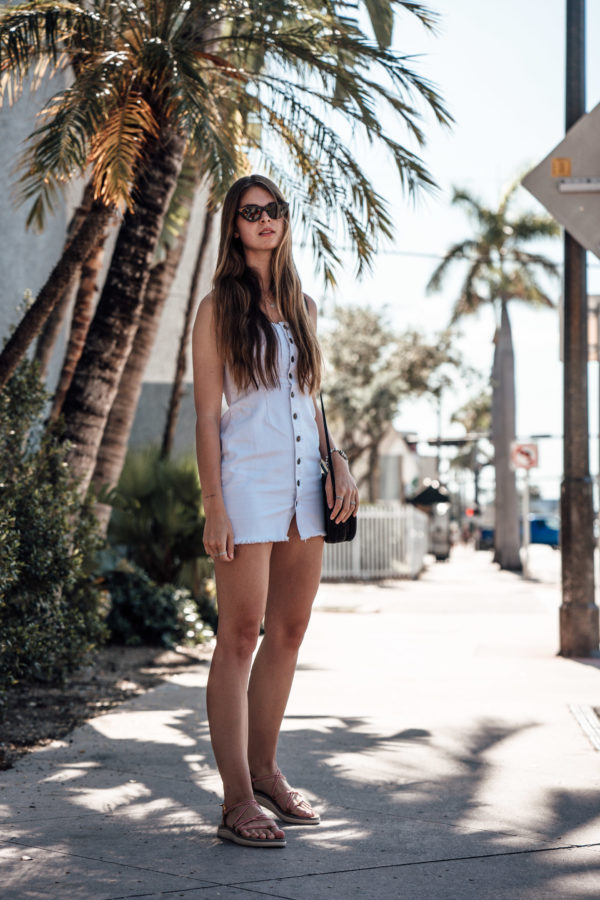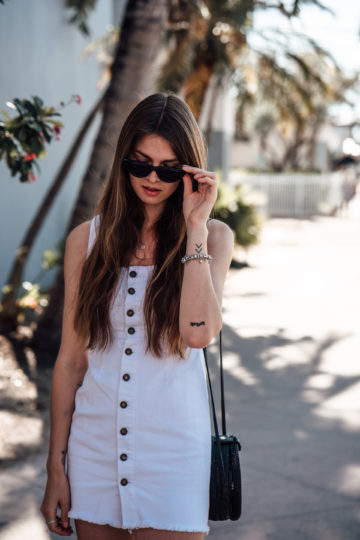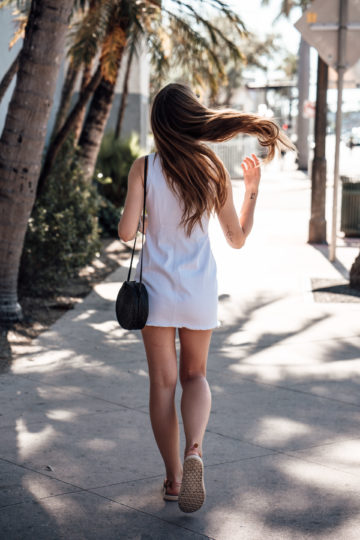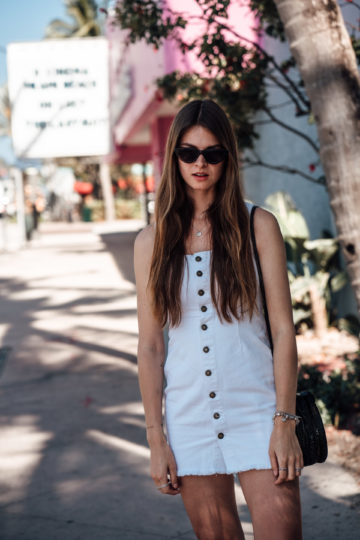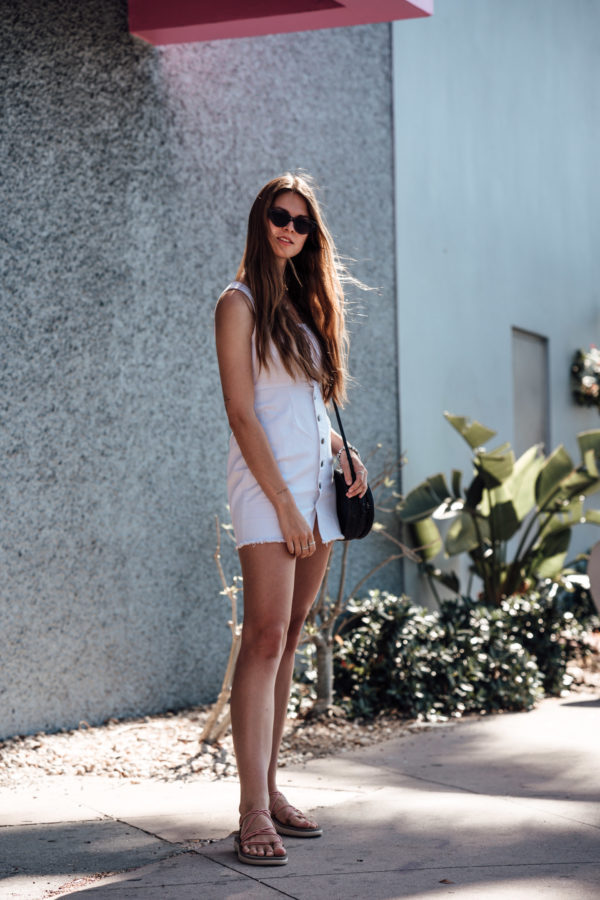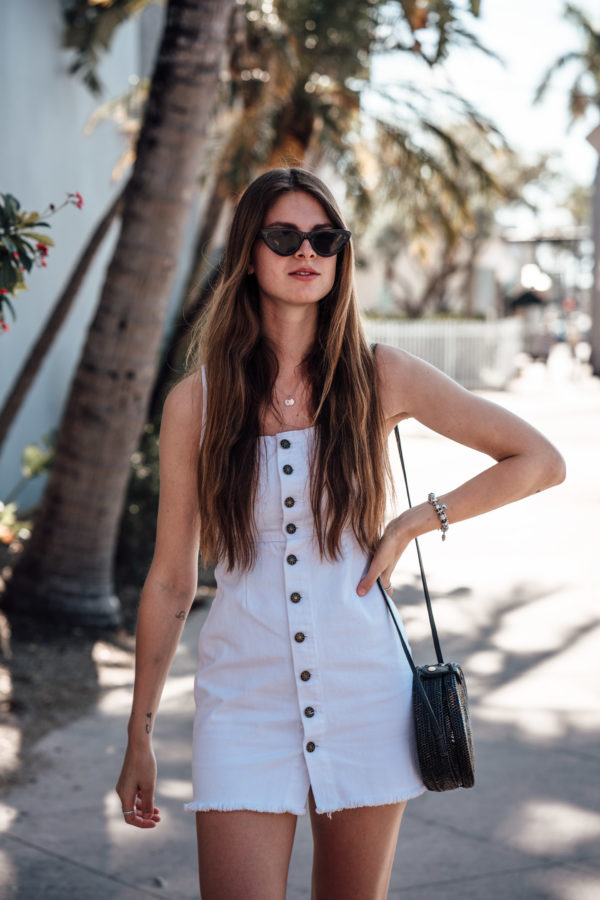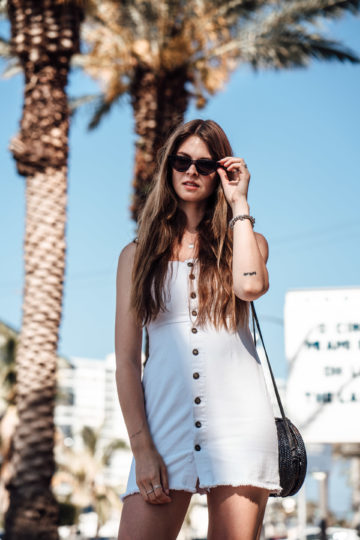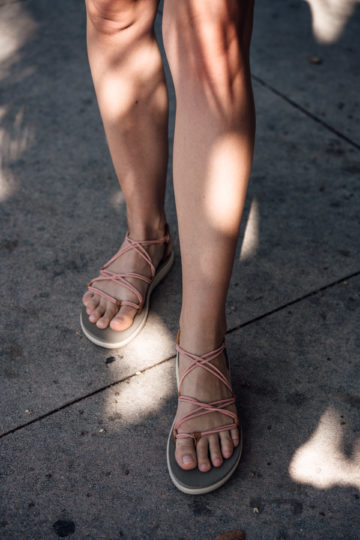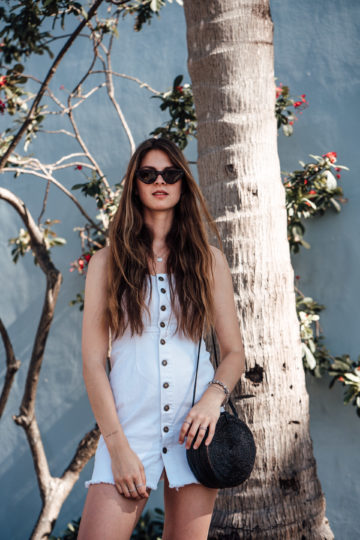 *PR Samples contained – Lioness Dress || TEVA Shoes || Chimi Eyewear Sunglasses