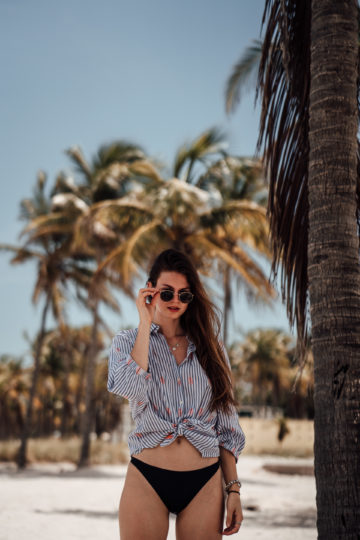 Happy Monday everyone! Last Saturday I arrived back in Berlin, but don't worry, I still have a few pictures from Miami left. Therefore we will virtually stay in Miami a little bit longer and this week will be all about our Florida travel. Today I want to talk about one of the places we visited and that I can truly recommend: Key Biscayne. It is one of many beautiful beaches we got to spend some time at, but it is the only one we also took some pictures at. I can't wait for you to see them and to let me know, what you think. But first of all, I want to mention the other nice beaches I won't write a blog post about Hollywood Beach, North Miami Beach as well as South Beach.
You may know the last two beaches; these are the most common beaches in Miami. Hollywood Beach is a bit further, about an hour from South Beach. The water was very clear, it wasn't too crowded, and palm trees are everywhere on Hollywood beach. It definitely is worth a visit, especially if you want to escape the more busy beaches in Miami.
What to see in Miami: Key Biscayne
Key Biscayne is much closer to South Beach, but it also takes about 30 minutes to get there. I had seen it one several posts on Instagram and the reason why I wanted to go there where the palm trees. They are everywhere on the beach in Key Biscayne! The landscape looked absolutely amazing, and it does not only on pictures, but it is also as beautiful in reality. It was a great decision to go there, even on the weekend. Of course, it was a bit busy the Sunday we were in Key Biscayne, but the atmosphere still was very relaxed, and it wasn't too crowded. Some families had BBQ's close to the beach; others were just sunbathing on the beach.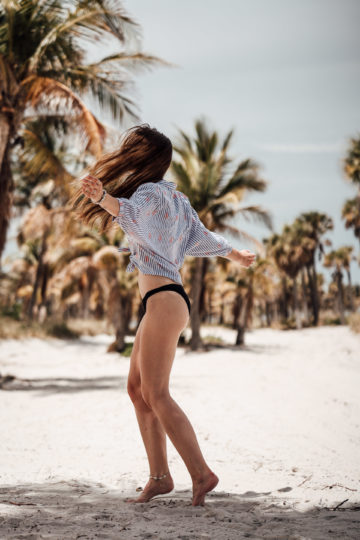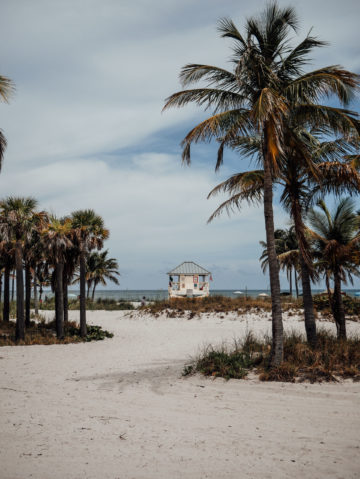 The beach we were at in Key Biscayne is called Crandon Beach. But it is not only a beach; it has much more to offer. It is a park, one of Miami's greatest, with even a Family Amusement Center, a nature centre and a place to rent cabanas. Sounds like a very busy place, right? Don't worry; you won't notice any of these attractions when on the beach.
And as I mentioned before, Cardon Beach in Key Biscayne is not only a great place to relax, sunbath and take some pictures between palm trees. You can play beach volleyball, have a picnic or BBQ as well. For the BBQ you will find a few on-site grills there, so you only have to bring the food and can prepare it there. That's so cool! We did this kind of BBQ by the beach when we were in Australia, and it was so much fun.
Things to do in Key Biscayne
Of course, Key Biscayne has more to offer than just a beach. I already mentioned the Family Amusement Center as well as the nature centre. In addition to this, they have the Bill Baggs Cape Florida State Park, that is home to the Cape Florida Lighthouse. You can go kite-boarding, paddleboarding and kayaking or rent a bike and drive around Key Biscayne. And last but not least, there are a few very good restaurants and cafés. You see, there are quite a few things you can do in Key Biscayne.