Happy Friday everyone! The weekend is coming closer, and I am sure you guys can't wait for it to begin. 🙂 I am sure you have some exciting plans for the upcoming two days, and whatever you will be up to, I am sharing an outfit inspiration today that may suit your plans for the weekend. Well, if you will spend most of the time at home, you would be a bit overdressed in this outfit. But if you want to meet up with friends, if you have a date or have dinner in a nice restaurant, this outfit might be a perfect choice.
I was wearing it a while ago, and I already shared it on Instagram. You guys liked it a lot, and that's why I couldn't wait to share it on the blog as well. I didn't share it as soon as I wanted to, but that's because I had other outfits that were more suitable for the party rainy and sometimes still cold weather in Berlin. But now that spring has finally arrived, I can share this outfit with you, and I hope you will like it as much as I do.
Chic Spring Outfit Idea
When I have to choose between casual and chic, I probably will go for casual. But sometimes it's nice to wear something different, and that's why I put together this chic spring outfit the other day. It's not that I don't like chic outfits, but casual ones are easier to put together, and often they are more practical as well. And spending most time of the day at the office, I prefer something comfortable.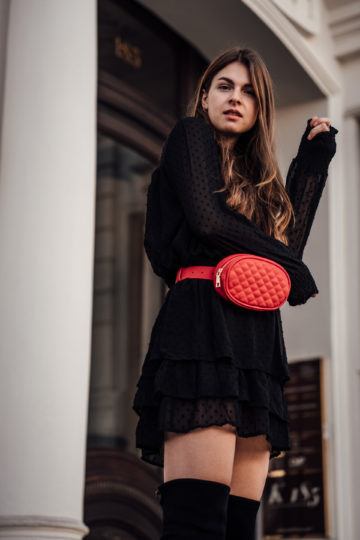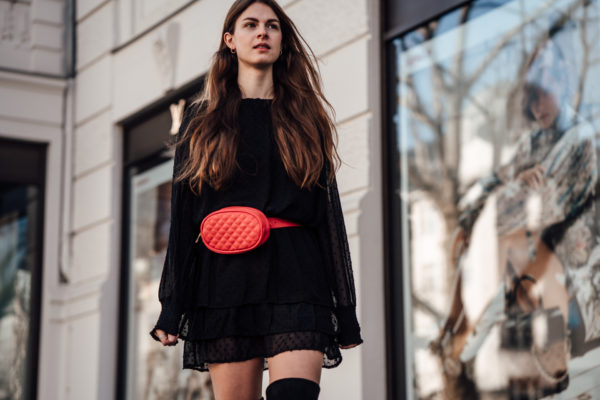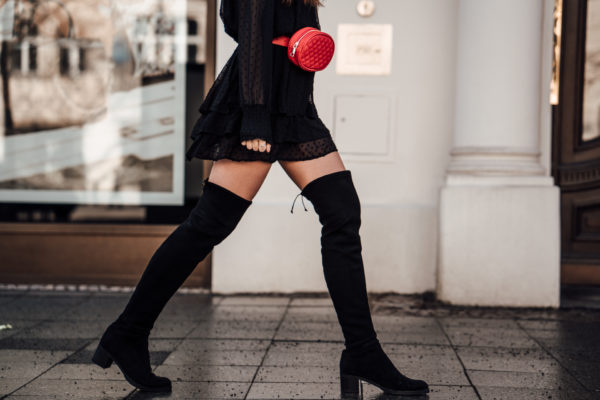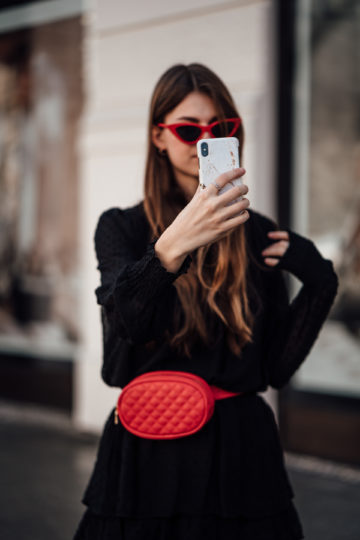 But there are some occasions I need a chic outfit for, and then I often go for a dress and boots combination. The boots I love to wear at the moment are my overknee boots as I told you last week. I actually wear them in spring only since I don't like to wear them with jeans or pants. And my all-time favourite combinations is the dress and overknee combination. You might see me wearing this outfit combination more often this spring. I got the boots; I just need me more spring dresses to combine them with.
Combine your dresses with a belt bag
You already know that I was wearing one of my favourite combinations: a dress and overknee boots. But I also added a few accessories to make it a more interesting outfit. The accessories I chose might seem quite uncommon for me, and yes, they are actually nothing I would usually choose. Usually, I would have combined this black dress and the black overknees with a black cross-body bag. But this time I opted for a belt bag, a red belt bag to be exact. I talked about belt bags and this whole trend a while ago, and I still like it a lot even though I first was a bit sceptical about it. Belt bags are just too comfy, and they are always an eye-catcher. In this case, I love how they add shape to this look. I got this dress one size up because I didn't know if it would be long enough. Due to that, it is quite loose, and I definitely should wear it with a belt. Thanks to the belt bag I didn't need a belt, because as its name implies, it is both 😉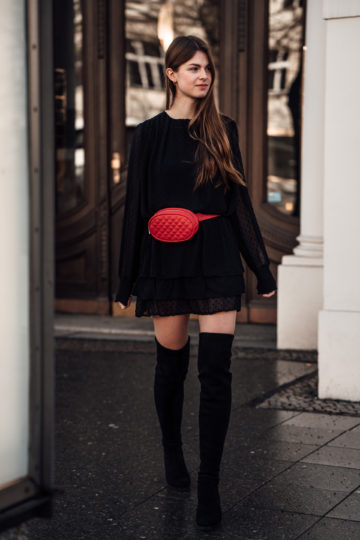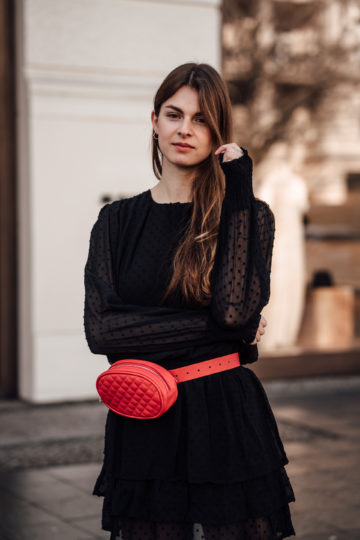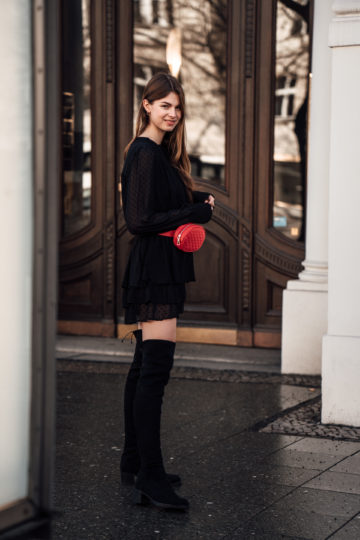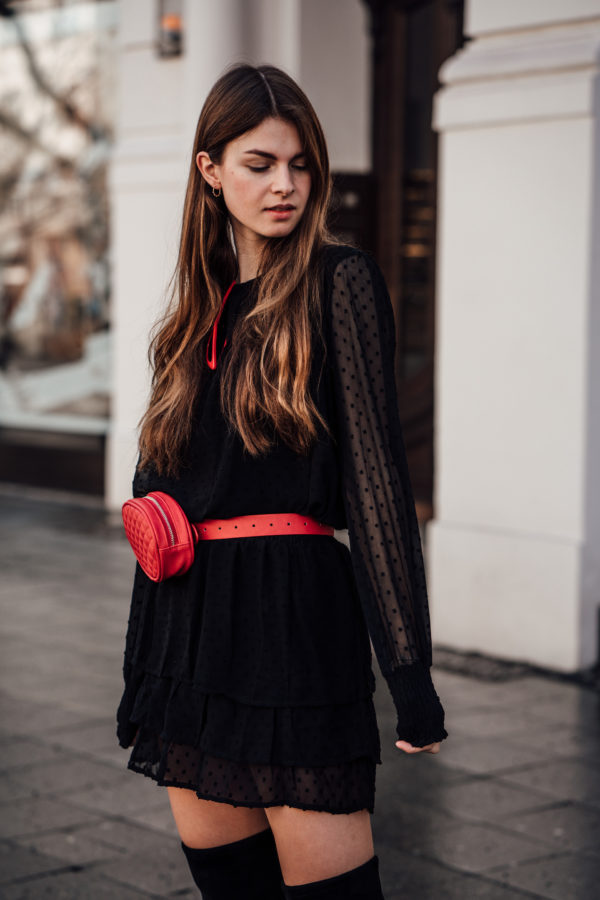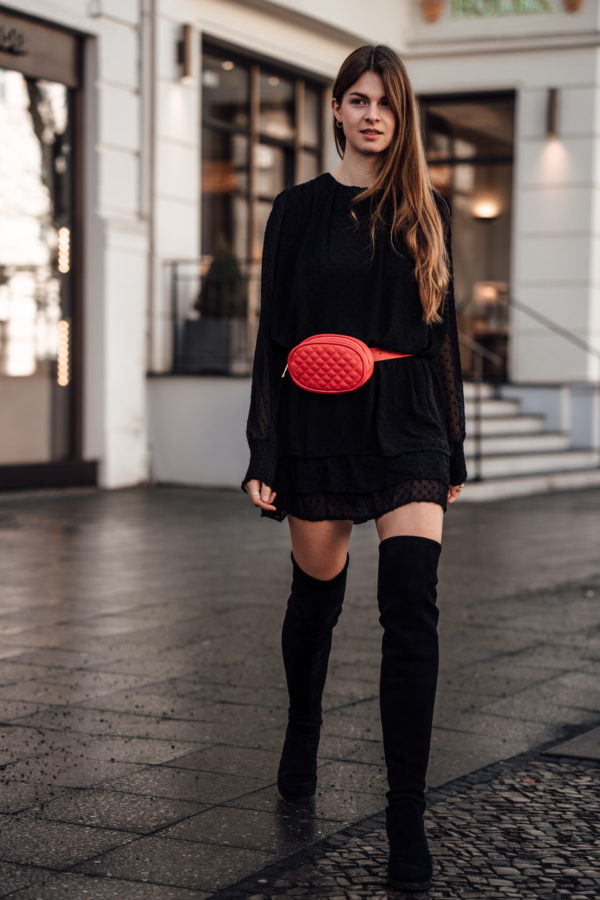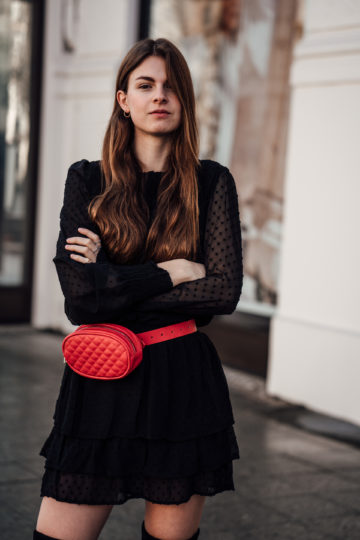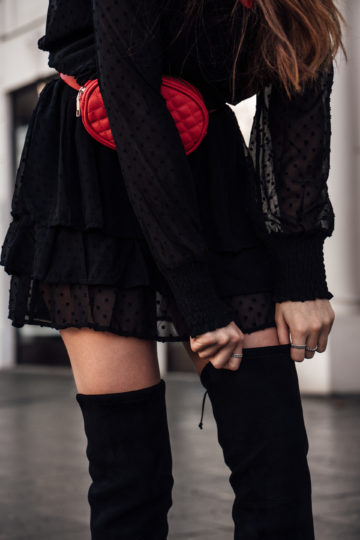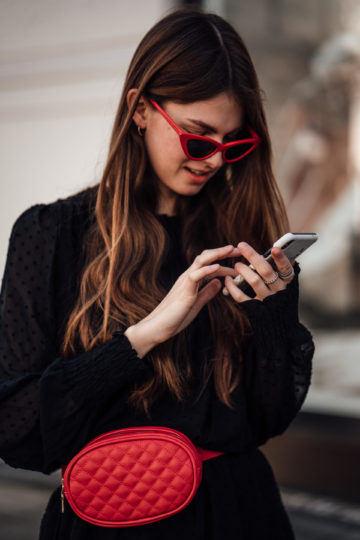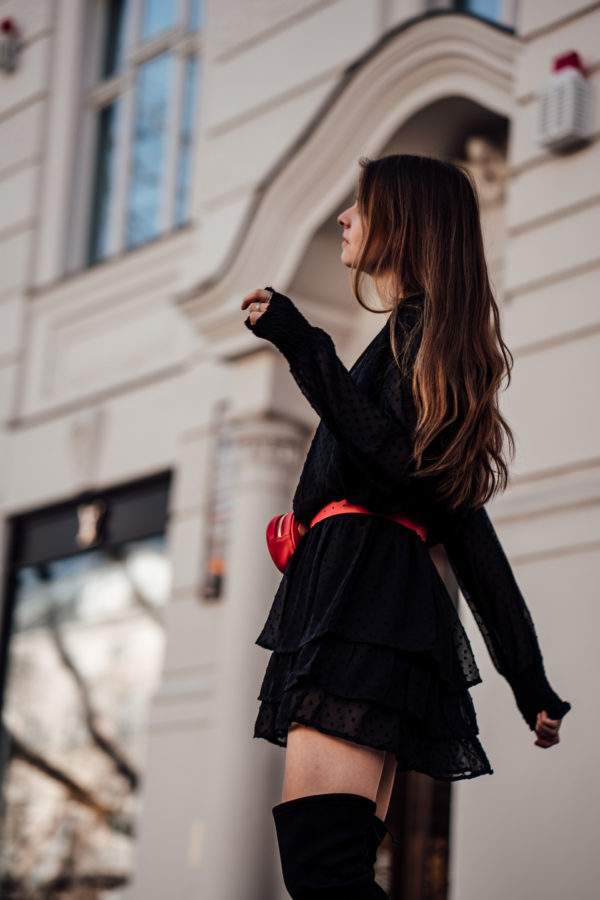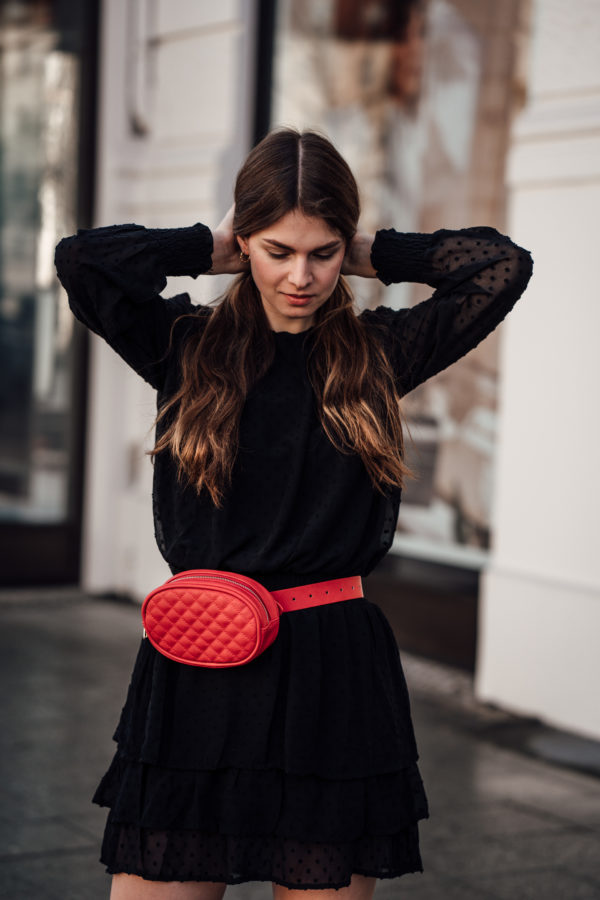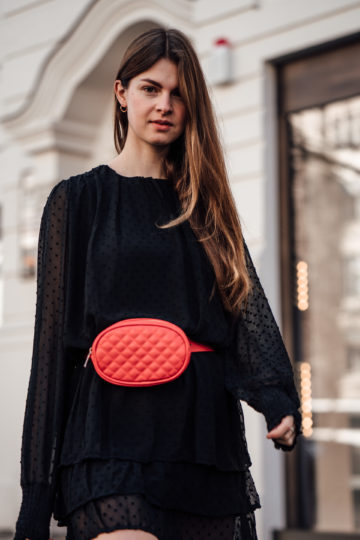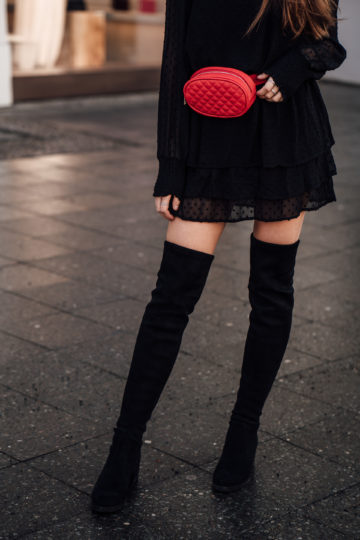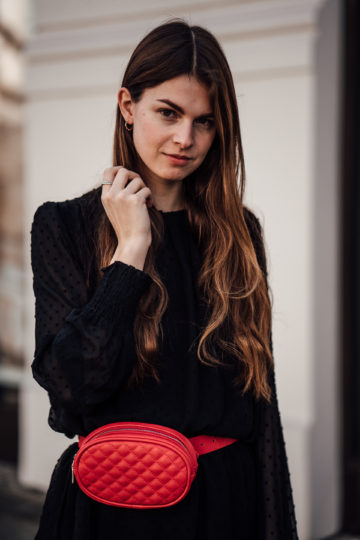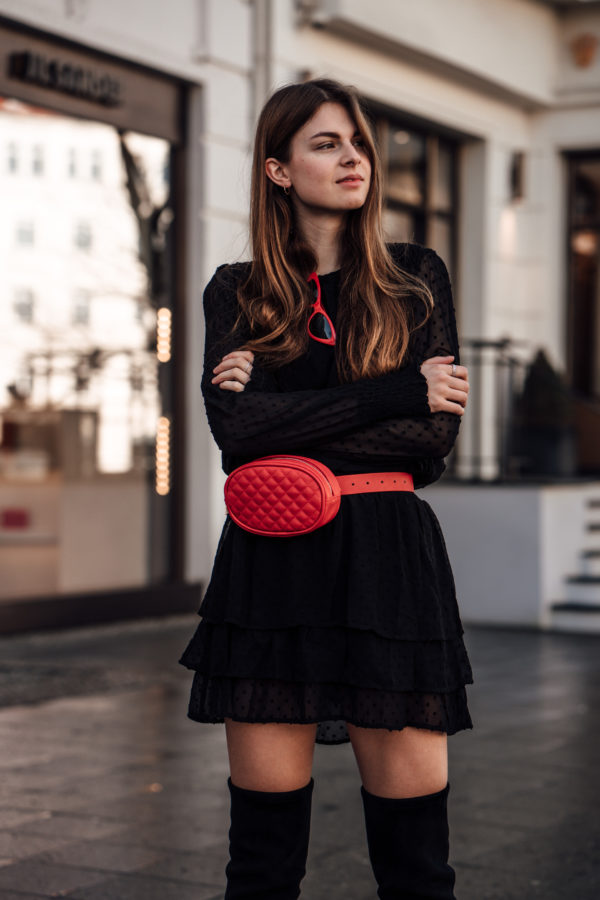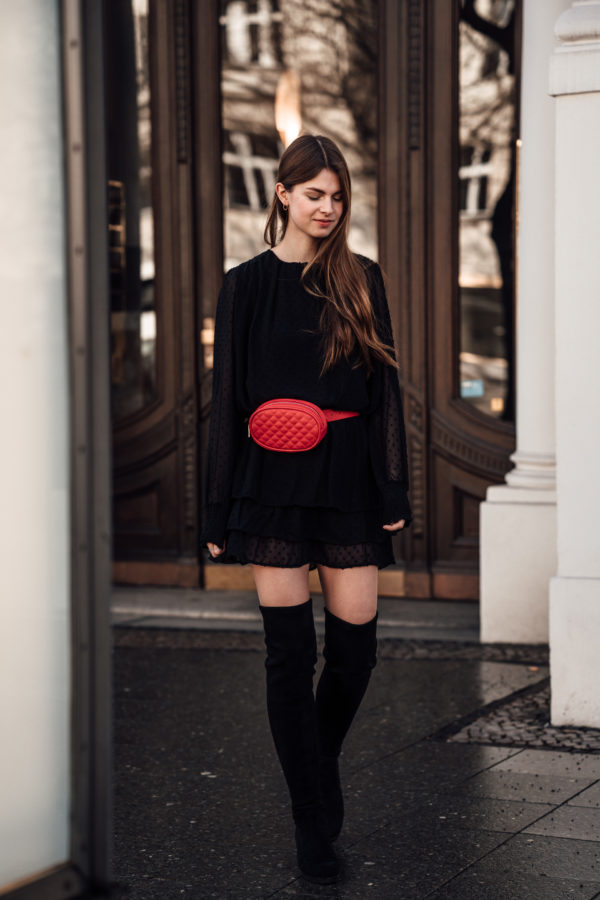 *PR Samples contained – Loavies Dress || Buffalo Overknees || Loavies Beltbag