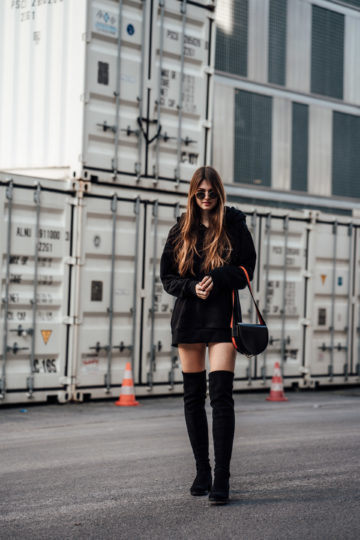 Oh, I love that it is finally getting warmer in Berlin and that I get to wear my overknee boots without the need of wearing tights or jeans. I got so many overknees outfit ideas in mind, and I can't wait to wear all of them and share them on the blog.
I was wearing one of those outfit ideas about two weeks ago, and today I am finally sharing it with you. If you follow me on Instagram, you might have seen it already. If not, today is the first time. Either way, you are going to get more information about all the outfit details today.
How to wear overknees this spring
To me, overknee boots are essentials you need in your closet. But it actually isn't easy to find the perfect pair. At least it wasn't for me. I talked about it before so that I won't get into details again. Overknees are available in different lengths and styles, but if you want to combine them with dresses, long hoodies or shirts, you should get a pair of long overknee boots with at least a small heel. You also shouldn't combine your overknee boots with very short dresses, because it might look unflattering. Too short dresses, long shirts and sweaters or hoodies usually doesn't look that good even when you are combining them with a different pair of shoes.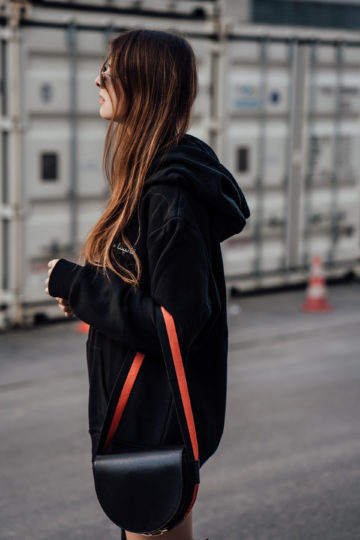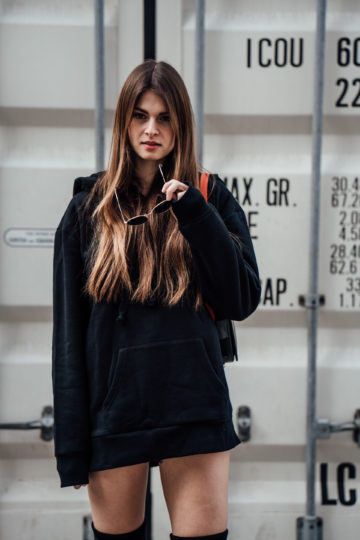 But back to the main topic: how to wear overknees this spring. I don't like the combination of overknees and jeans, so I usually only wear them in spring and autumn. And when I wear them, I always combine them with skirts, dresses or long shirts. The other day I tried something different, I combined my overknee boots with an oversized hoodie.
Overknees combined with an oversized hoodie
I got this oversized hoodie a while ago, and I couldn't wait to wear it. I tried to combine it with skinny jeans but didn't like it. I tried other outfit combinations, and I ended up wearing it with overknees. The hoodie is quite long, but not long enough to wear it as a dress, so I had to put on shorts as well. I was hoping I wouldn't have to do it, but I am quite tall and had no choice haha.
In some of the pictures, you can see what I was talking about when I said that too short dresses, long shirts etc. might look unflattering. Your legs might look bigger and shorter than they are.
That doesn't mean that you can't combine overknees with an oversized hoodie. Just make sure it is long enough, so you don't have to wear shorts underneath. When you don't have to wear shorts, you know the hoodie isn't too short and will make you look fatter or shorter than you are 😉
I didn't add a lot of details to my look that day, I just put on a pair of round sunglasses and wore my Liebeskind Berlin bag, and that's it. How do you like it? Would you combine overknees with an oversized hoodie the way I did it?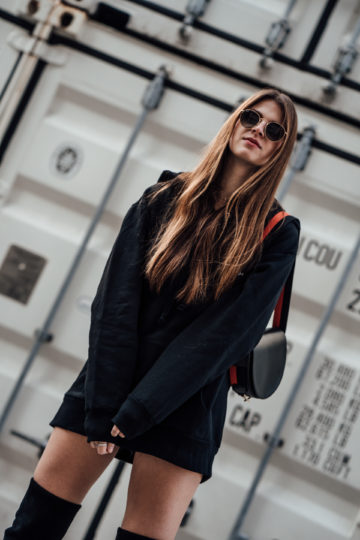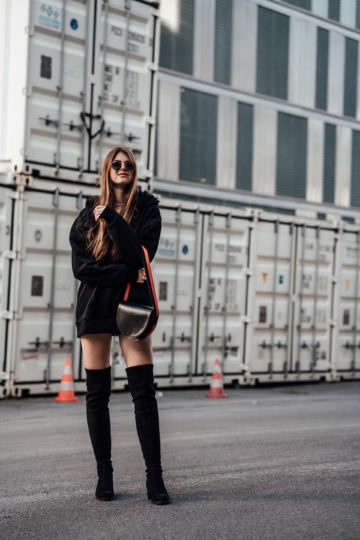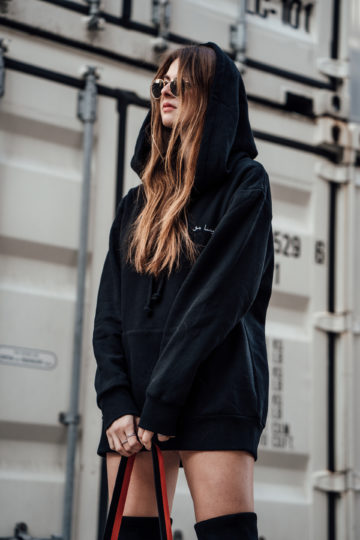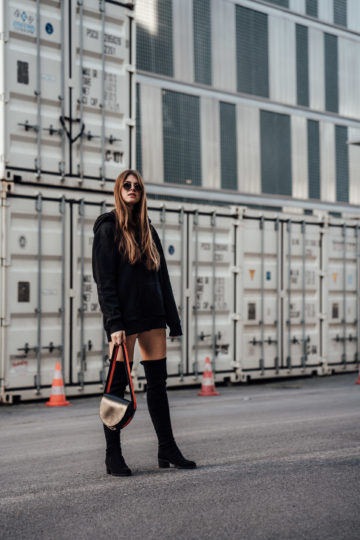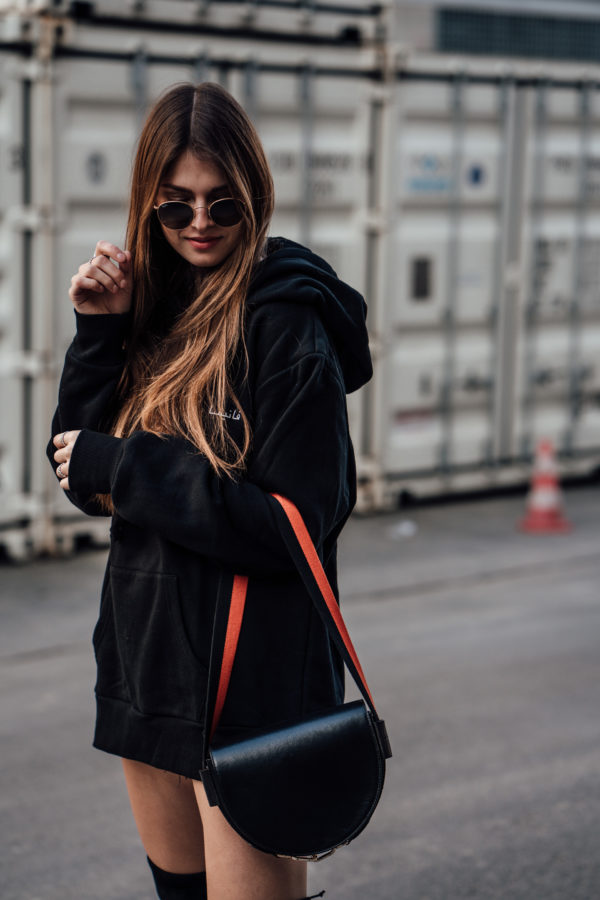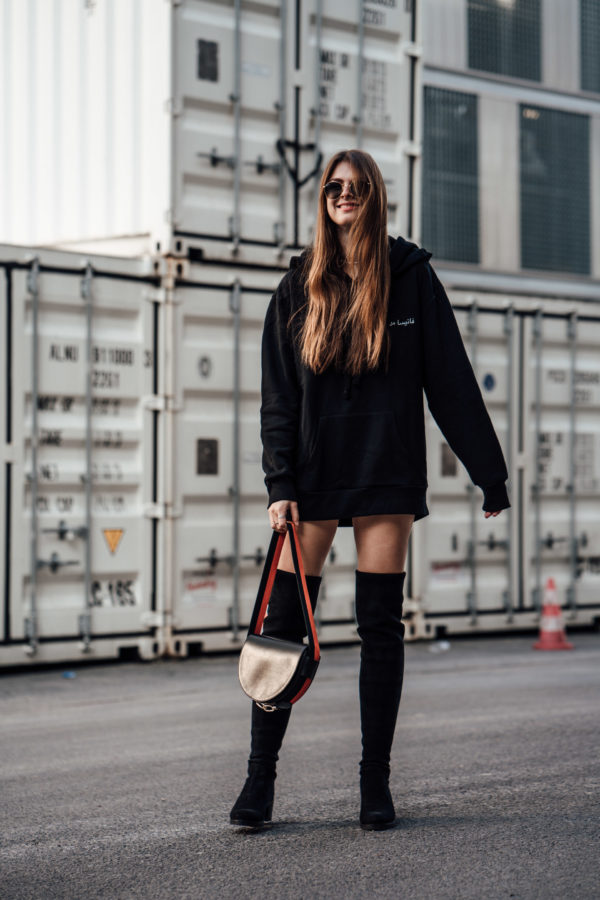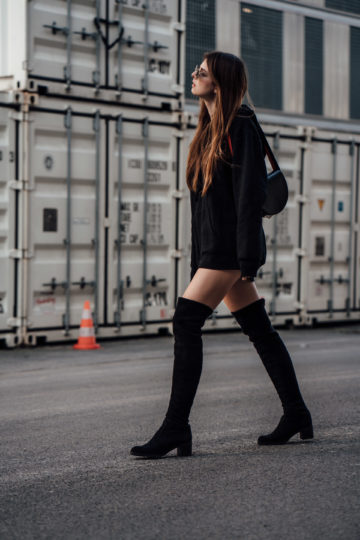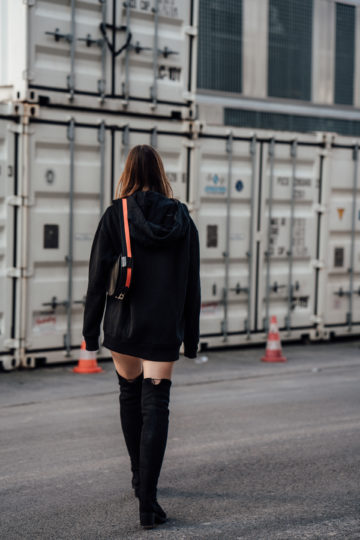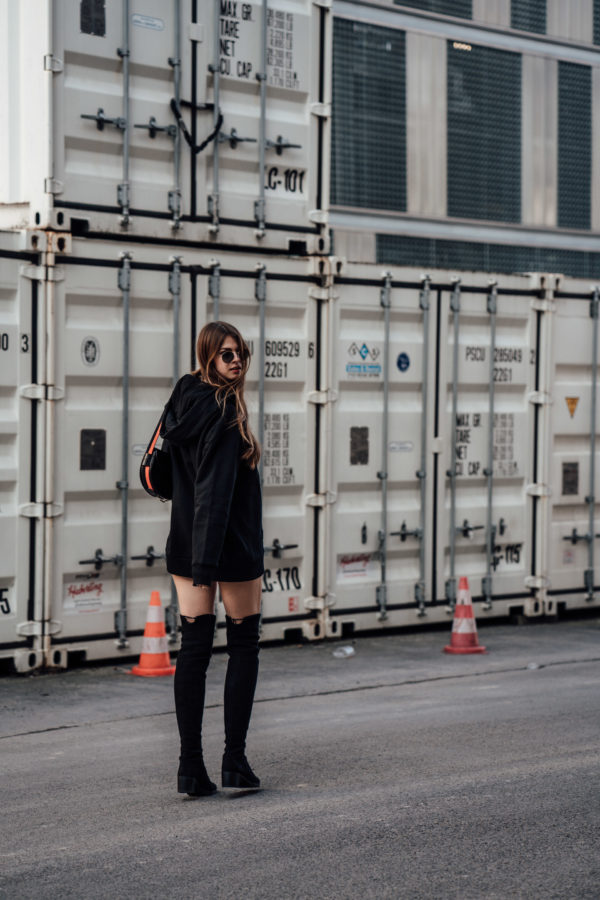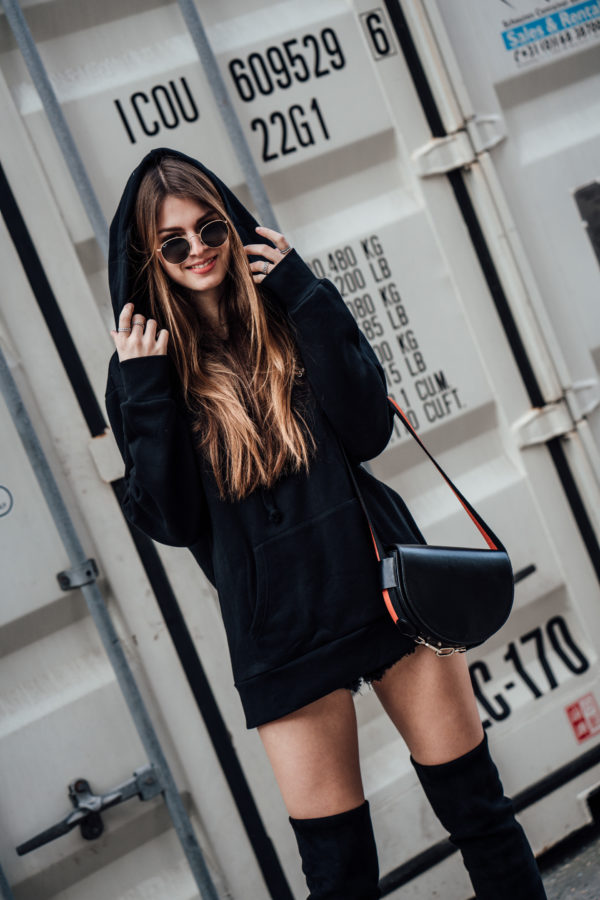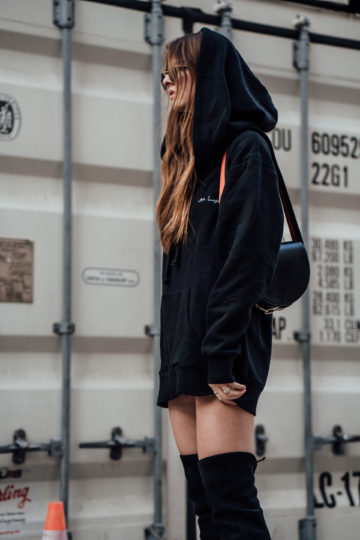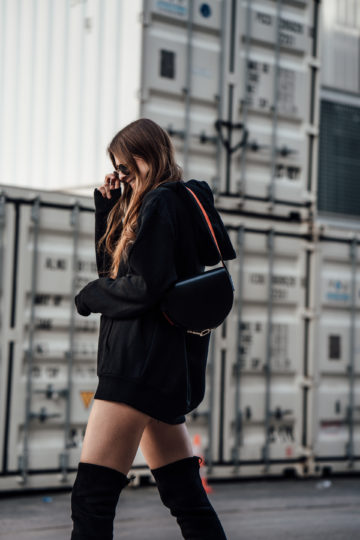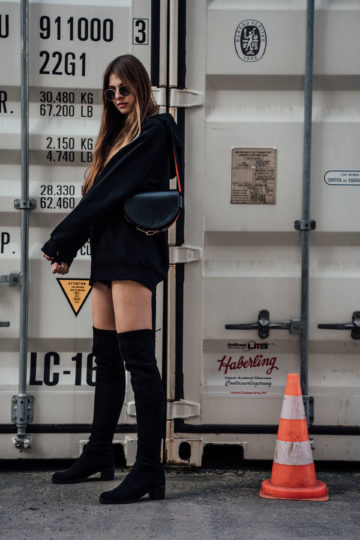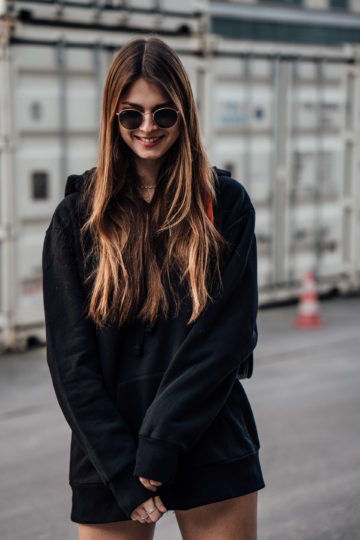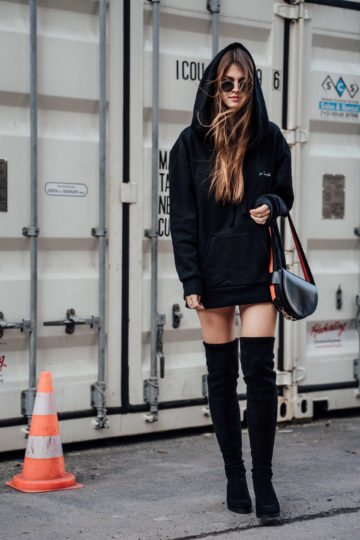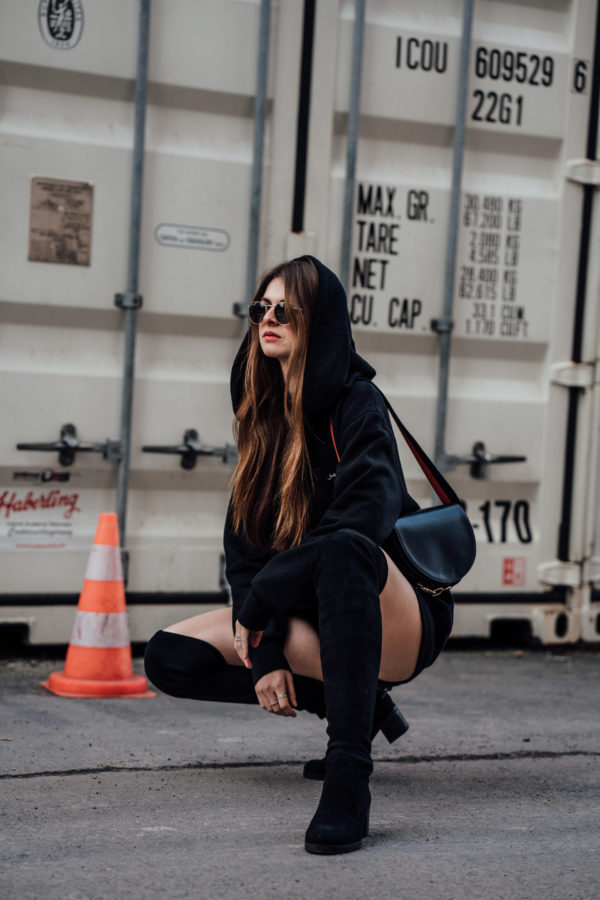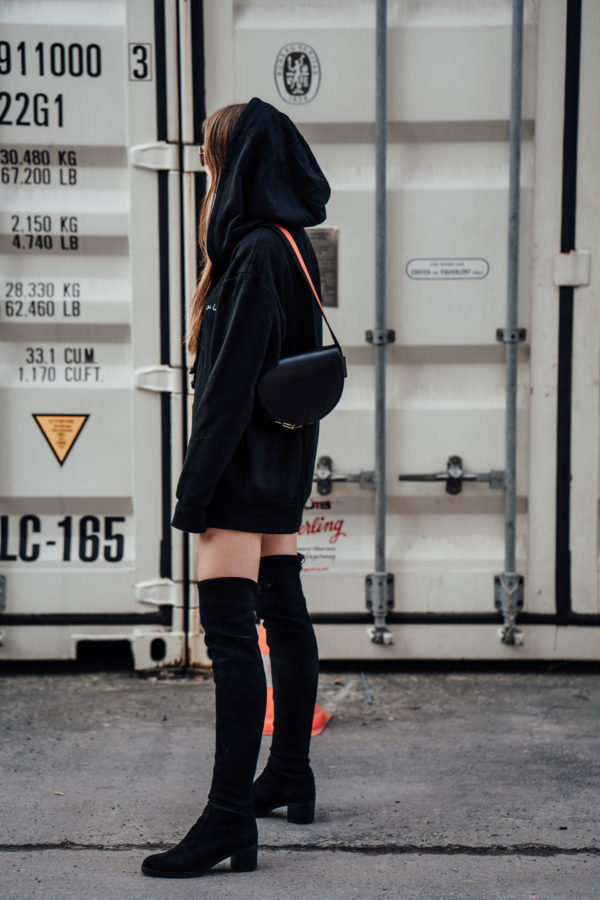 *PR Samples contained – Na-kd Hoodie || Buffalo Overknees || Liebeskind Berlin Bag || Ray Ban Sunglasses