Good morning from Miami! It feels so good to be here even though we just arrived and had only a couple of hours before going to bed haha. But I am already super excited about the warmness and the sunshine. While you are reading this, I am probably still asleep as it's six hours earlier than in Germany here – or do you say later? Well, when it is 1 pm in Germany, it is 7 am in Miami.
I prepared this post yesterday evening to make sure; there won't be a lack of posts here on the blog while I am in Florida. I also prepared a post for tomorrow, and on Sunday I will share the first pictures and information about our Florida trip with you. But until then, you have to put up with two outfit pots from Berlin, and I will get right to the first one. I was wearing this outfit about one and a half weeks ago, and it was a beautiful spring day in Berlin. It was a bit windy, and I didn't want to freeze, that's why I put together the following outfit.
How to wear a cropped leather jacket
The key piece of this outfit is this cropped leather jacket I received the other day. I do have a thing for leather jackets, that's no secret, and I talked about it before. I sorted out quite a few leather jackets a while ago, and I haven't been wearing them that often anymore. But I still like them a lot, and it was love at first sight when I saw this one online.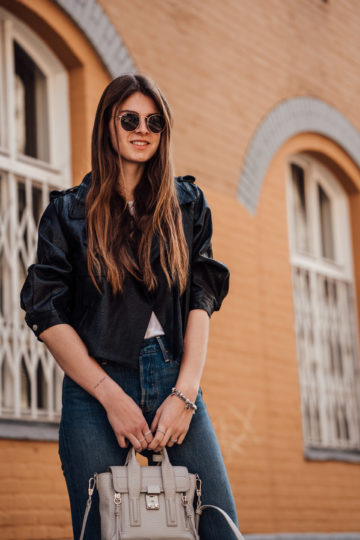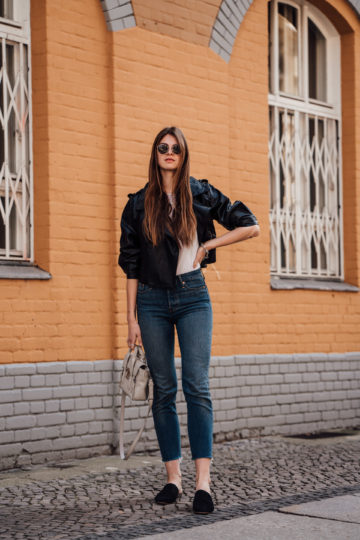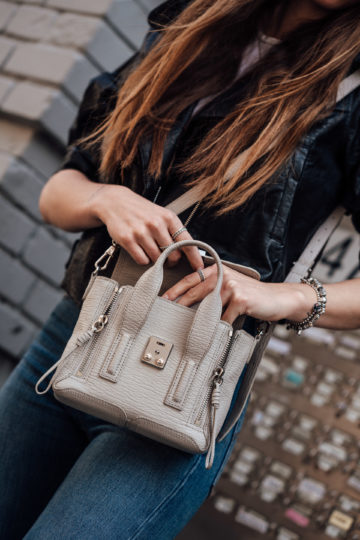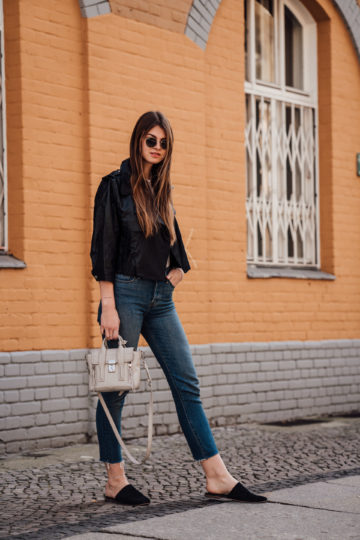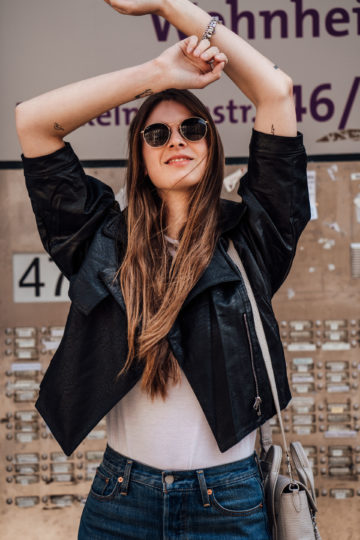 I really like the cut. It is so different to all the other leather jackets I have with it's cropped cut and the slight puff sleeves. It isn't a leather jacket you can wear on cold spring or autumn days, but it is perfect for balmy summer days. You can combine it with summer dresses as well as denim or skirts. I can't wait to try all the outfit ideas I have in mind.
Leather Jacket combined with Mom Jeans
When I was wearing my new cropped leather jacket for the first time, I opted for a very casual outfit. I opted for something I could perfectly wear on a relaxed Sunday when having coffee in a cute café and watching my boyfriend play soccer. Therefore I combined the leather jacket with a pair of mom jeans, a white t-shirt, black mule sandals as well as round sunglasses and my favourite Phillip Lim bag.
This outfit is super casual, very comfortable and it definitely served its purpose. But I would not only wear this outfit on a Sunday. It is one of those "everyday outfit uniforms". I would wear it on a long day at the office as well or when meeting up with friends or my family. To sum up, I would say, that this outfit is the perfect everyday outfit. And if you wear a pair of high heels or heeled boots instead of the mule sandals I was wearing, you can transform it into a casual chic outfit. That way you can even wear it when you need something chicer for a meeting or event. Enough said, now it's your turn. How do you like this outfit? And when would you wear it?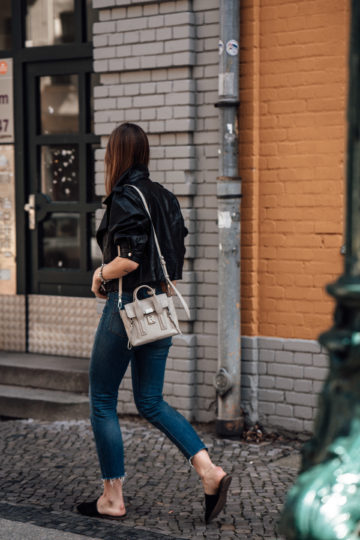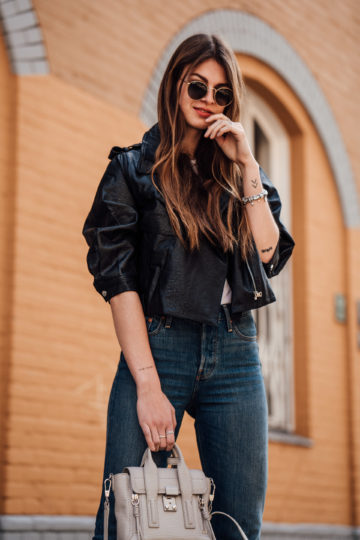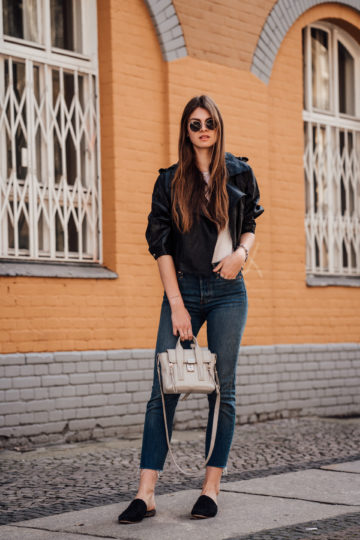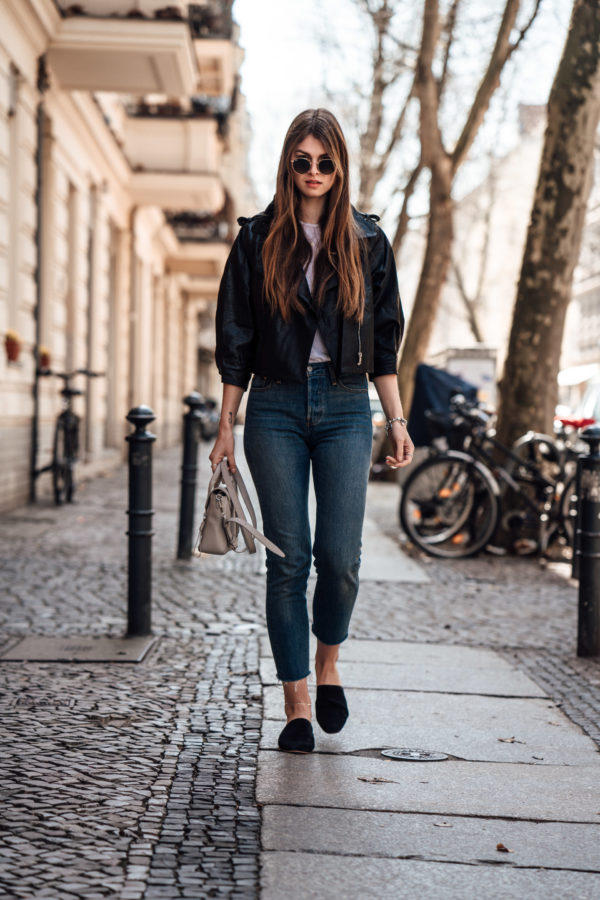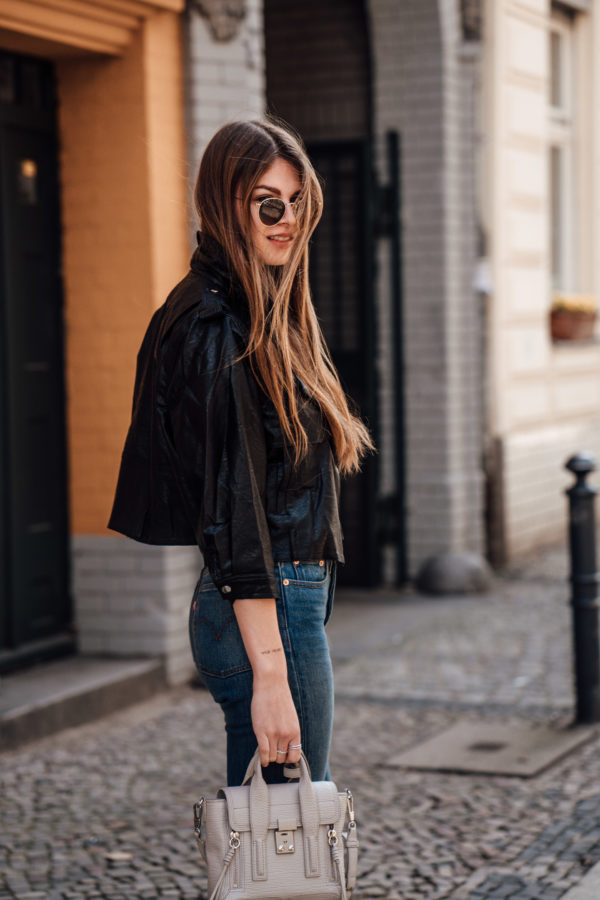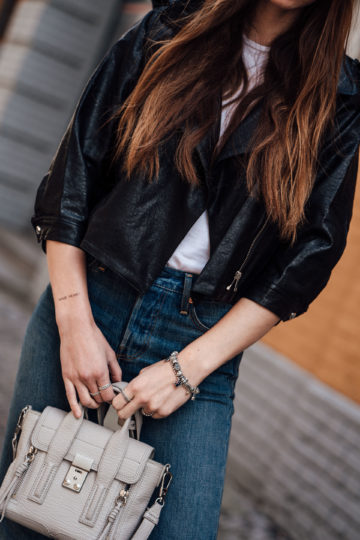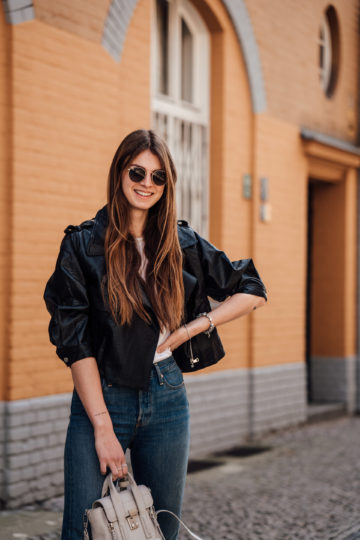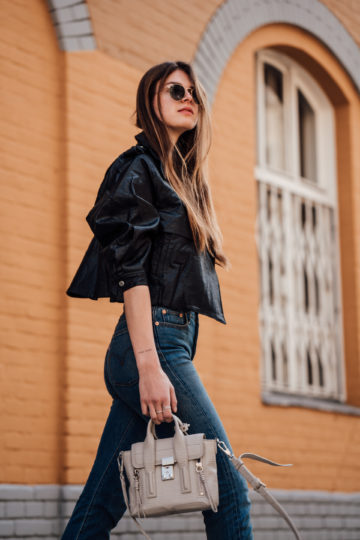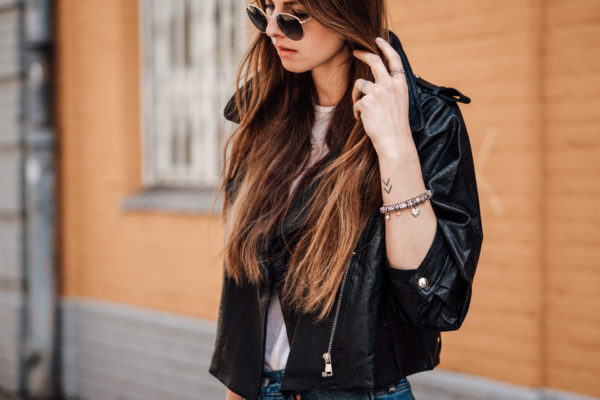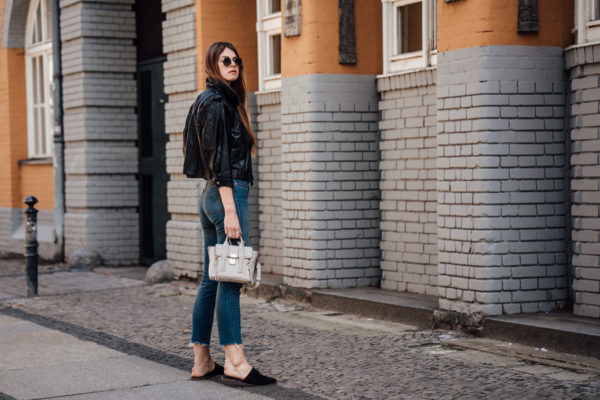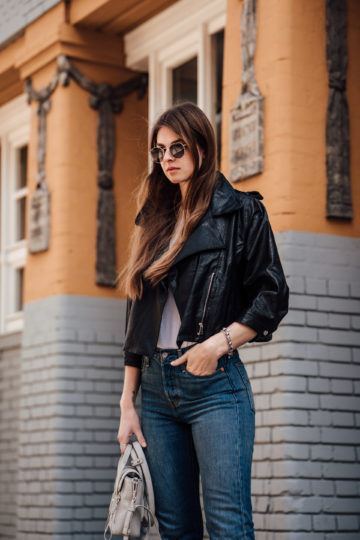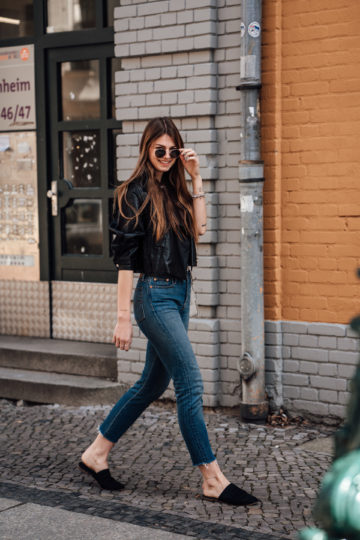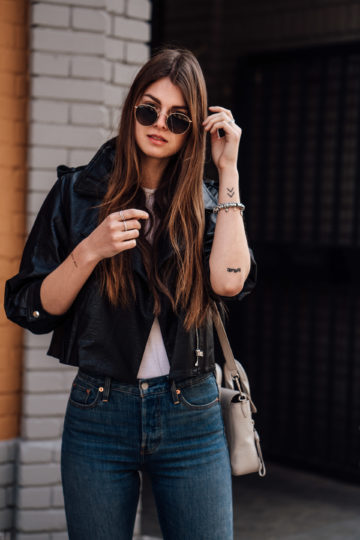 *PR Samples enthalten – Lioness Leather Jacket || Levi's Jeans || Pull & Bear T-Shirt || Vagabond Shoes || Ray Ban Sunglasses || Phillip Lim Bag