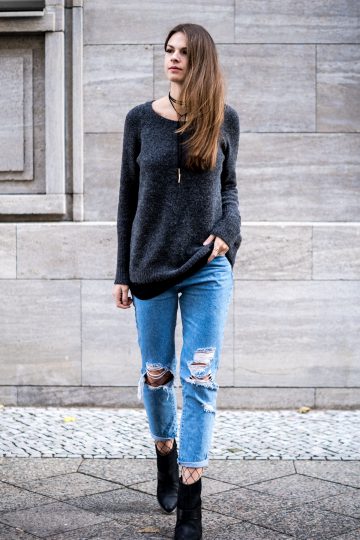 Usually, I would have shared a new business post yesterday, but I really needed a day off. The past week was very busy, I had an exam (the first part on Monday and the second one on Friday), I had to prepare a couple of things and to get work done. I barely managed to write and prepare all the posts I shared last week and I didn't want to stress myself. After a couple of very busy weeks, I needed to calm down. So that's the reason why I didn't share a business post yesterday. And since I only share business posts on Monday I'm not sharing one today either. Instead of a business post, I'm sharing a new outfit post with you today. I'm sure you don't mind at all because I know how much you like the outfit posts 😉
Denim x Fishnet – one of the biggest trends right now
I'm not a person who follows every single trend, but sometimes even I can't resist 😉 The fishnet trend is one of the trends that didn't just passed by such a lot of other trends, it is one of the trends I actually like myself. I already got fishnet socks a couple of weeks ago, and the other day I also ordered a pair of fishnet tights. I love the idea of wearing them underneath ripped or destroyed jeans, so I just had to try it myself.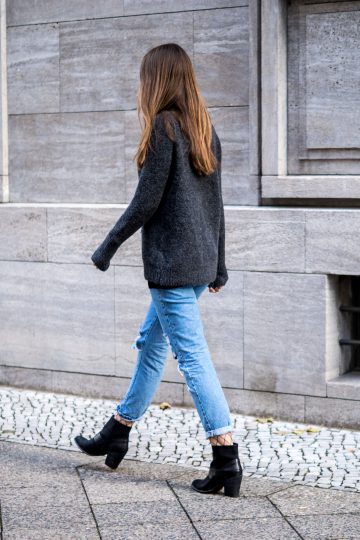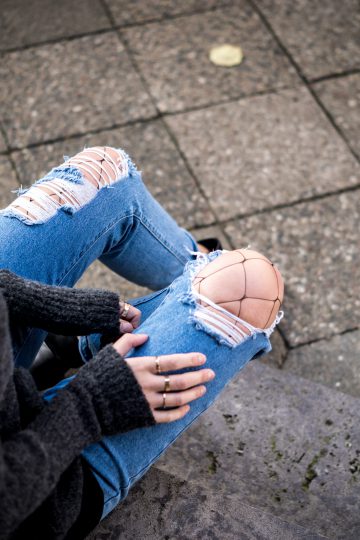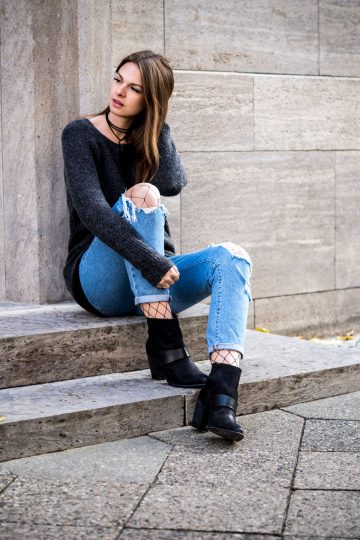 Last week I finally tried this denim x fishnet trend. I was wearing my fishnet tights underneath a boyfriend jeans from Subdued, but I first wasn't sure about it… I usually would have chosen black jeans, but I don't have a pair of black boyfriend jeans anymore. So I went for the blue boyfriend jeans and added a black top, a grey sweater as well as black boots. It's a very casual outfit, but thanks to the details it's everything but boring. That's what I like about the fishnet trend. It's one little detail that effects a big difference of the whole look when you're wearing it. You'll probably see much more pictures of me wearing either my fishnet socks or the fishnet tights, but I'm not sure how long I'll be able to wear my ripped and destroyed jeans this season – it's getting way too cold outside.
There is one last thing I would like to add: have you every tried to put on a pair of fishnet tights? I don't know why nobody is talking about it because it's pretty difficult x) I don't know, if there's any trick about how to do it, but I really have my problems putting them on. If you know how to put fishnet tights on (quick and easily), please let me know.