Today I am sharing the last post with outfit photos from Bali, and after that, I will share one final post, and that one will be another Bali restaurant guide. Since it's the last post with outfit photos from Bali, I decided to make it a proper outfit post and also write about the look I was wearing instead of sharing more info about Bali as well as our time there in general. But, of course, if you still got some questions, don't hesitate to leave me a comment and ask. 🙂
I actually can't remember when exactly I was wearing this look, but I do remember that I was wearing it in the morning. We were driving around a little bit, had to source new products and get some samples. The sun in the morning was the strongest, and I didn't want to get a sunburn, that's why I decided to wear a longsleeved top. Read more about it in the following.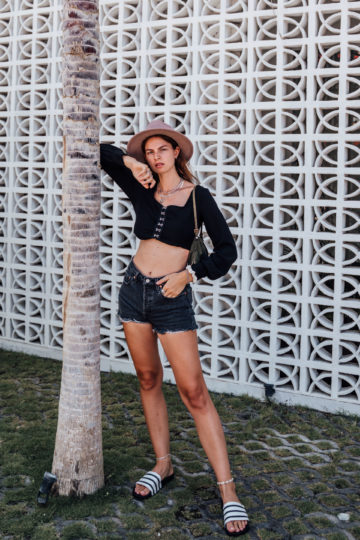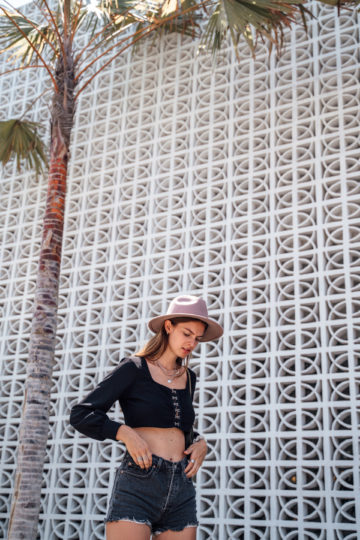 Denim Shorts, Crop Top and Adiletten
The outfit I am sharing with you today is another outfit I would wear not only in Bali but also in Berlin. It's a very casual yet non-boring outfit thanks to all the details. As I already mentioned, I was wearing a longsleeved top to cover my arms and make sure they don't get sunburned. But wearing long sleeves during this time in Bali is not the best idea temperature-wise. We always had temperatures between 30 and 40°C. The solution was to wear a longsleeved top made of very thin and airy fabric with a cropped cut. It was warm, but not too warm plus I didn't get a sunburn, so everything worked out as planned 😉
I combined the black crop top with a pair of black high waisted denim shorts as well as Adiletten, a hat and my vintage Fendi bag. The Adiletten are the shoes I was wearing every time I wasn't wearing my flip flops in Bali as they are super comfortable and they also make every outfit look a bit more interesting. You can basically wear them with everything.
Instead of the Adiletten, you can also wear a pair of sneakers or even boots, and if you don't feel like wearing a hat, this outfit also works without it. You can even create a similar look for the colder season. Simply wear the crop top with a pair of jeans as well as sneakers or boots and throw over a blazer or an oversized jacket if you need it a little bit warmer.
Spa Time in Canggu
We took these photos in front of a spa in Canggu, and that's why I also wanted to add a few words about spas in this area. It is a must to go to a spa or get a massage in Bali. I booked one for every week, and I always went for the Balinese massage. That's a full body massage that usually takes one hour. Depending on where you go to get the massage prices start at around 10 Euro, and there actually is no upper limit. The spas in Canggu are pretty amazing; I can totally recommend AMO spa or Spring Canggu. But most of the time, I had someone coming to the place we stayed at, and that was the most relaxing. 🙂
*Ad, brands named – Asos Hat || boohoo Top || Levi's Shorts || Adidas Shoes || Fendi Bag