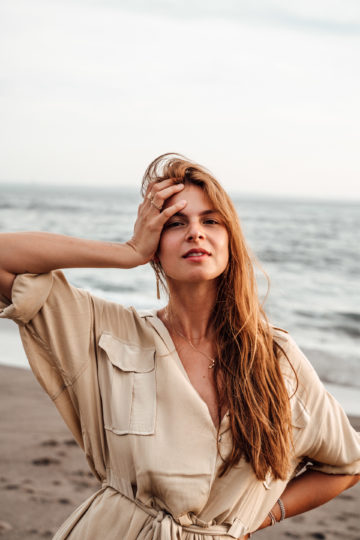 Happy Monday, guys. This post was supposed to go online last week, but I couldn't find the time to write it. I first also didn't know what to write about, as this is not an outfit that needs a lot of explanation. Since I couldn't come up with a topic last week, I decided to postpone it and take some time to think about what I want to write and share with you. I thought about the things you guys asked me the most while I was, and the one thing I haven't really talked about on the blog yet is the beaches in Bali.
When you are planning a trip to Bali, you shouldn't expect to see the most beautiful beaches you've ever seen. The main areas such as Kuta, Seminyak and Canggu don't have a lot of amazingly beautiful beaches. You will find a lot of beaches there, but they are mostly dark sand, unfortunately, filled with lots of plastic and even the water quality isn't the best. This might make you think why you should go to Bali if the beaches are that horrible, but it sounds worse than it actually is. But I feel like I need to tell you this so that you know. And it's always better to go somewhere with the least expectations you can have because than you probably will be positively surprised 😉
Where to find the most beautiful beaches in Bali
Now that you know that you shouldn't expect too much from Bali's beaches, I can tell you that, of course, you can find beautiful ones on the island as well as the island around. I haven't seen them all, but I have been in Bali a few times already and tried to see different areas including different islands and beaches, and I can assure you, that beautiful beaches exist in Bali and in the following I will tell you where to find some of them.
Most people traveling to Bali stay in Kuta, Seminyak, Canggu or Uluwatu as these are the areas closest to the airport and they are also the ones with the most restaurants, hotels and tourist activities. If you are looking for beautiful beaches, you should most definitely go to Uluwatu. That's where you can find white sand beaches, crystal clear water, and a lot of calm areas. We were in Uluwatu for the very first time this year, and I loved the beaches. I already shared a blog post with my favorite ones, so make sure to check it out if you want to know more.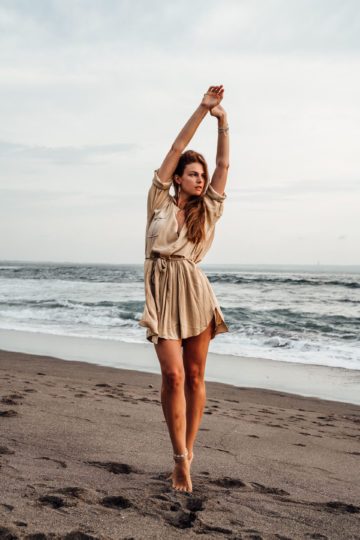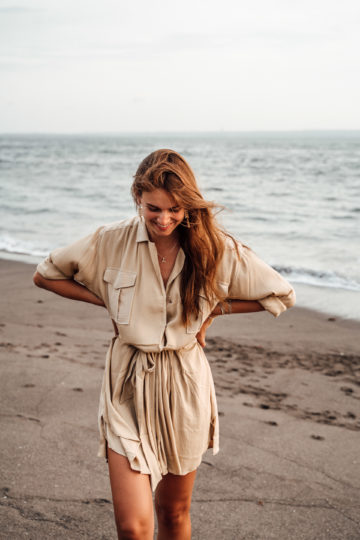 In the other areas, I would recommend Double Six Beach or Pantai Schteeby and the areas around.
Islands close to Bali with beautiful beaches
The past years we also traveled to Lombok, Nusa Lembongan and Nusa Ceningan. And let me tell you, you can find a lot of beautiful beaches there. Lombok had the most beautiful ones, but you also have a lot of plastic there. The locals are trying to keep the beaches clean, but the biggest problem is the water. On some beaches, you can't go into the water because of all the plastic, and that's such a shame. On the Nusa islands, we experienced the same. We were there during the off-season, and most beaches were filled up with trash. But I heard that you should go to Nusa Penida, for the most beautiful beaches and pure nature. We haven't been there yet, but it's definitely on my list.
Have you ever been to Bali or the islands close to it? What are your favorite beaches there?
P.S.: The photos were taken at Pantai Schteeby and I was wearing a Magali Pascal dress.