As I promised, here is another restaurant guide for Bali. One of the things I like most when I am there is all the amazing and healthy food I get to eat. People from all over the world open restaurants and cafés, and every time we are back in Bali, we discover a lot of new ones. It's crazy how fast things change in Bali. During our last stay there, we saw how they opened up places within a few weeks. It really doesn't take long to turn a place from a building site to a fancy café in Bali.
This time we stayed in Canggu most of the time, and that's why this restaurant guide will be about Canggu only. You can check out the other two guides I shared over the past years for more recommendations. Most of the places are still open and still good. We also went to some of them this year, such as Moana, Nalu Bowls, Rise & Shine, Crate Café, Bali Bowls, and Copenhagen. In the following I am sharing all the restaurants and cafés we really liked this time:
Mustache Coffee
Let's start with the café we went to almost every single day. Mustache Coffee is located on Jl. Pantai Batu Mejan in Canggu. It's a quite small café, and they don't have a food menu, but the coffee is one of the best we had in Bali. Also, if you are a little bit hungry or want something sweet with your coffee, you can choose between two or three different muffins as well as cookies. They always have some small sweet bites available. I usually had one or two coffee and the blueberry muffin, which was just as good as the coffee.
Lola's Shakin All Day
Lola's Shakin All Day is where formerly My Warung was in Canggu. We used to go to My Warung a lot and were quite sad when we saw that it's not there anymore. But we also gave Lola's a try, and it's just as good as My Warung. I think they even stuck to the menu or at least kept parts of it. They also have an amazing breakfast offer. For 50K IDR you can choose three different dishes. I always went for the smoothie bowl, scrambled egg and roasted mushrooms.
Green Guru Smoothie Bowl
If you are craving a smoothie bowl, go to Green Guru Smoothie Bowl. They only serve smoothie bowls and have six or seven different ones if I remember right. Portions are huge, and the toppings are a nice change to what you get everywhere else. I tried the "Gandhi," a peanut butter bowl, and it was so, so good. I have to admit, it was a little bit too much, and you could easily share it with someone.
Rollies Canggu
Rollies is a cute little café that serves breakfast and lunch. We only went there for a coffee around noon, so, unfortunately, I can't say anything about the food at this point, but I can tell you that it looked pretty good. They have the classics such as smoothie bowls, avocado toast, and chia pudding, but they also offer Salad Bowls as well as a breakfast burger – and these are only a few examples.
The Loft
The Loft was our favorite this time when it comes to Pink Dragon Fruit Bowls. It's the place where I've definitely had the best one so far! We usually went there around lunchtime for coffee and a smoothie bowl, but also tried some of their wraps as well as the banana bread. The wraps weren't our favorites, but they also weren't bad. And the banana bread was pretty good as well as the coffee.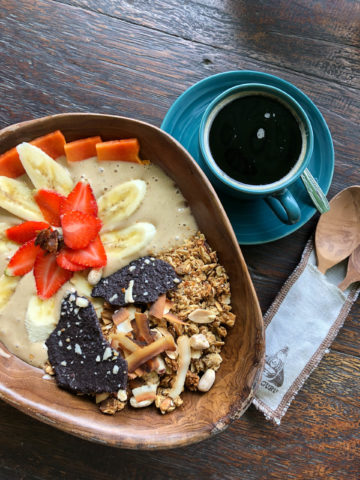 Cactus Café
The area where you will find Cactus Café actually isn't part of Canggu, but it's so close; you can easily reach it when staying in Canggu. It's such a fun place; the location itself is pretty cool, including the toilet. It might sound weird, but just have a look yourself when you are there, and you will understand 😉 The food was also great. We went there for breakfast, but they also serve lunch and really do have a lot of different dishes that all sound amazing. I can totally recommend the avocado toast as well as the smoothie bowls – and the coffee!
Front Café
Front Café is pretty close to Cactus Café, and it's another great option if you are looking for a breakfast spot. We tried their two of their smoothie bowls, had coffee and fresh coconut, and everything was really good. Only the acai bowl was a little bit disappointing, but I actually wouldn't order acai bowls in Bali in general. You should rather go for a pink dragon fruit or another smoothie bowl with local fruits.
Honey,
Honey, was one of my favorites. It's such a beautiful place, very clean and bright and has a nice view of rice fields. We went there twice, both times for breakfast, but they also have a lunch and dinner menu. For breakfast, we tried two classics, the avocado toast, and a smoothie bowl, and everything tasted really good. Next time I definitely also want to try their dinner menu. 🙂
Koi Canggu
If you are craving sushi, you should go to Koi. It's a cute little restaurant in the center of Canggu, and they do have an amazing sushi menu. I can't remember which ones I tried, but everything was very tasteful. What I also liked a lot is that they do not only offer the "basic" sushi rolls. Most of them are a nice change to what you might know from Europe.
La Baracca
Those who follow me on Instagram might know that we went to La Baracca A LOT! That's not only because we love Italian food but also because La Baracca is simply the best! The pasta was so freaking good; I actually can't remember that I ever had pasta as good as the one La Baracca has in Berlin. I had the best Aglio e olio I've ever had and also the Gnocchi Sorrentina was amazing!
Vinny's Warung
If you want to try Indonesian food but you are a bit afraid of the small local warungs, check out Vinny's Warung. It's a vegan restaurant that offers a very good traditional Indonesian Nasi Campur – but all vegan and organic. It was the best Nasi Campur I've ever had, I swear. The whole menu sounded very good, but we decided to stick with the traditional dishes, and it was a good decision.