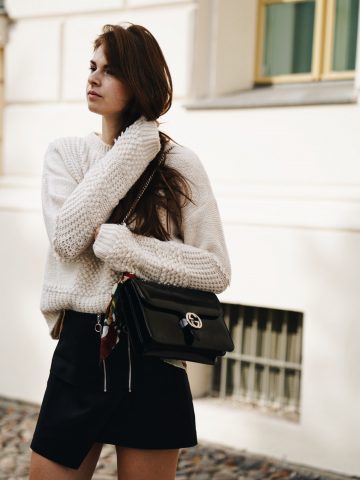 Who wants to know more about my past week?! Who doesn't want to know it, should skip at this point and go back to the main page or leave the blog. In today's "24 hours a day, 7 days a week" post I will tell you more about what I was doing the past week, what happened and what I (didn't) get done. Once again I was spending most time at the office, I didn't go to any events, and it actually didn't happen anything exciting the past week. Oh, wait, my boyfriend and I celebrating our 9th anniversary was super exciting. Nine years, damn, that's such a long time, and it actually doesn't feel like this. I can't believe I was 16 when we met and that we've been together ever since. At the same time, it feels absolutely amazing and incredible. And I surely wouldn't want to change anything.
So our anniversary was on Tuesday, but what did we do the days before? Let's start with the past Saturday. It was a very gloomy day, and I felt a little bit under the weather. I didn't feel like doing anything at all, and at the same time, I was so bored from sitting on the sofa. I watched Netflix, Youtube, browse to all the magazines I had bought but not read and cleaned out my closet a little bit. Besides that, we also went grocery shopping, and I cooked dinner, and that's it. Nothing more to say about that day. The weather on Sunday was a little bit better, so we started the day with taking new outfit pictures. Afterwards, I had to edit the pictures and send them over for approval, so all morning and noon was about work.
After I finished work for the day, I decided to go for a run. It still was beautifully sunny outside, and I didn't want to spend all day inside again. I ran almost 8km on Sunday, and it felt so good to be active again. I have been so lazy recently… the next day I did something was Thursday, and all I did was walking home from the office (it's a 2,5km walk). So yep, I still have to work on that routine and getting back to it…
Monday was a very busy day at the office. I had to get lots of work done because my boyfriend and I actually wanted to spend some days in a wellness hotel. But since we hadn't book anything, we ended up staying in Berlin for our anniversary. We worked only half a day, spent some time at a café in the city center and went out for dinner in the afternoon. Even though we had to cancel our actual plan, we had a great time together. And isn't being together everything that counts? 🙂 We also decided to take it easy on Wednesday, so we slept in and had breakfast at a restaurant in our neighborhood before we headed to the office. We ended the day with watching Ballers and Peaky Blinders, and that's it.
Thursday and Friday were two more days spent at the office. Since we didn't spend much time at the office the days before, we had to catch up on some work and stayed quite long both days. Due to that we didn't do much but watching series in the evening. And that's it. That's what my past week looked like.