Happy Thursday, everyone! We are slowly coming to more summery outfits here on the blog, and I will start with an outfit I was wearing a couple of weeks ago. It was already warm and sunny outside, but still a little bit windy and not as hot as it currently is in Berlin. But you could also wear this outfit on a hot summer day by just not putting on the shirt or wearing a different pair of shoes. But read more about it in the following to understand what I am talking about:
Casual chic summer outfit
It was a beautiful day in Berlin, a weekend if I remember right, and we spent a lot of time outside walking around and soaking in as much sunshine as possible. It wasn't too warm outside, so I got to wear my new leopard print skirt. You know, that I do like leo print and might have seen a lot of outfits here on the blog already. The past months I was mostly wearing midi skirts with leopard print, but now I finally have a shorter skirt I can perfectly wear on a summer day. The midi skirts are not the perfect choice for summer when it's warmer than 25°C.
I first wasn't sure how to combine it, I've worn a lot of leopard print outfits already and wanted to think of something new and not put on the kind of look I always go for when I first don't know what to wear. So I usually would combine leo print with black, but that day I opted for white. That's why I was wearing a white top, a white shirt and a pair of white sneakers. When it's a bit warmer outside, you don't need to put on the shirt, but I needed it on that day and decided to unbutton it and knot it in the front for a more casual look.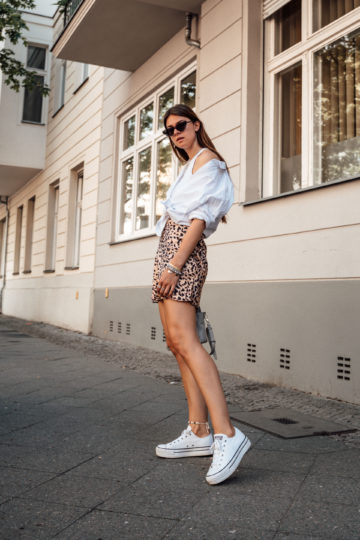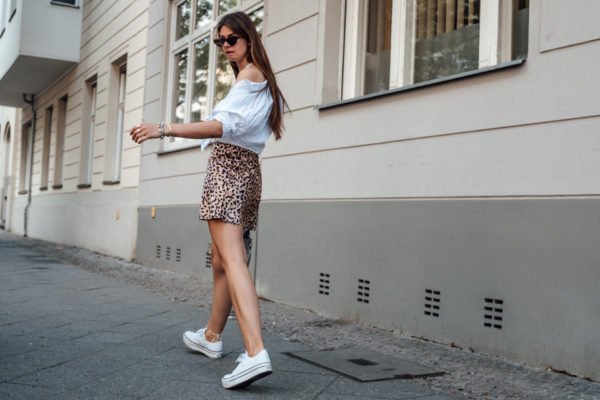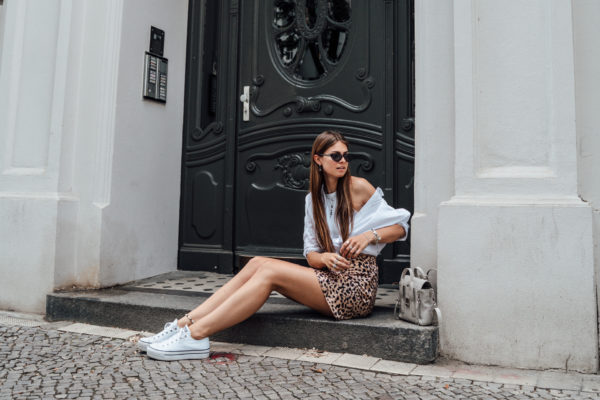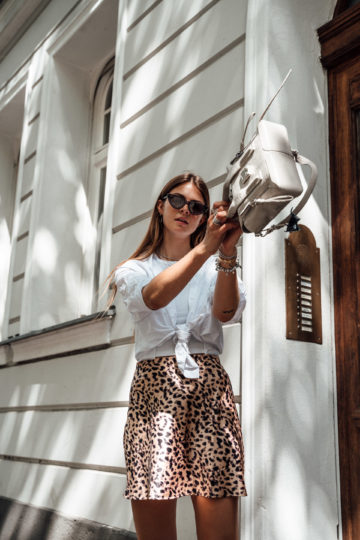 I was wearing the sneakers for comfort as we were walking around a lot, but you could also wear this look with a different pair of shoes. Wear it whit white boots or a pair of black boots, but also add a black bag to have a matching piece. For my leo print and white outfit, I didn't need a black bag, that's why I opted for the light grey bag from Phillip Lim – the only bag in a light colour I have.
Combining Leo Print and White in summer
Do you remember one of the first posts I talked about leopard print and how to combine it? I think in that post I said, that there are a few colours that are not easy to combine with leopard print. And white is one of those colours. Actually, I usually would always go for the combination with black. But as I am already tanned and felt like wearing something light, I wanted to give it a try. Also, the leo print skirt you can see me wearing here has black spots, and the shade of brown is very light, that's why this skirt definitely works in combination with white.
Would you combine leo print with white? Let me know what you think and how you like this outfit. Looking forward to reading your comments. xx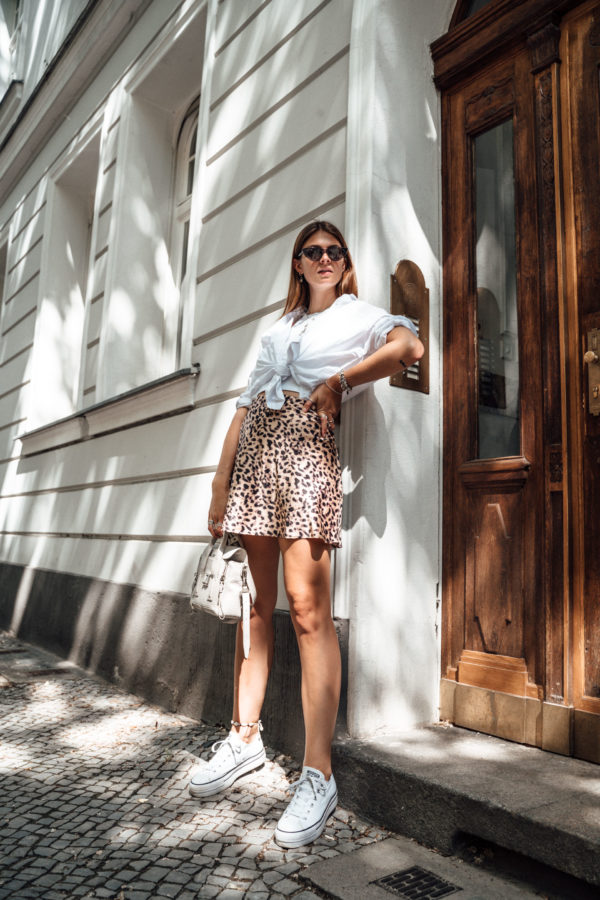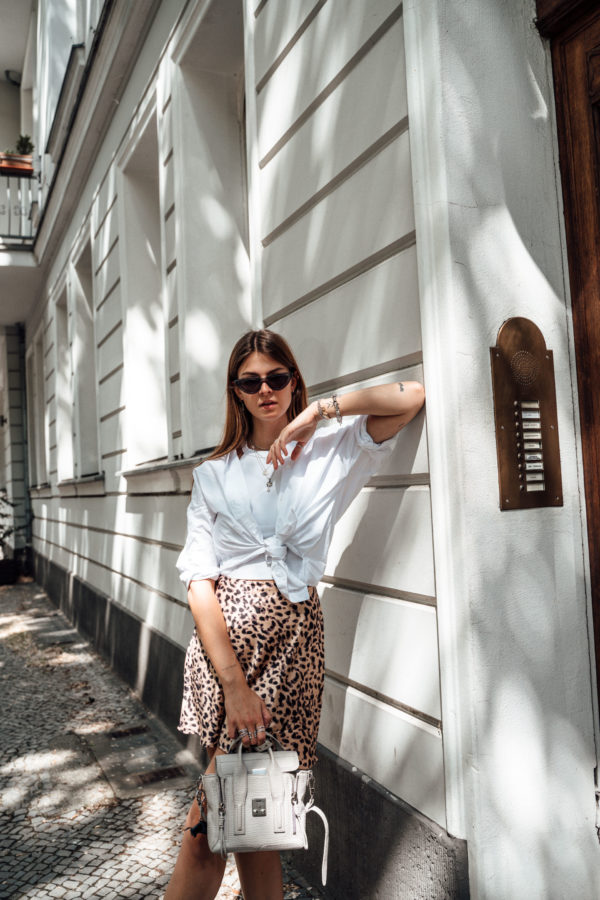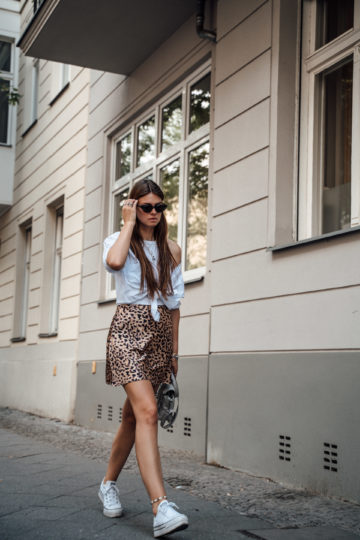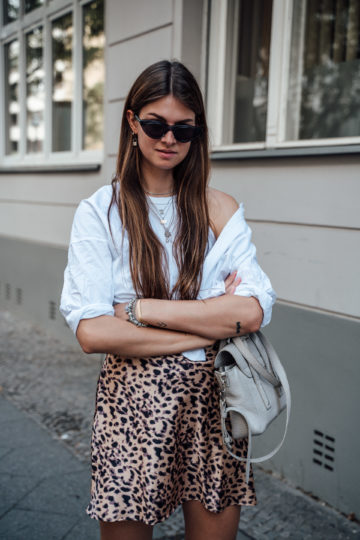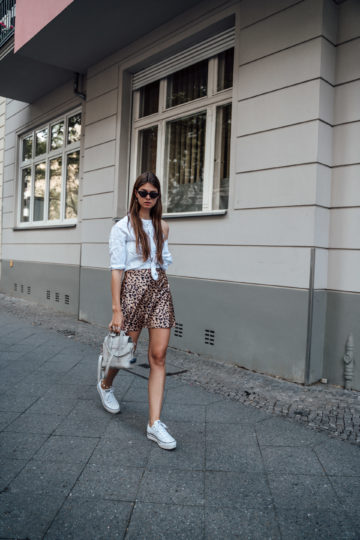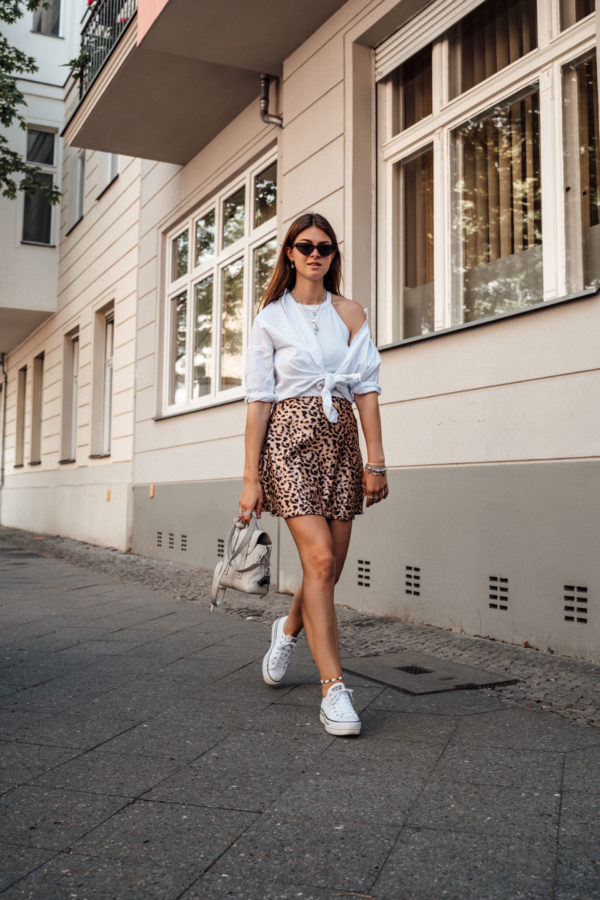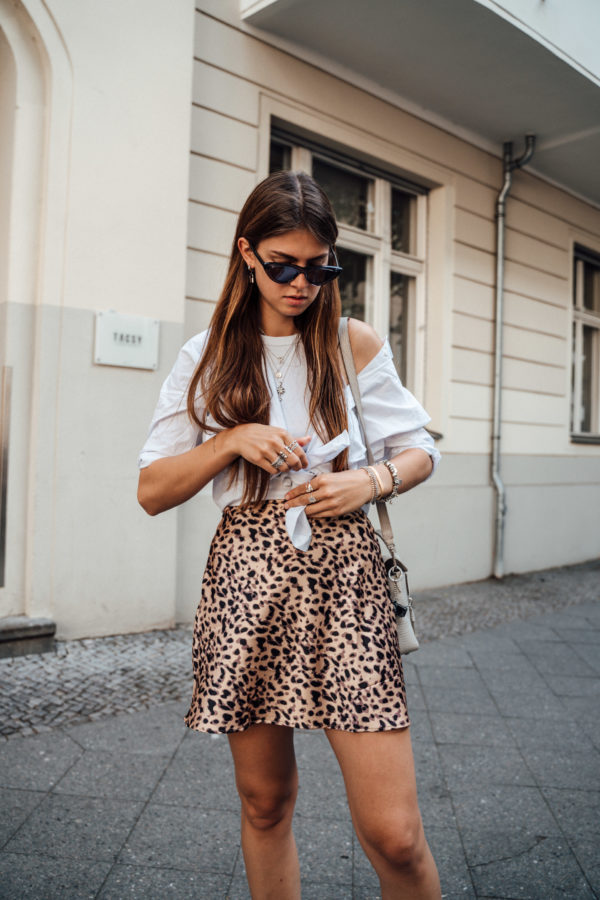 *Ad, brands named – Minimum Shirt || Zara Top || Chiquelle Skirt || Converse Shoes || Phillip Lim Bag || Chimi Sunglasses