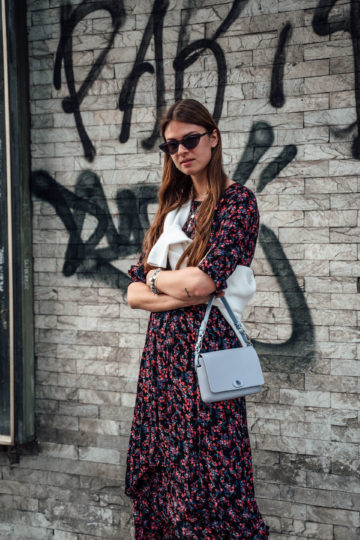 You guys know that I love contrasts and that I often put together contrasty pieces of clothing when creating my outfits. So the other day in Berlin, I wanted to wear a pair of ugly sneakers as I needed comfortable shoes for the day. I first wasn't quite sure how to combine them as I didn't feel like wearing a pair of denim shorts. I went through a few options in my closet and ended up with a floral midi dress. Do you want to know more about this outfit and why a floral midi dress works pretty well in combination with ugly sneakers? Continue reading!
How to style contrasty outfits
Contrasty outfits are actually always a good idea as you can decide what contrast you go for. You can either wear an outfit that's contrasty to your skin and/ or hair colour, you can wear an outfit with contrasty prints or colours, or you can wear an outfit with contrasty kind of clothes. The latter is what I did when I put together this outfit. The midi dress with its floral print is not only because of the print but also because of the shape contrast to the ugly sneakers.
It is important to find out what kind of contrast works best for you. You need to try different options and see which contrast level flatters you and which one doesn't.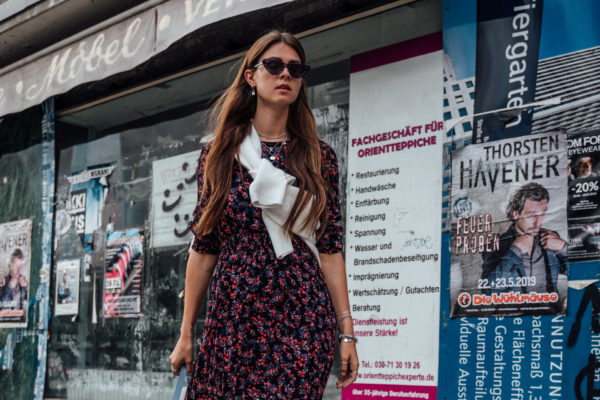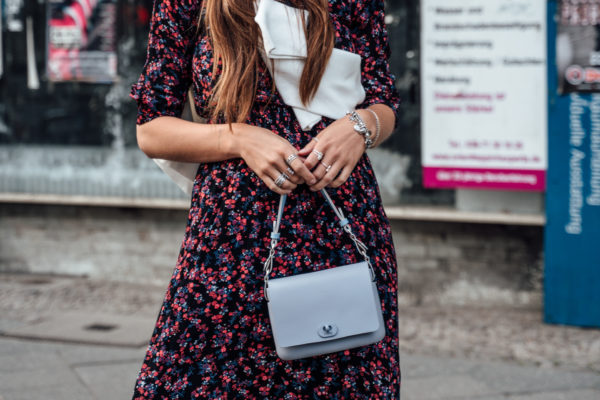 How to combine a floral dress with ugly sneakers
When it comes to creating a contrasty outfit by wearing clothes that are contrasty no matter the colour and print, there actually is not a lot you can do wrong. It only depends on the cut of the pieces and how they look together. I do like the combination of midi dresses and ugly sneakers a lot and have been wearing a lot of different outfits with this combination already. Some of the dresses were more feminine others were a little bit more casual and not as contrasty to the sneakers.
The only things you need to keep in mind when you want to combine a midi dress and ugly sneakers is that the colours should look well together and that cut of the dress doesn't make sure feet look to big. A tight midi dress, for example, would probably make your feet and calves look way bigger than they actually are while a loose cut midi dress won't.
When I put together this outfit, I also tried to wear colours that match and are not too contrasty. The sneakers do have grey and light pink details; the dress also has some pink details. I opted for the lilac bag to match the tones of pink of the dress and the shoes and added a white sweater to match the shoes and to add one lighter detail as the dress is quite dark. The dark colours of the dress are also contrasty to the bright sneakers, and I wanted to decrease the contrast a little bit by adding the sweater.
How do you like this outfit? Leave me a comment and let me know. xx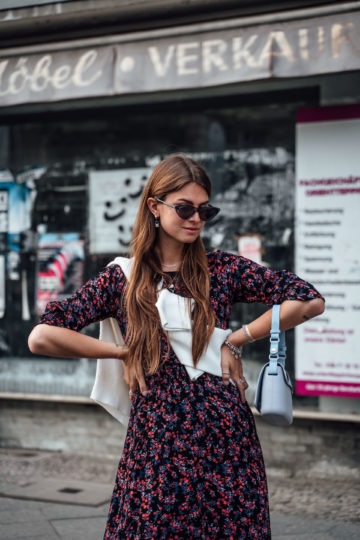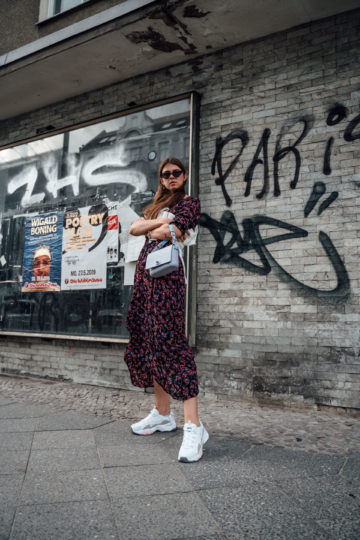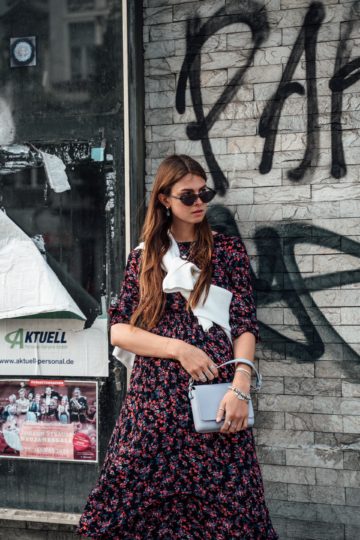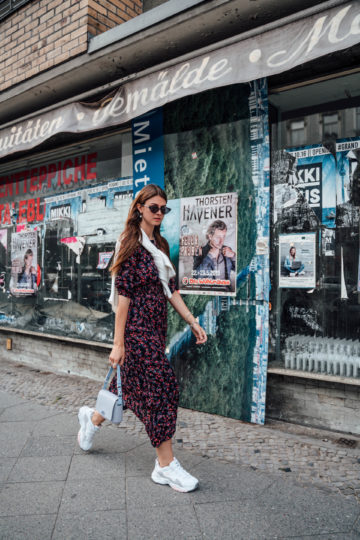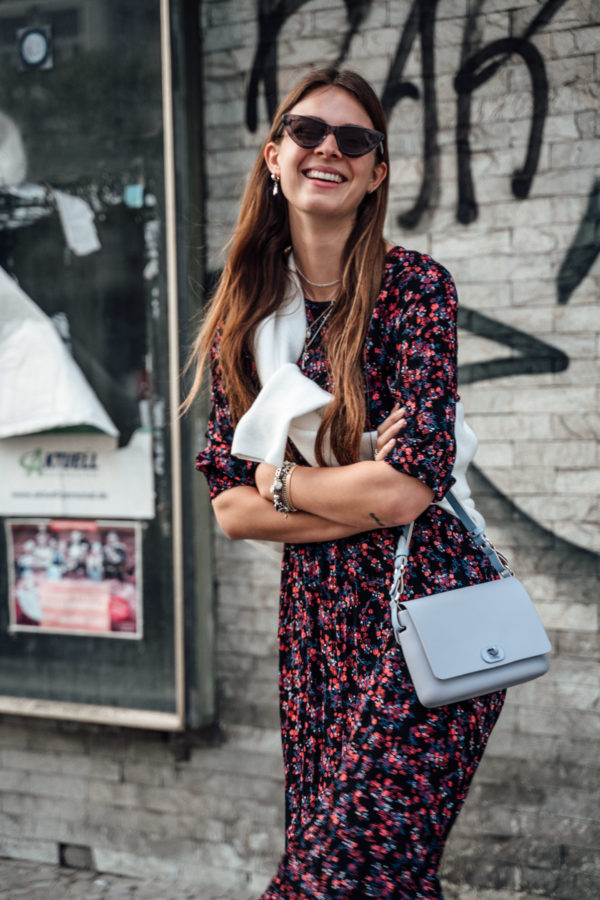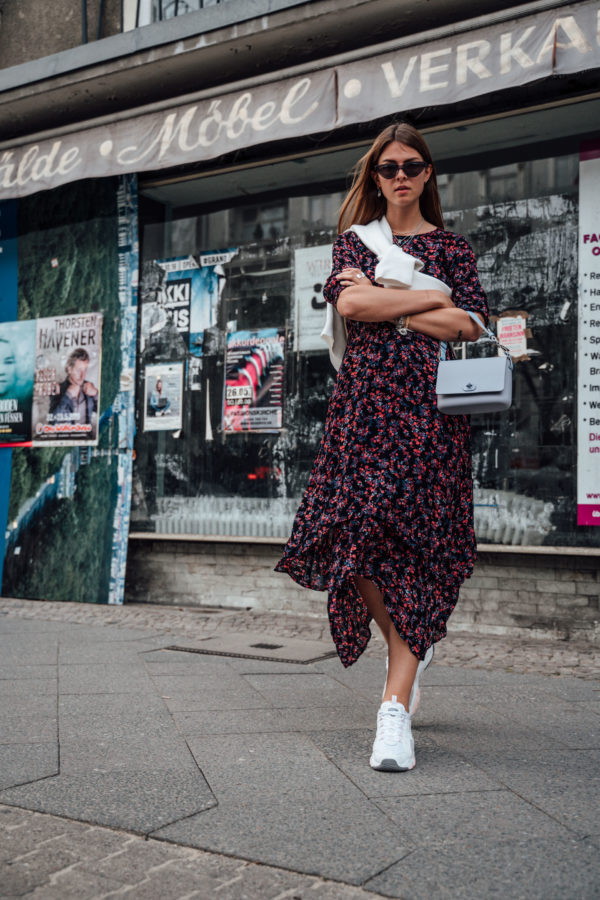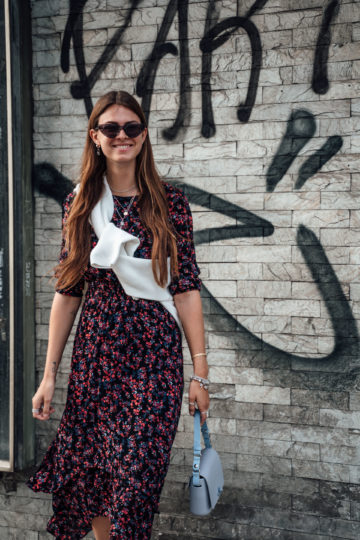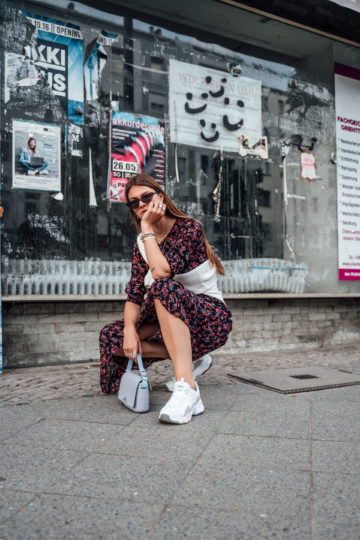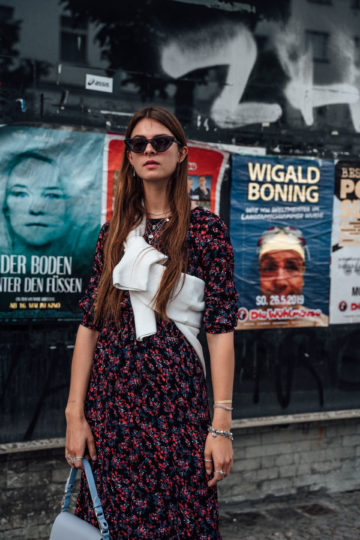 *Ad, brands named – Vila dress || Skechers Sneakers || Obag Bag || Loavies Sweater