Yesterday I told you, that I would start sharing the first pictures taken in Morocco this week. A word a blow, here's the first Morocco post for you guys. When I planned this trip, I didn't know what to expect. I have never been in Morocco and only knew it from all the pictures bloggers take in Marrakech, which look pretty nice. I didn't know, if it looks like this everywhere in Morocco and if even Marrakech is that beautiful. But due to this, I didn't have any expectations, and I think that's the best when you're travelling to a place you've never been before.
Once we arrived in Agadir (we're staying in Taghazout), I was surprised how beautiful and lovely it is. Of course, you can't compare it to European cities, but all those colourful walls, beautiful doors and the love for details are so beautiful. When we walked through the streets of this little village, we found so many beautiful spots and had to stop every few meters to take a picture. 🙂 The wall you can see in these pictures is just around the corner of the surf camp we're staying at. I absolutely like the colour of this wall, but what I like even more are the tiles on the ground.
Colourful walls in Morocco and a black dress
First of all: I was wearing shorts underneath! I ALWAYS have the problem, that dresses are too short, that's why I packed some black shorts I could wear underneath. Of course, it isn't the best idea to wear a short dress like this one in Morocco, but Taghazout is very touristy, and most girls and women (the tourists) are wearing short dresses and shorts or skirts.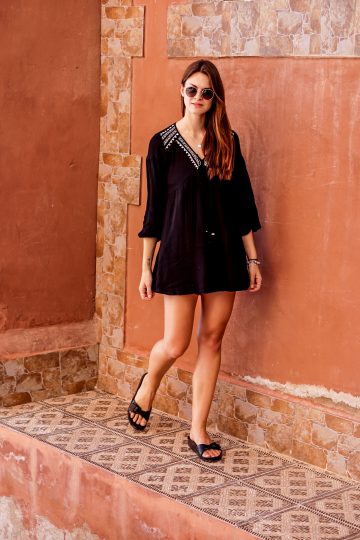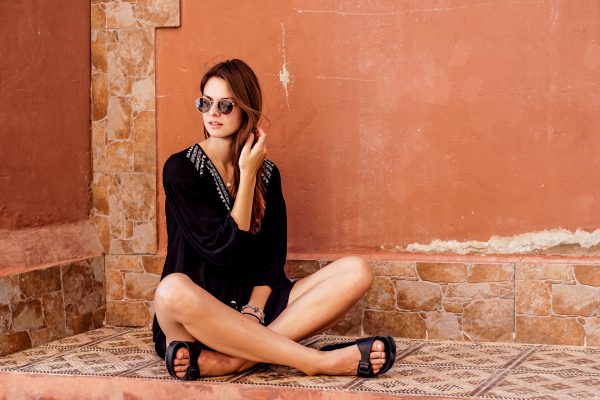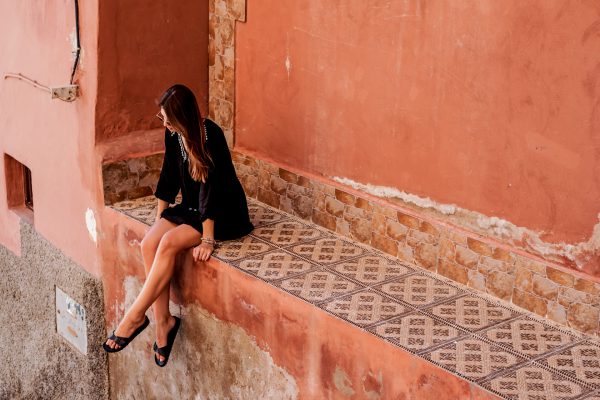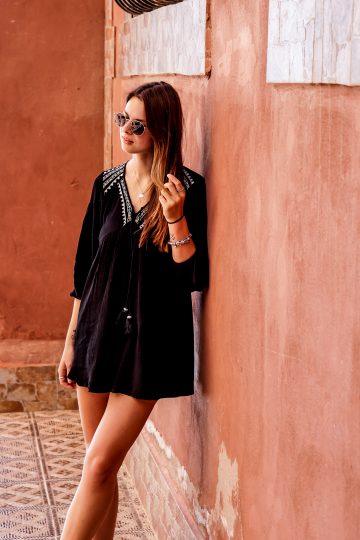 Of course, I also packed pants and longer dresses, but it was quite hot the day we took these pictures, and I didn't want to wear a long dress or pants 😉 I was wearing a dress I just received from Band of Gypsies before I left and, of course, I had to bring it to Morocco. Even though it's a little bit short, I like it a lot. Not sure, if I will wear it as a dress in summer more often, but I think it would work perfectly as a long shirt in combination with jeans.
I first couldn't decide where to take these outfit pictures, because there were just too many beautiful colourful walls. But as I mentioned before, I went for this one because of the tiles. Additionally, I really like how the black dress looks in front of the orange wall. So no bad decision at all. 🙂
I already know where I want to take pictures next: there's a blue and white house a few meters down the road. The blue and white looks pretty nice already, but additionally, they have lots of flowers in front if the house, all blue and white coloured flower pots. Oh, I can't wait to take pictures there and to show you the results pretty soon. For now, I'll leave you with these pictures and hope you'll like them as much as I do. xx