I decided to share a little bit less from Costa Rica as I wasn't a hundred per cent happy with the photos. I also still need to share a few photos from Los Angeles, and that trip was a month ago already. Time goes by pretty fast; I definitely should start sharing the photos from Los Angeles and Coachella this week.
And I will start with a recap of all the outfits I was wearing for Coachella. I first didn't plan to share a Coachella related post, but I just looked at all the photos we took and even though we didn't take enough photos so I could share a post for every single outfit, I got enough content for a summary post.
I also thought that it would be nice to share my thoughts about Coachella as I was really sceptical and didn't know whether I would enjoy it or not. Continue on reading, if you want to know all about my Coachella Festival Outfits and my thoughts about the festival itself.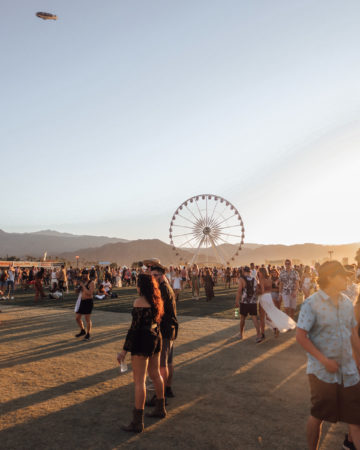 What to wear to Coachella and other festivals this summer
It is not a secret that I haven't been to a lot of festivals, so I am definitely not an expert when it comes to festival outfits. But I actually think that you should always wear what you feel most comfortable in no matter the occasion. Due to that, I don't like dressing up for a festival, and I just wear whatever suits the situation as well as the temperatures and what makes me feel good.
For Coachella, I had packed a lot of clothes as I didn't know what to expect. I knew that the days would be hot and the nights cold. (But in the end, it wasn't as bad as I thought it would be). I always had a jacket with me I put in our locker – getting a locker at Coachella is something I would recommend! It's so handy. They only served the purpose of keeping me warm and weren't really an important part of the outfit, so you can't see me wearing a jacket in most of the photos.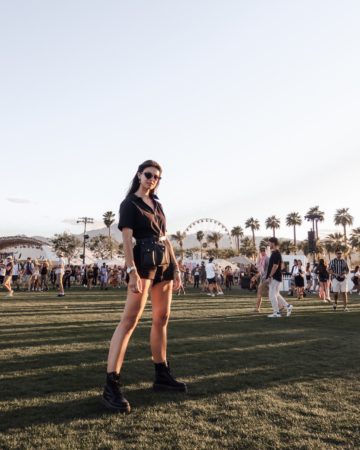 For day one at Coachella, I was wearing a black utility style one-piece I combined with a black belt bag and black platform boots. The belt bag definitely is the key piece of the outfit and makes all the difference. Thanks to the bag the whole outfit looks much cooler and more interesting. It was a good idea to keep it simple with the outfit and just add an accessory such as the bag to make it stand out a little bit more.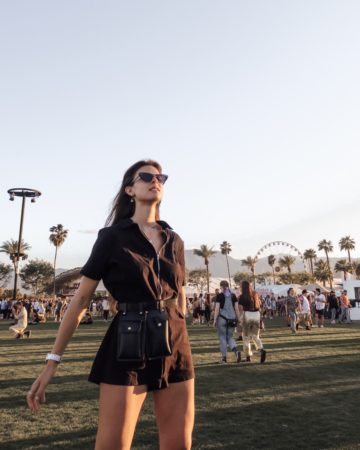 Another outfit I was wearing was a denim set: the skirt and jacket were quite warm, but thanks to the light colour I could perfectly wear it in the heat and my shoulders were perfectly covered, which was much needed as they tent to burn super fast. I first wasn't a hundred percent sure about this look and whether it would be a good choice for a festival, but in combination with the crop top, the Buffalo shoes as well as the bag I do like it a lot and would wear it to another festival as well. How do you like it?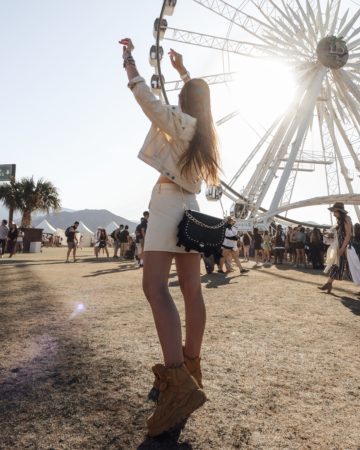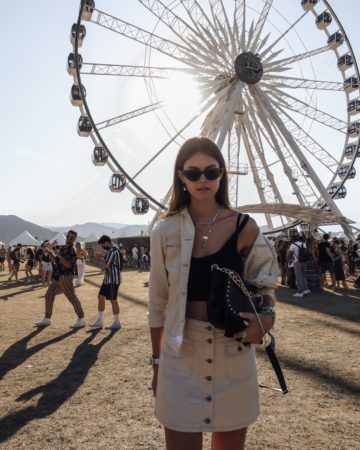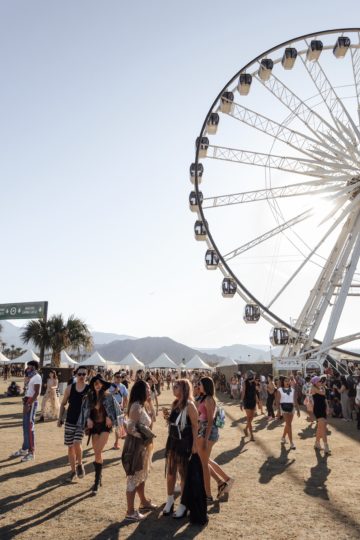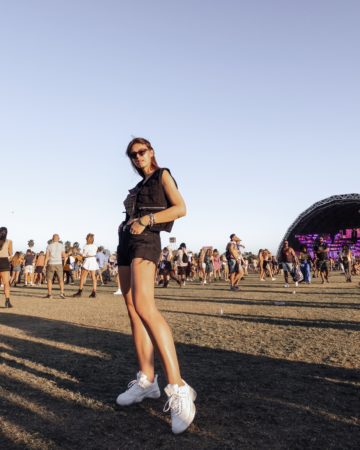 It was not the best idea to wear white sneakers to Coachella, because of all the dust. Let me tell you, that they weren't white after that festival day anymore hahaha. BUT nevertheless, I did like the outfit. First of all, the shoes were super comfortable, and for a day at a festival, you definitely need comfortable shoes. And second of all, they were a nice change after wearing black boots and beige Buffalo shoes. I combined the white sneakers with a pair of black shorts, a crop top and a utility style vest. I also added my vintage Gucci belt bag. You see, utility style is a big thing this season and something I will be wearing all summer. This vest definitely is one of my favourites at the moment, and I also have it in another colour. 🙂 That day I just felt like wearing the Gucci bag to make the whole outfit appear more interesting as it was so warm, I didn't feel like wearing a lot of clothes. So whenever it is to warm to wear a lot of clothes, make sure to bring eye-catching accessories.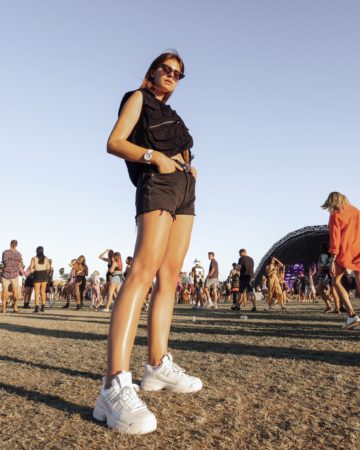 The last look I was wearing might be my favourite one. I was wearing it on the last Coachella day and needed a completely different outfit to the other ones I was wearing the days before. So wearing a dress and something more colourful was the best option. I am happy I had this dress with me and that I got it in a bigger size, because it is super comfortable. I combined it with my black cowboy boots, a black hat and my vintage Fendi bag. I didn't need to add any more details.
Which one of the four Coachella festival outfits is your favourite? Let me know in the comments. xx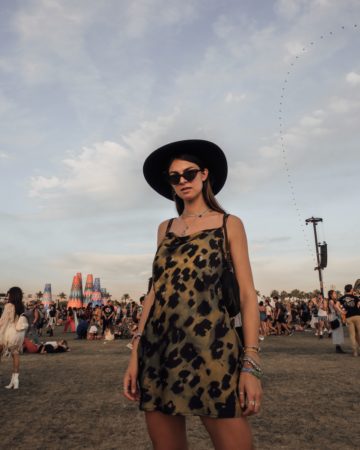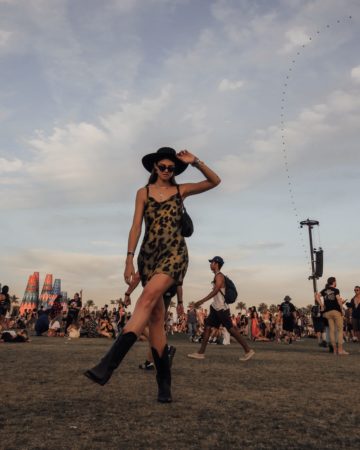 What I think about Coachella
Honestly, Coachella was such an amazing experience. I didn't know what to expect and was worried it would only be an overhyped festival with nothing behind it. And even though I missed most of the acts I wanted to see, I had an amazing time and enjoyed my time there. The atmosphere is amazing, people are mostly friendly, everything is well-organised, the festival area is huge and has a lot to offer, and food and drink options are also quite nice. Yes, it is very expensive. Not only the ticket itself, but also everything around. But it is an experience I wouldn't want to miss, and I definitely want to go to Coachella again, because I think it is definitely worth the money.