We split our Sri Lanka trip into three parts: first, the heart of the country, next to the safari and last the coast of the country. I'm still super happy with this decision because every part has been fantastic so far. We're spending the last days here at the coast of Sri Lanka and guess what? I really don't want to leave. Sri Lanka is such a beautiful country, and I'm soon telling you more about it and, of course, the things you should do. Today I want to share the first outfit post shot at the coast, somewhere between Ahangama and Unawatuna.
Blue Velvet Dress
We were driving from our hotel in the direction of Unawatuna, where we wanted to spend the morning and noontime. We passed so many beautiful spots because the road goes along the coast and there's nothing more beautiful than the ocean to me. Well, the mountains landscape in Sri Lanka is breathtaking as well, and I enjoyed the time there, but nothing can beat the ocean. Too bad we don't have one in Berlin… 😉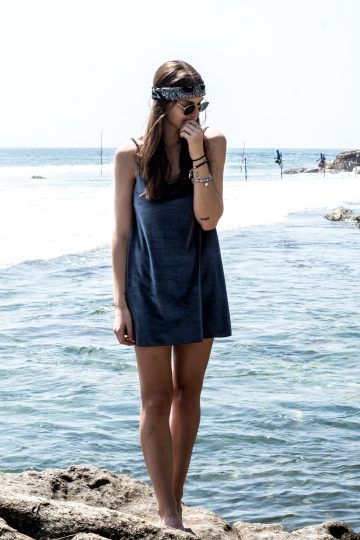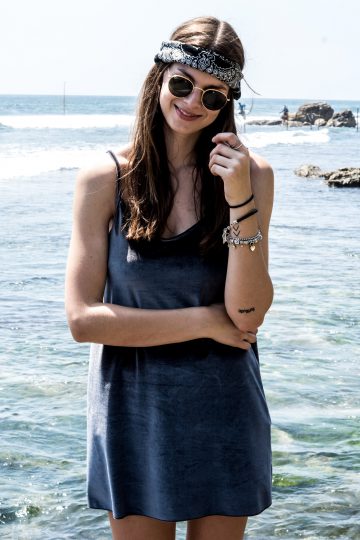 It was a super hot day in Sri Lanka – 32°C as almost every day -, so I actually didn't want to wear anything but my bikini. Bu for the drive to Unawatuna beach I had to wear more than only my bikini, so I threw over this blue velvet dress, tied my bandana around my head and put on my favourite pair of sunglasses. I received these sunnies just in time before we had to drive to the airport. I wanted to buy them for so long but never did. Well, I got another pair during the Black Friday sale, but this one is from Smartbuyglasses. It's the classic round metal in gold with grey-green lenses, the one you can never go wrong with. That's why I have been wearing it almost every day since we're here in Sri Lanka. Do you also have a pair of sunglasses you're wearing nearly every day?
Today is our second last day in Sri Lanka and guess what? I don't want to leave. Our flight back to Berlin is on Monday at 5.30 am and when we're back it'll be around -10°C, that's a difference of 40°C – wtf?! I'm sure; I'll die when I'm back in Berlin. Anyways, we'll enjoy our last two days here to the fullest and if you want to know, what we're up to, make sure to check Instagram and watch my Instagram Story. xx