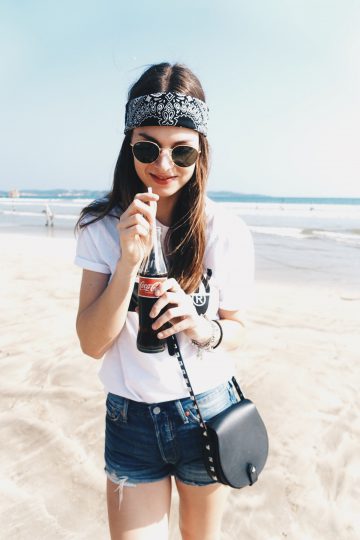 Today is our last day in Sri Lanka, and we're probably on our way to Negombo while you're reading this. We booked a hotel next to the airport for the last night, because our flight is at 5.30 am. But today I don't want to talk about what will happen today or tomorrow; I'm sharing another "24 hours a day, 7 days a week" post to talk about the past week.
We're currently in Sri Lanka, and so were we the past week. Last Saturday was the day of our safari. We arrived in Tissamaharama on Friday, booked a safari for Saturday and left on Sunday. You can do several safaris in different National Parks in Sri Lanka. We wanted to drive to the Yala National Park because that's the park where you have a chance to see leopards (when you're lucky enough). A full day safari would have been a little bit too much to us, so we opted for the half-day-safari, which started at 2.30 pm. I'll tell you more about the safari in another post; now I'll continue with what we did on Sunday and the following days.
Sunday was the day we finally drove to the coast of Sri Lanka, and I was super excited about that. A driver picked us up around noon and our four-hour drive to Ahangama begun. The drive was quite long, but it was worth it. Our hotel was very nice and the area around as well. We spent the first afternoon and evening in Weligama. On Monday we drove to Unawatuna and later to Weligama again to surf for an hour. It was such a nice day, and we decided to start the next day with a surfing session again. We spent a couple of hours in Weligama, went surfing, had lunch and just relaxed on
the beach before we headed back to the hotel. In the afternoon we drove to Secret Beach, which was about 20 km away from our hotel. Luckily we had a scooter do to all these trips during our time in Ahangama. We watched the sunset at Secret Beach, had a beer and drove back home when it was about to get dark.
Wednesday was our last day in Ahangama, and we decided to stay at the hotel's pools for a couple of hours before driving to Weligama for lunch. Afterwards, we drove to Dallawella Beach to enjoy the sunset. We sat down at a cure restaurant called Wiyaja (or something like that), shared a pizza, drank something and just enjoyed our Sri Lanka trip for a little while. It was the last evening in this area, and we were kind of sad that we had to leave the next day.
On Thursday we had to leave our hotel in Ahangama to continue to the final destination of our Sri Lanka trip: Balapitiya. Unfortunately, this area isn't as nice as Ahangama, Weligama and Unawatuna… we hoped we could go surfing at Hikkawuda, but the waves weren't good enough. So instead of surfing we just lay down at the beach and actually didn't do anything at all. That's what our Friday looked like: very calm and relaxing.