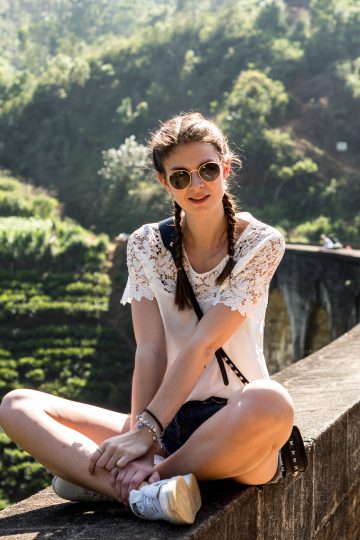 Today I'm sharing the last post from our little three-day-trip in Sri Lanka. We shot these pictures when we were in Ella on the final day of the trip. It was the day we were leaving to the next stop, but before that, we had a couple of hours left to discover Ella's surrounding. We actually wanted to climb Little Adam's Peak that day, but since we already did this the evening before, we had now time to walk to the Nine Arches Bridge. And this was definitely another highlight of our three-day-trip. It took us about 20 minutes to get to the bridge, and we had to walk through fields and woods. The path isn't built out yet, but we saw a couple of workers building stairways to make the walk not only easier but also more visible for the tourist. Luckily we could ask all the workers if we were walking the right way because otherwise we probably would have turned around and walked back. Anyways, we could ask and made it to the bridge in only 20 minutes, and it was absolutely worth the walk.
Nine Arches Bridge
The Nine Arches Bridge is one of the things you should visit when in Ella. It's such a beautiful place, surrounded by mountains, fields and woods. The bridge was constructed in 1921 and is built of solid rocks, bricks and cement without using a single piece of steel. It connects the two railway stations Ella and Demodara, so only the train and some passengers are crossing it.
When we were at this bridge, no train passed by and I was kind of happy about that. Being so close to the train while staying on a quite high bridge is a little bit scary to me. Not that staying ON the side edge of the bridge is scary enough… and I can tell you, I was fucking scared. x) But well, it was worth it, and I really like how the pictures turned out. How do you like them?
Simple Travel Outfit
I was wearing a very simple outfit that day – as almost every day here in Sri Lanka. When sitting in a car most of the day, the outfit needs to be very comfortable, so I decided to wear my Levi's shorts and a pair of sneakers. I was wearing my Stan Smith, and I think it was one of the last times I was wearing them because they're fully damaged now. I caught my foot a couple of times and ripped them in the front. 🙁 Anyways, let's get back to the main topic: my outfit. I added a white shirt from VILA for a chic and kind of girly touch as well as my Rebecca Minkoff Skylar Mini bag and some jewellery. Not to forget about my round Ray Ban Sunglasses I was wearing almost every day here in Sri Lanka (I have two different pairs, so I wasn't wearing the same one every day).
Please leave me a comment and let me know what you think. Do you like the pictures we took at Nine Arches Bridge in Ella? And do you like the outfit I was wearing?