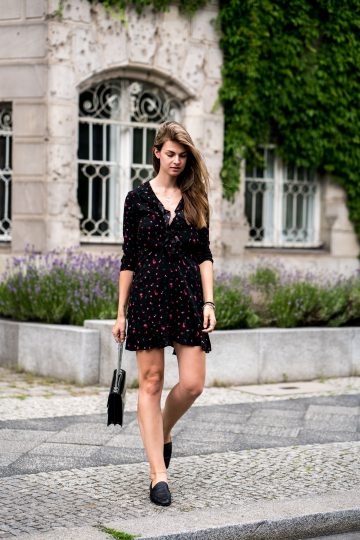 Today is the second and last day in Paris, well we have only a couple of hours here before we have to head to the airport. But at least we have enough time to sleep in and have a relaxed breakfast after yesterday's Havaianas party. So while I am either still sleeping or already up sitting at breakfast, you can have a closer look at another summer outfit I want to share with you today. I prepared this post because I knew that I wouldn't have the time to work on the blog during the Paris trip – and I hope you don't mind.
As you might have noticed, the weather was everything but summery the past days. As motivated I was to get dressed and take new outfit pictures during the warm and sunny days here in Berlin, as demotivated have I been since it got colder and rainy. It is raining a lot at the moment, and when it isn't raining, it still is gloomy and dark outside. Some days it is at least warm enough to walk around bared legs such as the past Saturday. I really don't want to wear jeans or long pants, so I am trying to wear my dresses, skirts and shorts whenever it is possible. That day I just had to put on a blazer, but I wasn't freezing most of the time even though my legs were bared. Read more about what I was wearing in the following:
Black Dress with Flower Print
Oh, I wanted a dress like this one for so long. I actually wanted a red dress (and I still want one), but I couldn't find one. Either I didn't like the colour, or the cut wasn't very flattering. The other day I saw this one at Mango, and I couldn't resist even though it is not red…
I think they might have a similar one in red, but I opted for the black one. I knew that I would wear a black dress more often than a black one, so it seemed to be a better investment 😉 Oh and I just saw, that this dress is on sale right now!
I absolutely love the ruffle front as well as the flower print of this black dress. It is simple yet everything but boring due to all the details. And you know, how much I love clothes that speak for themselves. I didn't have to add much more to finalise this outfit. I simply combined my new dress with a pair of black flats, I added my Gucci bag and put on a black blazer just in case I would be freezing when wearing the dress alone. And, of course, I was also wearing the pieces of jewellery you can see me wearing every single day – even on a Sunday 😉
Last but not least I should mention, that I had to whip the dress in the front a little bit. I don't like the actual length of the dress, it ends right above the knee, and this makes my calves look even bigger than they actually are. Yep, that's the reason why I whipped it at the front a little bit. I think now the length is just perfect, at least I feel way more comfortable wearing the dress with this length than with the actual one. Would you buy a piece of clothing you don't like the way you bought it and whip it by yourself? x)