When I put together this outfit, I didn't think of anything, in particular, I could write about when sharing the outfit pictures on the blog. Back at the office, I thought about it for a little while, and a few things came to my mind while looking at this outfit: the perfect winter outfit, the ugly sneakers trend, how to wear black sneakers, the cardigan trend and transparent bags. Well, if you guys read the caption, you already know that I ended up going for the bag related topic. So today's post will be all about the bag trends in 2019 and transparent bags in particular. No worries, I will also write a few words about the outfit I put together, and at the end of the post, you will find not only all the outfit details but also some nice transparent bags to shop.
Must-have bag 2019: the transparent bag
One of the bag trends of the year is the transparent bag. And guys, from now on you have to think about what to put in your bag because people will see it. But don't worry, the transparent bag offers a lot of styling options. You can use it as an accessory and put some nice flowers, vegetables or fruits inside. Or if you really want to use it as a bag but you don't want people to see what you are carrying you can put a smaller bag with all your belongings in the transparent bag. That way you can wear a transparent bag, and it would still look clean and organised.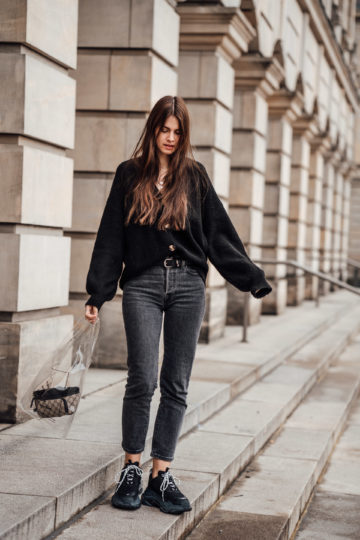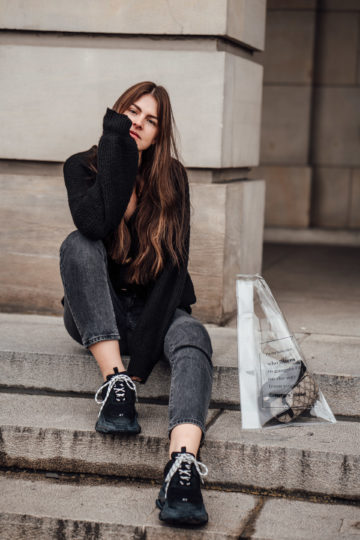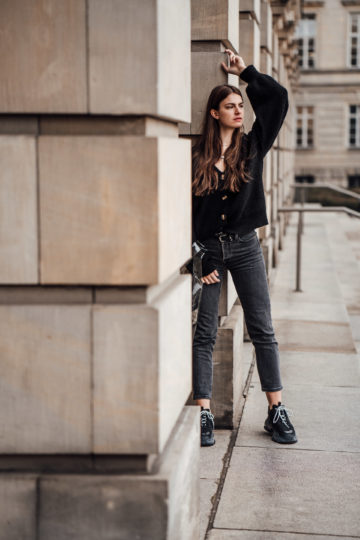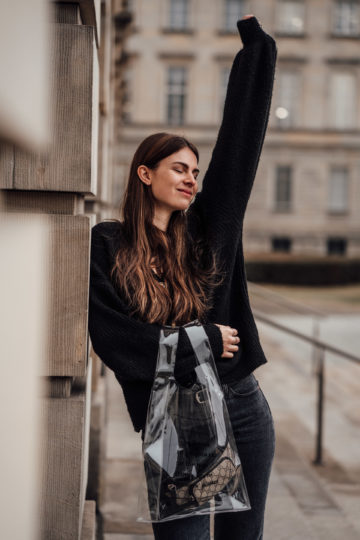 When it comes to transparent bags, you will find a lot of variations online and in store. No wonder as it is one of the must-have bags of 2019 and you could see it all over the spring 2019 runways, so it is a trend that will stick around a little bit. If you get yourself a transparent bag now, you will be all set for spring and summer. But what transparent bag should you get? The simple answer is that you should get the one you like best! Transparent bags know no bounds! When it comes to the style as well as styling them because transparent bags go with everything!
Winter Outfit with transparent bag
I just said that you could combine your transparent bag with everything and I meant it! The other day I decided to wear it when I put together a very simple and comfortable outfit for a day in between the holidays. I first was just wearing the belt bag, but the outfit looked a little bit dull. That's why I tried this look with the transparent bag, and I liked it much better – as you can see! It makes such a big difference and creates a much more interesting outfit. So to sum it up: you can definitely wear your transparent bag when you feel like there is still something missing in your outfit. For me, it meant that I was wearing it in combination with grey jeans, a black cardigan and a pair of black sneakers. And yes, I also got the Balenciaga Triple S sneakers in black as I was thinking about them way too often 😉 I will soon write a post about black sneakers, but today it is all about the transparent bag.
How do you like the outfit and what do you think about this bag trend for 2019? Do you already have a transparent bag or will you get one?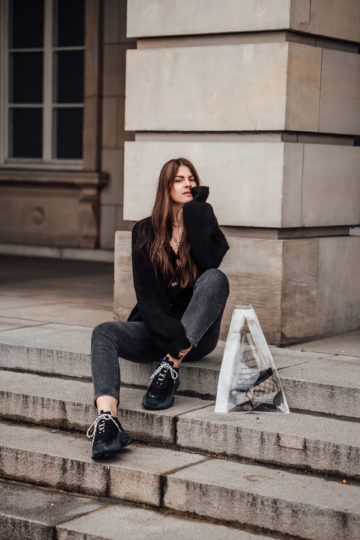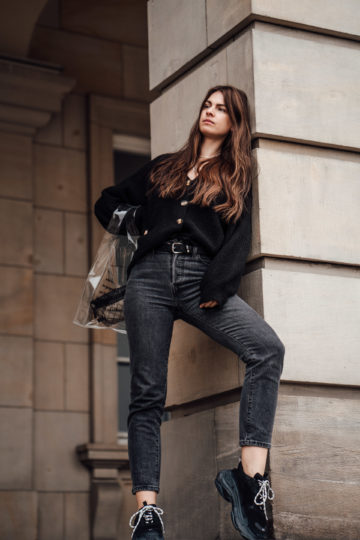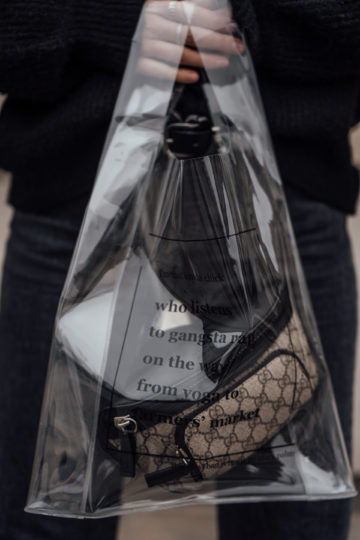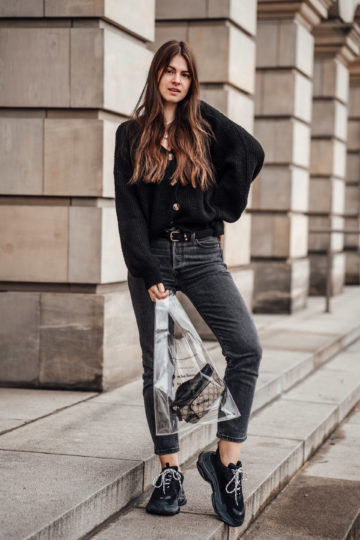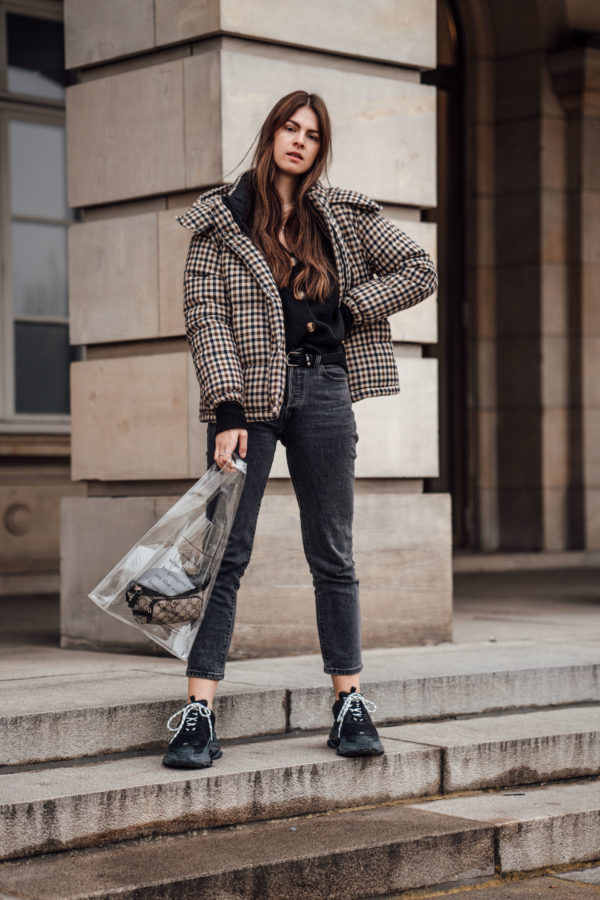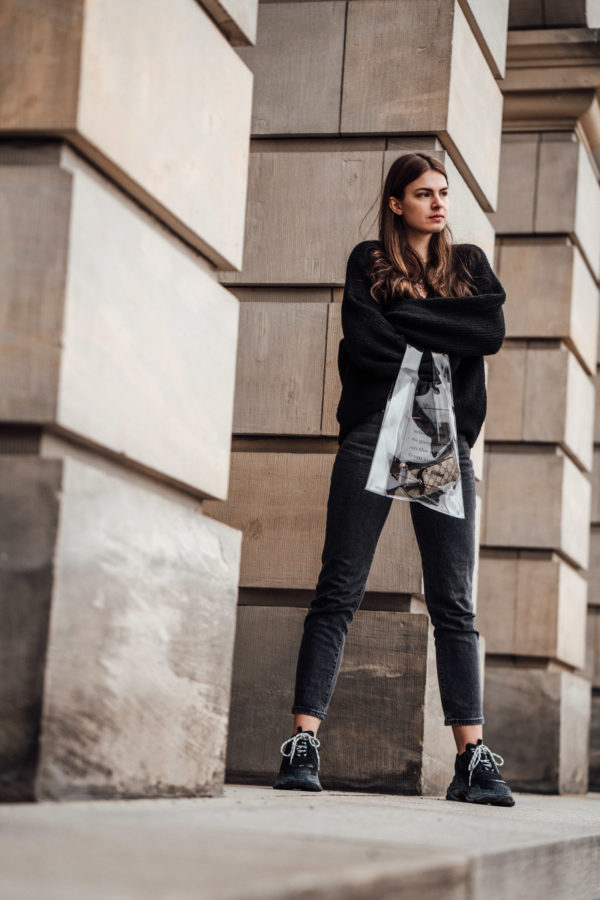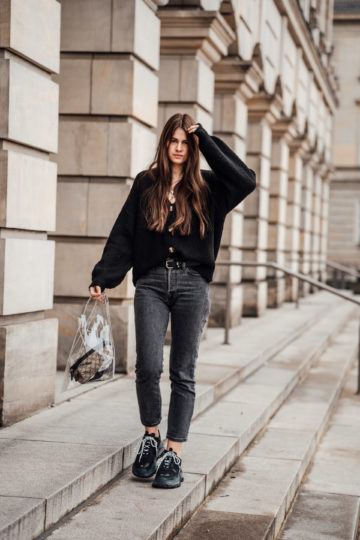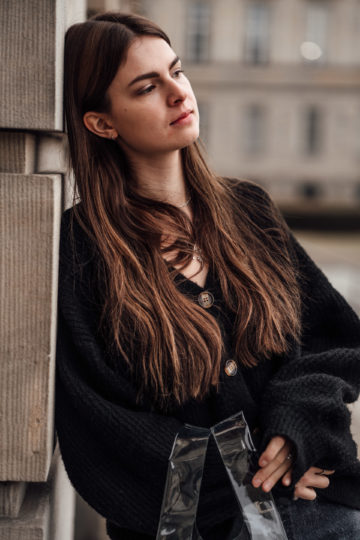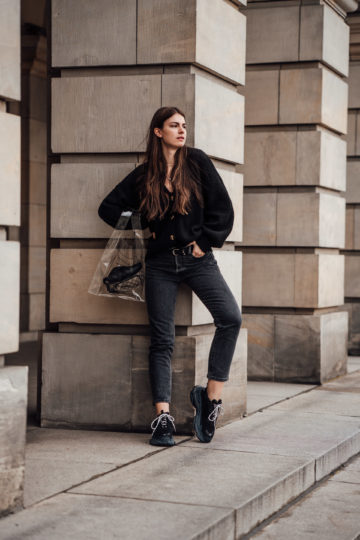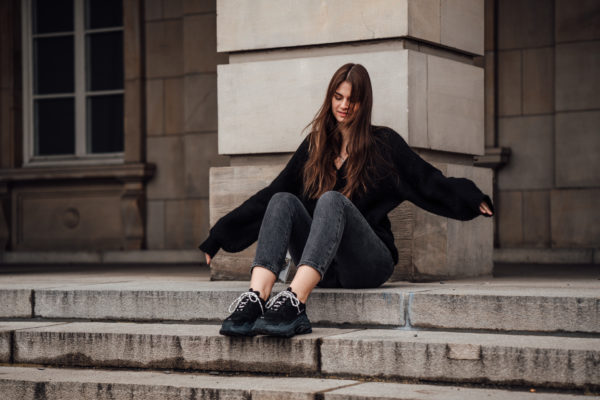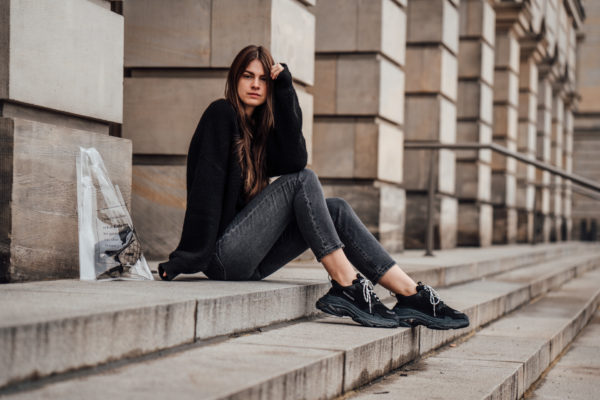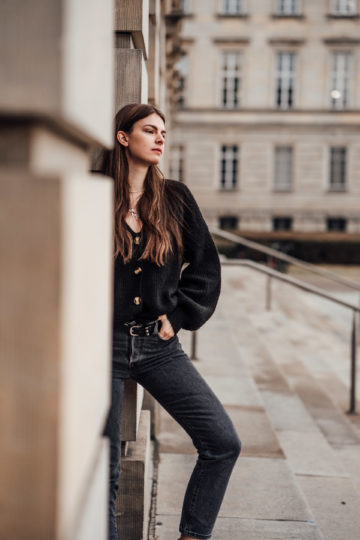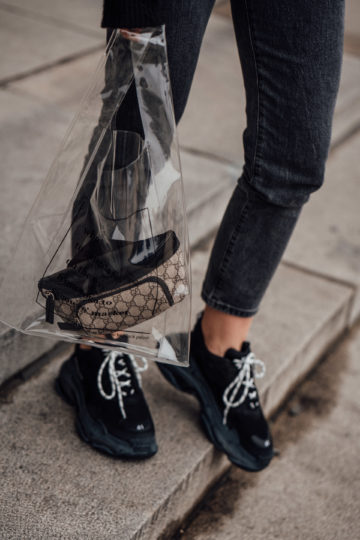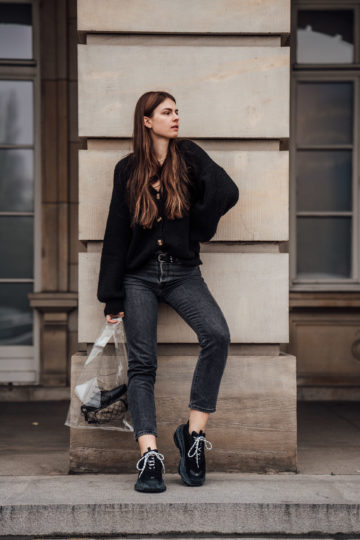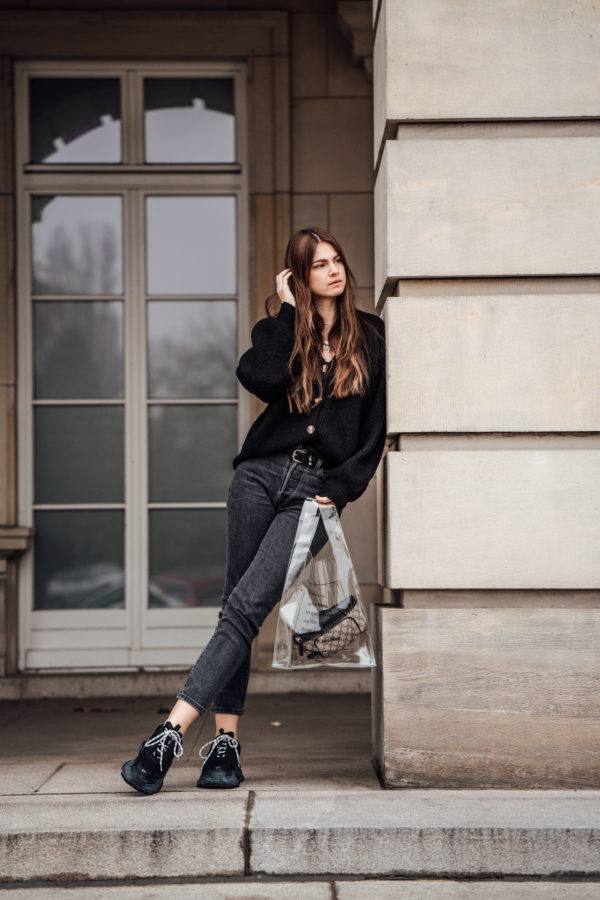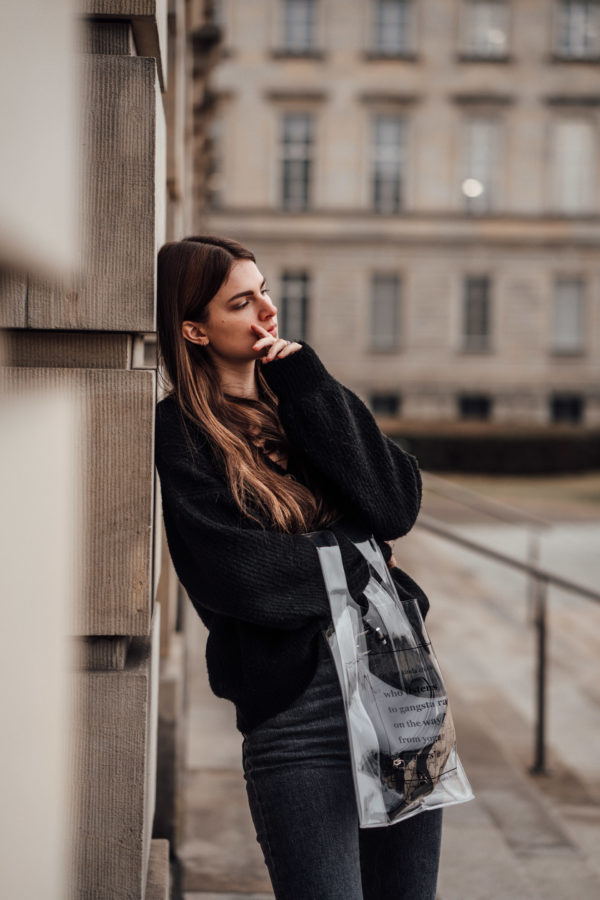 *Ad, brands named – Mango Jacket || Loavies Cardigan || Levi's Jeans || Balenciaga Triple S Sneakers || Black Palms the Label PVC Bag || Gucci Belt Bag