Blog Posts and Youtube Videos of the Week
The holidays are officially over, and people seem to be back in their offices. After a first calm week back at the office for me, the last one has been a little bit busier. Not only because the holidays are officially over, but also because Fashion Week Berlin is just around the corner and we are currently also planning a spontaneous trip to Cuba. But that's another story to be told. What I was trying to say is, that now that we are back to normal meaning back to working days haha, I also got a few things done including blog posts.
I shared two new outfit posts on the blog last week. The first one was the last outfit from Athens. It took me a while to share all of them with you, but now everything is online. This last look was a very casual one, an outfit I usually wouldn't photograph for the blog even though I am wearing this kind of outfit a lot when having busy days at the office. It's a combination of blue jeans and a long coat. The other outfit post I shared was all about a look I was wearing in between the Christmas and New Year's Eve. You can check out the look and read about one of the trends of 2019: the transparent bag trend.
I also shared a few new videos on YouTube. I still had all the footage from my New York trip in February last year, but once I had edited everything winter was already over, and I didn't feel like sharing a vlog from winter in summer. That's why I decided to post it a little bit later, and now it is finally online. I do like the vlogs from New York a lot, and I would love to hear what you think. And don't worry, I am already working on my vlogs from Amsterdam, and they will be online next week. I also want to film a bit more in general, taking you along on my travels and also in my everyday life. With the upcoming events and travels (Berlin Fashion Week, Cuba, London Fashion Week, Costa Rica) I will have a lot to film, and maybe I will even film in between those trips and show you what my days at the office are like. Stay tuned and make sure to subscribe to my channel if you don't want to miss a thing.
Looks of the Week
Not that I did take a lot of outfit pictures, you now my struggles in winter. But I won't leave you without outfit pictures at all, so here you go. Here are the outfits we took pictures of this past week: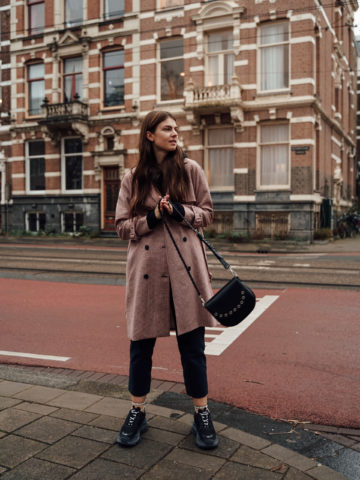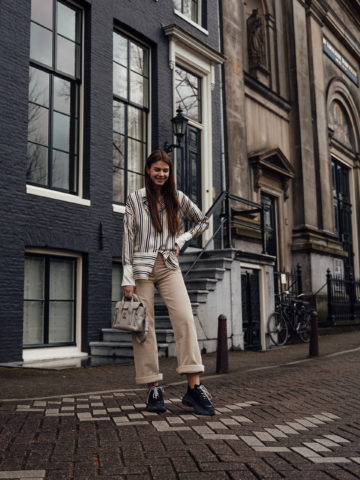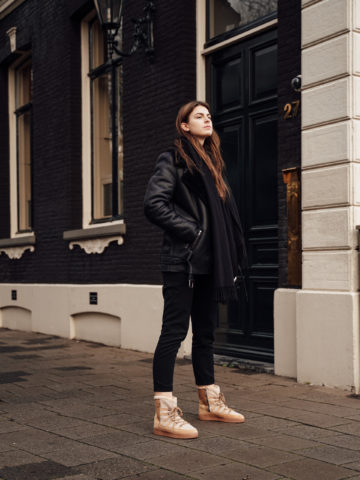 What happened the past week
The weather in Berlin hasn't been the best lately, and due to that, we didn't do a lot. On the weekend I spent most of the time at home. We just left home to buy a new plant and to go grocery shopping and, of course, to go walkies with the dog. But that's actually it. I even didn't go to the gym on Sunday, because I needed to sleep in as I was feeling a little bit under the weather.
On Monday we spent all day at the office. It was raining a lot and being outside just wasn't fun. Also, I had to get a lot of work done and didn't mind working all day. On Tuesday and Wednesday, I had a couple of appointments, and I also met up with friends. My Tuesday started at the gym as I had another PT before my two weeks pause (will explain it later). Afterwards, I worked from home before meeting up with Julia to make some plans for Fashion Week as well as our Cuba trip. I continued working afterwards and met up with another friend in the afternoon for matcha cake and tea.
The next day I got two moles removed. It was the first time I had to do this, and I was a bit nervous as I hate these kinds of things. It wasn't that bad; it just hurt a little bit as soon as the anaesthesia wore off. But this small "surgery" didn't keep me from going to a fitting for a show next week and a lunch meeting. And the surgery, by the way, is the reason why I can't do any sports for the next two weeks. I have to take it a bit easier if I don't want the scars to get big and ugly.
And since I have to pause for two weeks, I thought why not taking advantage of this and fly to Amsterdam to get another tattoo. Because doing sports with new tattoos also isn't the best idea. So yep, on Thursday we flew to Amsterdam not only because of a tattoo appointment but also because I just really like the city and it is nice to get away from the everyday life from time to time.
The weather in Amsterdam wasn't any better than in Berlin, it was rainy and gloomy, and we couldn't do a lot of things outside. We walked a little bit through the streets of the city, but that's actually it. And the most exciting thing we did here was the tattoo appointment on Friday haha. It was my fourth time getting inked in Amsterdam, and those who've been following for a while now know that I always go to Joey de Boer for new tattoos.