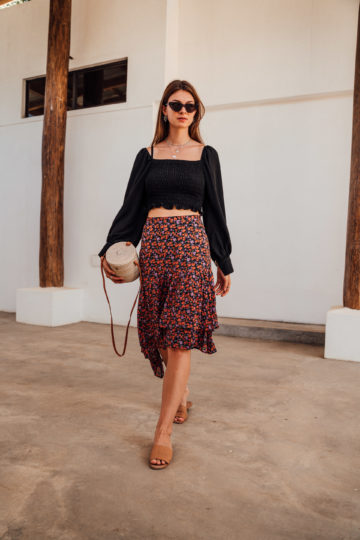 Guys, I still have a few more outfits from Costa Rica I want to share with you before continuing with some outfits from Los Angeles. Have you already seen the other outfits from Costa Rica? How did you like them? I am always trying to create as many different outfits when on vacation as possible. And I have to admit; it isn't always easy. But this time I did a very good job and brought a lot of different clothes with me, clothes you can not only wear when on vacation but also when at home. I would wear most of my Costa Rica outfits the same way when in Berlin and this outfit is one of them.
Skirt with floral print combined with a black shirt
You know, that I currently love wearing more colourful pieces, so it's no wonder that I do like this skirt with its floral print a lot. When wearing this skirt, you don't need any other colourful and eye-catching pieces of clothing. You can put on a simple black or white top, and you are good to go. In Costa Rica, I opted for a black shirt. But it's not a simple black shirt; it has a few details that make it more interesting such as the square neckline or the ruffles, don't you think? It would not only work with a piece such as this floral print skirt but also with a simple pair of jeans and the outfit still would look appealing.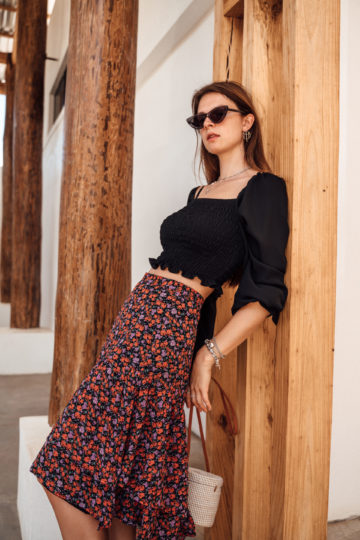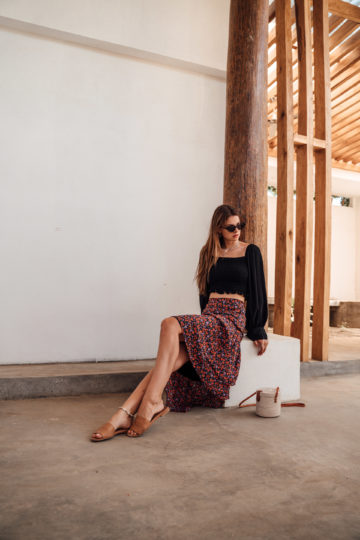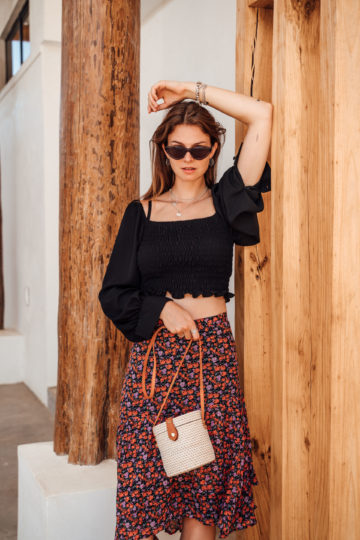 To make this outfit look a bit more like a city outfit, you could simply wear a pair of sneakers and another bag. I was wearing one of our Onvacay bags, and they all have this vacation vibe that makes one go back to the beach. So another bag might make it look less like a vacation outfit, but more like a city outfit – just give it a try.
How to wear an asymmetric skirt
I have to admit, that I do like the colours and the print of the skirt a lot, but I first wasn't sure whether the asymmetric cut would suit me or not. Asymmetry can always be a bit tricky, and it needs the perfect length. For this skirt, it actually works just perfect, and all my doubts were gone once I had tried it on.
You should always try on an asymmetric skirt before buying it and maybe even combining it with a few different options to see how you could combine it and what it works best. I think it is always a good idea to combine an asymmetric skirt with a crop top. I would never combine two asymmetric pieces of clothing with each other. I also don't know, if an oversized top would work well and would rather opt for a tight-fitted one. In this case, the sleeves of the top were quite wide, but the rest of the top was tight-fitted plus it is a slightly cropped top.
How do you like this outfit? And what do you think about the asymmetric skirt? Is it something you would wear? Leave me a comment and let me know. xx
*Ad, brands named – Gestuz Skirt || Asos Shirt || Flattered Shoes || Onvacay Bag || Chimi Sunglasses