The outfit I am sharing with you today is another look; you could not only wear on a summer but also on a spring day. And I do not only want to talk about the reasons why you need a red dress this summer, but also why you might want to get one for spring and maybe even autumn as well.
It's funny how things change; when I started the blog I was barely wearing dresses, and now I am wearing them a lot during spring and summer. I actually couldn't imagine not wearing dresses during these seasons. Another thing that has changed is that I started enjoying midi dresses about a year ago. The reason why I never wanted to wear them was that I thought they would make my calves look bigger than they are, but often we are the only ones seeing this kind of "problematic areas" on our body, and they do not really exist. During the past years, I learned to love my body. I still have days on which I don't feel confident and am not a hundred percent happy with my body, but I know how to handle it. Maybe that's a topic I will write about another time. Because today it is all about this outfit from Costa Rica and my new favourite red dress.
The perfect red dress for spring and summer
I got this dress just before our travel to New York and Costa Rica and just had to bring it. I actually thought I might be able to wear it in New York, but you already know that it was colder than expected there. So I wore it once I was in Costa Rica. I do like the cut, the fabric and the print. It is very airy and comfortable, and the floral print makes it look more interesting.
Another thing I do like a lot is the buttoned front.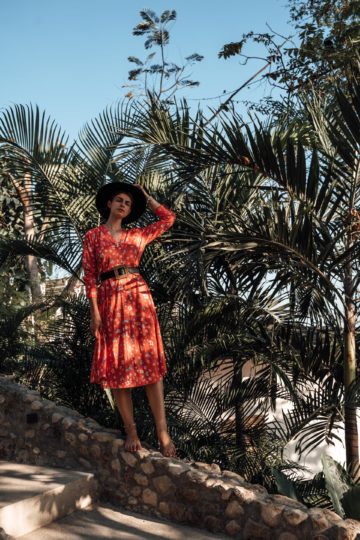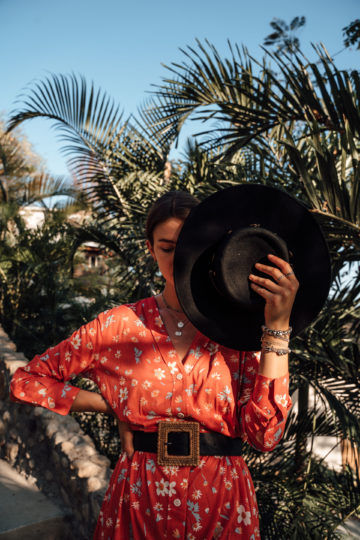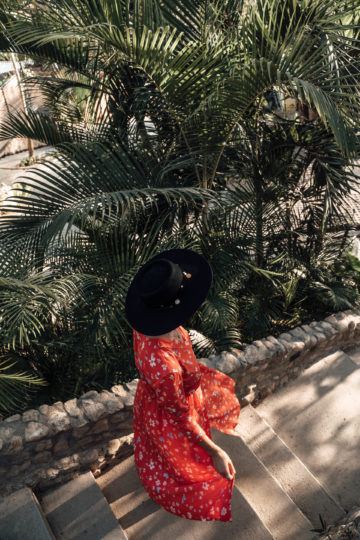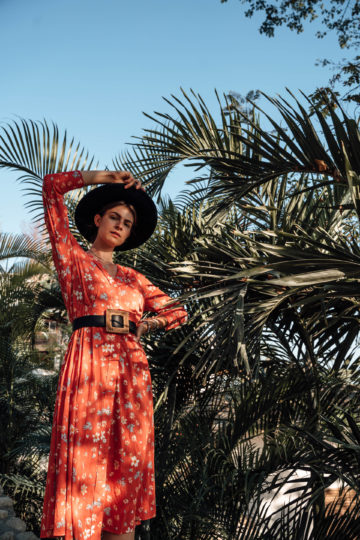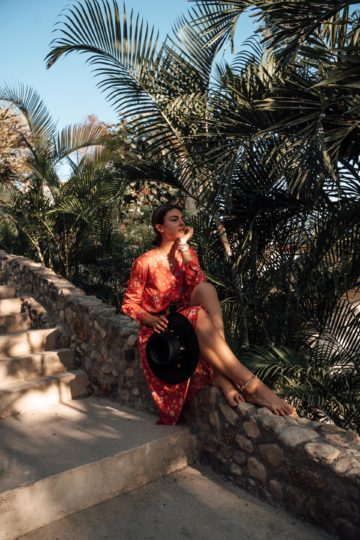 If I want to, I could unbutton it and also wear it as a light coat on a colder spring day. All these details, as well as the fabric, make this dress the perfect dress for spring and summer. It also can be combined in different ways and one of those combinations I will talk about in the following:
Combining a red dress with a black belt and hat
The temperatures in Costa Rica were quite high, and that's why I opted for a very simple outfit combination. I was only wearing the dress and added a few details. I was wearing a black belt to highlight my waist and wore the black hat to match the belt. I wasn't wearing shoes that day, just because I was on vacation and living the island life to the fullest 😉 But I would probably just go for a pair of black flats, strappy sandals or maybe even a pair of cowboy boots or black sneakers. It depends on when and where I am wearing this outfit. As you can see, it is not only an outfit you can wear on vacation; it can also be worn in the city.
The reasons why you need a red dress
I've talked a lot about the red dress, but I haven't really shared the reasons why you need a red dress this spring and summer, so here you go:
For once, a red dress is a very eye-catching outfit, and you don't need a lot of details, accessories or other clothes to create an interesting look when wearing a red dress. Whenever you are in doubt and don't know what to wear, you can just pick the red dress, pull it over, and you are ready to go. Another reason is that it is just nice to wear some colour from time to time and red fits everyone (well, that depends on the shade of red!). Red also is pretty easy to combine, just wear it with black and white and you can't do anything wrong. Do you need more reasons? Let me know in the comments, and I will share them with you. xx
*Ad, brands named – & Other Stories Dress || Pieces Belt || Mango Hat