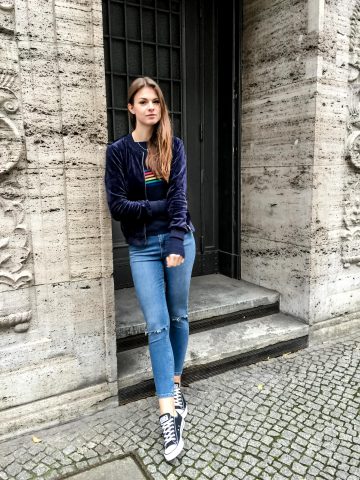 I am so happy that this week is over, but at the same time I could need an additional day to get the work done I couldn't finish this week 😉 At this point you probably know, what my last week was all about: work. I had so many things to get done and to prepare and spent a lot of time at the office. I also attended some events and met friends during the past week, so I actually have something to tell you about today.
The last weekend was very calm. We spent a lot of time at home, worked and relaxed both, but also went outside to take new outfit pictures. On Saturday evening we visited a Christmas market here in Berlin, had mulled wine and ate crêpes with lots of Nutella. I was super tired that day, so we didn't do anything afterwards, we just watched another episode of Suits, and that's it. We started the Sunday with a big breakfast before my boyfriend had to drive to his soccer match. I decided to do a little home workout, worked on a couple of posts and watched Gossip Girl on Netflix. In the evening we just ordered food and watched, even more, Netflix. You see, it was a very calm weekend.
Monday started with a morning run. It feels so good to be active again and to do work out a little bit every day. I drove to the office right afterwards and worked all day. It didn't happen anything interesting that day, nothing I could remember. Tuesday had started with another workout before I drove to the office again. I had worked for two hours before I met up with a friend for lunch. I had an
appointment at my hairdresser afterwards, and he had only 45 minutes to cut my hair because I had to head to an event with Beefeater. It was such a fun event, we designed our ugly Christmas sweaters and had a Christmas dinner all together. I was super tired when I came home and felt asleep right away. Wednesday was actually another day at the office; I just met my parents around noon. Even though I had almost a full day at the office, I couldn't finish as much work as I wanted, so I spent another full day at the office on Thursday. We didn't want to sit at home in the evening, so we went ice skating again. What can I say: again it was a lot of fun!
Friday was another busy day because I had two events and decided to go Christmas gifts shopping right afterwards. The day started with a cardio workout with Fabletics, which was super exhausting but fun at the same time. After that, we headed to the RESERVED Sample Gifting. We got to choose our favourite pieces of the current collection and enjoyed festive drinks and sweets. 🙂 Since it was already quite late when we left the location, I decided to go Christmas gift shopping instead of driving to the office. I still don't have any gift, but I'm getting there 😉 What about you?