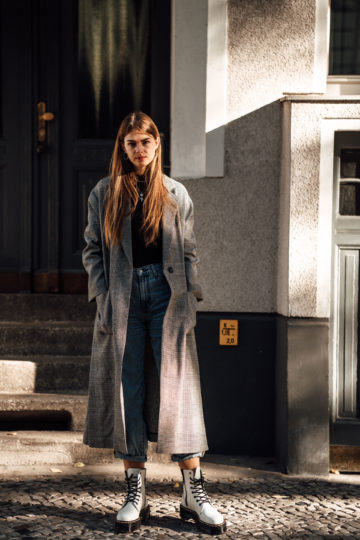 Guys, it's been way too calm on the blog, and that's because I am having a very stressful time. The year is coming to an end, and I am currently trying to get everything ready, organise some last collaborations and plan the first months of the upcoming year. I barely have time to keep you update on the blog and YouTube, only on Instagram I am posting at least once a day. So, if you want to see more and don't always want to wait for new posts, make sure to follow me there. 🙂
The plan for this week is to share two new outfit posts, and I will start today as you can see. I know, I wanted to share three new posts a week, but better two good posts than three posts written half-heartedly. Also, the current weather situation in Berlin doesn't make it easy to take new outfit pictures, and I am running out of pre-produced content. I think I might have enough for this week and maybe the upcoming week and that's it. I think after that I might share some Christmas and NYE outfit inspirations. Is this something you would be interested in? Let me know in the comments.
And now it's time to talk about the outfit I want to share with you today. It's a very casual outfit, one I would wear on a calm day at work or at the weekend.
Combining White Boots, Baggy Jeans and a Checked Coat
I am wearing a lot of my favourites for autumn here: white boots, baggy jeans and a long coat! Since I got the baggy jeans at the beginning of the year, I've been wearing them a lot! They are super comfortable, and I also like the look a lot.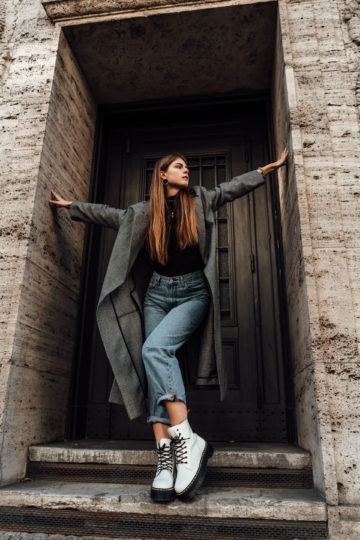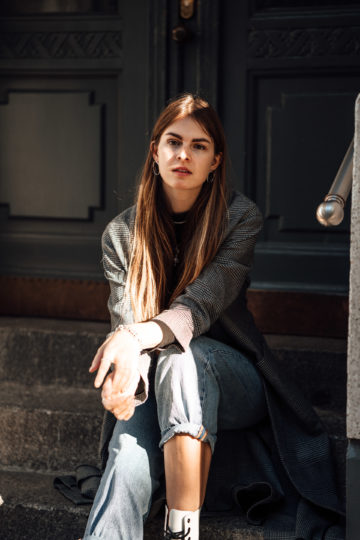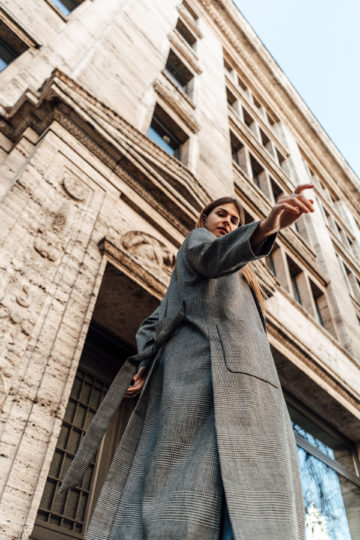 You can either dress them up or down, and in this case, I obviously decided to keep it simple and went for a casual outfit combination. When wearing a pair baggy pants, you should always wear a tight top, something that gives you some kind of silhouette so you won't just look bulky 😉 That's why I combined them with a turtleneck, that's tight fitted.
For the rest of the outfit, I went for wider and bulkier clothes. I put on a pair of white platform boots for even more comfort and a wide, long coat. If you want to put together an outfit, that's slightly chicer; you can wear a pair of black heeled boots instead of the white platform boots. And if it's warmer outside, you could also go for a pair of high heels or some nice, feminine flats. The coat is quite chic, so that's something you won't have to exchange. You can never go wrong with a checked coat, especially when it is as long as this one. Did I mention, that I love long coats? And did I mention, that it is quite a challenge to find a long coat when you are 1,80m tall?
One last thing about the boots: white boots are currently a trend piece. BUT there is a lot you can do wrong when it comes to white boots. They should have a high quality, and for the colour, it's better to choose a white that's more yellow than blue as it will look warmer and of high quality. Also, white overknee boots might be tricky as most people might connect them to a branch you probably don't want to get connected to 😉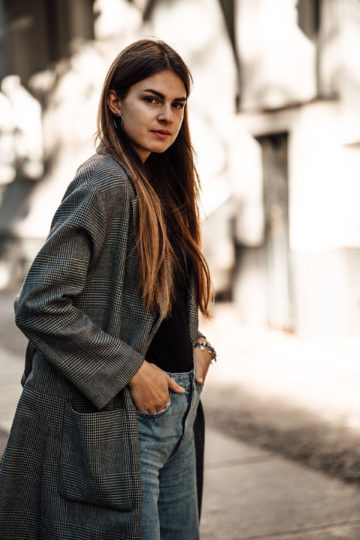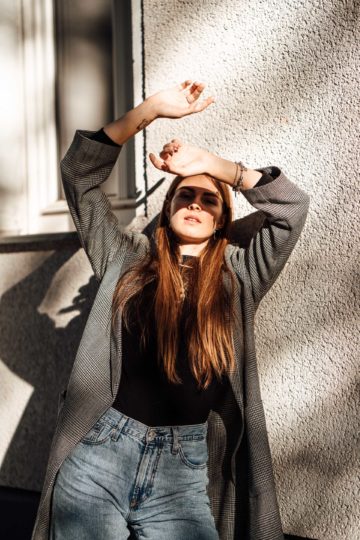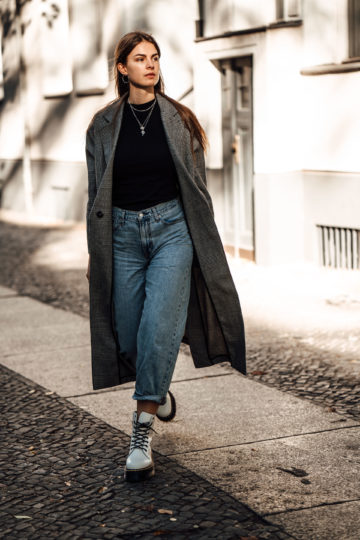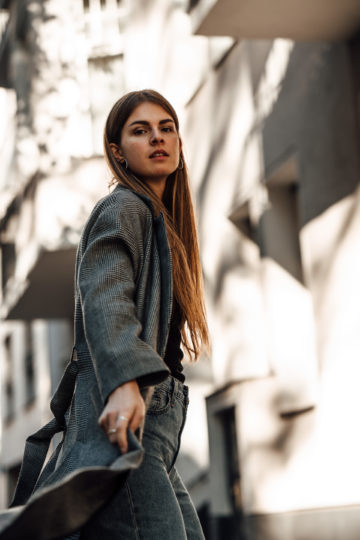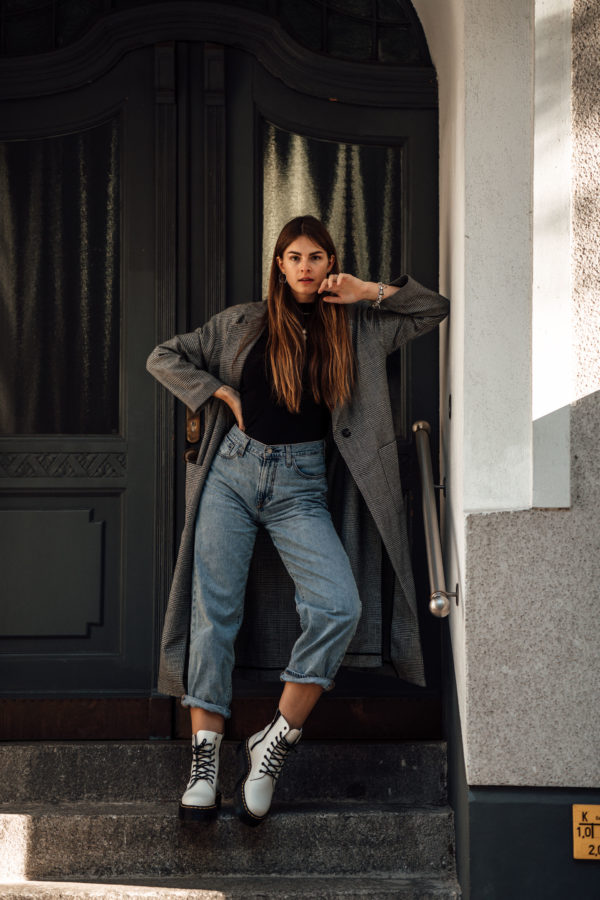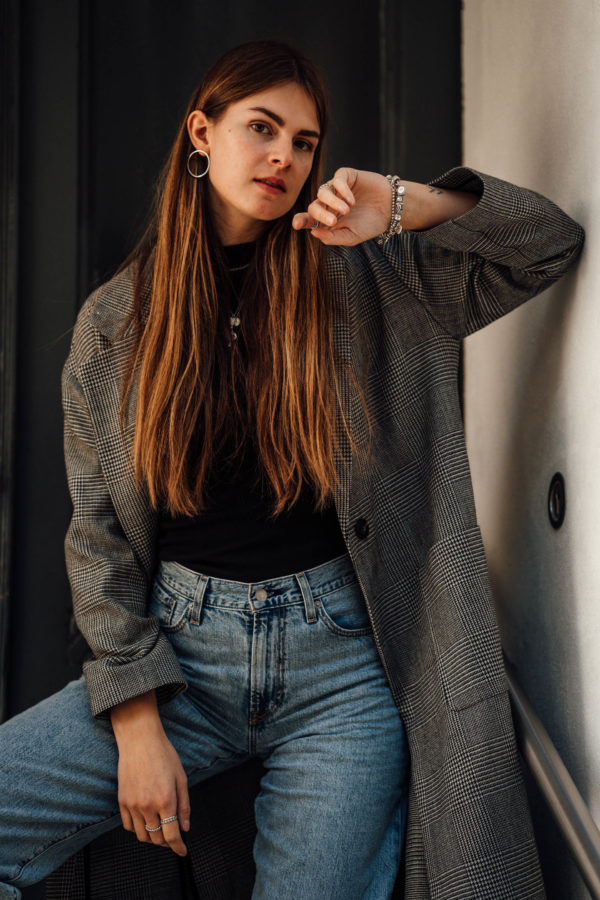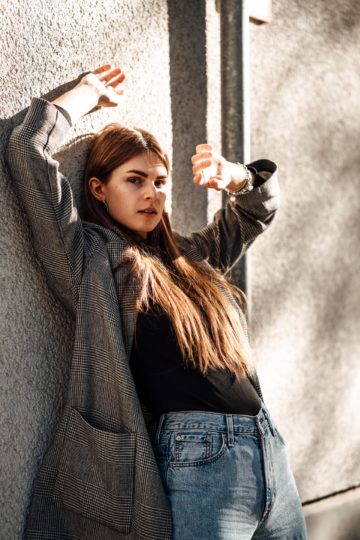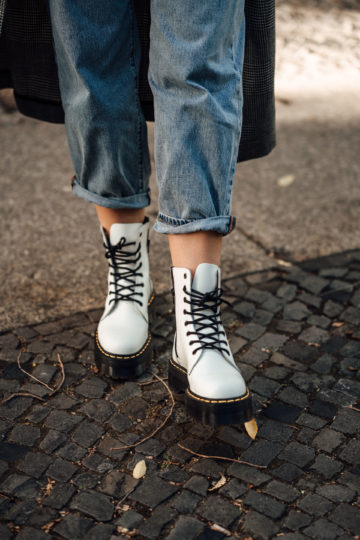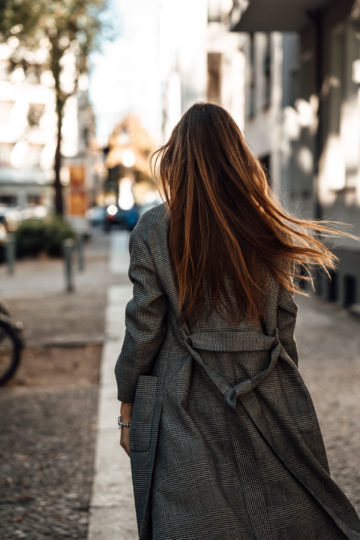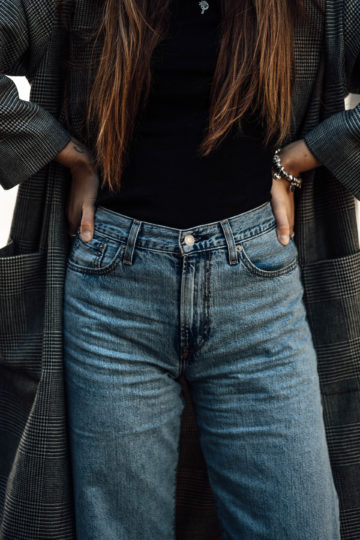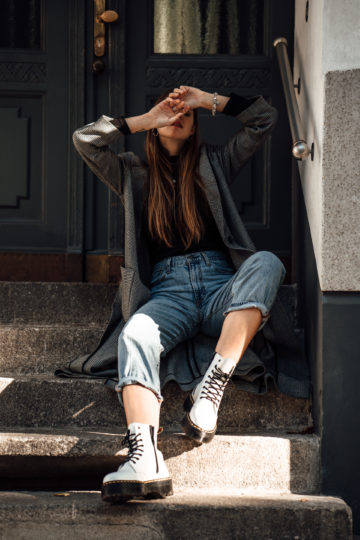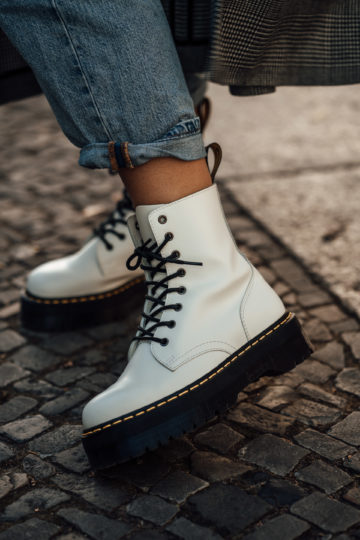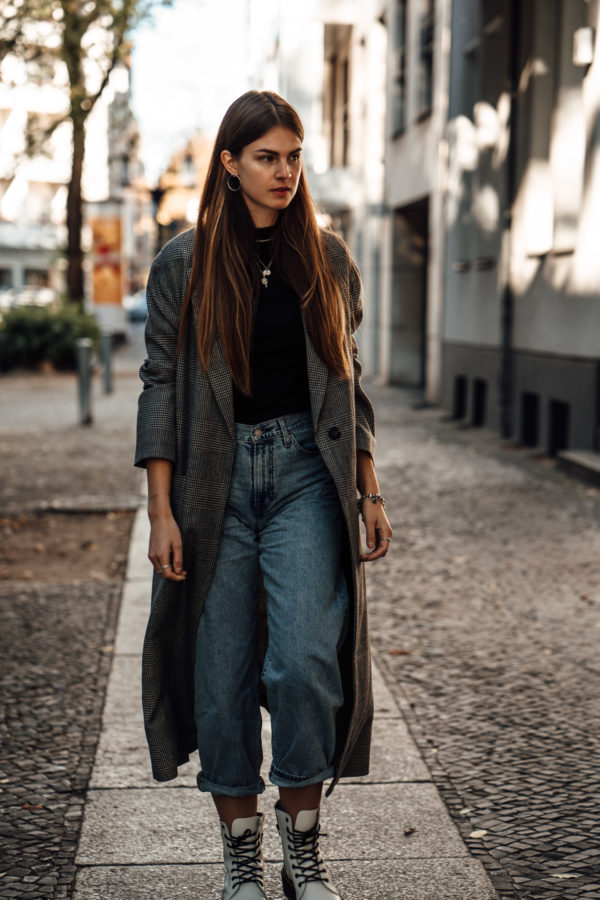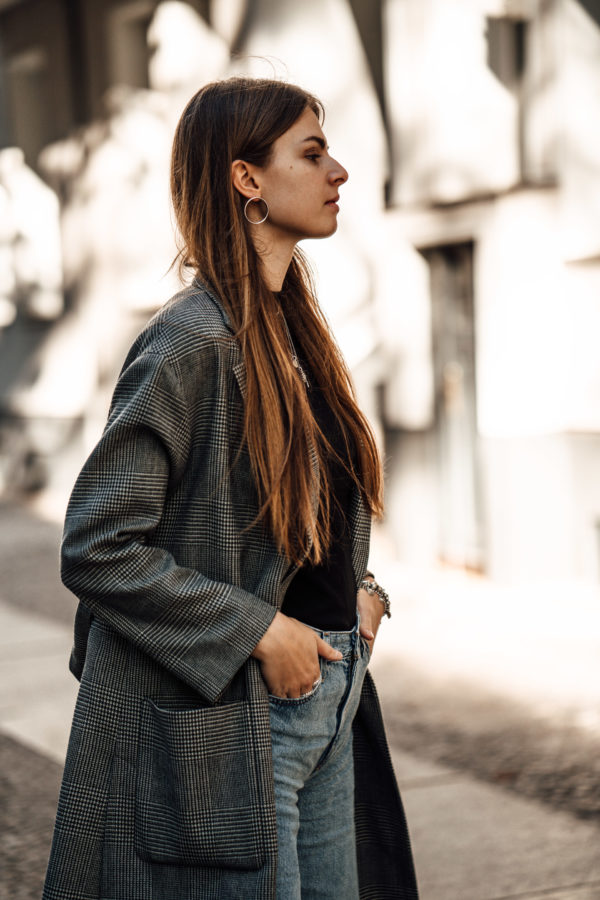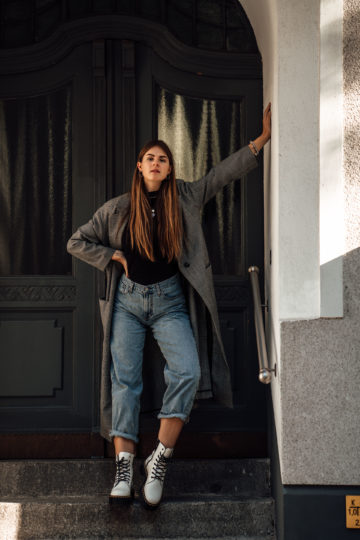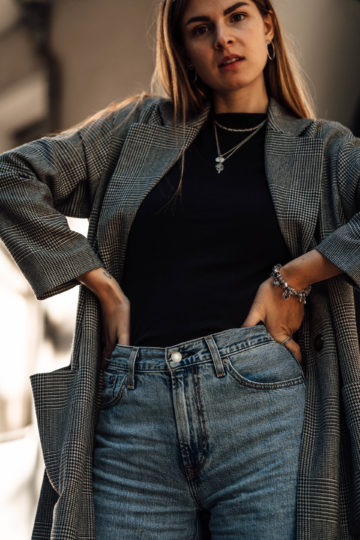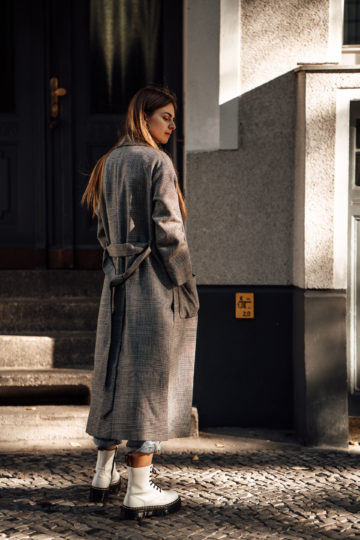 *Ad, brands named – Levi's Jeans || Vila Turtleneck || Dr. Martens Boots || Weill Paris Coat