Happy Tuesday guys! I hope you had great Easter holidays with your beloved ones. I took a day off yesterday and didn't share anything, but today I'm back with full power, and I can't wait to share some outfits with you these upcoming days. Since the weather has been very unstable the past days, I really don't feel like dressing up. I want to wear summer clothes, but can't because it's too cold. I end up wearing a mix of both, but I'm actually freezing most of the time. The day I was wearing this outfit was one of those super windy and cold days, it wasn't raining, but the wind was super strong, and that made my life very unpleasant that day… I was wearing this nice white sweater, that is perfect for balmy summer evenings or nice spring days. I really like the peekaboo design, but I didn't know what to wear underneath. In the end, I decided to wear nothing but my bra, but that wasn't my best idea. Of course, it didn't keep me warm, and I was freezing. But I like it anyways; it's such a nice outfit, comfortable with a sporty touch.
White Sweater, Blue Pants and White Sneakers
I think it's been a while since I last wore a white and blue outfit. I was wearing a lot of black and white lately, so it was time for a change. Looking at these pictures, I ask myself, why I don't wear this colour combination more often.. It's actually quite nice 🙂 It reminds me a little bit of spring and summer even though both colours are cool colours. But they remind me of the ocean and the blue sky, and that's why white and blue always remind me of summer.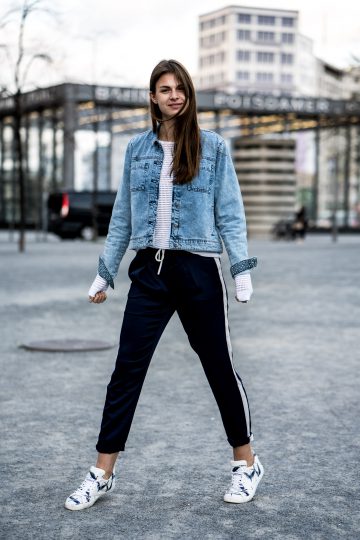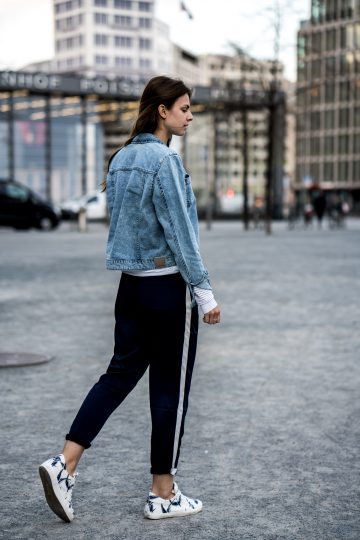 I was wearing a pair of super comfortable blue pants, a white sweater as well as white sneakers with a super nice print that day. On some of the pictures, you can also see me wearing a light blue denim jacket. I usually would have chosen a dark blue denim jacket and maybe even a model that is a bit oversized, but that day I combined my blue and white outfit with another shade of blue and went for the light blue denim jacket. I have to admit, that I first wasn't a hundred percent sure about this outfit combination, but that changed when I saw the first pictures on the camera 🙂 What do you think?
Potsdamer Platz in Berlin
We took these pictures at one of my favourite locations in Berlin, the Potsdamer Platz. Even though it is always (a little bit) touristy and crowded here, I always enjoy being here. I really like the buildings at Potsdamer Platz, but what I like even more is the meadow you can't see here. It's a great place just to lay down and enjoy the sunshine while eating delicious ice cream. And I can't wait to do it again as soon as it is warm enough in Berlin. I definitely won't come here on the weekend, because it's always super crowded and full of tourists 😉 But during the week it's a great place to spend some time at. The day we took these pictures it was too cold to eat ice cream and lay down. I didn't want to take outfit pictures in front of a wall, and when we were thinking about a location with a nice background, this one popped up in my mind. How do you like the pictures?