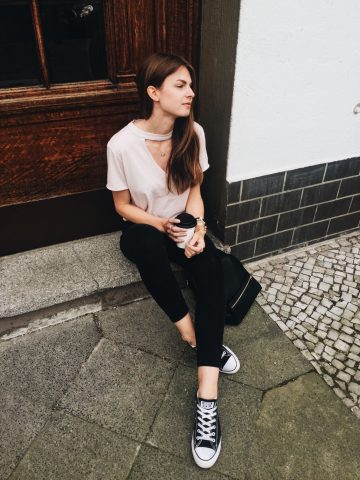 Happy Easter Sunday everyone! I wish you an amazing day and hope you can spend it with your beloved ones 🙂 I'm meeting my family tomorrow, so today is going to be super relaxed and calm – perfect to share everything about my past week with you. And I wish I could say, that the past week was exciting and that a lot of things happened, but unfortunately, it was just another boring week, and I spent most of the time at the office.
But let's start with the past weekend, which I didn't spend at the office. The weather the past weekend was very nice, it was sunny and warm, and we spend a lot of time outside. On Saturday we went for a long walk with Jimmy, we drove to a forest so he could run a little bit. Afterwards, we washed our because that was twice-overdue x) It felt good to get something done we wanted to do for so long… the rest of the day was more relaxed. We had lunch at a café in our neighbourhood, took new outfit pictures and met up with friends in the evening to have dinner and watch soccer. It was so much fun to cook together and, of course, to eat everything afterwards. I just love good food!
Sunday was another fun day because Larissa was in Berlin and we met up for breakfast. The restaurant we wanted to have breakfast at was more than fully booked (around 20 people were waiting outside to get a table), so we walked to another café and enjoyed the amazing weather. It was great to see her again after a way too long time. I actually can't remember when I saw her last; I'm sure it was in 2016…
I was thinking about going for a run afterwards, but I really didn't feel like it, so I stayed on the sofa instead and watched Netflix. We started watching a new series called "13 Reasons Why", and it's pretty good so far. Can you recommend some series? We will finish season one pretty soon, and I don't know what to watch afterwards, haha.
It was time to get some work done after this amazing weekend, that's why we went to the office quite early on Monday. The days from Monday to Thursday looked pretty much the same because I didn't do anything but working or going to the gym/ for a run. Working out and running was the only compensation I had this past week and it was much needed. That's all I can tell you about these days. Friday was a little bit different because it was Good Friday. Due to that we spent the day at home, worked a little bit from there – we had to do the accounting… -, but took it easy. The weather in Berlin was super shitty, so we really didn't feel like being outside and doing something that day. You see, the past week wasn't very exciting. Next week will probably be quite the same because there's just so much work I have to get done. Additionally, we're working on so many different projects right now, so we need every single minute at the office we can get. Hopefully, summer will be a little bit calmer 🙂 Right now I really don't mind spending a lot of time at the office, the weather makes it very easy…