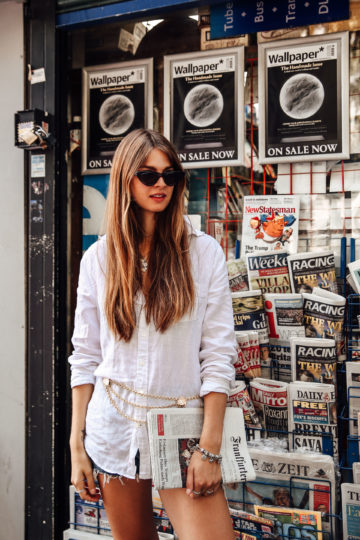 While I am on my way to New York, you guys can have a look at another outfit I was wearing in London. And after I shared everything about this outfit, I still have two or three London outfits left. I don't know whether I will share them next week or keep them on hold and share some content from New York first, but you will be the first ones to know it 😉
By the way, the first pictures from New York will be online on Sunday, and if you really don't want to wait until Sunday, you can check my Instagram. I will try to keep you up to date in my IG stories and also share lots of New York content in my feed.
But back to the outfit from London, I want to share with you today. I was wearing this outfit on Saturday, and it was one of four or even more outfits. I say four because I met up with a photographer in the morning to shoot some looks for you guys and this was one of them.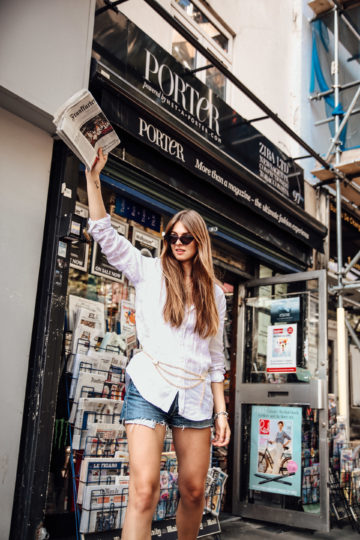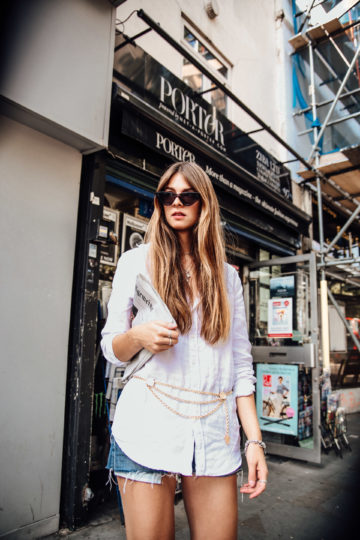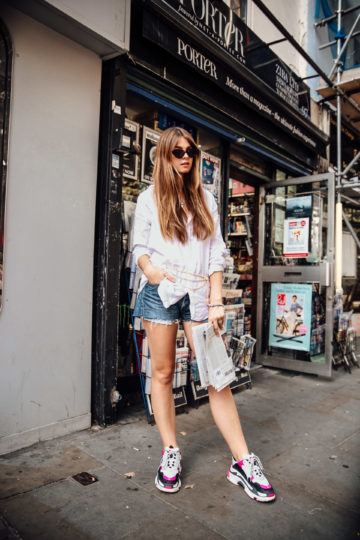 How to upgrade your outfit with a chain belt
This outfit turned out to be one of my favourites even though I first was pretty unsure about the look. I had a specific look in mind, but it didn't work with the clothes I had with me in London. That's why I had to try to put together a similar look. With the other outfit in mind, it wasn't easy; I just wasn't fully satisfied with my solution. But when I look at these pictures, I actually like the outfit.
It is a quite simple outfit, the combination of denim shorts and a white shirt. But I added two pieces, which make the whole outfit stand out. One of these pieces is, of course, the Balenciaga Triple S sneakers. But since I've talked a lot about them recently, I will jump right to the other piece: the chain belt. The other day I already mentioned, that I do love the current chain belt trend and that I will wear them quite often during the next weeks. It is one of those small details that make an outfit much more interesting.
You can add a belt bag to almost every look. You can wear it with a white shirt such as I did here or with a pair of denim shorts, pants or jeans and with a skirt or dress. If you want to see, how I was wearing my chain belt with a pair of denim shorts, you can check out last weeks London outfit. But first, let me know how you like the combination of a white shirt with a chain belt. 🙂 Next time I will definitely try to wear the outfit I first had in mind, but this one isn't bad as well. I think I might go with this look some more times as well. Maybe I can also find a silver chain belt that would match the jewellery I am wearing every day. Not that I mind mixing gold and silver, but sometimes I prefer it a little bit cleaner and wearing only silver or gold.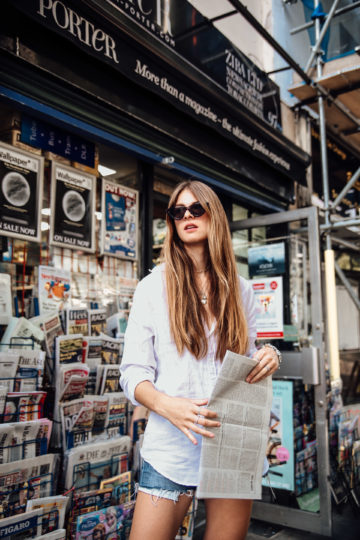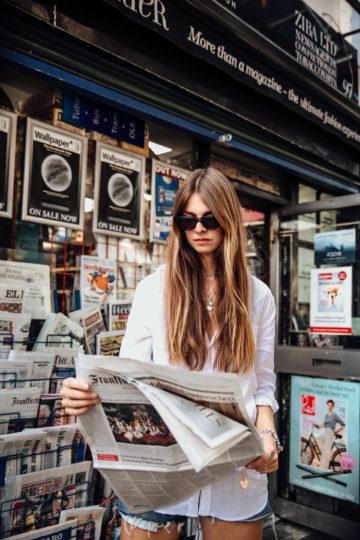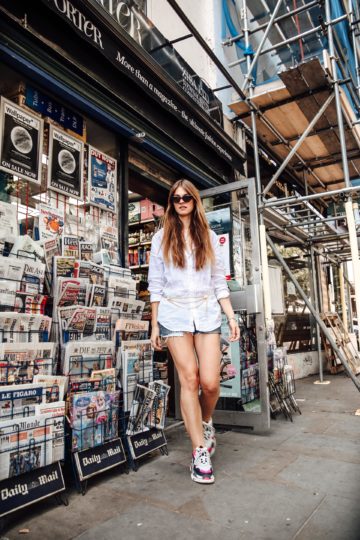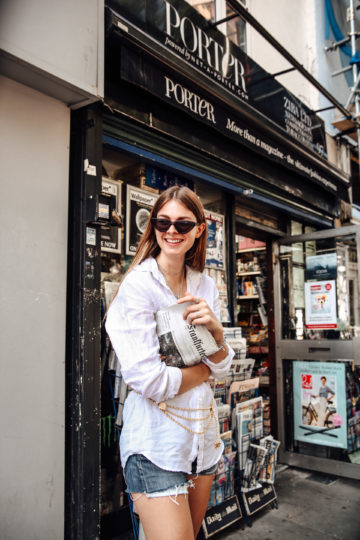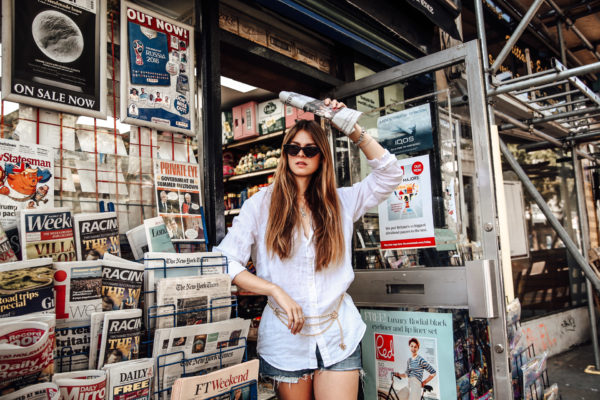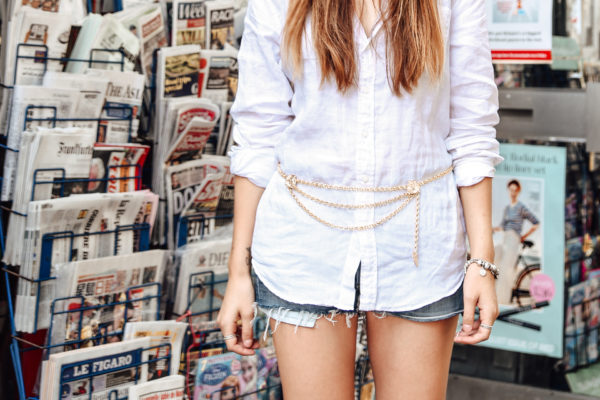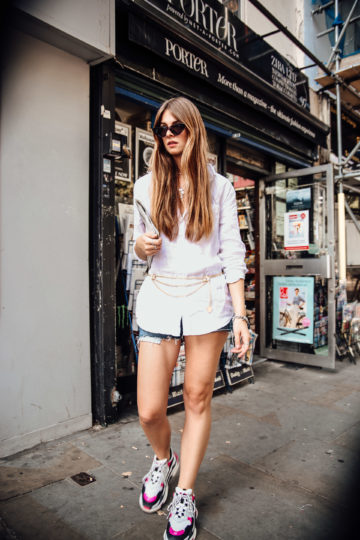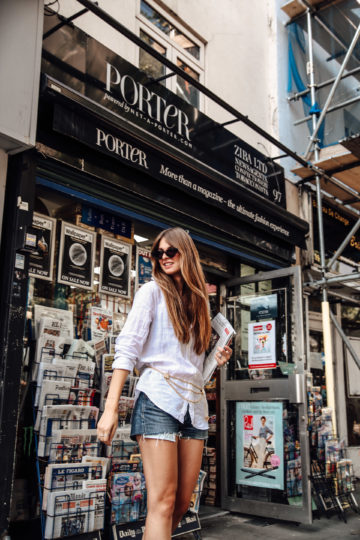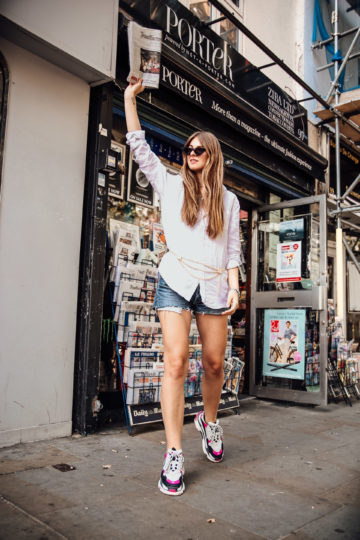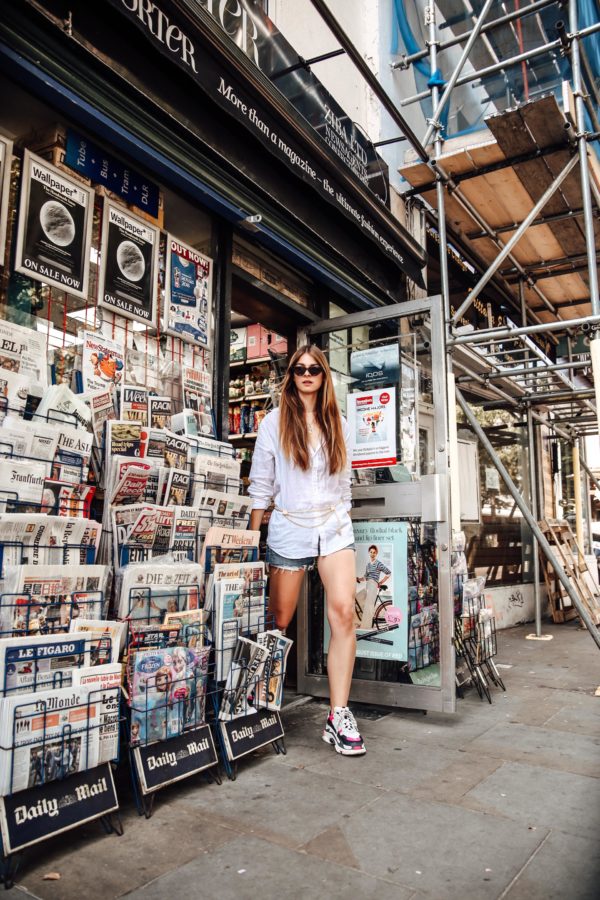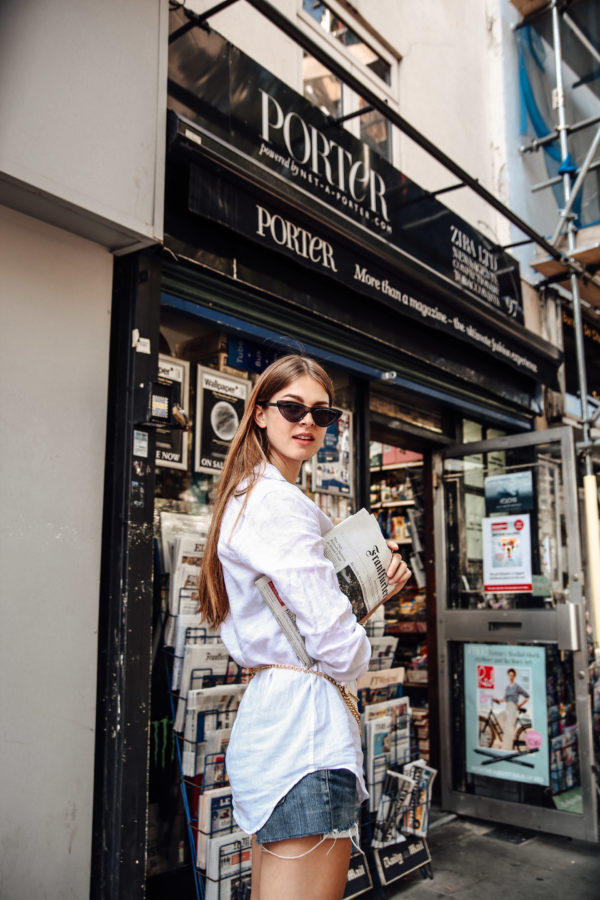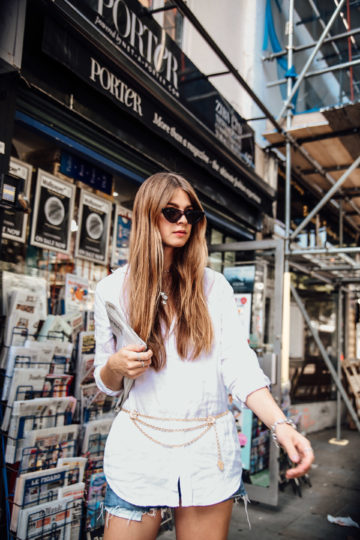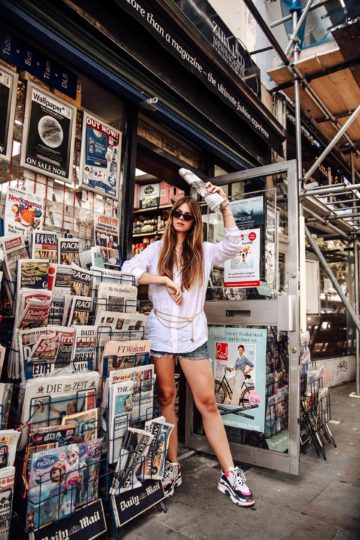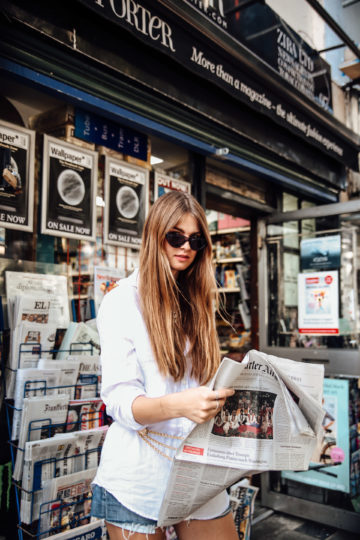 Photos: Elena Gola
*Ad, Brands named – Gant shirt || Levi's shorts || Balenciaga Triple S sneakers || Chimi Sunglasses || Deluxechoker chain belt