I am so happy I still got some outfit pictures from London, because it is way too hot in Berlin to take any new pictures and I am wearing denim shorts and basic tops every day as I don't know what to wear instead in this heat. A bikini would probably be the best decision, but sitting in the office wearing only a bikini actually isn't appropriate – not even when you are your own boss haha.
If it weren't as hot as it currently is in Berlin, I most definitely would wear similar outfits to the ones I was wearing in London about 1 1/2 weeks ago. I already shared two of my London outfits, and today it's time for the third one. It is one of the outfits I shot on my first day in London when I met up with Michaela. It actually was a little bit too warm for the jacket, but I had this outfit in mind, and the heat couldn't keep me from wearing at least for a couple of shots.
Wearing a plaid dress and denim jacket in London
This plaid dress is one of my favourite summer dresses, and I've been wearing it quite a lot this summer. I got it in spring, brought it with me to Miami and since then it's been one of my go-to dresses for warm summer days. As I already took some outfit pictures of the dress when I was in Miami, I didn't do it back in Berlin. I didn't want to bore you with the same clothes. But when I packed for London, I wanted to bring clothes I feel very comfortable in, and I would wear whenever I don't know what to wear, and this plaid dress was my first choice. Also, the last time I shared an outfit picture with this one was in April and almost three months of not posting it is more than enough time, isn't it? 😉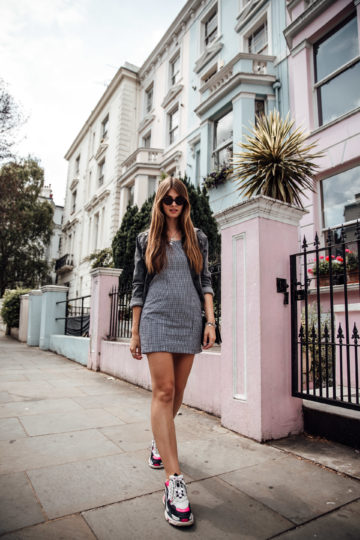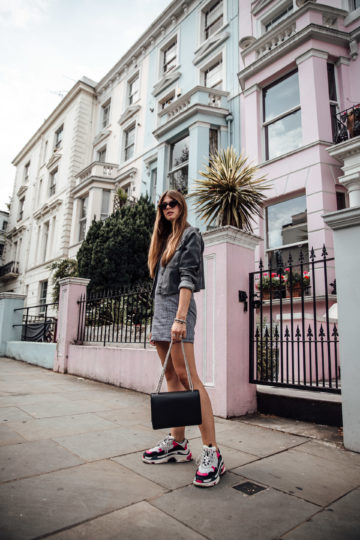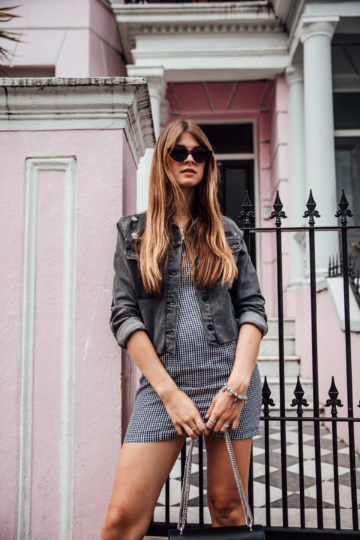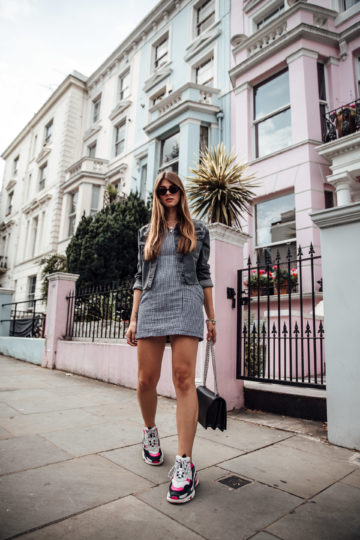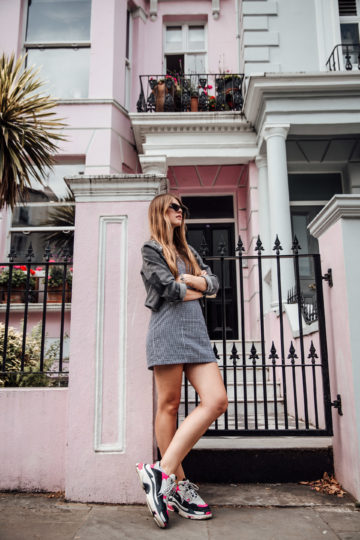 So as I mentioned before, I had this outfit in mind I really wanted to shoot in London: the plaid dress combined with a grey denim jacket. Just before I put on this outfit, I asked Luisa (DIY blogger at Schere Leim Papier) if she would cut the jacket for me, because I wanted it to be more cropped. We had no idea, if it would work and what it would look like, but as you can see it turned out very well. I liked the jacket before, but now that it is a bit more cropped I like it even better. I now can perfectly combine it with dresses or high-waisted shorts and pants. You will probably see me wearing it more often when it gets colder in Berlin. 🙂
One of my favourite parts of London: Notting Hill
Last but not least I want to talk about the location. We took these pictures in Notting Hill, one of my favourite parts of London. I love all those colourful houses in this area and the fact that they plant palm trees in London even though the weather is everything but tropical most of the time haha. And how well does the palm tree work with the pink and blue houses? I didn't have to think twice about whether I want to take the outfit pictures there or not!
You can find these corners everywhere in Notting Hill. So the best is to walk from Notting Hill Gate, just follow your nose and see where it brings you. Don't take Portobello Road, try the other streets around and you will discover many beautiful places, cute cafés, small boutiques and shops.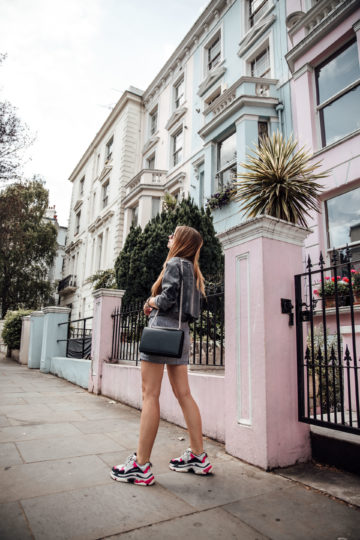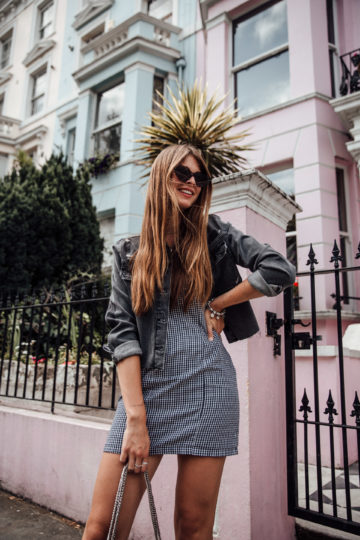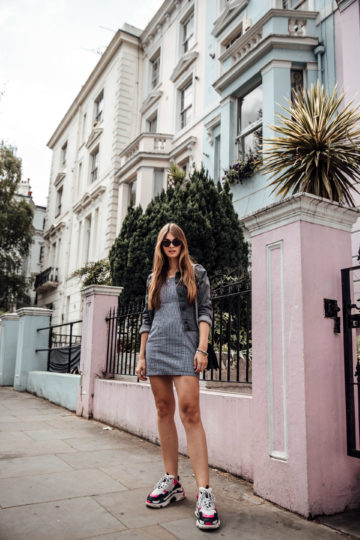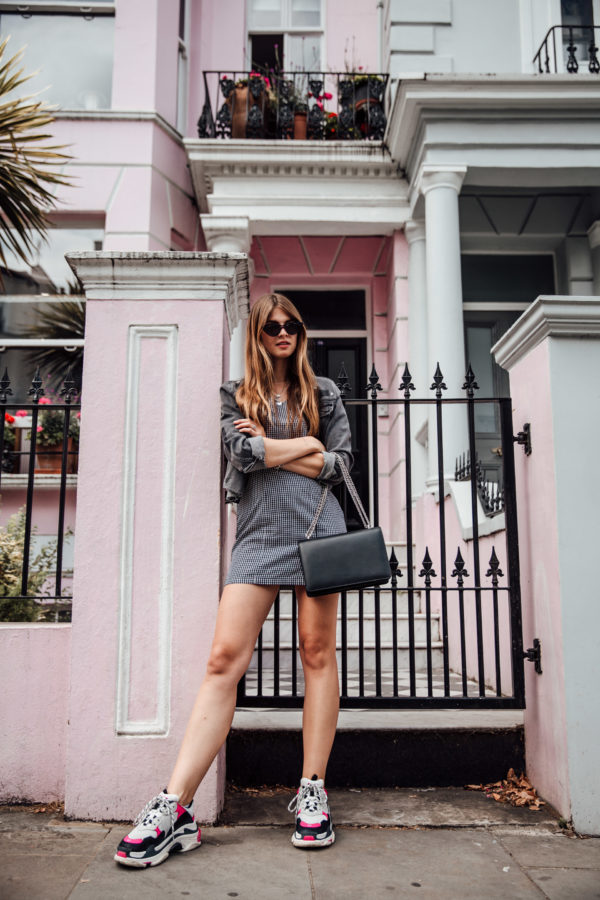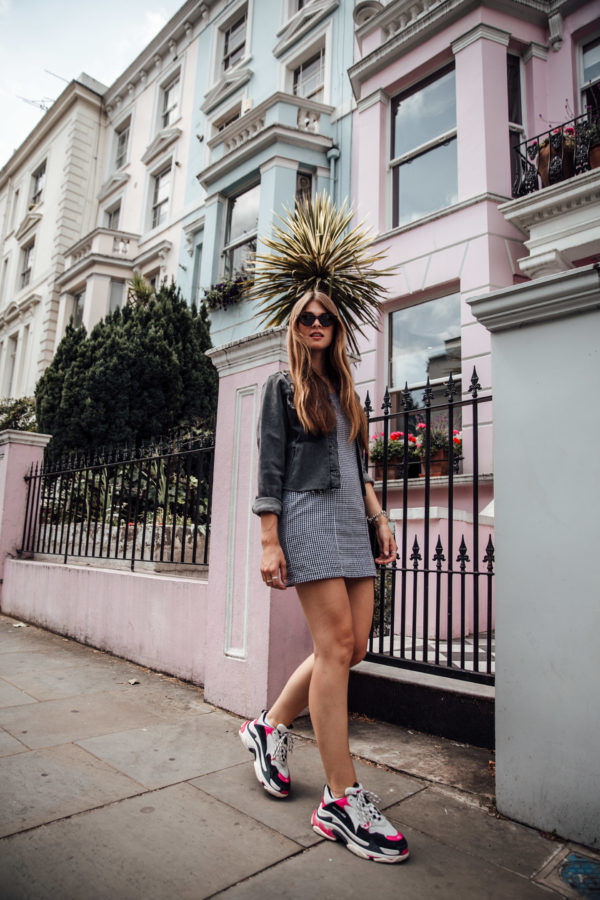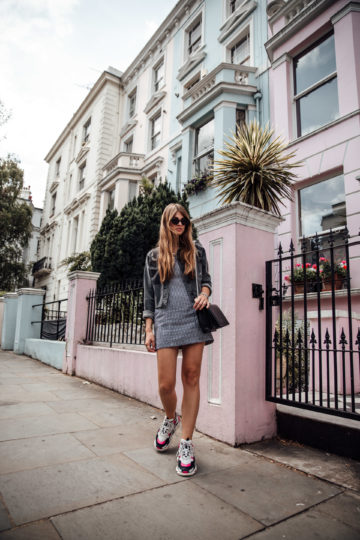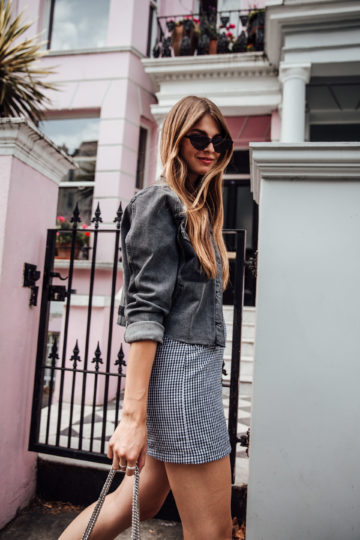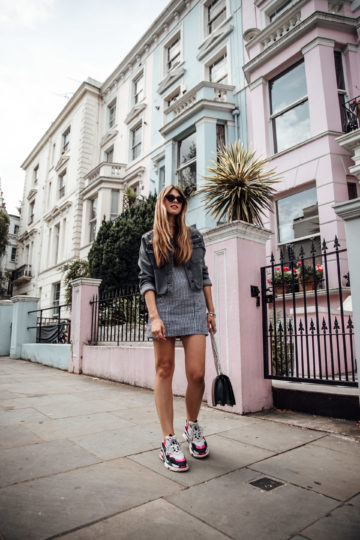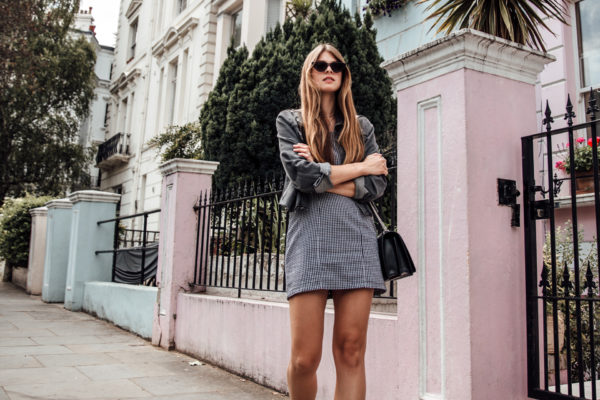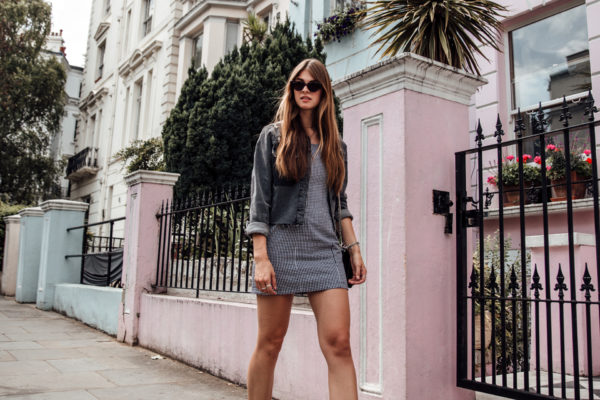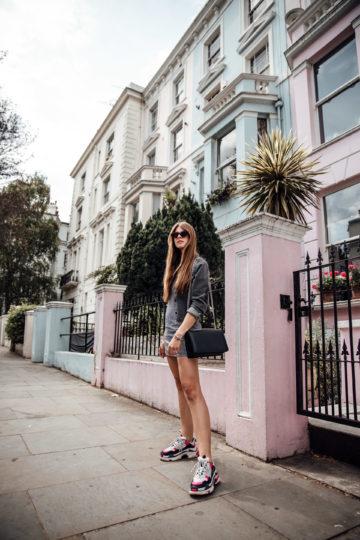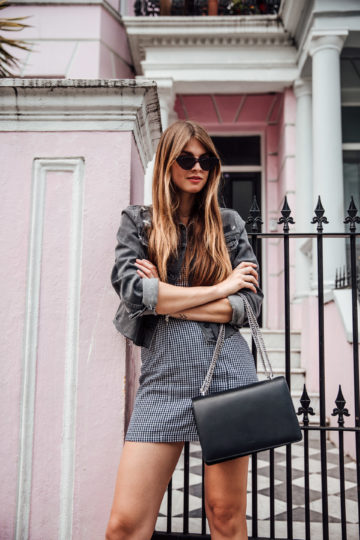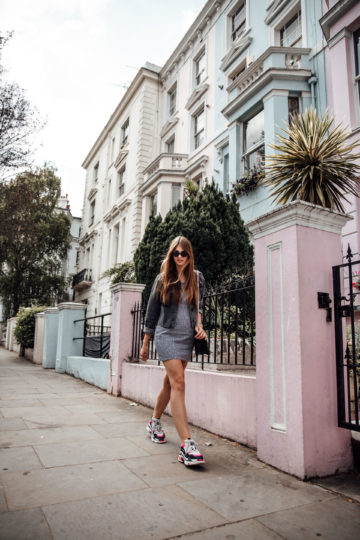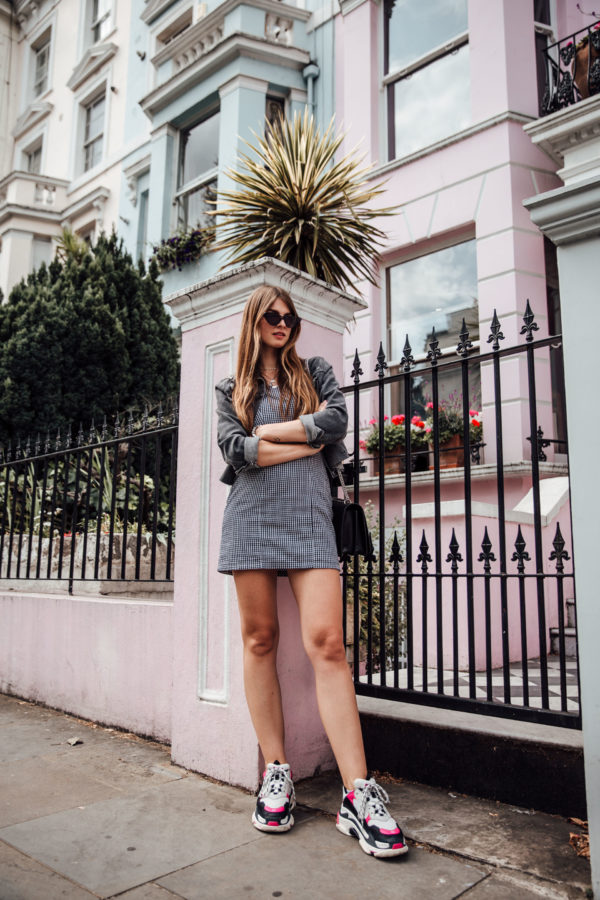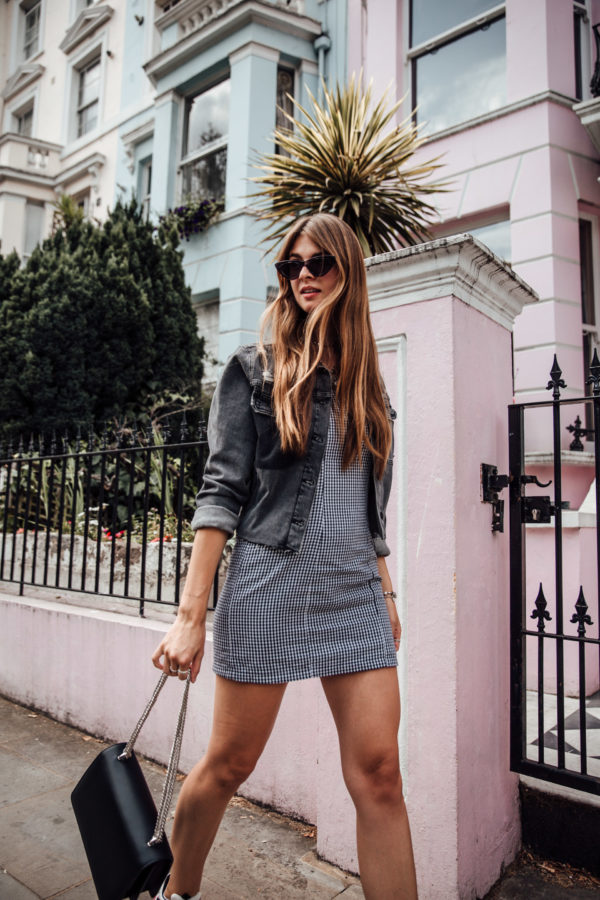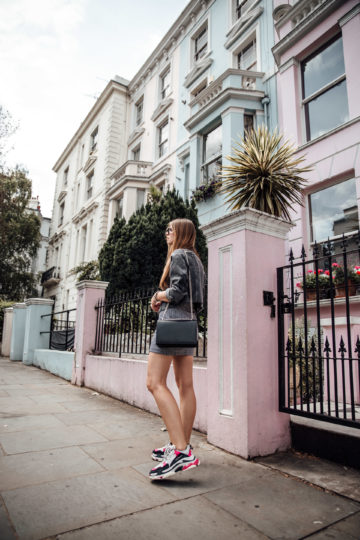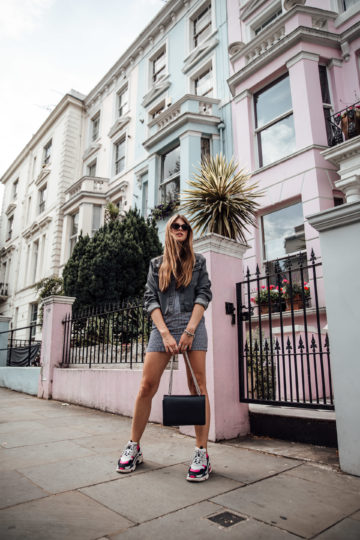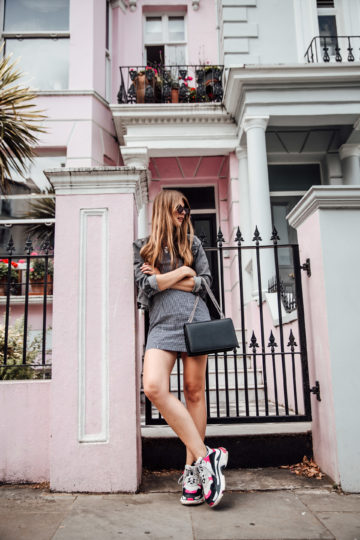 Photos: Michaela Efford
*Ad, Brands named – Na-kd Dress || Cross Jeans Jacket || Balenciaga Triple S Sneakers || Agneel Bag || Chimi Sunglasses