Before another week is over, I want to share one more outfit post with you guys. The days here in Bali are going by so fast, and I am trying to enjoy them to the fullest. We are actually not doing a lot, but it's all about the perfect balance of work and relaxation here. It's our third time in Bali, and we decided to stay for a month this time so that we could have some kind of a daily routine here. And it works pretty well. We usually get up around 7.30 am, I either work out or edit some photos before we have breakfast around 9 am and afterward we get some work done. In the early afternoon, we take some time to relax by the pool, and before the sun goes down around 6 pm, we take some photos followed by dinner and more laptop work afterward. Oh, and sometimes we have a little lunch and some coffee around noon. To me, it's the perfect mix, and I could actually get used to it.
But enough about our days here. 🙂 You are here because you want to see a new outfit post, and that's what you will get. In the following, you can read everything about one of the outfits I was wearing in the first week in Bali. It's one of my favorite looks, and I could wear it every single day!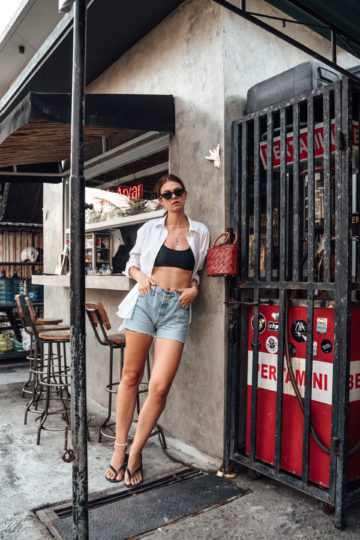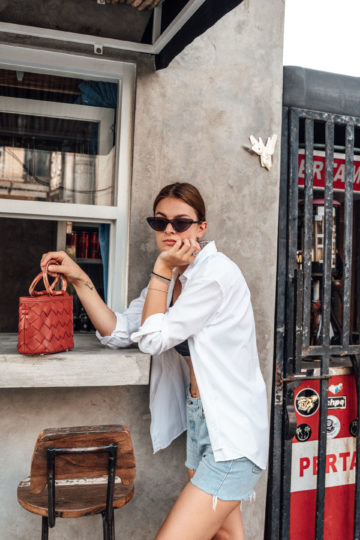 How to include a bikini in your outfit
As you might know, I am mostly wearing swimwear here in Bali as it is very warm and we spent most of our time at our accommodation. On one of those days when we barely leave the accommodation and only need to get dressed to either get lunch or dinner, I was wearing the outfit I am sharing with you today.
As I was wearing a bikini almost all day, I felt like including it in my dinner outfit. I opted for a simple black bikini top and combined it with a pair of denim shorts and an oversized white shirt. Combining a white shirt with a bikini top is something you can not only do when on vacation. It is always a good idea and might give your outfit a little twist when it needs it. You can even wear this combination when it's autumn or spring; you just might want to button the shirt at least a little bit so that you won't freeze. As an alternative to the bikini top, you could also wear a swimsuit and leave the shirt unbuttoned, or you knot it in the front. I might put together some more outfits with swimwear and share them with you on the blog soon. If there is anything, in particular, you would like to see or know, make sure to leave me a comment and let me know.
To finalize the outfit, I grabbed my flip flops – I am wearing them every single day here in Bali – as well as a pair of sunglasses and my new red bag from Cala Jade. Instead of flip flops, you could also wear a pair of black boots or white sneakers, so this look is suitable for the city as well. And when it's too cold to wear shorts, put on a pair of boyfriend or mom jeans instead. I definitely need to keep this outfit in mind for the spring season. How about you? Do you like it as well?
*Ad, brands named – Gant shirt || Levi's shorts || Lapa Swimwear bikini top || Cala Jade bag || Havaianas Flip Flops