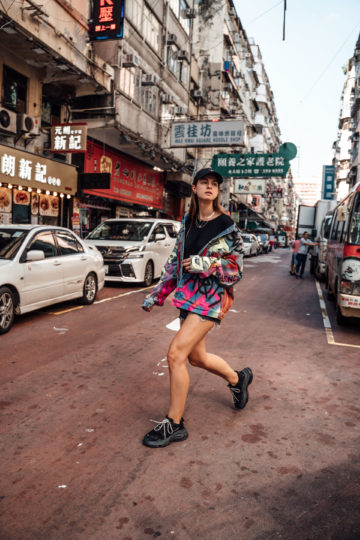 I already said on Sunday that the chances of me finally sharing some new posts with you this week are high, and here I am finally writing the text for these outfit photos we took in Hongkong. It's the only outfit we took photos of in Hongkong, so if you want to see some more looks, you should either check out my 24/7 Hongkong edition or head over to Instagram. But if you want to know everything about this outfit here, continue reading at this point.
What we did in Hongkong
When we were in Hongkong, we mostly walked around the different neighborhoods once we finished all the work we came for. Last year we stayed on Hongkong Island, in Wan Chai but this time we went to another area: Mong Kok. Mong Kok is located in Kowloon and it's much busier, colorful and loud. But I really enjoyed staying there as the area has quite a lot of character. I also liked the mix of old and new buildings, all the markets and street food. Once we left the hotel, there was always something going on and it was never fully quiet or empty on the streets.
As it was our first time in Mong Kok, we walked around here a lot. But, of course, we also drove to Central Hongkong and TST as we had been there before and really liked the areas. Also, it's much easier to find something to eat in these areas as there are also a few European restaurants and not only Chinese food 😉
Apart from working and walking around, we also managed to do one touristy thing in Hongkong: we went to Big Buddha. Last year we didn't have the time to go there and it was way too hot, but this time there weren't any more excuses. I am happy we went there, but I also have to say that I thought it would be a bit more impressive. Still, Big Buddha is worth a visit and you should go there if you haven't done it yet.
Balenciaga Denim Jacket combined with an all-black outfit
Now that you know a bit more about what we did in Hongkong, it's time to share more info about the outfit I was wearing. I mostly had comfortable clothes and shoes with me as I knew that we would walk a lot in Shanghai and Hongkong. But this time, I also wanted to bring a few pieces for content creation mainly. So it was not only about comfort, but it also was about fashionable pieces that would look nice on photos. This outfit is a very good example of this. I brought my Balenciaga Triple S sneakers as they are always an eyecatcher, but at the same time, they are super comfortable. The Balenciaga Denim Jacket in an oversized fit from Farfetch is also both: comfortable yet eyecatching. So I already had my two very fashionable and eyecatching pieces and only had to add some basics for the final outfit. I decided to combine the Balenciaga Denim Jacket with a pair of black shorts, a black t-shirt and a black cap. How do you like this outfit?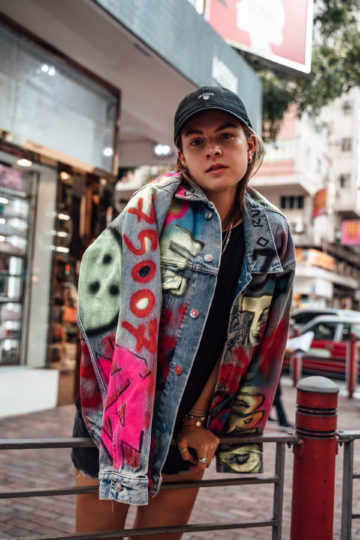 *Ad, brands named – Balenciaga Jacket via Farfetch || Zara T-Shirt || Levi's Shorts || Balenciaga Shoes || GANT Cap