Blog Posts and Youtube Videos of the Week
As I told you last Sunday, I finally had the time to work on new blog posts for you. As a result, I shared two new outfit posts last week, one from Hongkong and the other one from Bali. The first outfit post was the one from Hongkong and it was all about the Balenciaga Denim Jacket I brought with me. When I travel, it's usually all about comfort and simple clothes I can style in many different ways. This time, I also wanted to bring some more eye-catching pieces, and the denim jacket was one of these pieces. If you want to know more about it, make sure to check out the post.
With the second post, I shared one of the outfits I could wear every single day here in Bali. It's a combination of a white shirt and a bikini top. As I am wearing mostly swimwear all day, I also wanted to include it in my outfits, and that's the result. I am also sharing some tips on how to wear swimwear in your everyday life in the city.
Looks of the Week
I could share a lot of photos of me wearing a swimsuit or bikini at this point, as that's what I was wearing most of the last week again. But I also got some proper outfit photos, so I am sharing them instead and hope you will like them 🙂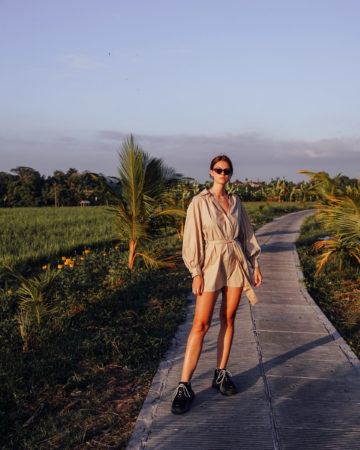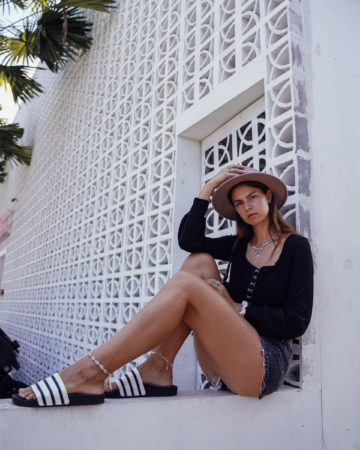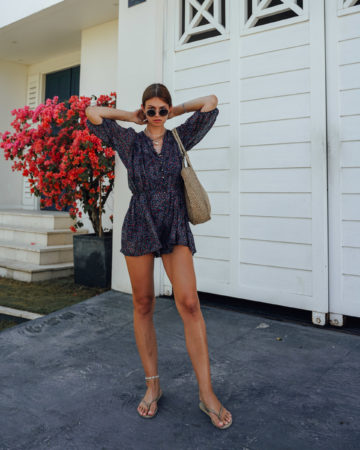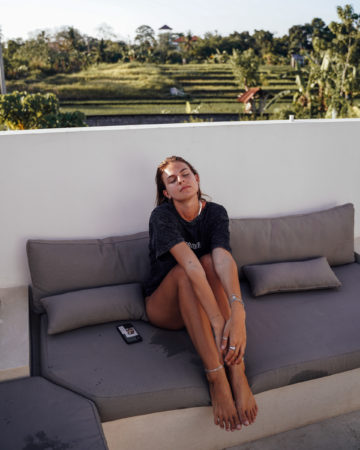 What happened the past week
It was another calm week in Bali. Last Saturday, we woke up in Uluwatu and in the early afternoon, we got picked up and headed back to Canggu. We checked-in in our last accommodation and guys, this place is amazing! It's a bit outside of the main area, but still only 10 to 15 minutes by scooter to Canggu Beach and it's so beautiful and calm here, we love it and actually could get used to being here haha.
We had some very calm days the last week as we didn't feel like exploring, doing any day trips or things like this. But we also had to work a little bit and finally got to see the small "factory" where all our products from Onvacay are made. We also checked out some shops and tried to find new products for you. We might buy a little bit more interior stuff in the future, but for now, we are probably going with more shell jewelry and some accessories. Also, a big order just arrived in Berlin, and I can't wait to show you everything we got as soon as I am back.
For now, we are enjoying our last days here in Canggu. Having very calm and relaxing days where it's all about the perfect balance between work, sunbathing and eating 😉