If you're following me on Instagram and read the last posts I shared here on the blog, you probably already know that I arrived in Morocco yesterday! I was invited by Adventure Keys to a week of surfing and enjoying the sunshine in Morocco. I was super excited about that offer because I barely surfed since I was at the surf camp in Australia in 2015. I had so much fun surfing in Australia and definitely wanted to do it more often even when I'm back in Europe, but that's harder than expected. After we had come back from Australia, we didn't travel somewhere where you can surf, so no surfing for more than a year. But as you already know, one of the reasons why we chose Sri Lanka as our destination in January was the fact that they have some surf spots in the south and west. I was so happy to finally go surfing again even though I had some problems first. Of course, I still know how to surf, but I always have great respect of the waves and current. After a little while and some caught waves, I remembered why I enjoyed surfing so much and once again I said to myself, that I want to do it more often. That's why I was super happy and excited to stay with Adventure Keys for a week.
Gone Surfing in Morocco
I'm here at Adventure Keys in Morocco for a week. We arrived in Marrakesch yesterday around noon, had to take the bus to Agadir and finally arrived at the surf camp early in the afternoon. We have five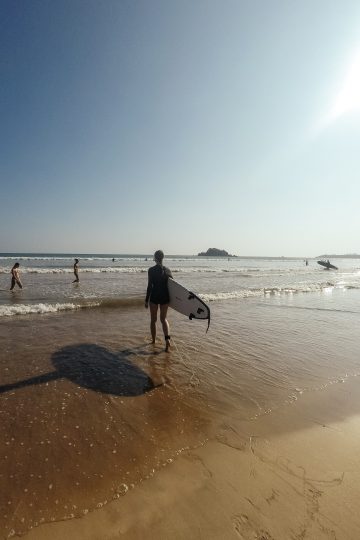 full days of surfing here, before heading back to Germany on the 23rd of February. While you're reading this, I'm probably somewhere in the water, sitting on my surfboard or catching a wave. Or maybe I'm already super exhausted and sitting at the beach instead. You better check my Instagram and watch my Instagram story, if you want to know what I'm up to today and, of course, the next days. I'll take you along and share as much as possible.
For now, I'll leave you with some pictures we took in Sri Lanka when we were surfing in Weligama. I was wearing my own wetsuit because as you might know, I bought one when I came back from Australia… I told you, I wanted to go surfing more often and buying my own wetsuit seemed to be a good idea. 😉 I didn't bring this one to Morocco because I was told that the water isn't that warm and that I would need a winter wetsuit instead. I will tell you everything about the surfing conditions and my time here in Morocco soon, for now, you have to follow me on Instagram if you want to be up to date and follow me a long 😉