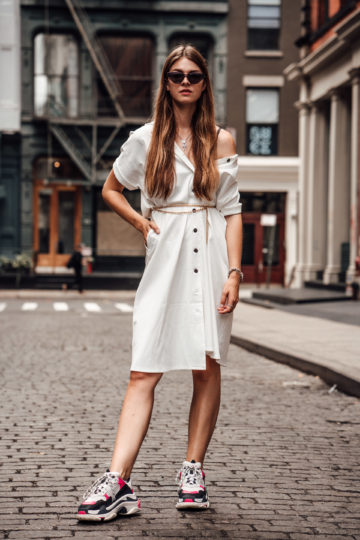 Happy Monday, happy new week everyone! It is time to start sharing all the pictures we took in New York, and I am not talking about those you might have seen in my weekly recaps. Even though it was quite warm and we had a lot of things to get done, we also took some outfit pictures for you guys. I love planning my outfits for a trip as I always get inspired by the place I travel to, with all the locations and the atmosphere. It is just so much more fun than getting dressed in my hometown, in Berlin. And you may have noticed, that it has been quite a while since I last shared an outfit I was wearing in Berlin. That's not only because I like my travel outfits better, but also because I am working a lot in Berlin and the past weeks it has been super hot outside, and I am not wearing any outfit worth sharing on the blog.
I have to admit, that not all outfit I was wearing in New York was the best choice and sometimes I had to get changed as soon as we were back at the hotel. The outfit I want to share with you today is one of those outfits.
How to wear a white Button Down Dress
Okay, so when I first saw this dress and tried it on, I wasn't a hundred percent sure whether I like it or not. It looked quite boring, the white was a bit too white and the length not very flattering. I thought about how I could make this dress look more fashionable and flattering and here are three things I did: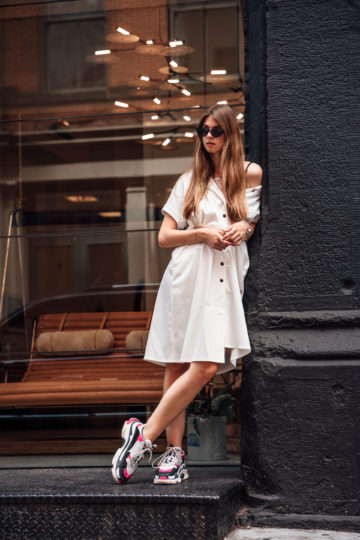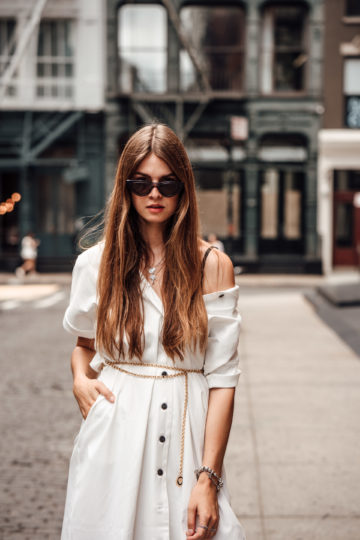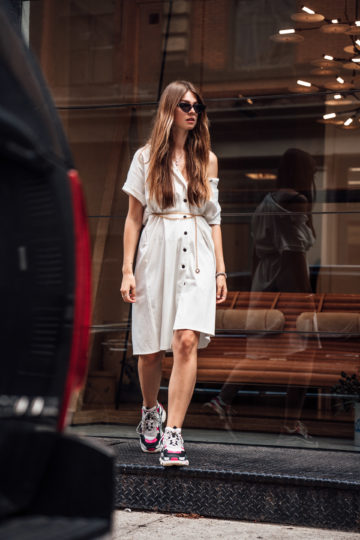 1. I didn't button it up the right way. I skipped one of the buttons, and due to that, the two sides in the front are not the same length anymore.
2. I was wearing it off one of the shoulders (you could also wear it off the shoulder.) to make it look more casual.
3. I put on a chain belt as that's an accessory that changes the look of the whole outfit. The dress actually comes with a white belt, but that looked way too boring. The golden chain belt makes it look way more interesting and edgy.
With these three simple tricks, I changed the whole look, and I like it a lot. I felt way more comfortable in this dress and couldn't wait to wear it in New York. I finalised the outfit by putting on my Balenciaga sneakers for extra detail and a pair of sunglasses, and that's it. You don't need much more. The way I was wearing the dress as well as the chain belt and the ugly sneakers definitely make this outfit stand out. How do you like this outfit combination, guys?
One of my favourite districts in NY: Soho
This time was my fourth time in New York City and every time I experience it in a completely different way. This time we stayed between Soho and China Town, and it turned out to be the best decision ever. I loved the areas there such as Soho, East Village, Greenwich Village and Chelsea. Soho definitely is one of my favourites with all its cafés, restaurants, shopping and those pretty buildings you can see in the pictures. Have you ever been to New York? What is your favourite district?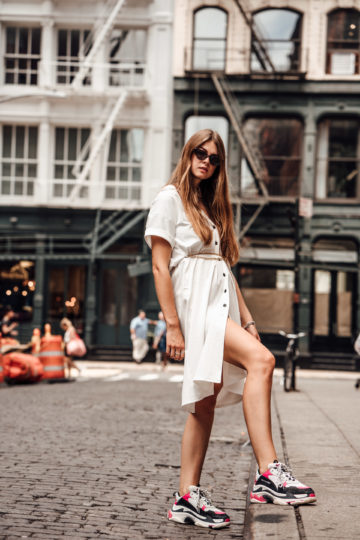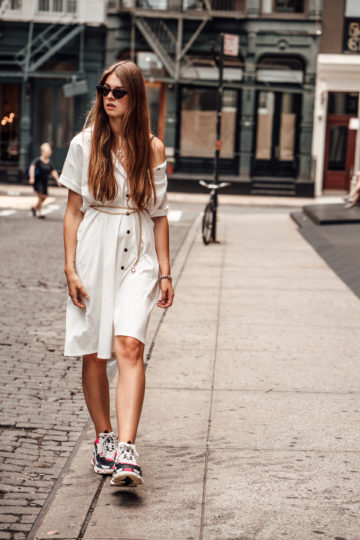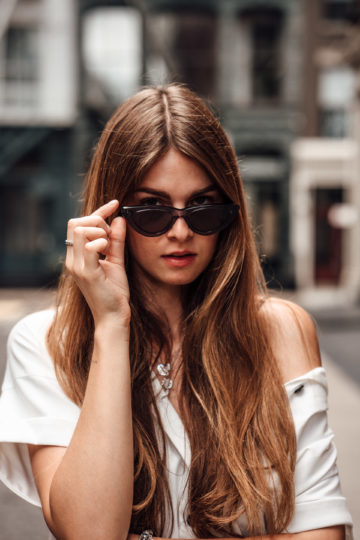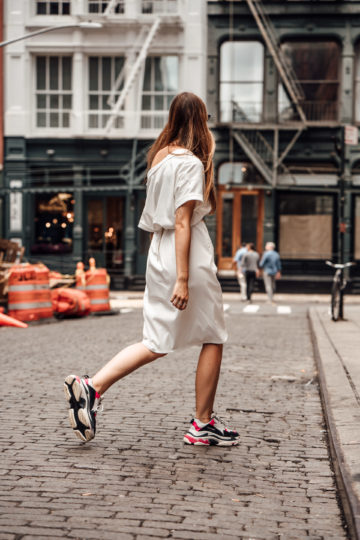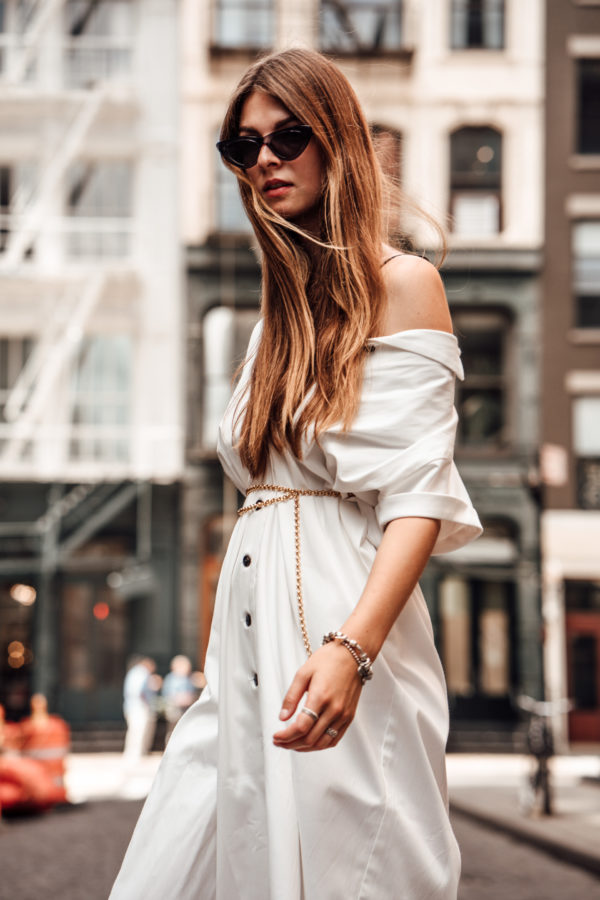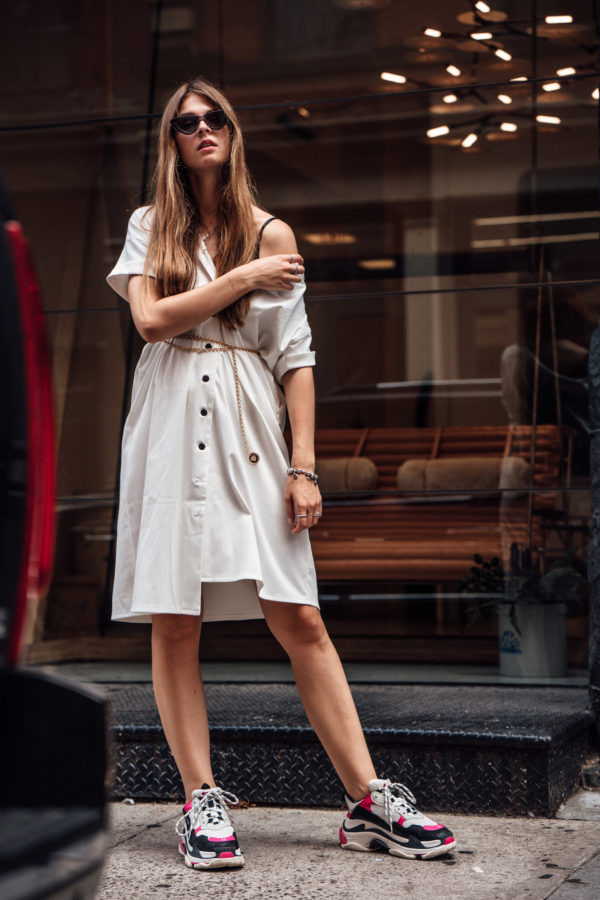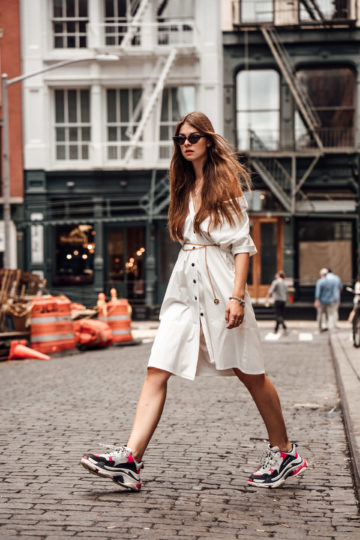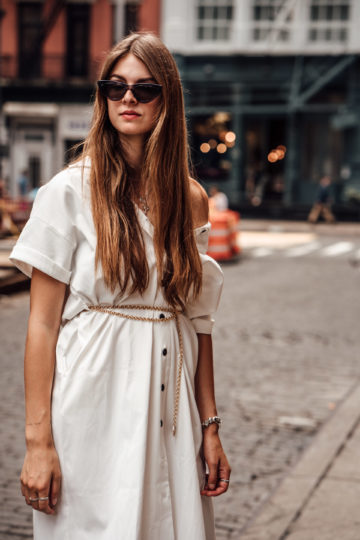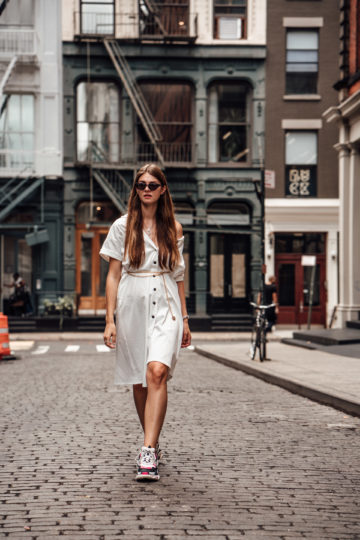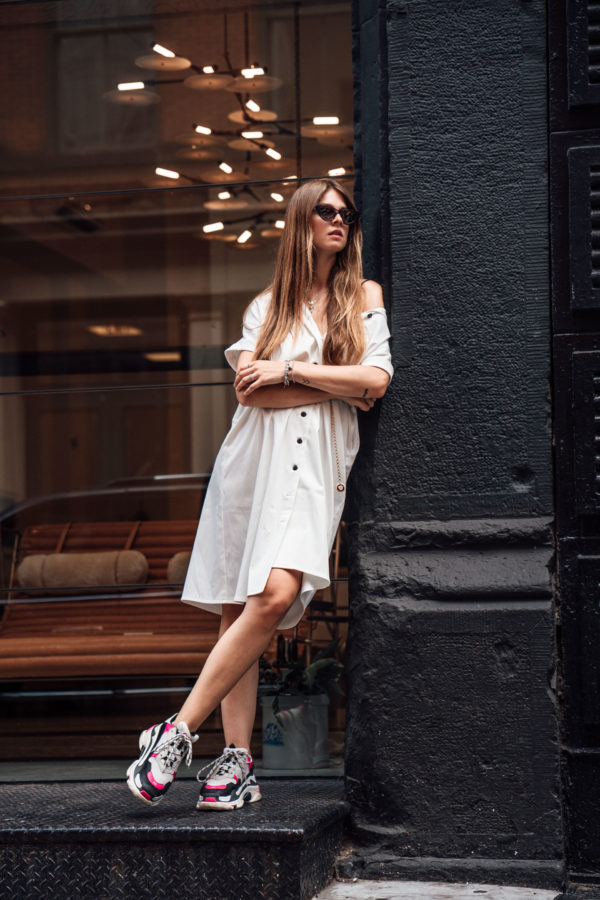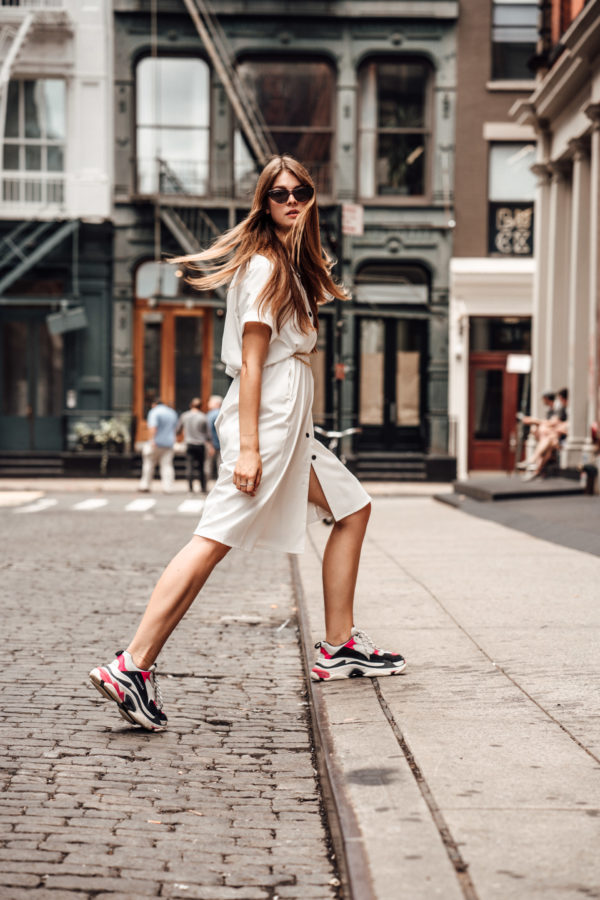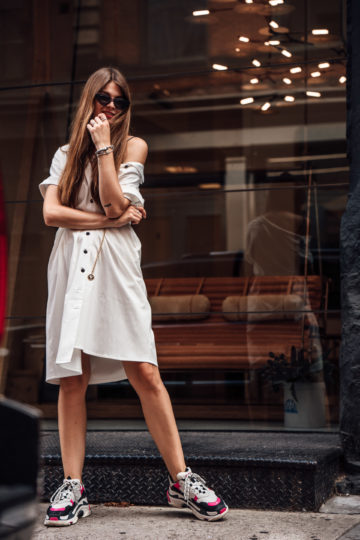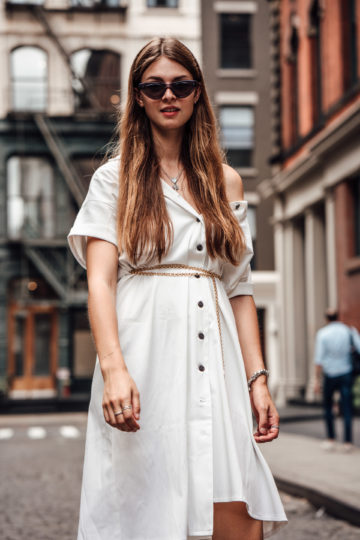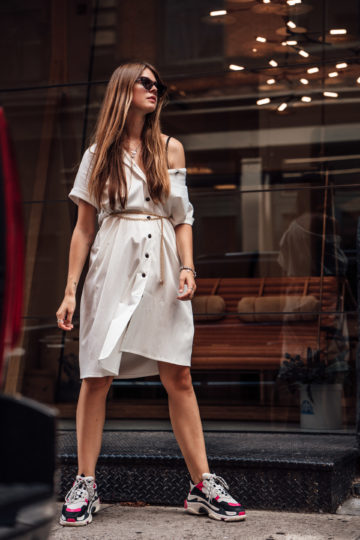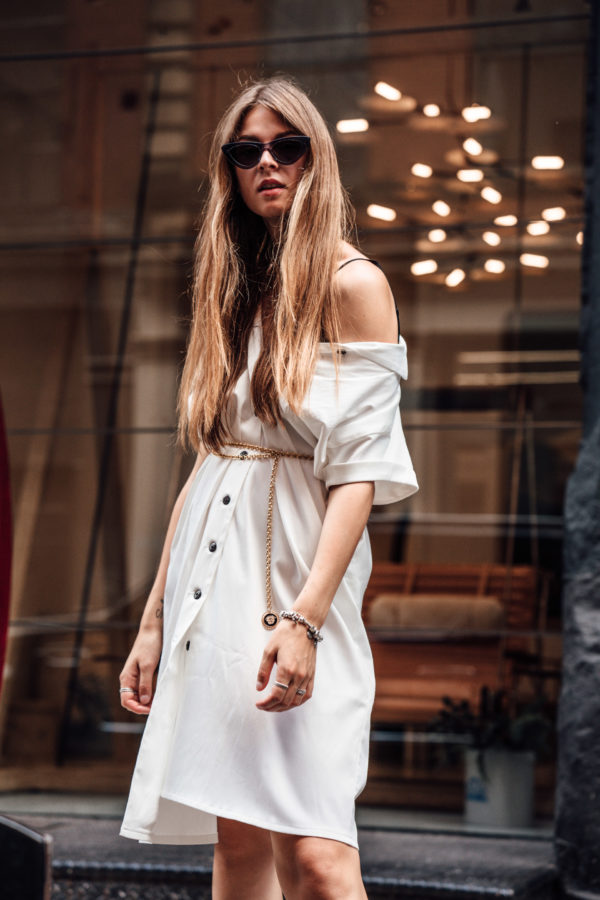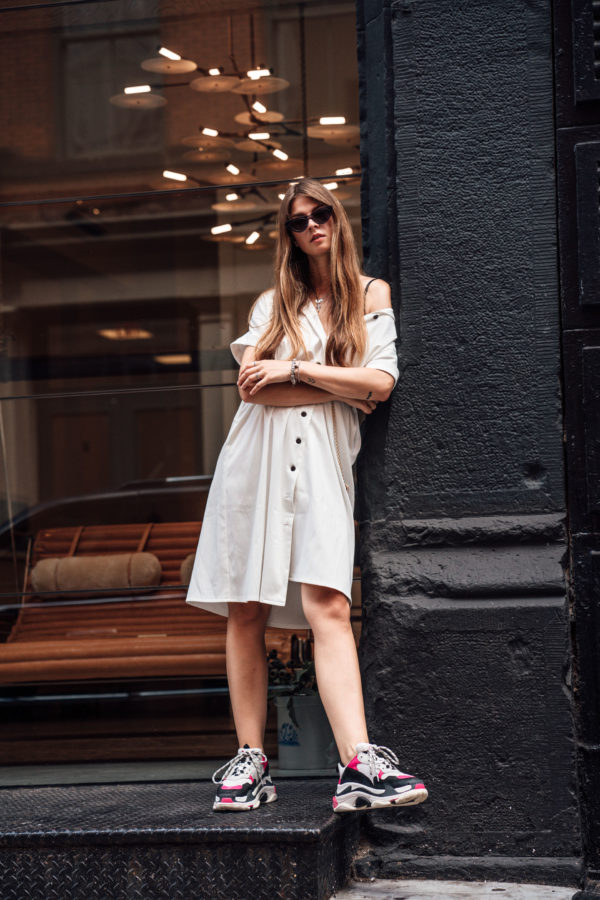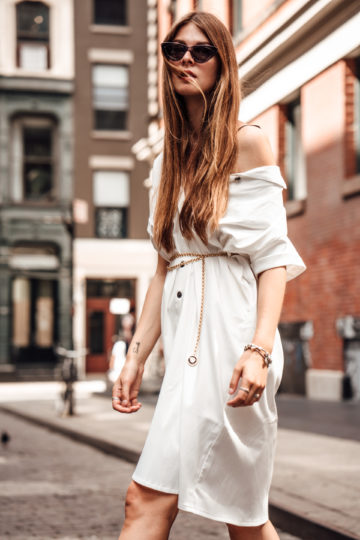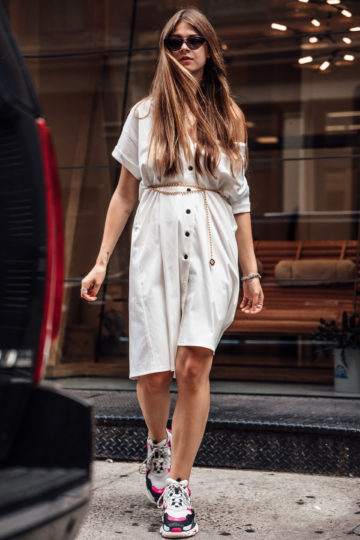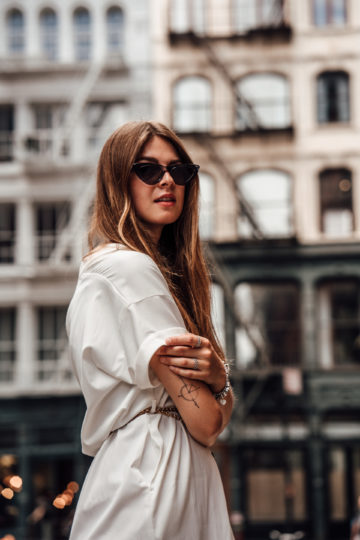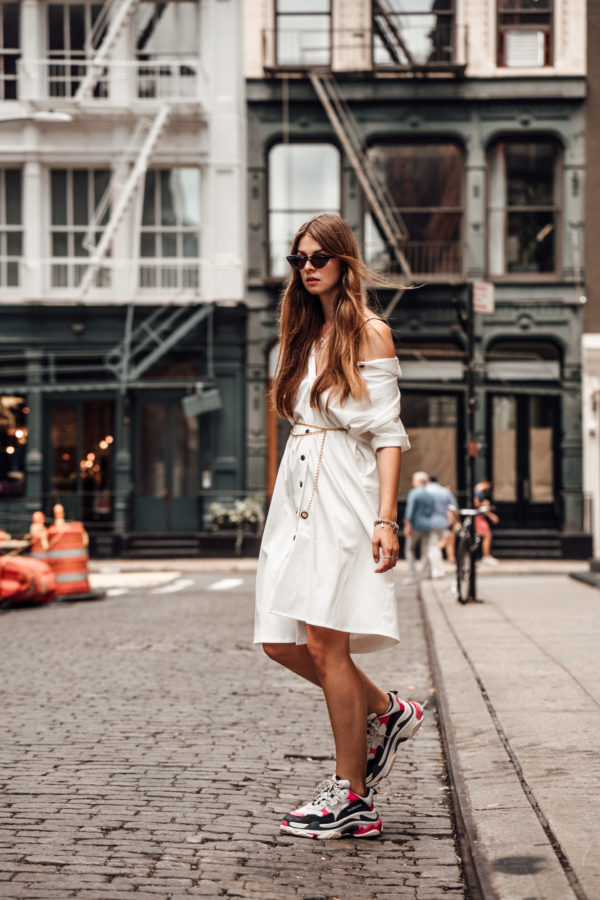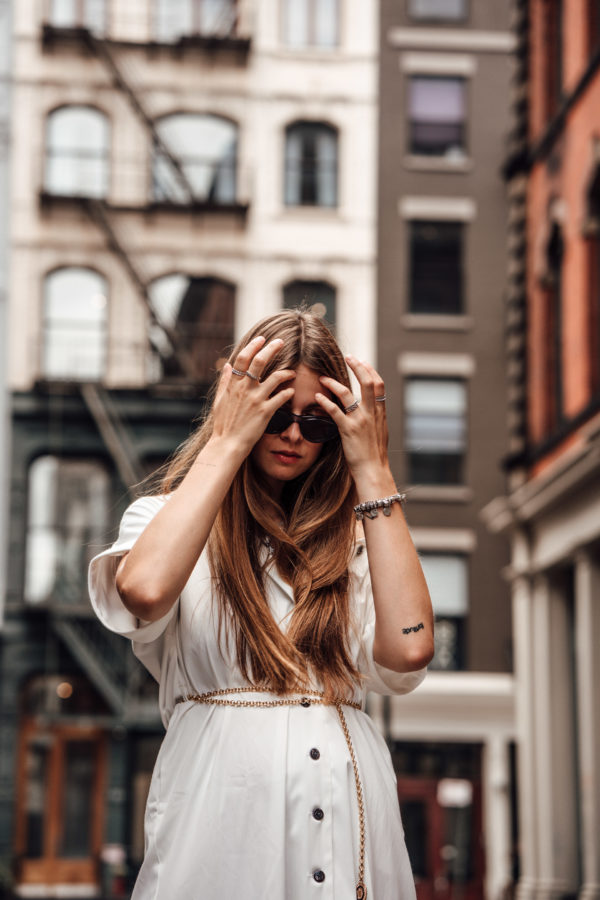 *Ad, brands named – Must Have UA Dress || Balenciaga Sneakers || Deluxechoker Chain Belt || Chimi Sunglasses