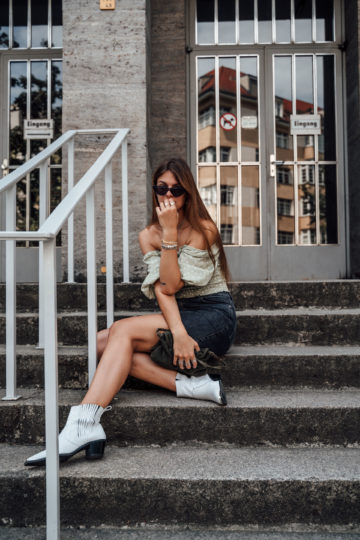 It's Wednesday already, and I haven't shared a new outfit post yet. The reason for that is that I just didn't have the time to prepare any new posts. My scheduled flight from Copenhagen to Berlin got cancelled and due to that everything I had planned got postponed and I had to prioritise other things and couldn't work on posts. If you follow me on Instagram, you might also know that I am currently in Italy with friends. That's another reason why I haven't shared anything earlier. We arrived on Monday and enjoyed the first day without working on the laptop.
Good news is, we photographed a lot of outfits in Copenhagen last week and we are also creating new content while we are in Italy. So once I am back next week, I will edit everything and prepare the photos for the blog. So starting next week, I will share more posts with you. Of course, I also didn't want to let a week go by without sharing at least one new outfit post, so here is one of the summer outfits I have left from the days in Berlin.
How to wear white boots in summer
The outfit I am sharing with you today is one of the looks you can wear to work as well as in your everyday life no matter if you are going on a date, meeting up with friends or just going for a little shopping spree. I was wearing it on a weekend when we were just walking around in our neighbourhood looking for coffee and enjoying the sunshine and warmth.
It wasn't too warm that day, that's why I was wearing white boots. In general, I do like wearing white boots in summer. White boots are more summery, and they look great with tanned legs. Also, whenever you need to dress up and sandals aren't a good choice, and you don't want to wear high heels, boots are a good choice.
If you want to wear white boots in summer, you should be at least a little bit tanned. In regards to what outfit to wear them with, you can wear whatever you feel like. White boots do work with everything. I opted for a dark grey denim skirt and a green-ish off-shoulder shirt. To finalise the outfit, I added my vintage Fendi bag, a pair of black sunglasses and a few pieces of jewellery and that's it. It's a quite chic outfit, but it still is casual and comfortable enough to wear it daily.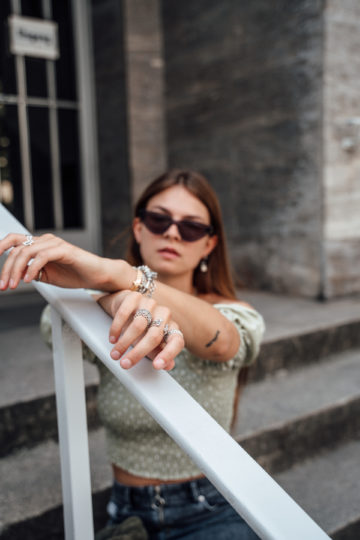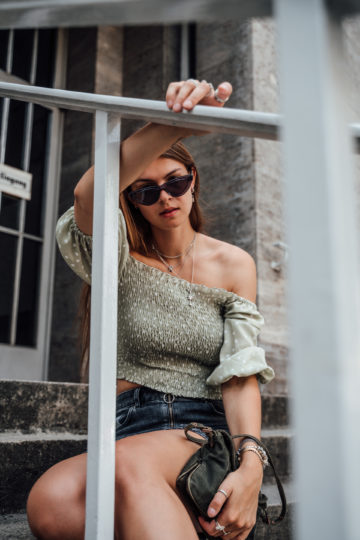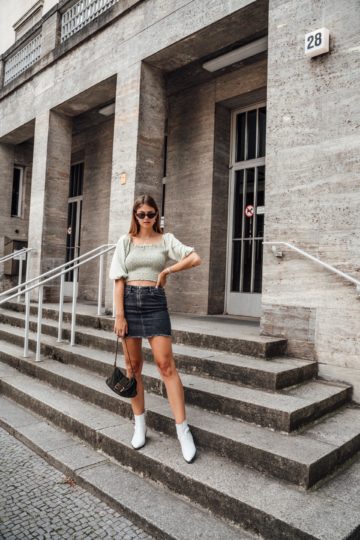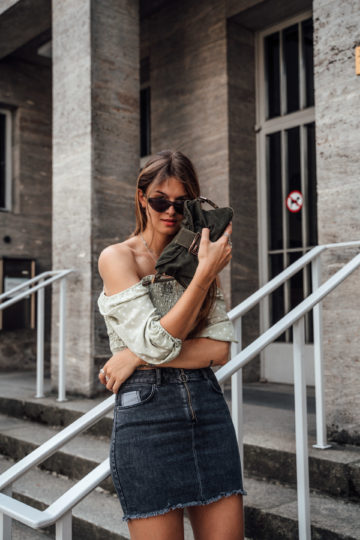 You could also combine your white boots with dresses (maxi, midi and mini), shorts and other skirts. In regards to colours, white works with everything, so you can either go all bold with some colours or keep it a bit more simple with black and white.
How do you like this outfit? And what do you think about white boots? Is it something you would wear or do you think it's a no-go?
*Ad, brands named – Loavies Shirt || Sets Skirt || Flattered Boots || Fendi Bag || Chimi Sunglasses