The weather here in Morocco has been super nice compared to the weather in Germany. The sun has been shining almost every day since we arrived and it was quite warm most of the time. But in the mornings and evenings, it gets a little bit chilly, that's why I was wearing this outfit the other day. But the colder temperatures are not the only reason I was wearing it; I was also wearing because we were visiting the market in Agadir and I didn't want to walk around in shorts or other short summer clothes.
Wearing my Pyjama in Morocco
A few weeks ago I was wearing a pyjama style blazer, and when I shared the outfit pictures on the blog, I already mentioned how much I like this trend. It's casual and super comfortable, everything I want from an everyday outfit 😉 When I planned the outfits for Morocco, I had at least one pyjama style outfit in mind, because it's the perfect outfit to wear in a country like this. Women are usually not walking around in shorts and dresses even though it get's quite hot. Luckily it's not as hot as in summer right now, but it's still very warm in the sun.
Before I left, I got to choose some VILA styles for the trip, and when I saw this set it was love at first sight! I knew I wanted to bring it to Morocco. A word and a blow, here you can see me wearing it. I just combined it with my Velcro Stan Smith, some jewellery and my round Ray Ban sunglasses and that's it. A very simple outfit for a visit to the market in Agadir. But we didn't take these pictures in Agadir; they were taken on the way from the place we're staying it to Agadir city. Looks pretty nice, doesn't it?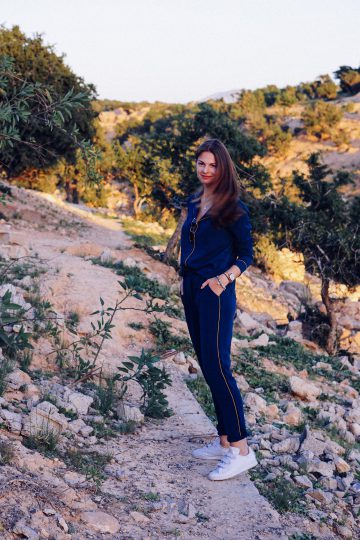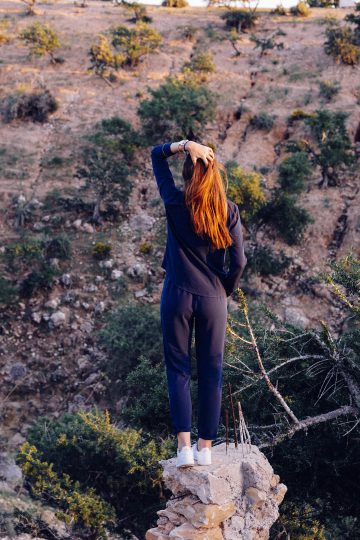 The market in Agadir
We wanted to visit at least one market here in Morocco, that's why we asked our host to drive us to Agadir the other day. The market there was supposed to be quite nice and big, and we definitely wanted to see it. Unfortunately, it wasn't as nice as we thought it would be, so we left after less than 30 minutes. The people were just too pushy, everybody wanted to sell something, get us to their stall and were even following us for a couple of meters. It was too much, and we didn't feel comfortable there. That's why we left. Maybe we'll visit another market today, but that's not for sure. I'll keep you posted 🙂
Have you ever been to Morocco and have you visited the markets? What were your experiences?