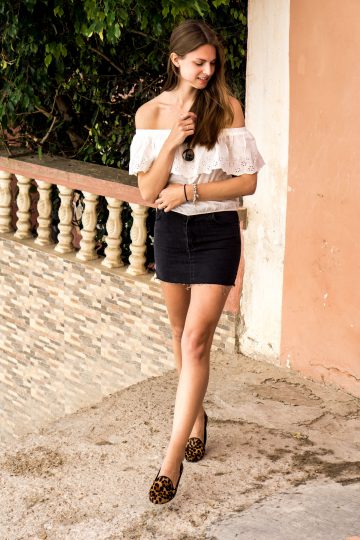 Happy Thursday everyone! I can't believe our week in Morocco is already over and we're currently on our way back to Germany. We left Taghazout around 8 am this morning, because we had to catch the bus to Marrakech. From Marrakech, we will first fly to Madrid, what will take about two hours. And after three hours at the airport in Madrid, I will travel for three more hours to Berlin and Vanessa will fly for 2 1/2 more hours to Munich. Oh, I can't wait to arrive home after a full day of travelling from Taghazout to Berlin. If you want to know, how bored I am, make sure to check my Instagram Story, because I will take you along today. 😉
On the blog, I won't bore you with all the travelling stuff. I want to share another outfit we took pictures off in Taghazout. It's definitely one of my favourite outfits, even though I didn't wear it all day. (I didn't want to walk around in this short skirt all the time, and I actually was wearing a longer jacket on top to cover the naked parts of my body a little bit).
Black Mini Skirt and White Off Shoulder Shirt
You may wonder: why the hell is she bringing an outfit like this to Morocco? Well, when I saw these pieces online, I immediately had this outfit in mind and didn't want to wait until I can finally wear it in Germany. It will probably take some more months until it's warm enough in Berlin to wear summer clothes…
I knew the weather in Morocco would be very nice (compared to the weather in Germany) and that's where I saw my chance to wear this outfit a little bit earlier. Most time of the day we were sitting at the surf house we were staying at, so not many people saw me in this outfit, and I didn't attract that much attention 😉 But since I like this outfit that much, I wanted to go outside and take pictures of it. But that was the only time I was wearing it on the streets here in Morocco.
Some more details about the outfit: the black mini skirt and white off shoulder shirt are both from Subdued. And I was super happy when I received them just in time for the Morocco trip. Both pieces combined look great already, so you don't have to add other layers or many accessories. The other day in Morocco I just added a pair of leopard slippers and some pieces of jewellery, and that's it. Oh wait, I was also wearing my beloved Ray Ban Sunglasses, which I dropped some days before, so it now has some stains on the glass.. you probably can imagine how happy I am about that! 🙁
But you see, it is a very simple outfit, that doesn't look boring at all. Or would you say it's boring? I can only talk about myself, and I like this outfit a lot! I would wear it the exact same way in summer in Berlin, and I really can't wait for warmer days so I actually can wear it and not only think about it. x) What do you think about this outfit? Do you like it or not? And what about the location? It's super nice, isn't it? I'm looking forward to reading your comments. Thanks for stopping by. xx