As I promised you the other day, I will share at least four outfits with you this week. My boyfriend is flying to Miami on Friday, that's why we have been very productive, especially when it comes to shooting new content. Due to that, I can keep on sharing outfit inspirations here on the blog even though he isn't with me in Berlin to take new pictures. Of course, I could also ask others to take the pictures, but the thing is, that most people don't do it as well as he does. When you work with the same person again and again, or more precisely on a day to day basis, you become such a good team. He knows how our camera works and he also knows what kind of pictures I like best. When others are taking pictures of me, they are used to their style (of photography) and don't know how I like my pictures. In the end, I am often not satisfied with the results, or they simply don't work with what I usually share on Instagram and the blog. So that's why I always prefer to get photographed by my boyfriend 🙂 And that's why we pre produce content for the blog whenever he is flying somewhere without me.
We still have a few days left until he is leaving, so we will probably take some more outfit pictures. And I think I will come through these days he is gone without having to leave you guys with new posts. When the weather plays along, and we have enough time, we will shoot three more outfits the next days. Fingers crossed everything will work out as we want it to 😉 For now I will leave you with one of the outfits we took pictures of last week, and I hope you will like it: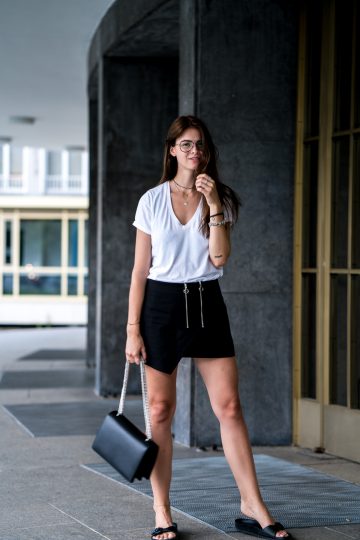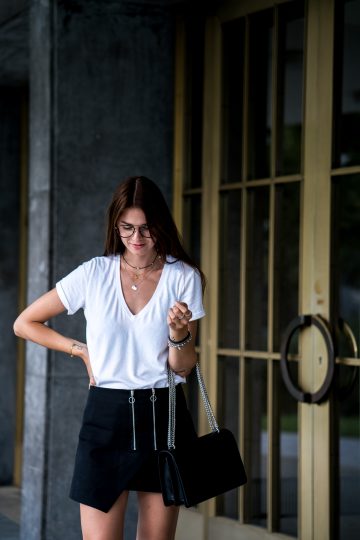 Wearing a black Skirt with Zipper Details
Hot summer days in Berlin – spent at the office – call for casual and convenient outfits. And you know, how much I like wearing these casual outfits on a day to day basis. But I have to admit, that they usually look quite boring. Let's face it: denim shorts and white tees or a simple black skirt in combination with a white skirt is everything but a fancy outfit combination. That's why you have to either look for summer clothes with an interesting detail or add a lot of accessories or other garments.
A while ago I found this skirt at Zara, and it was love at first sight. I ordered it online in size S, tried it on and kept it. But when I was wearing it the first time, I noticed, that it is a little bit too short and that I felt uncomfortable… and not only that it was too short in size S, one of the zippers got broken during this first time I was wearing it. Zara quality obviously isn't always the best. So I reclaimed the skirt in size S and didn't buy it one size bigger. When the sale at Zara started, I saw it again, and now that it was greatly reduced, I repurchased it – one size up ofc. Well, I know it actually doesn't make any sense to repurchase something you weren't satisfied with at first. But this skirt looks so nice; I couldn't resist. And now that it cost 50 percent less, it doesn't "hurt" that much if it gets broken again 😉 And so far, everything is as it should be. Also, size M fits much better. It is a little bit wide, but at least it now is long enough, so I don't feel uncomfortable anymore.
As I mentioned before, I kept it simple that day, because I spent most time of the day at the office. It also was a super hot day, and I actually would have loved to wear nothing but a swimsuit or bikini x) Not the best idea, when sitting at the office all day… That's why I combined this black skirt with the zipper details with a plain white tee, a black bag, my black Birkenstock, some pieces of jewellery and fake glasses (I wish that where vision glasses). How do you like this simple summer outfit?