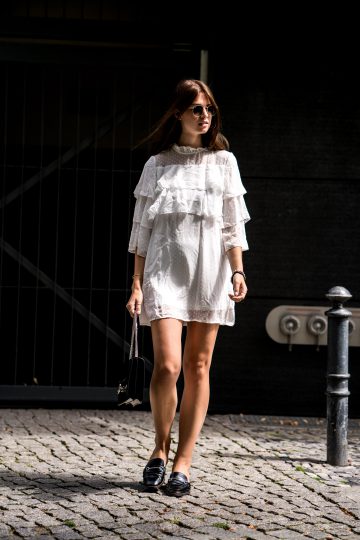 After my little break from the blog about two weeks ago, I am finally back with full power! I already shared all the pictures we took in Spain last week, and even this week I have a lot of outfit inspirations for you guys! I will try to share at least four outfits every week again; sometimes it maybe will be only three. But three to four outfits a week isn't bad, is it? So let's kick off this new week with an outfit I was wearing back in Berlin after our trip to Spain. The weather has been so much better since we came back, it was warmer and sunnier most of the days, and it wasn't raining all the time as it was before we left for Spain. This is exactly how I love summer in Berlin, with lots of sunshine and temperatures around 25°C.
When I came back from Spain, a few packages were waiting for me at the office. In one of those packages, I found this beautiful white dress I actually wanted to bring to Spain, but it didn't arrive in time. As soon as I was back and saw this dress waiting for me at the office, I didn't want to wait too long to wear it finally. So I was wearing it the next day and, of course, we took some outfit pictures for you guys 🙂
How to wear a White Dress with Ruffle Details
I have to admit; I never was a big fan of white dresses. Of course, they look beautiful, but I always thought they wouldn't be handy at all. White clothes get dirty way too easily, that's why I barely wear them. I often wear white t-shirts, because you don't sit on your white t-shirt and there is a lower chance that it gets dirty. White pants, jeans and shorts as well as white dresses and skirts are the ones I barely wear. I like them a lot, and I actually have everything in my closet, but I wear them very seldom. And there is only this one reason: I am afraid of it getting dirty without having a chance to change clothes 😉
Anyways, that's the problem with white garments. The big plus is, that white clothes look perfect in summer, especially when you have a nice tan. I got a little tan when I was in Spain, and the white dress is very flattering 😉 It also is very airy even though it has sleeves and several layers. I wouldn't wear it on a day with temperatures between 25 and 30°C, but it works perfectly for everything underneath. Another big plus about white dresses is that they stand out and cry out for summer. Wearing white in winter would be boring and look kind of grim, but in summer it is the quite the contrary. That's the reason why I actually love white clothes even though I don't wear them that often. But I think I will wear this white dress more often, and since it is quite short, I will also wear it as a top when it gets colder – I actually can't wait to combine it with a pair of black jeans.
But let's not talk about how I COULD combine this white dress with ruffle details, let's talk about how I combined it the other day. This white dress speaks pretty much for itself, that's why I didn't have to add a lot of accessories or other clothes. All I added to finalise this outfit were my round sunglasses, my Gucci bag as well as my mule sandals from Marks & Spencer and some pieces of jewellery. As with all the other summer clothes, it is most important to find a white dress that speaks for itself. Find a white dress that has some details itself, such as this one: it has not only ruffles but also statement sleeves and dots. These three details make the dress an absolute eye catcher and perfect for summer!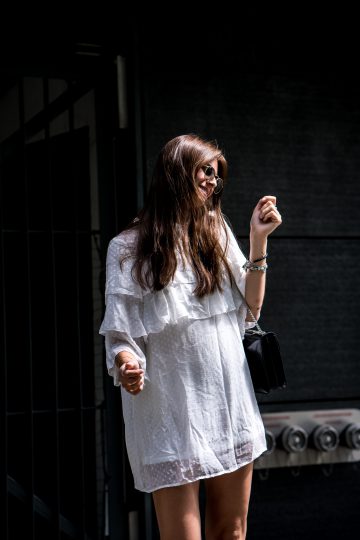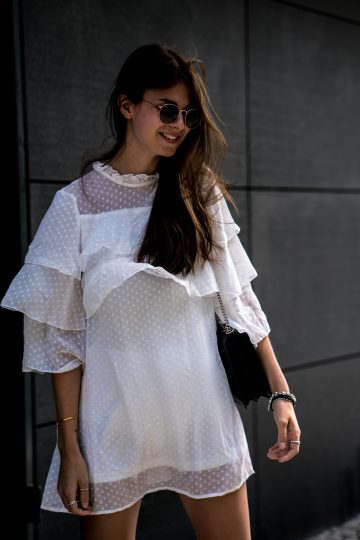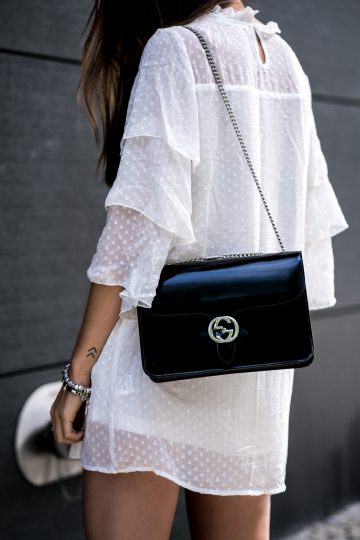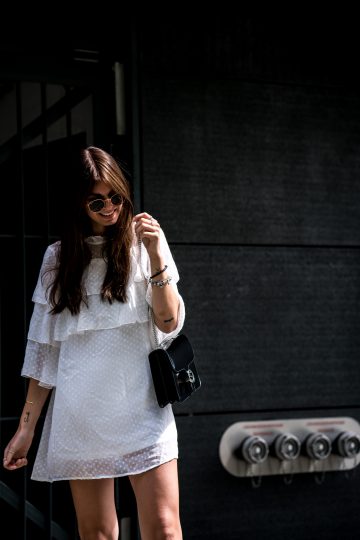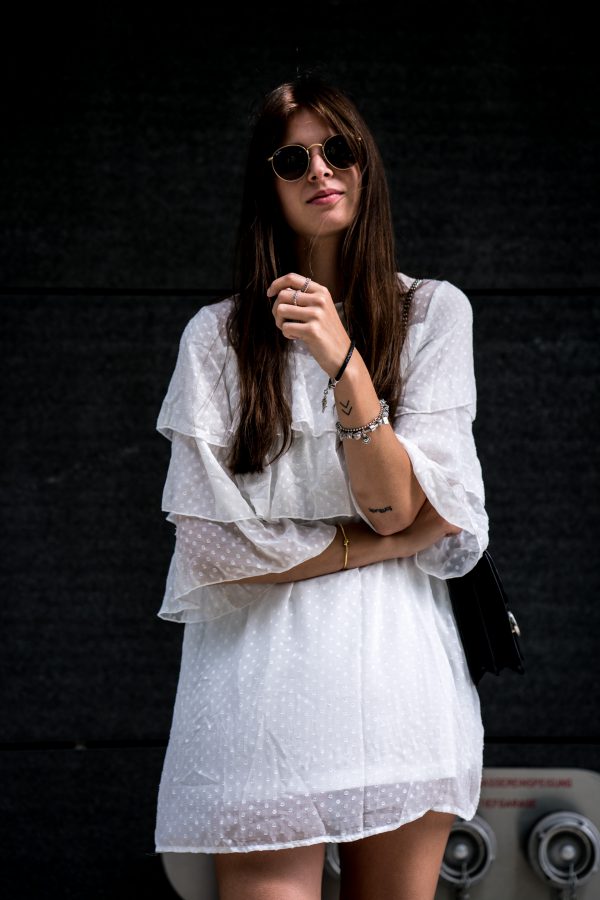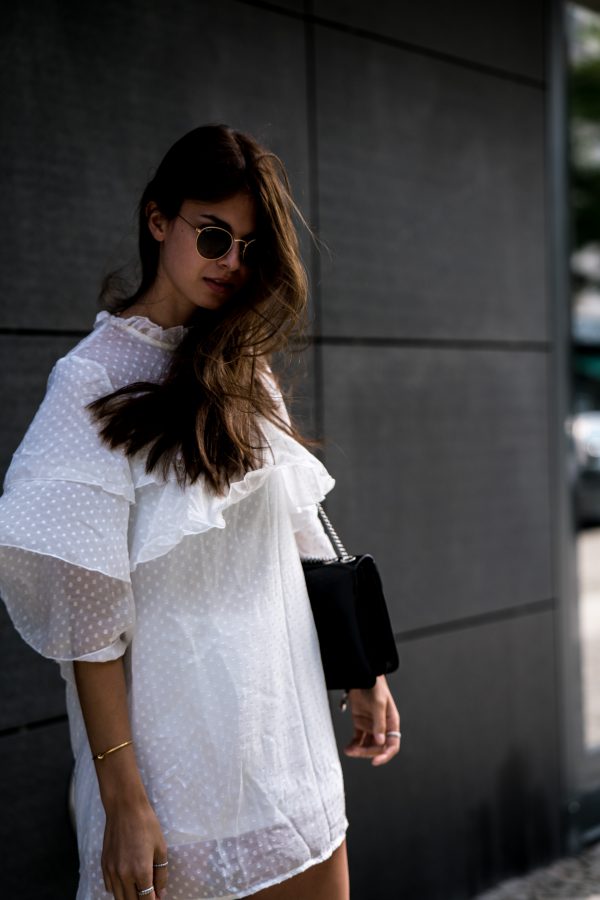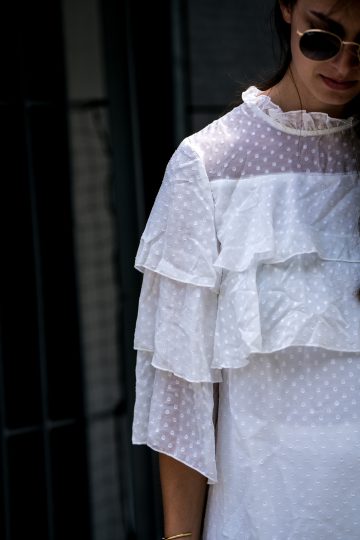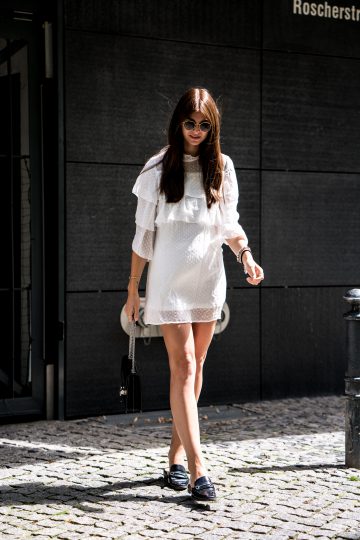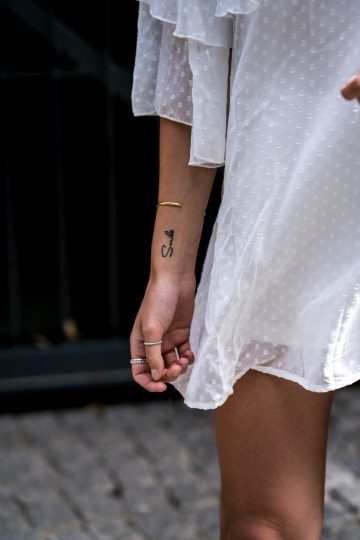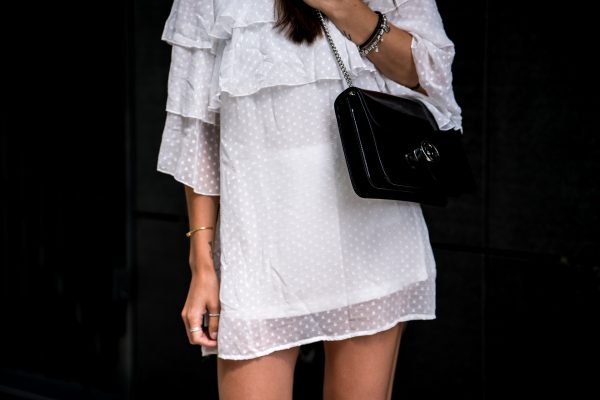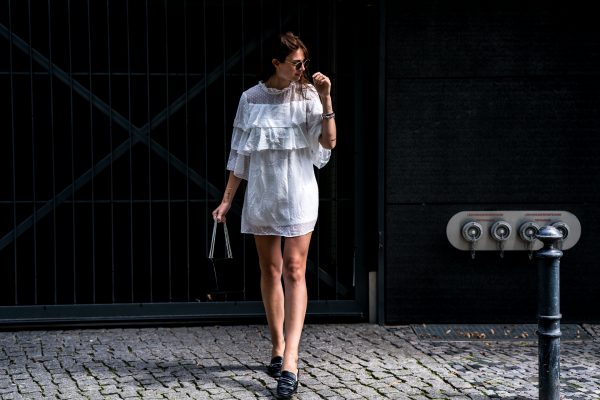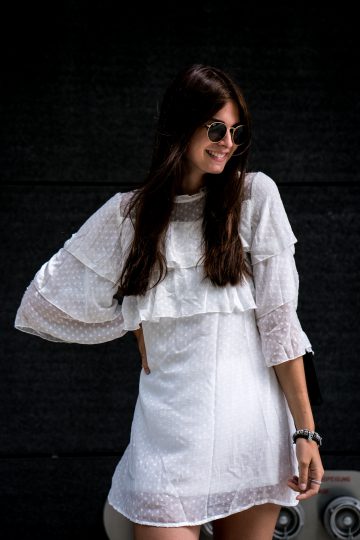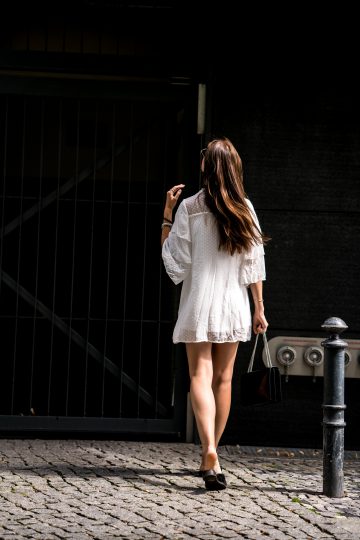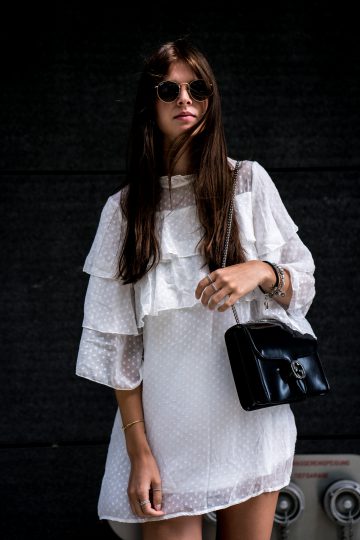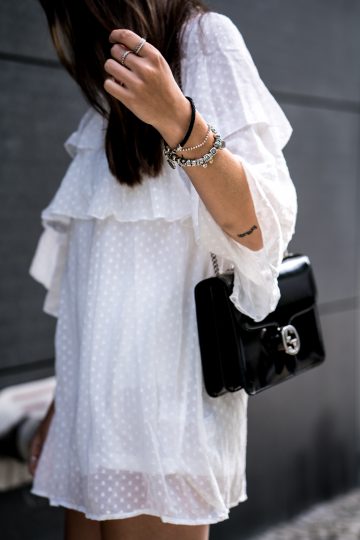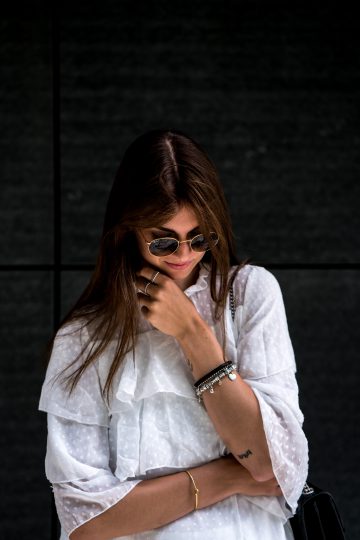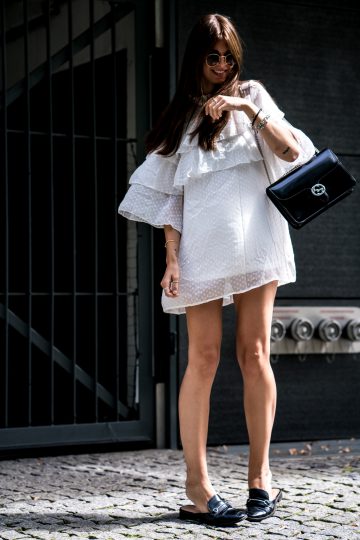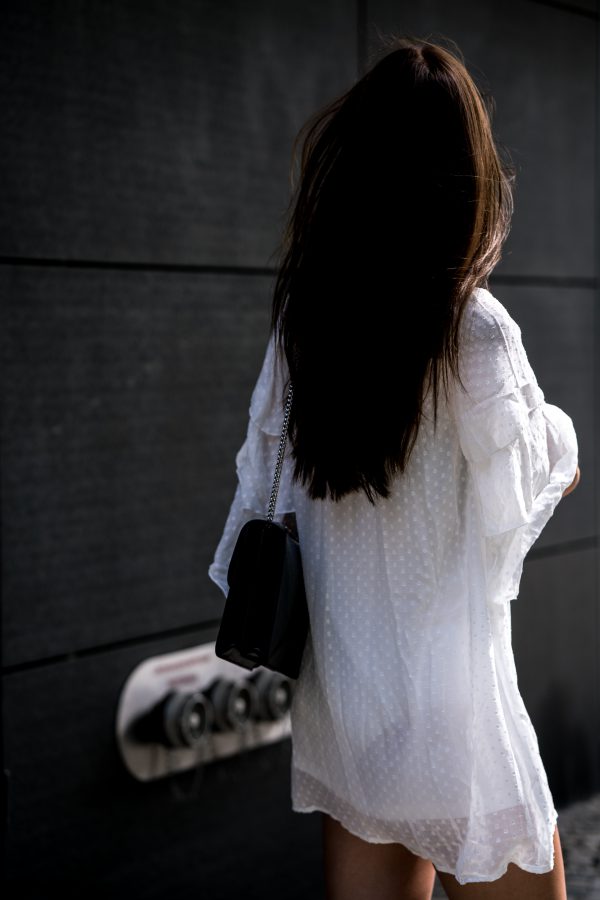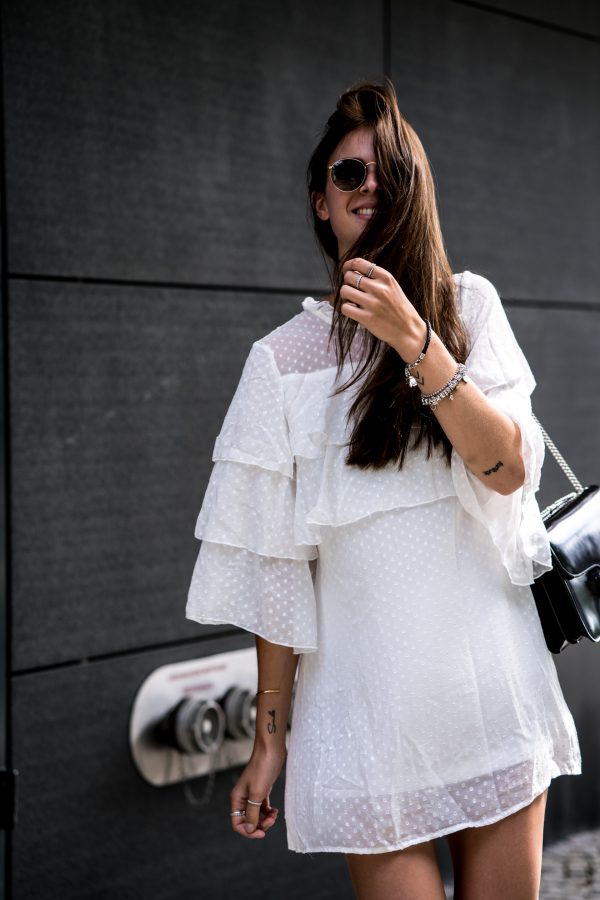 Sponsored Products: Dress from Missguided.