Happy Thursday you guys! Can you believe, that it is almost weekend again?! Wasn't it just Monday? Time goes by so freaking fast, and I didn't only just realise, that the week is almost over, I also just realised that summer is almost over. And it actually feels as if it hasn't even started in Berlin 🙁 Of course, we had some nice summer days, but it was rainy and cold most days the past weeks and months. Realising summer is almost over made me look for the next travel destinations. I really want to travel again and see new places, so right now we are planning a three-weeks-trip in October. Our plan is to fly to Indonesia. We want to stay a week in Bali, one week on Lombok and five days on another island somewhere near Bali. We haven't booked anything yet, but I think we will stick to this plan and intensify our search for flights, hotels and Co.
As soon as I have more details, I will for sure tell you everything about this trip. Today I will just share another summer outfit I was wearing last week. I was one of those nice summer days, but of course, it wasn't the weekend, and I spent most time of the day at the office. And that's the reason why the outfit I am sharing today is another casual summer outfit. I have also been wearing most pieces of this outfit before. Last time I combined them differently, so here is another way how to wear them 🙂 Do you guys prefer seeing the same clothes combined in different ways or do you want to see more clothes, different ones every single time I am sharing a new outfit? I always thought it would make more sense to share the same clothes combined in another way because most people can't afford to buy new clothes like every week and may need some inspiration on how to wear their clothes again and again without always looking the same. What do you think?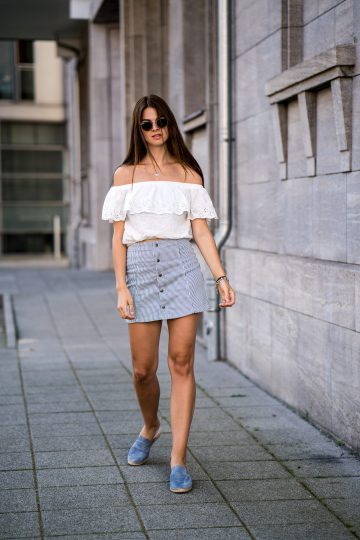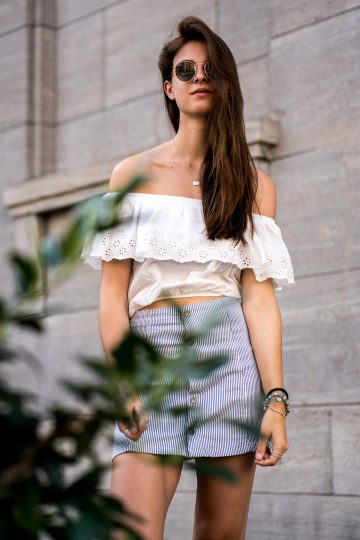 How to combine a white off shoulder shirt
You have seen this white off shoulder shirt before, and I will probably wear it some more times this summer because it is perfect for warm temperatures. And since it is white, you can easily combine it with almost everything, at least I can combine it with almost everything I have in my closet. Even though it is a white shirt, it is everything but boring due to the off shoulder as well as the lace detail.
I have combined it several times, but this outfit combination is a new one. The other day I combined it with a striped denim skirt in blue and white, blue mule sandals, my round Ray Ban sunglasses and some pieces of jewellery. It is such a simple and casual outfit, but actually, everything I wanted to wear on that summer day in Berlin. It isn't a super fancy outfit, but due to all the details it doesn't look boring, does it?! How do you like this casual summer outfit? Do you want me to share fancier looks or is this kind of outfit what you usually wear as well and want to see on the blog?! I would love to get your feedback, so don't hesitate and leave me a comment. xx