The outfit I'm sharing with you today is the one I was wearing on my birthday. We decided to spend the day in Lisbon, have breakfast there, go shopping and just take a stroll through the streets. I usually never leave the house without having breakfast first, but that day I did. The problem: it took us two hours instead of 40 minutes to get to Lisbon. The traffic was super bad, so we decided to park the car somewhere between Cascais and Lisbon and to take the train instead. And that would have been a very good idea, if we hadn't missed the first train and if the next one wouldn't have been cancelled, so we had to wait one hour and the train station. You probably can imagine how bad my mood was… haha. I was starving when we arrived in Lisbon, so the first thing we did was going straight to a café to have breakfast. Since we arrived there around noon, most breakfast dishes weren't available anymore, but luckily they had some delicious sandwiches which are available all day. So even though we couldn't try their breakfast, we enjoyed eating there 🙂
But enough about everything that went wrong let's talk about the outfit I was wearing on my birthday in Lisbon.
New favourite V-Neck Shirt
I got this shirt at Zara a couple of days before we headed to Portugal. It was love at first sight when I saw it online, so I just had to buy it. On the one hand I absolutely love the cut, especially the v-neck and "chocker"-detail and on the other hand, I love the gingham print.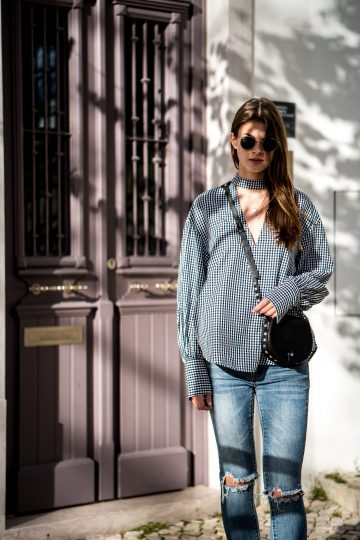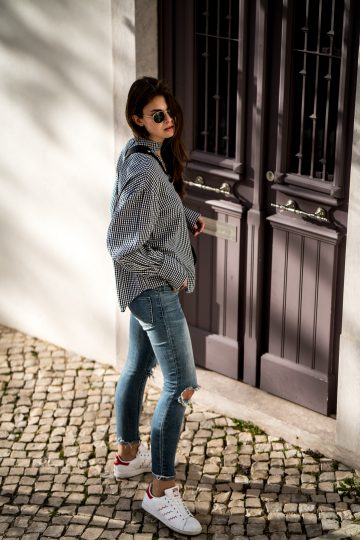 So I basically like everything about it 🙂 I know, that I will wear it pretty often in spring and probably even on balmy summer days. It's one of those pieces that speaks for itself. You can combine it with a pair of jeans or denim shorts, and your outfit won't look boring for sure.
That day I combined it with a pair of blue jeans, white sneakers and my Rebecca Minkoff cross-body bag. I didn't have that many warm pieces with me, so I had to improvise. It's a quite casual outfit, that's is perfect for exploring a city. I have to confess, that I was also wearing a blazer, but luckily I could take it off when the sun was shining. It was just too cold when the sun was gone, AND the wind was blowing.
And btw: how amazing is the location? Lisbon has a lot to offer and has so many beautiful corners; it was hard to decide where to shoot. But the moment we passed this place, the sun was out, and we wanted to take advantage of it. I really like the lilac door, and we also tried to take some pictures with the blooming tree in the background. Even though I liked the tree best, it wasn't that easy to capture it. It wasn't possible to get in in the picture when we were downstairs, so we walked up and found a place where we could shoot in front of the tree 🙂 Not quite sure whether I like the yellow house in the background or not, but I like the blooming tree for sure 😉 What do you think?