I've mostly shared all the photos I had taken during my last trips to Costa Rica, Los Angeles and Mallorca and everything that's left from the travels is nothing I want to share on the blog at this point. It's mostly random outfit photos we took, but I don't have enough of them to create proper posts for the blog. I will keep them for Instagram only (make sure to follow me there, if you want to see them) and continue with outfits I was wearing in Berlin over the past weeks. Since it took me so long to share all the travel content, some of the outfits are not perfectly suitable for the current weather situation in Berlin. But colder days will come, and for these days, you might want to wear one of the outfits I am going to share the upcoming days. I will start with a layering outfit I was wearing two or three weeks ago, with the main focus on one of my utility vests.
How to wear a utility vest in spring and summer
Earlier this year I shared a huge post about some of the trends this spring and summer and utility style was one of them. I don't like everything about this trend, but utility style vests are definitely one of the things I love about this trend. I got myself two different vests for the time in Los Angeles and at Coachella. I was wearing them a couple of times already, but since I've been back in Berlin, both vests were hanging in my closet – until recently. The day I finally was wearing it again, I first didn't know what to wear. I wanted to wear these green pants and combined them with an oversized white shirt. But I wasn't fully satisfied with the look as I thought it would look a bit boring. I checked different options I have in my closet, and the one I liked best was the black utility vest.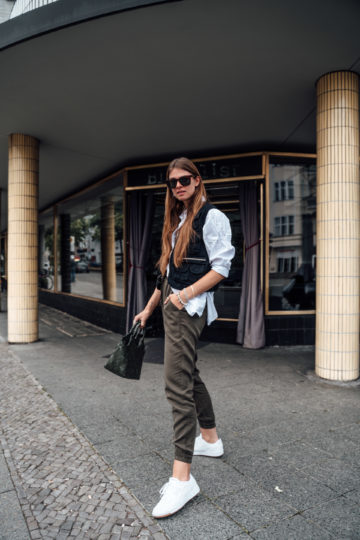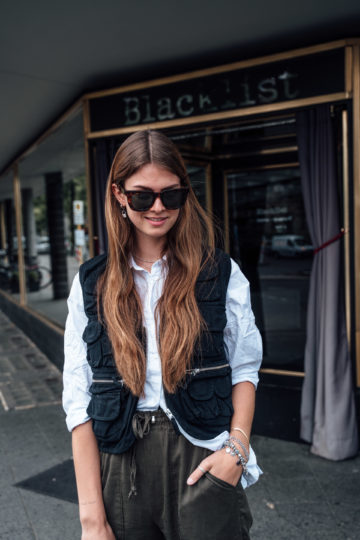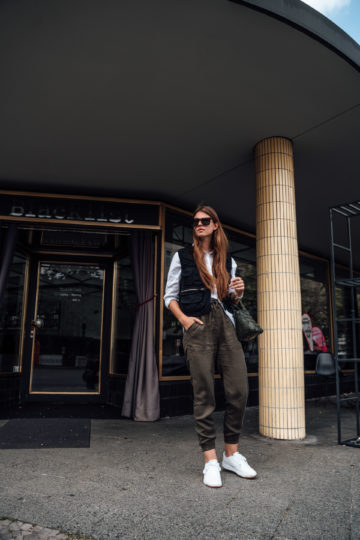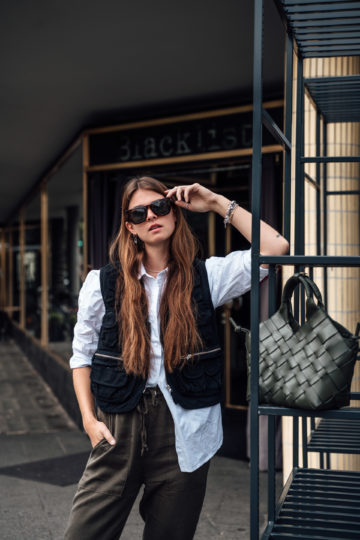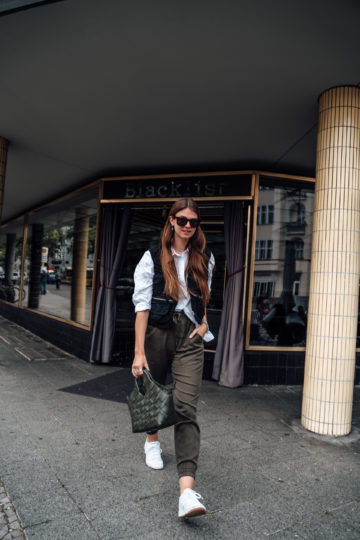 A utility vest is definitely one of the trend pieces you might want to consider to get for yourself. It's the kind of piece you can add to every outfit whenever you feel like there is something missing. It's easily put on and makes every single outfit a bit more interesting. I would even say that there is nothing you can't combine it with. I would wear a utility vest with everything: pants, shorts, skirts, dresses. It's not only a piece of clothing you can wear in spring and autumn, but you can also wear it all year round.
You can add it to your winter outfits as a layering piece, you can wear it when you don't want to wear a jacket in spring and autumn, but need to stay warm, or you can wear it with your summer outfits if you need another detail to create a more appealing outfit. I will definitely add my utility vests to some of my upcoming summer outfits and make sure to share them with you on the blog so that you can get some outfit ideas for summer as well. For now, there is only this spring outfit I can share with you, but I hope you like it as well and maybe it already inspires you for one of your next outfits.
What do you think about the current utility style trend? Would you wear it or is it one of the trends you don't like? Leave me a comment and let me know what you think. xx
*Ad, brands named – Topshop Vest || Minimum Shirt || Chiquelle Pants || Reebok Sneakers || Cala Jade Bag