Good morning folks. Are you ready for the third and last part of our TRX series? Sophia and I already showed you some TRX Upper Body as well as TRX Core Exercises and today's post is all about effective TRX Lower Body Exercises. Have you already tried some of the exercises we shared with you during the past weeks? How is it going and can you already see progress? 🙂 Don't be sad if you can't see anything yet. Keep on doing your TRX workout, everything needs its time. And you'll get stronger with every workout.
TRX Suspension Training
Let's recap in case you already forgot all the information I gave you about the TRX Suspension Training. Training with the TRX is an extremely versatile and effective full body workout. It provides countless benefits such as balance as well as coordination, strength, power and flexibility. You don't have to be a pro to do a TRX workout, it fit's all levels from beginner to professional. Another advantage is that you can train everywhere. All you need is the TRX System as well as something to attach it.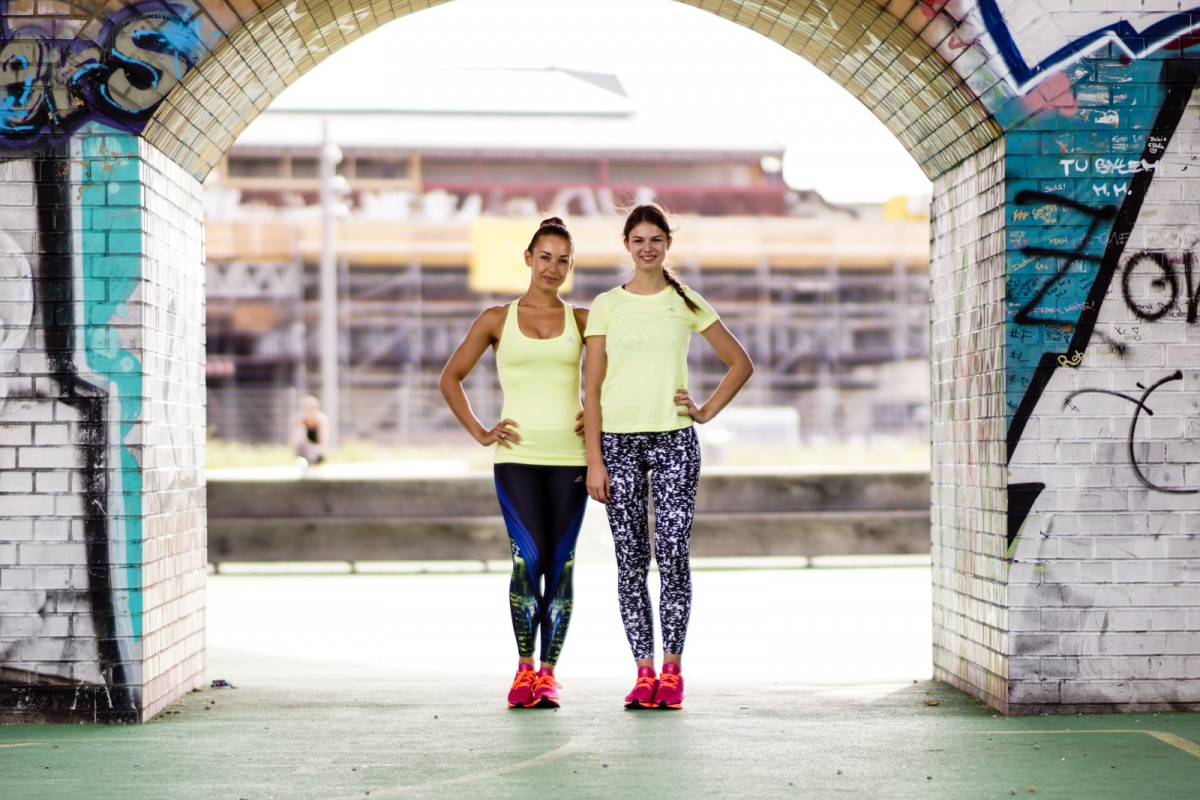 Effective TRX Lower Body Exercises for stronger, leaner legs and a shaped, toned butt
Do you want stronger, leaner legs as well as a shaped, toned butt? Then try the following four TRX Lower Body Exercises Sophia from fit&fab and I prepared for you. These exercises will help you to train your lower body muscles and to reach your body goals.
TRX Lunges
The TRX Lunges train your legs as well as your abs. It'll lead to better balance and stability – don't become desperate when you struggle during the first tries. For this TRX exercise you have to face away from the anchor point, one foot is in both straps, and the other one is firmly on the ground. Now you have to lower down into a lunge while you're extending the other leg behind you: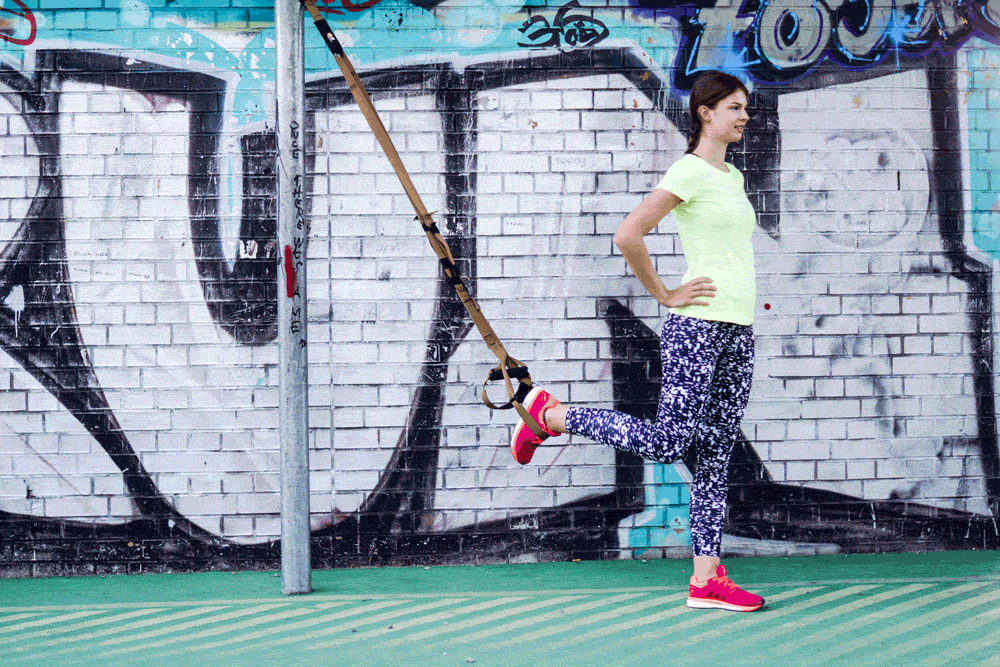 TRX Hamstring Pull-Ins
Do you want to train your thighs, glutes and hips? Try the TRX Hamstring Pull-Ins. For this exercise, you have to lie on the ground with your face up and your arms extended on the sides of your body. Your feet are in the TRX straps; your hips are off the ground. Make sure to press down your heels for more stability. Pull your heels toward your hips and straighten your legs back: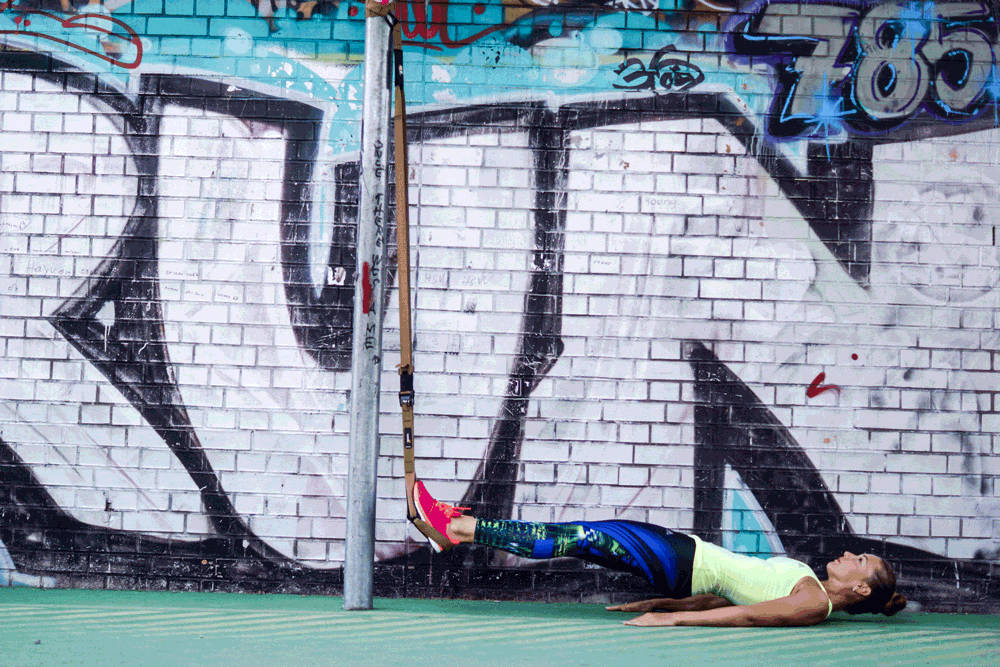 TRX Glute Bridge
As the name already says, the TRX Glute Bridge trains your glutes as well as hamstrings and back. This exercise is way more intense and effective with the TRX than regular. To start, you have to lie down again with your heels inside the straps. Bring your legs in a 90-degree angle and start: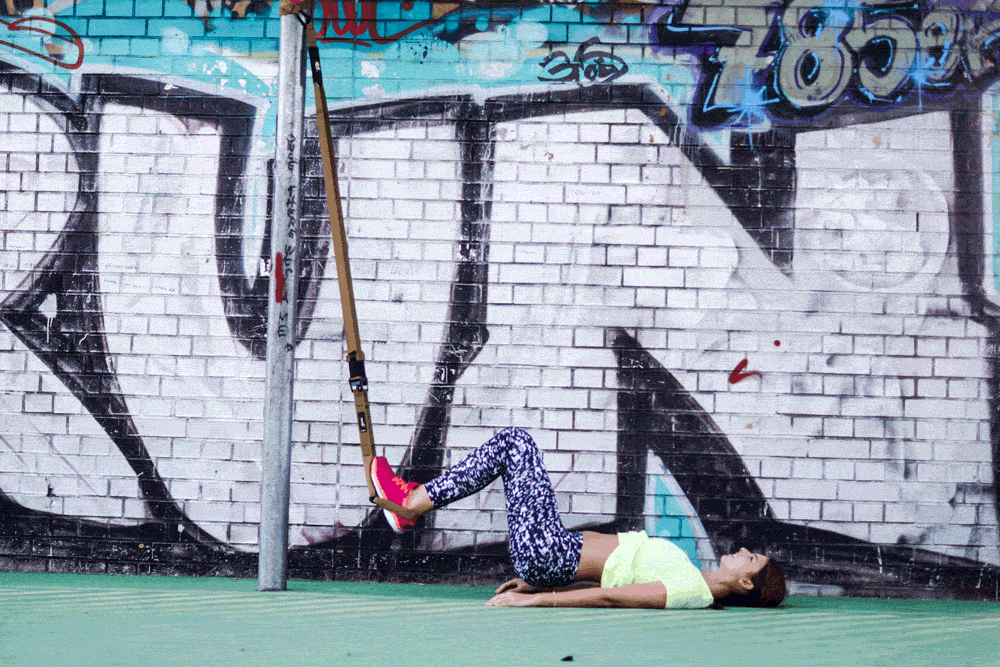 TRX Single-Leg Squat
The best is yet to come: the TRX Single-Leg Squat is the perfect exercise to train abs, butt, legs, and arms. For this TRX exercise, you have to stand, facing the anchor point and holding both handles in front of your waist with your elbows bent by the sides. One of your legs has to be lift out in front of you while the other one is on the ground. Now lower down into a squat and push yourself back up to the start position: