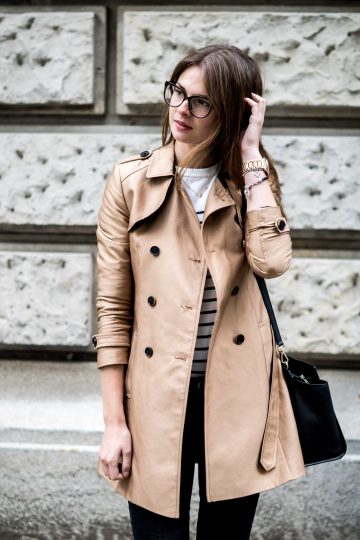 Good morning and happy Wednesday everyone! I hope you're having an amazing week! I'm taking it a little bit easier than the past weeks this week and have spent a lot of time at the office so far. This might not sound like taking it easy, but it actually is. I want to focus on work this week and don't stress myself with a lot of events and appointments. It feels good to get a lot of work done, so I'll have the time for my appointments and events next week. Additionally, I want to start learning for my trainer aptitude examination, that I have on the 7th and 11th of November. I'm a little bit nervous because it's been quite a while since my last exam. I won't have the time to learn full time, so I'll work from home for two weeks and do both, learning and working. How do you prepare for exams? Do you have any suggestions?
But before you start writing down all your suggestions, I would like to show you a new outfit we shot last week. It was the outfit I was wearing for the press days in Berlin and as you can see (red nose) it wasn't the best outfit choice. It was a little bit cold and very windy that day. Luckily we spent most of the time inside the car or at the agencies, and I didn't have to freeze outside except while we were taking these outfit pictures. 😉
Trenchcoat and striped Sweater
Key piece of this outfit is the trenchcoat. I already got it a couple of months ago, but because it was still very warm and summery outside, it was hanging inside my closet until last Thursday. It's actually my first trench coat. I always wanted to buy one, but never found the perfect one. I either didn't like the colour or the cut or the price was too high. I was so happy when I saw this one from Reserved during their Sample Sale. The colour is PERFECT! It's not as light as most trenchcoats; it's more caramel, and I really like that. The cut is a usual trench coat cut, so this wasn't the decisive factor for getting it. The decisive factor was the colour! How do you like it?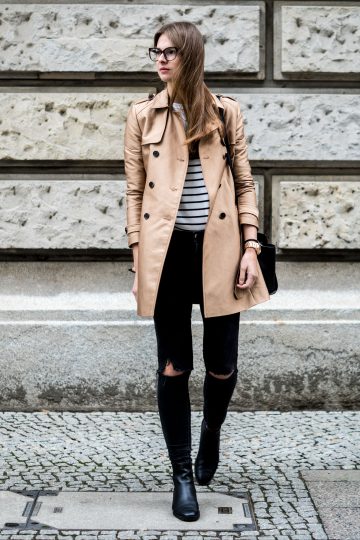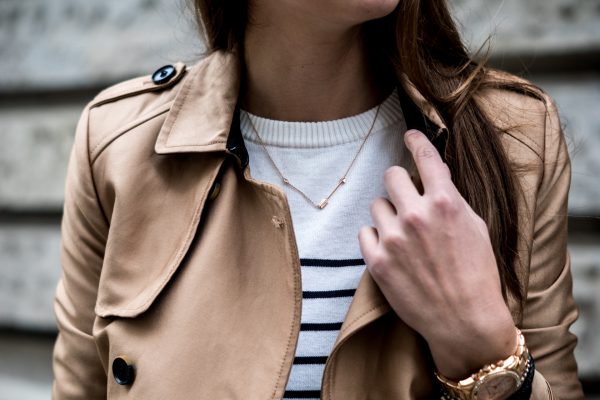 I combined my newish trenchcoat with black jeans and a striped sweater as well as black boots. I first wanted to combine it with an all black outfit, but that's what I always do. I opted for a little change, something I usually don't wear. Well, something I don't wear that often. It's still a very simple outfit combination, but the striped sweater makes it look more interesting. Last but not least I added a few pieces of jewellery such as my rose gold Michael Kors watch and my new necklace. What do you think about this outfit? Do you like it or not?