Before I finally share everything about the reason why we were in Crete a couple of weeks ago, I want to share one last outfit with you guys. This is another outfit I was wearing for dinner. You may wonder why we took only pictures of my dinner looks and the answer is simple: I was wearing bikinis and swimsuits during the day. We spent a lot of time working or just laying by the pool, so why not wearing a bikini or swimsuit to tan a little bit?!
But, of course, wearing a bikini for dinner would be entirely inappropriate. Nevertheless, I wanted to wear something casual, especially on the last evening and here is what I chose:
How I combined my striped pants on a summer evening in Crete
I didn't have a lot of chic clothes with me in Crete; it was all about comfort. But the outfit I am sharing with you today actually is the most comfortable one from all the outfits I was wearing. And you might recognise it yourself if you've seen the others outfits. Yep, it was our last evening, and we spent most time of the day working by the pool. It was a very windy day, and due to that, it was quite cold inside the water and in the shadow. Working all day and being outside in the sun on a windy day is exhausting and I didn't feel like dressing up in the evening.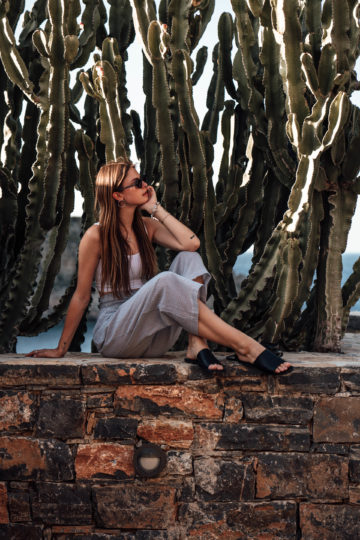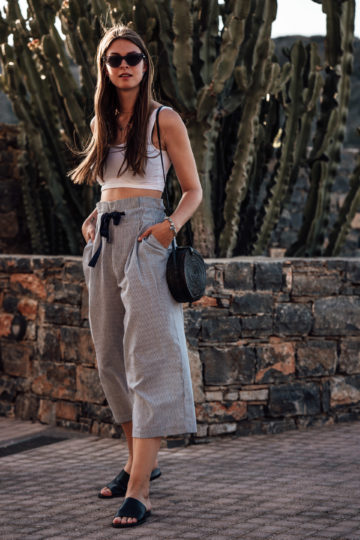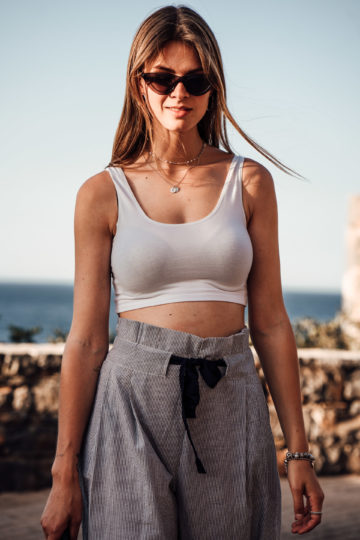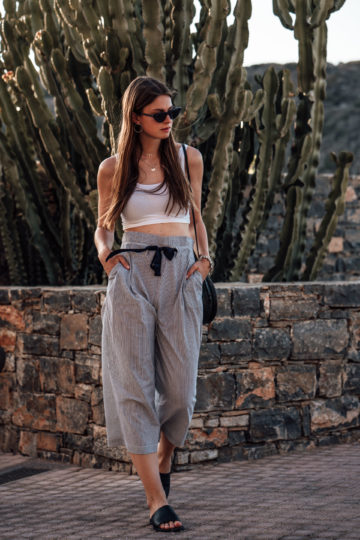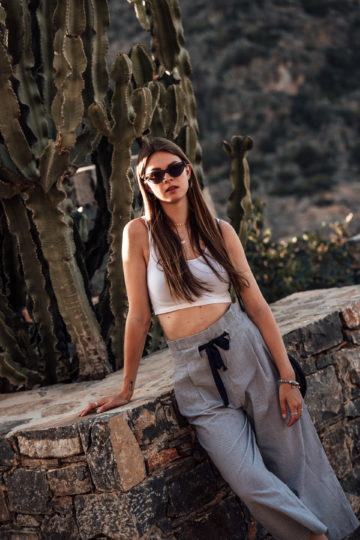 I opted for striped pants as they were the only pants I had with me and super comfortable. The cut is very loose, and you can decide how tight you want to wear them by tying up the blue band as you want. I really like that they made the band visible in the back because it adds another detail to the look. What I also like about these pants is the high waist cut. It is super high-waisted, what is perfect for when you feel a little bloated or just had too much to eat hahaha.
Due to the details and the cut, I decided to combine my striped pants with a white crop top. It is a very casual outfit, just what I felt like wearing that evening. To finalise the outfit I put on my favourite black sunglasses, my black Ata bag from Bali as well as black sandals. Super simple, super comfortable and perfectly suitable for a relaxed summer evening on vacation.
Travel Outfits or Everyday outfits
Last but not least I would like to get your feedback on whether you prefer travel outfits or everyday outfits. I feel as if I am more creative when I travel, I do like my travel outfits better and also the pictures we take in other cities and countries. I always try to put together outfits; you could wear in your everyday life as well and not only on vacation. So when you look at all the outfits I've shared so far and compared the ones I was wearing in Berlin, my hometown, and the ones I was wearing when travelling – which ones do you like best? What kind of content do you like best?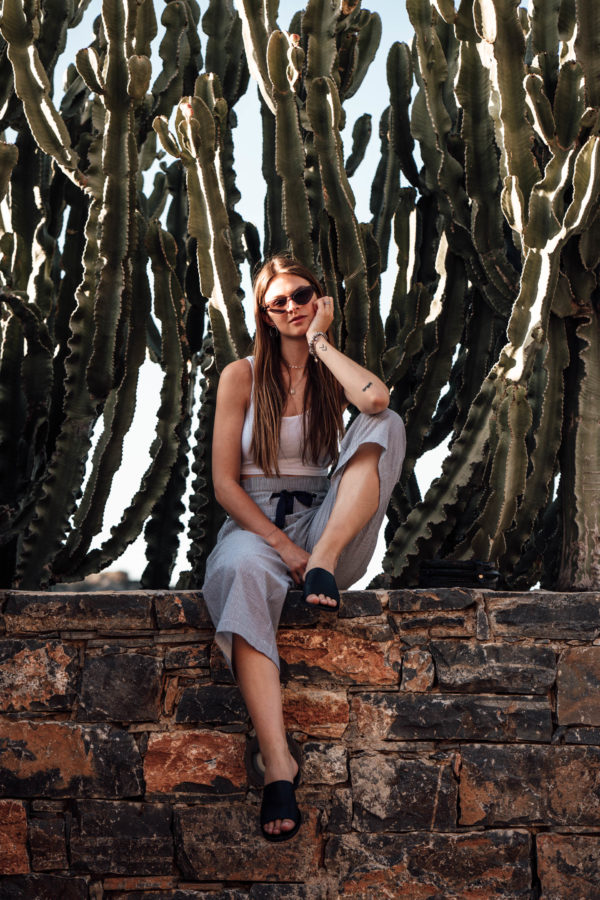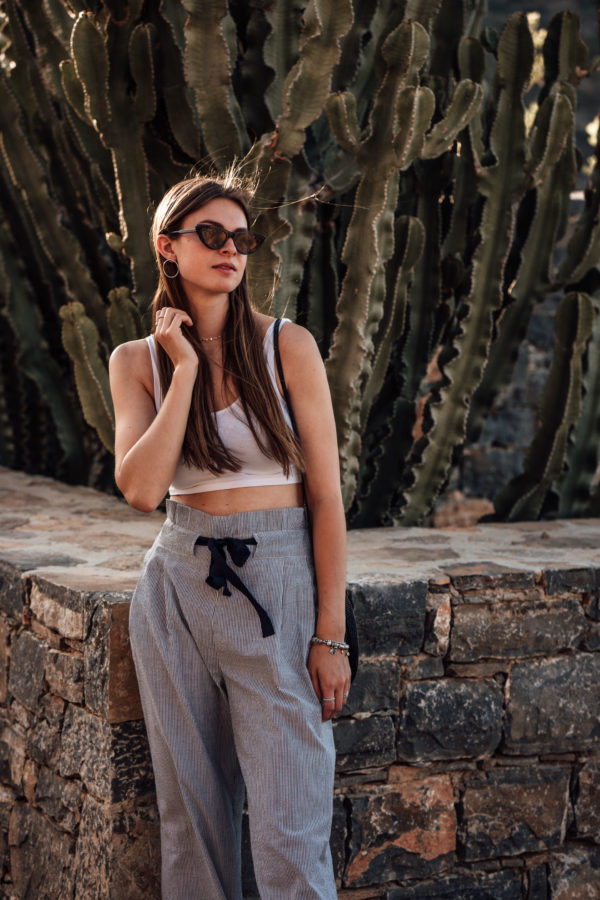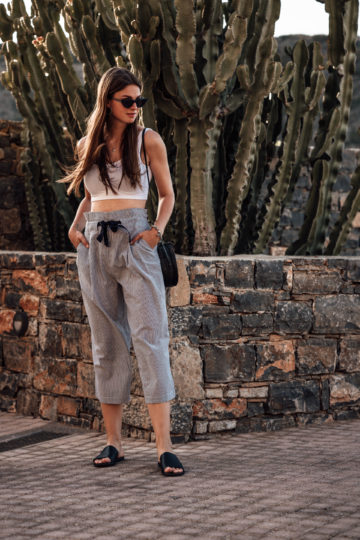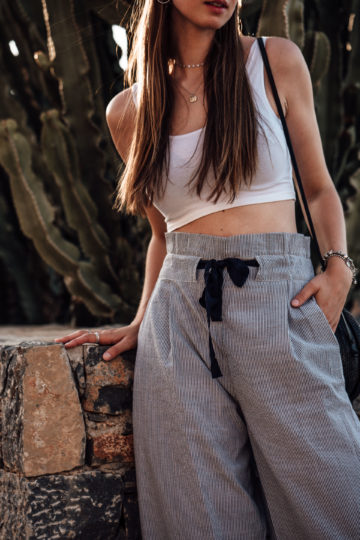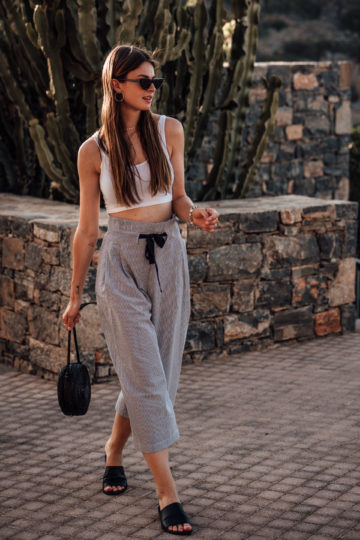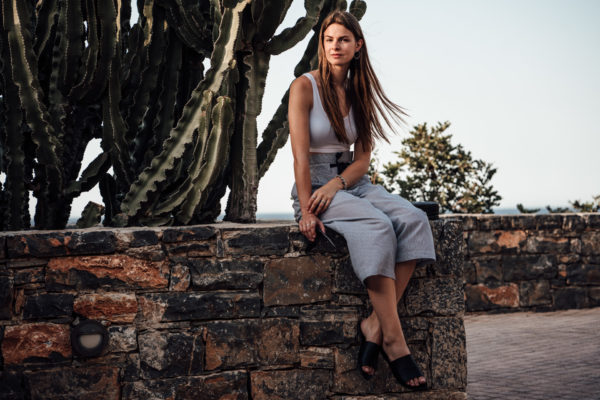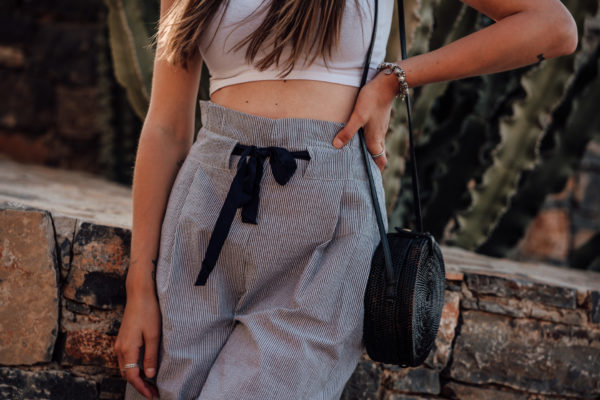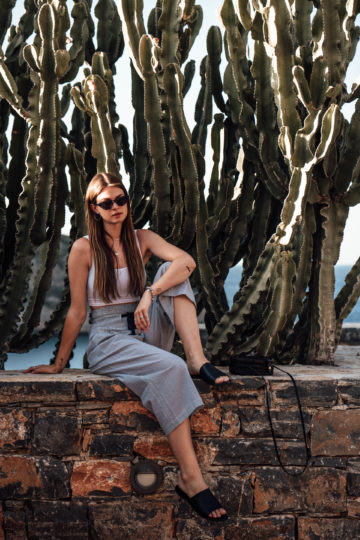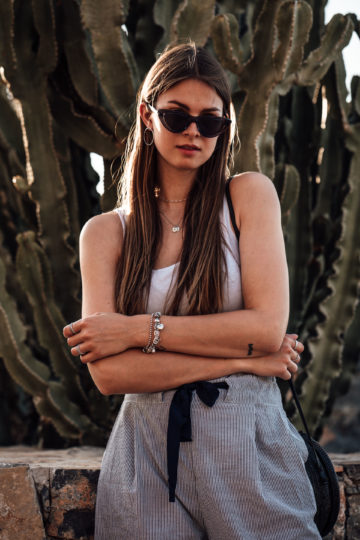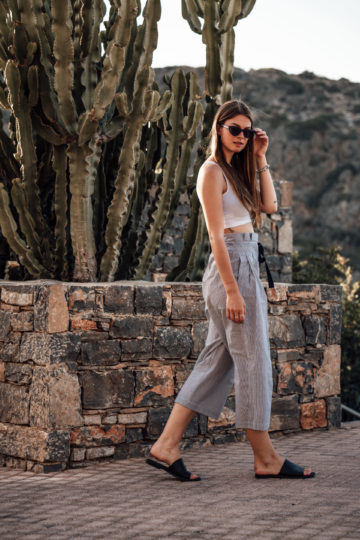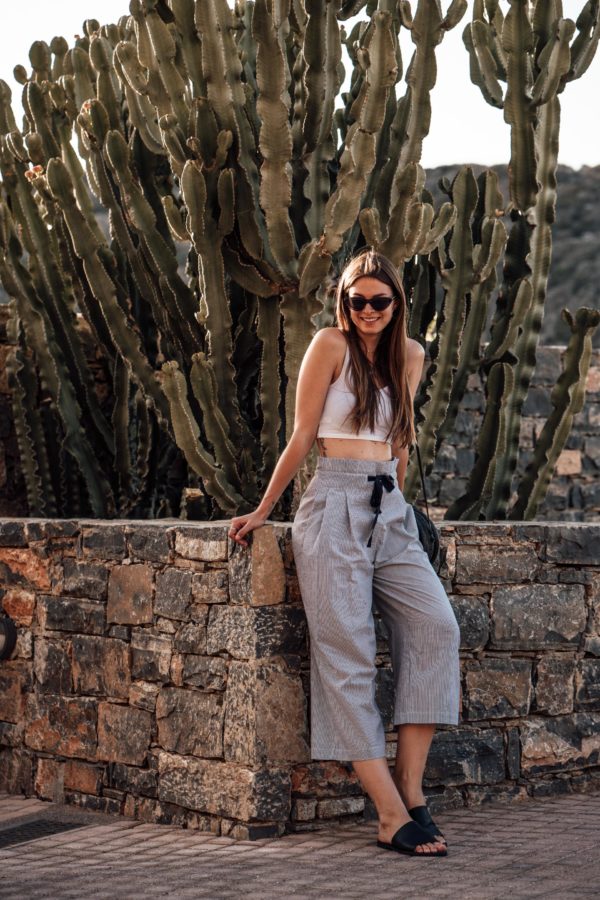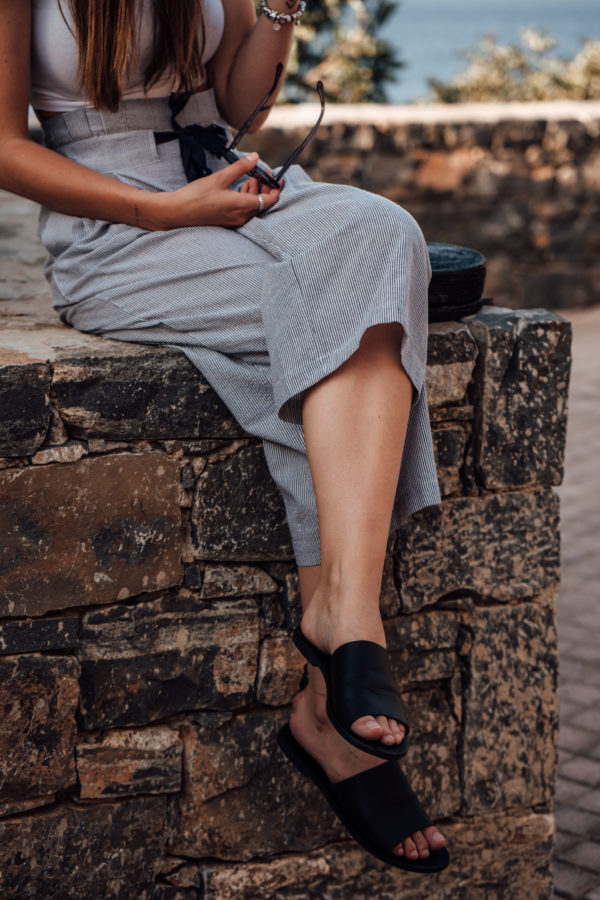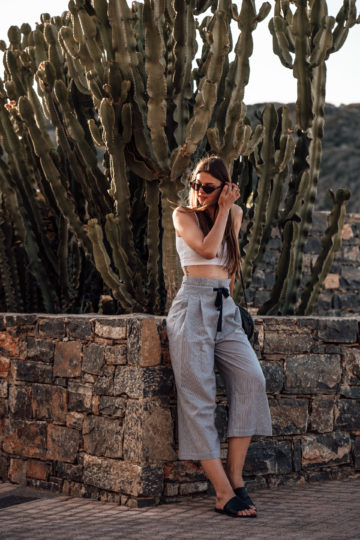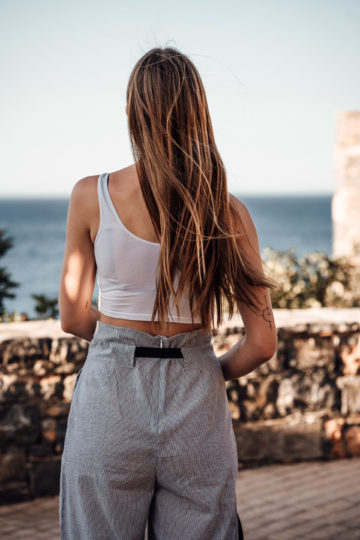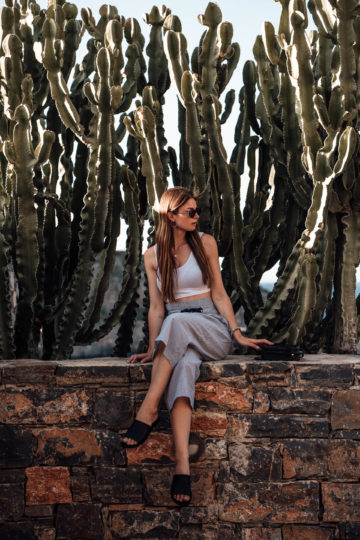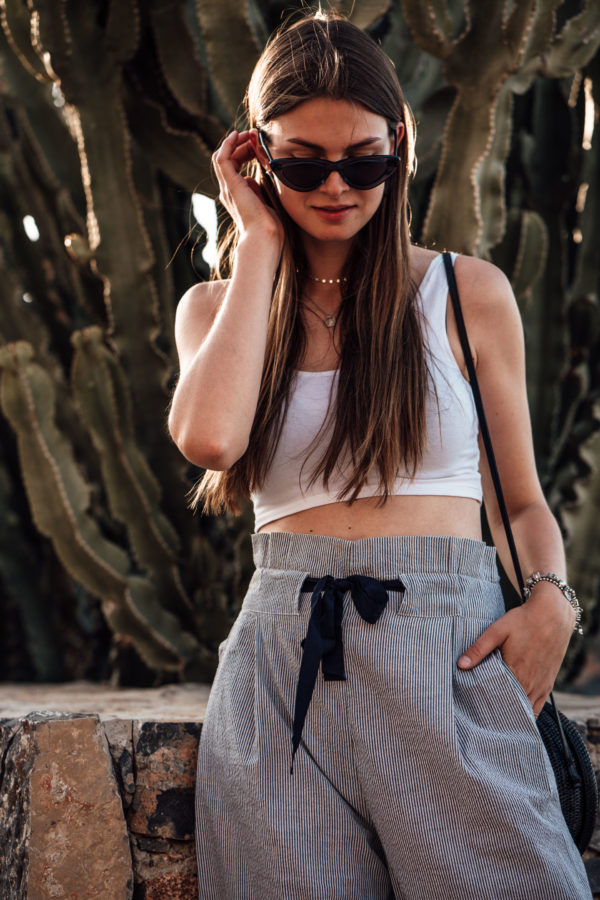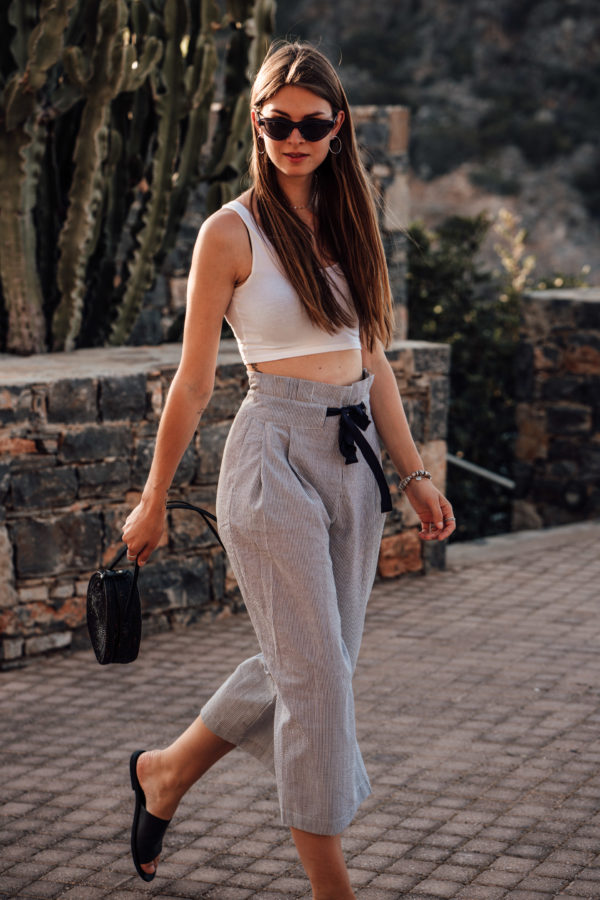 *PR Samples contained – VILA pants || old crop top || Chimi Eyewear sunglasses || Sol Sana shoes || Ata bag from Bali