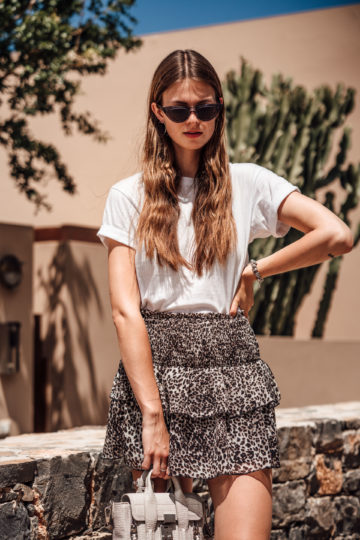 This week I am sharing the last pictures from Greece before it is time for content from Italy. Since I reduced the number of posts per week, it takes much longer to share everything from you. Whenever we are travelling, we take a lot of pictures and shoot almost every outfit. Due to that, I don't have to take many outfit pictures once I am back in Berlin, because I usually have enough content for one to two weeks. And now that we travelled almost every week in June, I think I won't share a single outfit post with a look I was wearing in Berlin this month. But I know, that you love those travel outfits and travel pictures, so I don't mind. I am also way more inspired when I travel and always struggle with taking outfit pictures in Berlin.
But enough said, let's get straight to the outfit I am sharing with you today. I was one of the outfits I was wearing when we were in Crete. I already shared two of my Crete outfits, and I was wearing both for dinner. The outfit I am sharing with you today wasn't a dinner look, it was one of my day outfits, and I was wearing it for lunch by the ocean.
Combining a leo print skirt with white clothes
I was wearing this outfit before our trip to Crete in Berlin, but we didn't have the time to take outfit pictures that day. And since I liked this look so much and felt super comfortable wearing it, I decided to bring it with me to Crete to not only wear it once again but also to finally take some outfit pictures for your guys and to share them with you on the blog.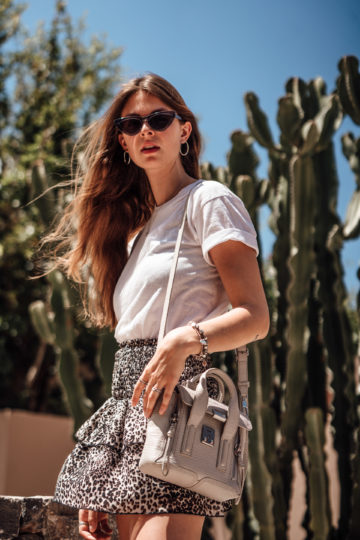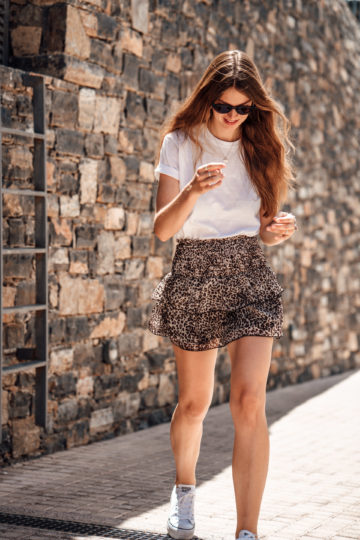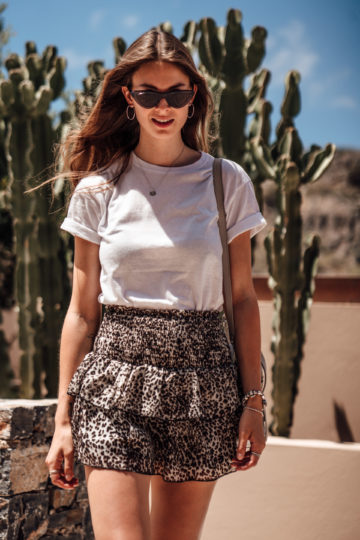 It is not a secret that I am totally into leopard print at the moment. I got quite a few leo print pieces and had talked about this trend a couple of times on the blog. That's why I won't repeat everything I said in this post; I will talk about this leo print skirt and how I combined it in Crete.
Casual outfits are my favourite ones and comfort is the most important factor for me. That's why I was wearing a simple white t-shirt as well as white sneakers. At this point I want to mention, that leo print works very well with white as long as it is a quite dark leo print in darker brown shades. White makes the print stand out a little bit more and also adds a summery touch. We all know, how great white clothes look when we are tanned, so no wonder it also works very well with brown garments, is it?! Of course, you can also combine your leo print skirt with other colours, but I would always go for a simple one such as black, grey, denim or white.
Wearing platform sneakers in summer
Another trend piece I was wearing that day is platform sneakers. And I talked about this trend before. You might know by now how much I like it and that I got quite a few platform shoes. Those white platform Chucks are my favourites for summer, and I have been wearing them almost every day and brought them to every single trip this month. Sneakers are the kind of shoes I am wearing quite often in summer as it isn't easy for me to find nice sandals in my size. I also do like wearing platform sneakers in summer, because they optically elongate your legs and work very well with short dresses and skirts. How do you like this look? What do you think about this leo print skirt and platform sneakers? I am looking forward to reading your comments.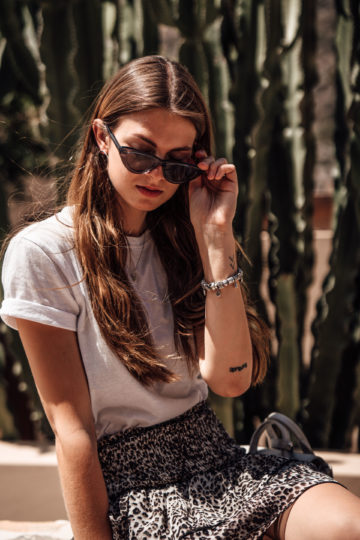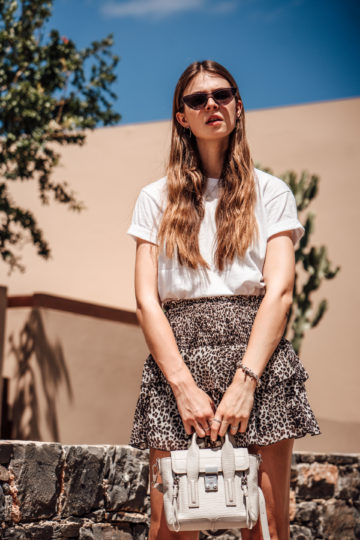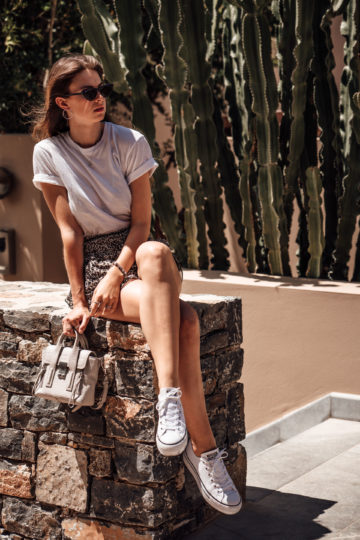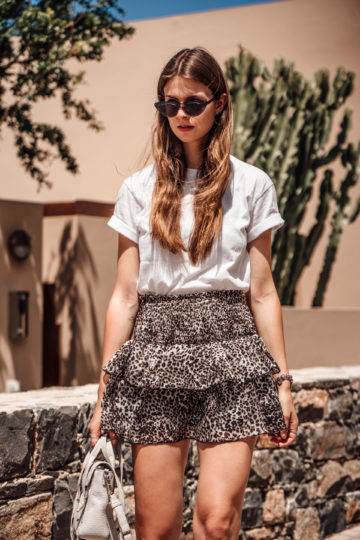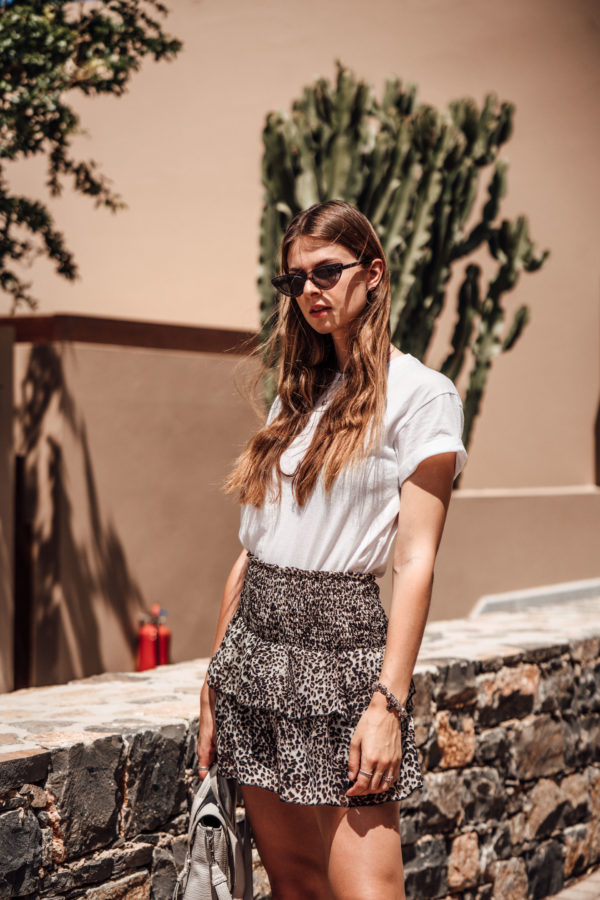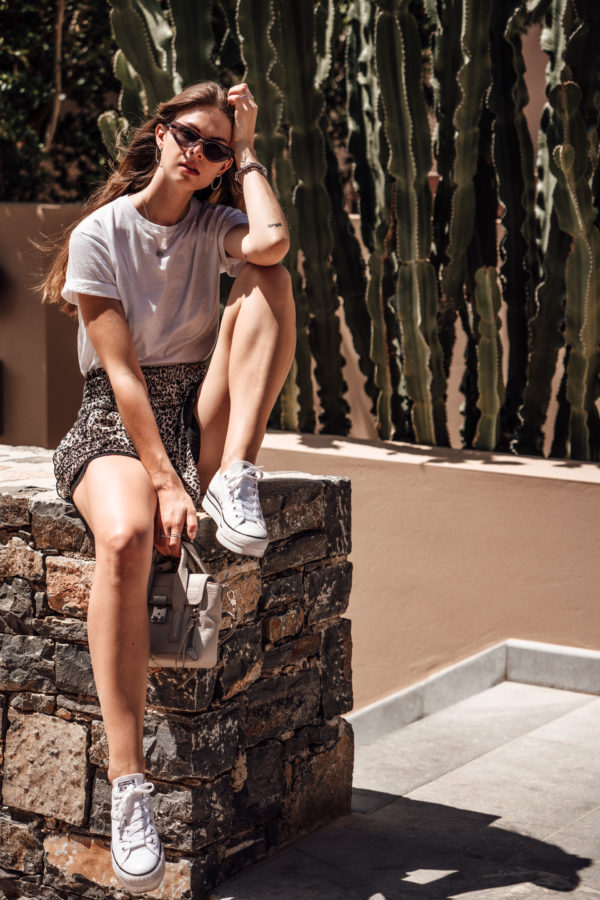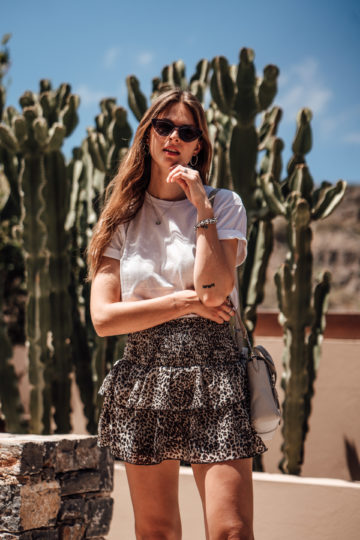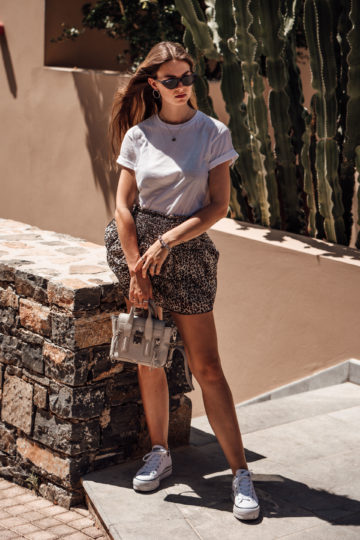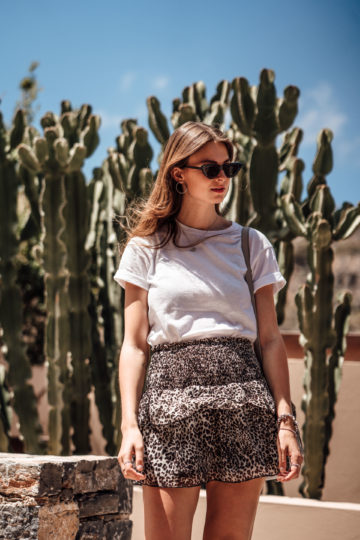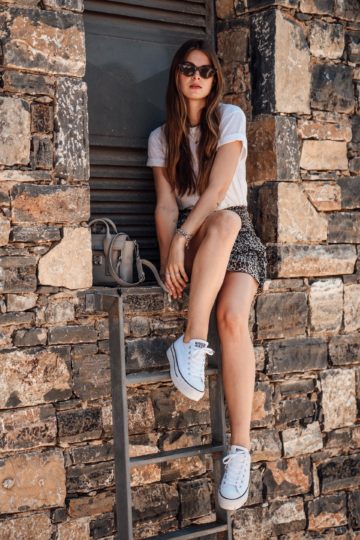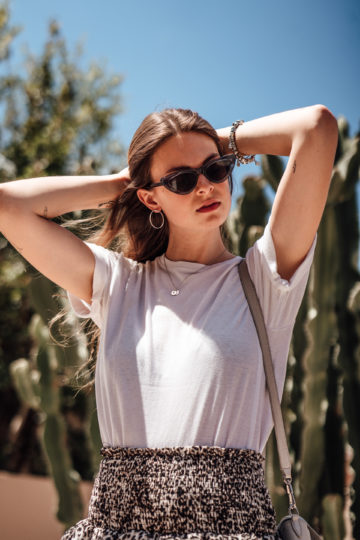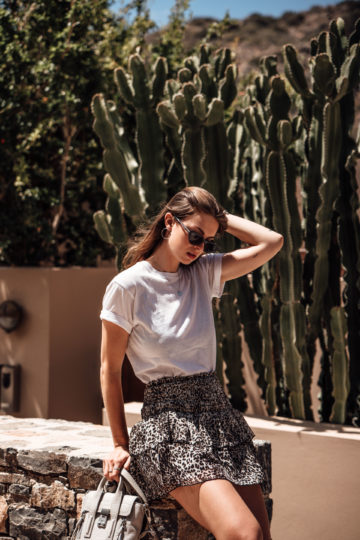 *PR Samples contained – Loavies skirt || Converse shoes || Phillip Lim bag || Chimi Eyewear sunglasses