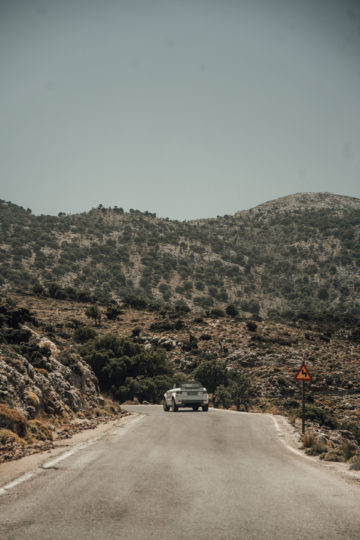 You might remember my trip to Crete together with GANT a couple of weeks ago. I already shared (almost) all the outfits I was wearing, but I haven't told you more about the reason why I was in Greece yet. Those who follow me on Instagram might have seen it in my stories and might now that we got the chance to explore Crete together with GANT and Land Rover Experience.
We spent five nights in Crete and arrived on Friday afternoon after a flight with Aegean Airlines from Berlin via Athens to Crete. Once we've arrived at the airport, we got picked up and drove directly to the amazingly beautiful hotel Daios Cove Luxury Resort & Villas. That was our base for the six days and our starting point for exploring Crete a little bit. In between our day tours, we got to enjoy some free time by the pool and on the beach, which was just perfect.
We made two different tours during our time in Crete together with GANT. And today I finally want to tell you a little bit more about the tours. Land Rover Experience offers three different tours in Crete. You will get to see everything from the mountains to the ocean when doing these tours, so there will be something interesting for each of you for sure. When you book a tour, you always get an instructor who will drive together with you, but in another car. So you will drive all by yourself and a Range Rover Convertible. Yep, you heard right, a convertible. I have to admit, it got a little bit dusty at some parts of the tour, but it was so much fun driving with the car roof opened and you have a better view as well. You just have to make sure to wear a hat or something else to cover your head. The sun is quite strong what you won't recognise due to the airstream.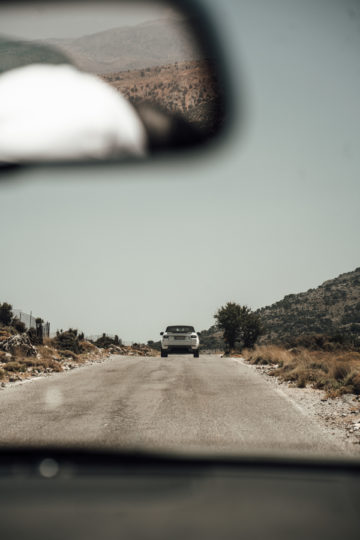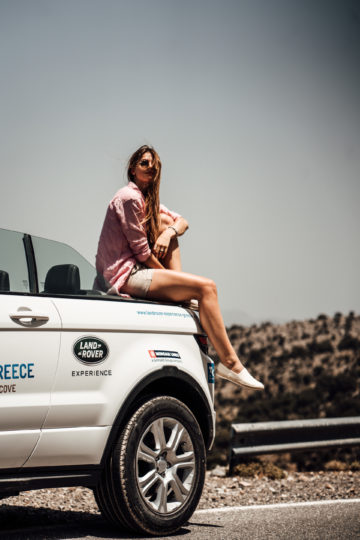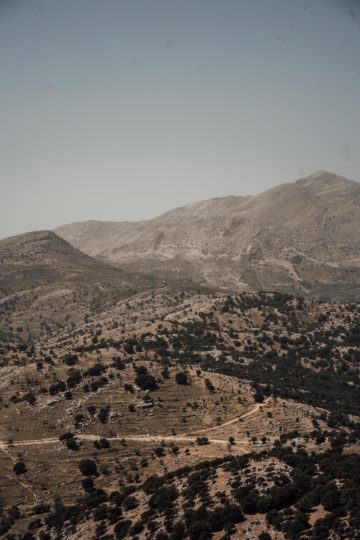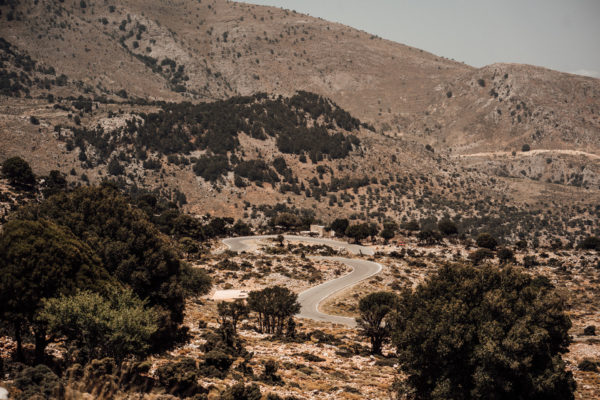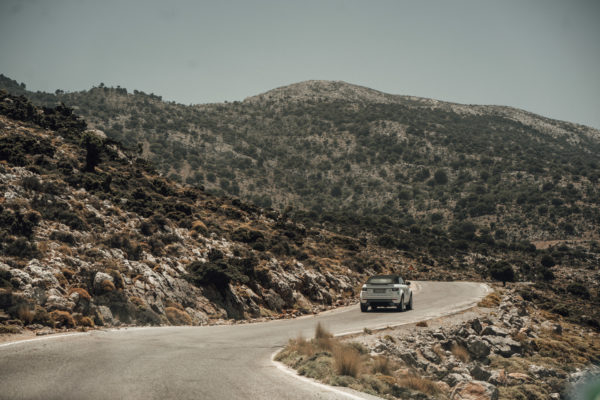 Crete Tour 1: Exploring the mountains in Crete
We did our first tour on our first day in Crete. It was a half day tour – four hours to be exact – and we were driving through the mountains landscape of Crete. We drove both paved roads and, and it was so much fun. I tried to capture all the amazingly beautiful views, but the pictures can't reflect how it looks in reality. We stopped at some lookout points and walked a little bit to get a better view, but even the views from the car were amazing. But what I liked best amongst the views is the fact, that we got to see parts of the island we probably would not have seen without this tour. Oh, and another highlight was the Mountain goats we could spot next to the road and sometimes even in the trees.
Casual GANT Roadtrip Outfit
For the first tour through the mountains landscape of Crete, I opted for a very casual GANT outfit. It was a sunny and warm day, that's why I was wearing a pair of shorts combined with a crop top and a shirt. You may wonder why I was wearing a shirt when it was so warm. The reason is that we were sitting in the car most of the time and I wanted to cover my skin a little bit to avoid getting sunburned. It also was a little bit colder in the mountains, so wearing a shirt wasn't the worst idea I've ever had.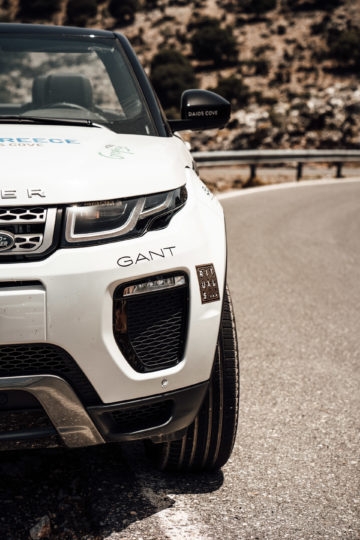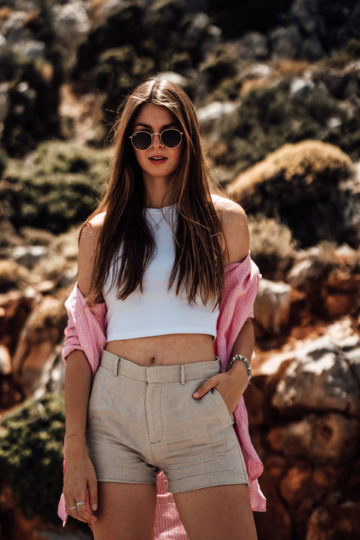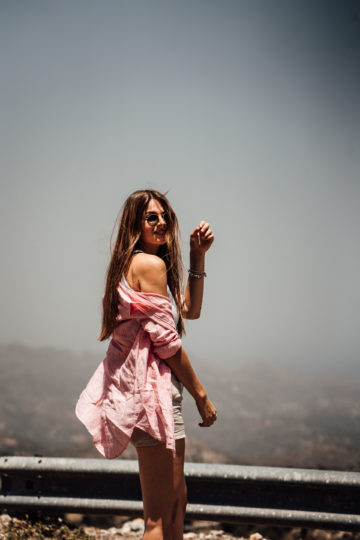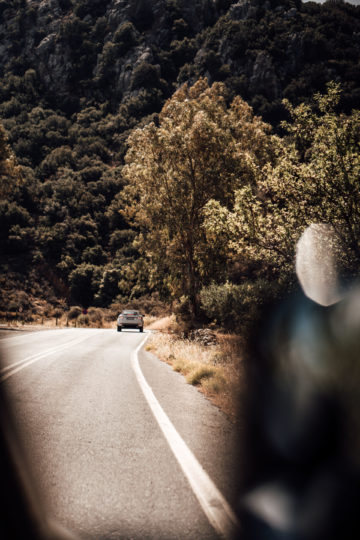 Crete Tour 2: Mountains, Cretan villages and the coast
Our second tour with Land Rover Experience and GANT was a little bit longer than the first one, and this time we did not only drive through the mountains but also through Cretan villages and along the coast. Even though we had driven through the mountains landscape before, I wasn't bored with the views at all. I saw so many things I hadn't seen the first time, and due to the cloudy sky, everything looked different, more dramatically.
But as I mentioned before, we did not only drive through the mountains. We also drove through some small Cretan villages, which were far from the tourist hotspots. We made a quick stop in one of the towns and got to see what the Cretan live is like. We walked through the narrow alleys and just had to take pictures everywhere since it was so beautiful.
Afterwards, we continued our drive to the coast of Crete. I am an ocean child, so this was actually my favourite part. I will never get bored of the ocean view and could watch the waves for hours. On our way down to the coast, we got to enjoy breathtaking views, and the last part of the tour was along the coast followed by lunch next to the ocean. Does it get any better than this?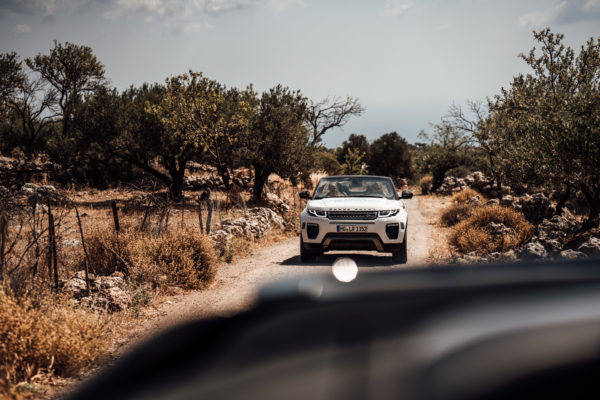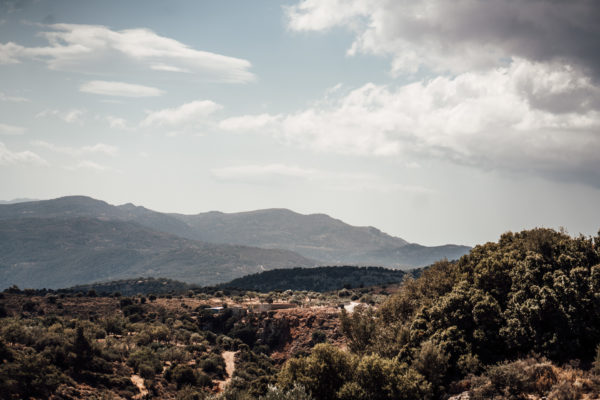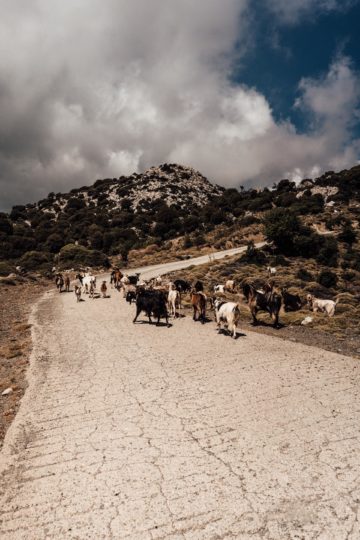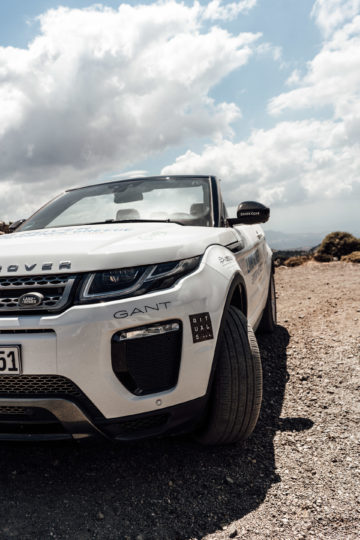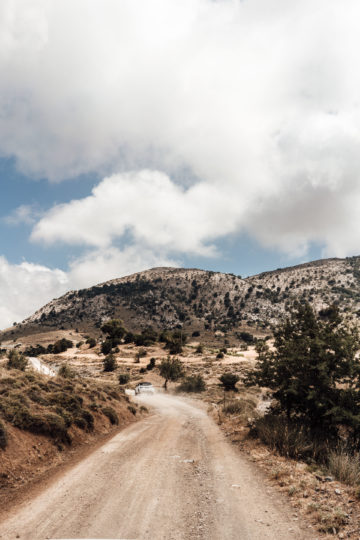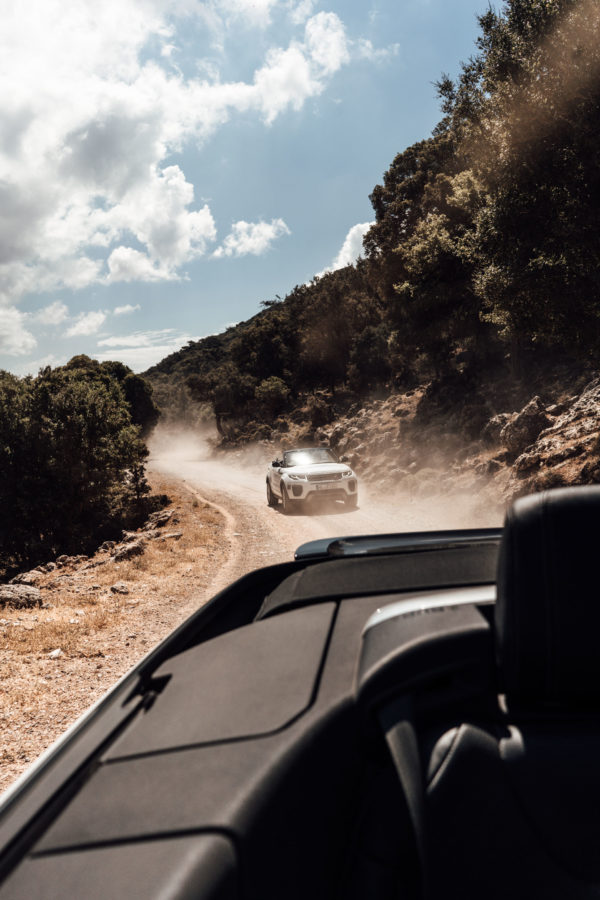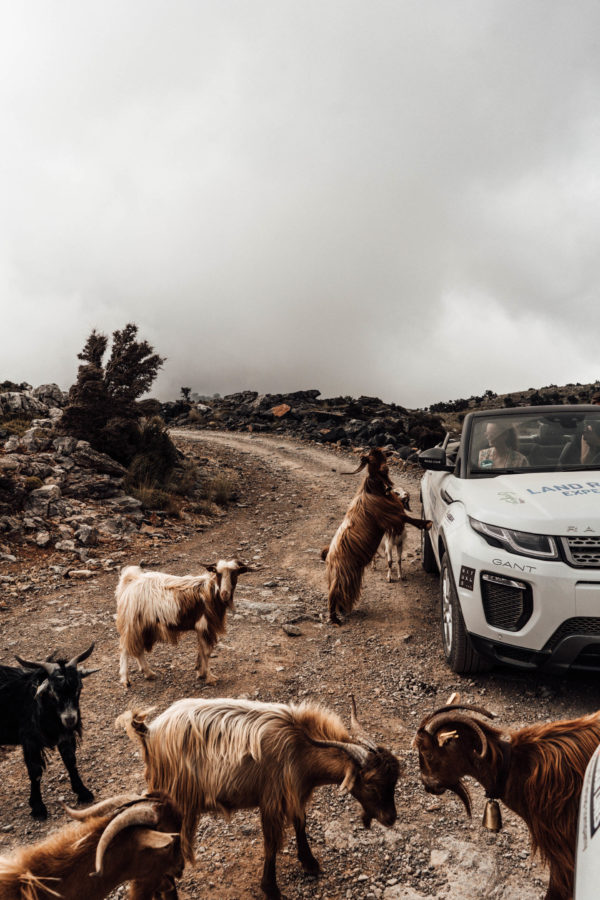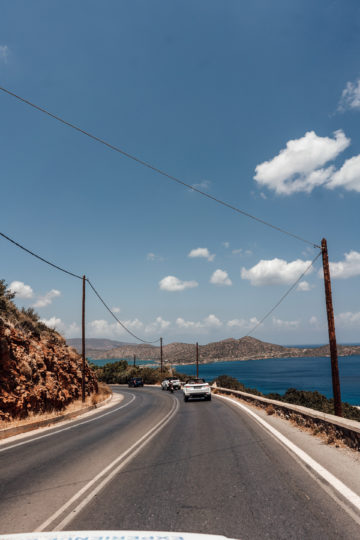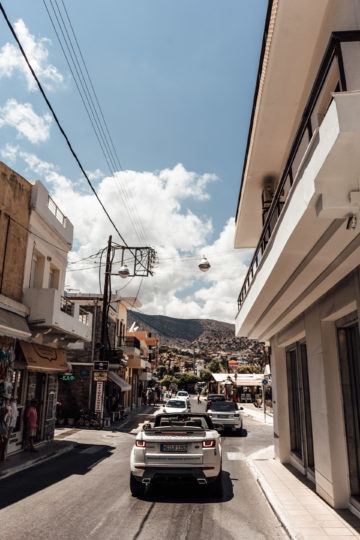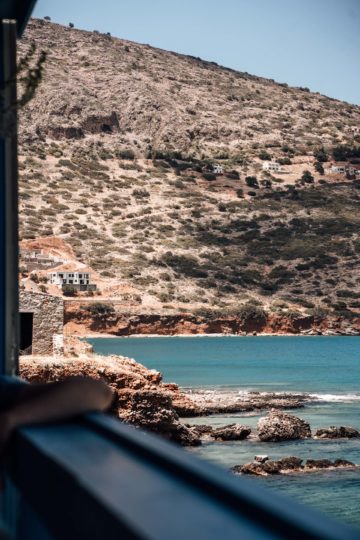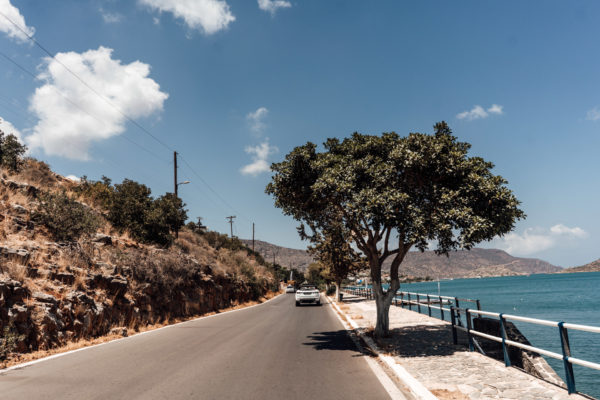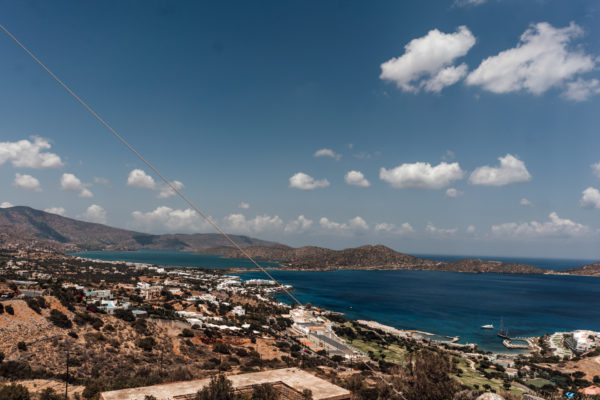 Chic GANT Roadtrip Outfit
As a contrast to the first GANT road trip outfit and suitably to the tour, did I opt for a chicer outfit for the second tour. I had this image in my mind when I was thinking about Cretan villages and the ocean and this outfit perfectly matched this image. I was wearing a striped shirt dress with a button-down front, black mule sandals and a straw hat. I have to admit, this might not look like a typical Jacky-Outfit, but I like it a lot. I felt so comfortable wearing it and I would definitely wear it again and again. And that's what is most important, isn't it? Oh and how perfectly does the outfit match the locations? 🙂
Which one of the two GANT outfits I was wearing while exploring Crete is your favourite? Also, I would love to know if you have ever been to Crete. If so, what was your favourite part of the island? What did you like best? If you haven't been to Crete, you really have to go, and maybe one of the Land Rover Experience tours is the right way to explore the island for you as well?!