Sharing new blog posts while I am in Copenhagen didn't work as planned. I wanted to share three new summer outfits with you, and I ended up publishing only one. When I sat at the airport yesterday, waiting for boarding of my delayed flight (Update: it got cancelled after two hours of waiting), I decided to get my laptop out and work on at least one more outfit post I could share this week with you. And here you go, here is another summer outfit that might inspire you for this weekends looks.
I was wearing this outfit a couple of weeks ago in Berlin. It was a warm and sunny day in the city, a weekend, and I didn't have a lot planned for that day. Usually, On days like this, I usually go for a very simple t-shirt and shorts combination. But that day I felt like adding a more eye-catching piece of clothing: the transparent shirt with puff sleeves. Continue reading, if you want to know more about this outfit.
Transparent shirt combined with black shorts, black sneakers and a belt bag
I got this shirt last year if I remember correctly, and I have been wearing it a few times since then. I love adding it to casual and simple looks to make them a bit more interesting. Transparent shirts or clothes, in general, are always eye-catching, especially when you are not wearing something underneath that covers most parts of your body 😉 I prefer to style this transparent shirt with a crop top, but it would also work with a nice bra or a bandeau. You could wear something colourful underneath to make the outfit stand out even more.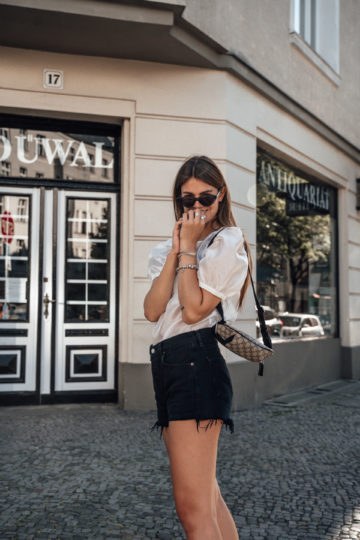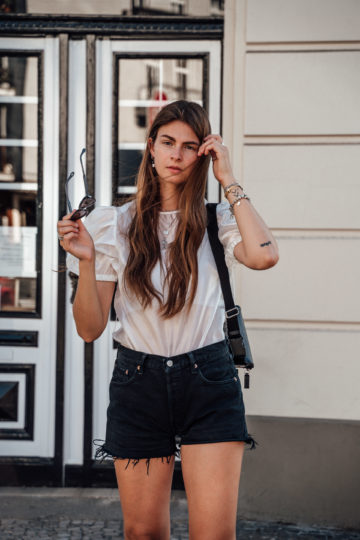 As I was wearing this outfit on a weekend where we had nothing special planned, I opted for a very simple look. I combined the white transparent shirt with a white crop top underneath as well as black shorts. I also added my black Balenciaga sneakers as they are also very eye-catching and I didn't want this outfit to look too boring. Last but not least, I grabbed a small belt bag as well as a pair of sunglasses, and I was ready to go.
Before I forget it, I did not only want to talk about the transparency of the shirt. Yes, something transparent is eye-catching itself. But a transparent shirt with bell sleeves is even more eye-catching and special. I think the sleeves are the actual reason why I like this short, or maybe it's the combination of the transparency and the bell sleeves. Also, I feel like these sleeves are coming bag as I've seen them a lot lately. I wouldn't mind seeing a few more bell sleeves or just shirts with not so usual sleeves on the streets. What do you think about it? Would you want bell sleeves to come back as a trend these upcoming seasons?
Leave me a comment and let me know what you think. Also, share your thoughts on this outfit with me. xx
*Ad, brands named – Gina Tricot Shirt || Levi's Shorts || Balenciaga Sneakers || Gucci Belt Bag || Chimi Sunglasses