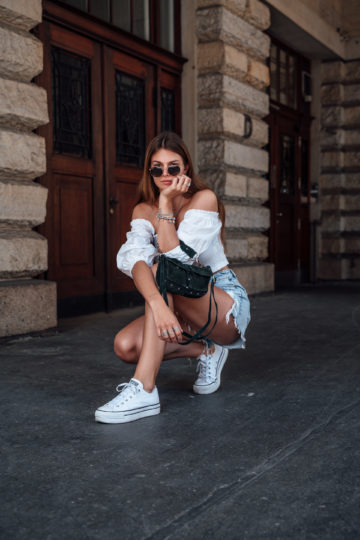 Today we are going back a couple of weeks to the days we spent in Hamburg. Yep, that's been a while, and I actually don't remember myself when exactly we were there. Also, we didn't take a lot of photos there, the outfit I am sharing with you today is the only one and since it's a very summery outfit and the weather in Germany wasn't very summery most of the time, I kept it unpublished a little longer to first share some outfits that suited the weather conditions a little bit better.
I could have shared it earlier as we always had some very warm days in between all these unsteady days with lots of rain and colder temperatures, but I didn't feel like doing it. Now that I am done with sharing all the outfits from Berlin Fashion Week and currently on my way to Copenhagen for Fashion Week (where the weather wasn't very summery as well), I feel like getting all the summer outfit posts ready and share them with you this week. So let's start with this look, it's my kind of summer uniform, the kind of look I am wearing a lot during summer in the city.
Combining denim shorts with an off-shoulder shirt and white sneakers
Summer in the city can be great, but sometimes it's also a little bit exhausting. Especially when it's almost 40°C and no wind, and you really don't know what to wear on a day in the office. When I don't have any meetings or events, I often simply wear sports clothes to the office or a swimsuit combined with shorts. But whenever I have to leave the office for an appointment, I need to dress up at least a little bit. And on these days this summer uniform is the kind of outfit I usually go for.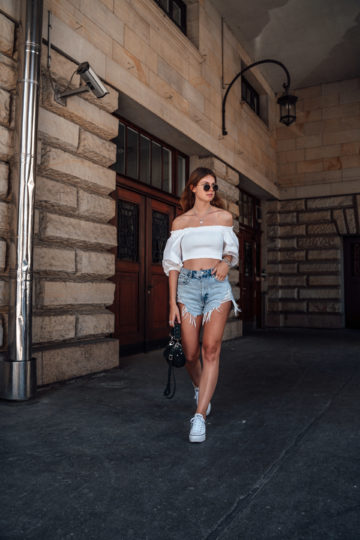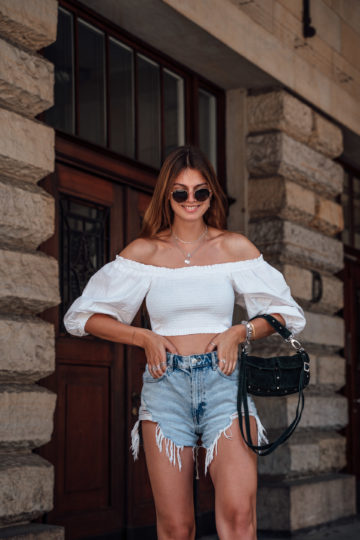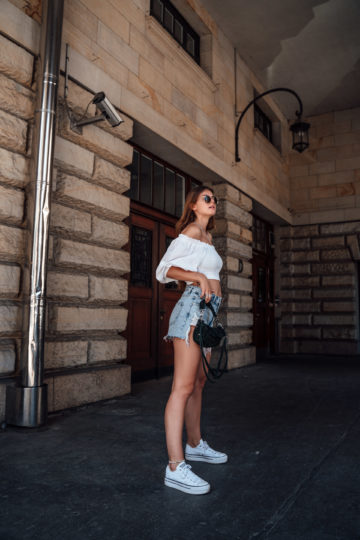 So on that day in Hamburg, I also had a meeting before we headed back home and I needed something that's chic enough for the meeting yet comfy enough for the car drive back to Berlin. I opted for a pair of denim shorts, an off-shoulder shirt, as well as white platform sneakers. Underneath the off-shoulder shirt, I was wearing a bandeau bikini, which is the best you can do on a hot summer day when you are wearing something off the shoulders and not wearing a bra isn't an option.
Also, do make this outfit appear a little bit more interesting, I added a few accessories such as this cute little green bag with studs, the pieces of jewellery I am wearing every day and the pair of sunglasses I like the most but don't wear often enough. The final outfit is comfy yet chic and not too warm for a summer day in the city. It was the perfect option for that day in Hamburg and the drive back to Berlin.
Extra tip: I do like wearing denim shorts in summer, but only when they are super loose. That's why I get my denim shorts at least one size bigger than I would actually need. That does not only go for denim shorts; I do this with most kind of shorts. It doesn't always work very well, but you just have to try it. Try on different styles and cuts and don't be afraid to get your shorts in one or two sizes bigger, it's only a size and doesn't say anything about YOUR size.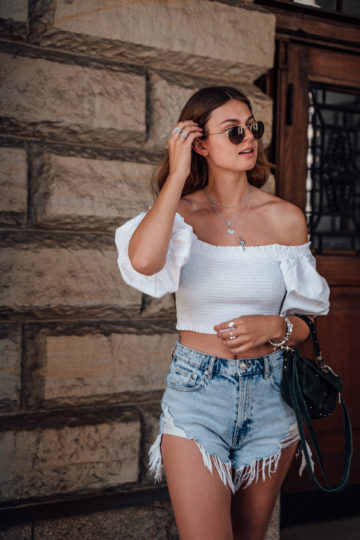 *Ad, brands named – Zara Shorts || Styleaddict Shirt || Converse Sneakers || UNLIMIT bag || Ray Ban Sunglasses || Onvacay Anklet