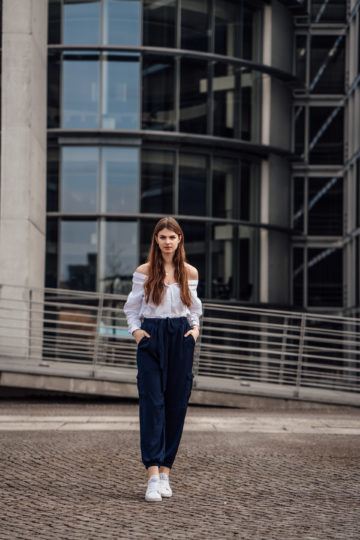 Happy Friday everyone! Who is ready for a fourth outfit post of the week? I promised it at the beginning of the week, and I am keeping my word. 🙂 I also tried to share as many different outfits as possible speaking of the style and combination. One of the outfits I shared this week was all about my new trench coat, the next one about a leather jacket combined with clothes pants and yesterday's outfit post was all about overknees and oversized hoodies.
So what will be the last outfit post of the week all about? If you have read the caption, you will already have an idea of it, but let me share some more details in the following.
How to wear your classic white shirt as an off the shoulder shirt
In today's outfit post I am sharing a style hack with you, and it is all about a classic white shirt. We all have these white shirts in our closet – well, we should have them in our closets, because they are essential. It is something we can combine with almost everything, it always looks good. But it actually has way more to offer. You can not only wear it the classic way, buttoned up with the sleeves rolled up or just straight down.
Another way to wear a white shirt is to wear it off the shoulder, and it is easy as 1,2,3. All you need is an oversized white shirt, the boyfriend cut works best, but you can also use a white shirt that is one or two sizes bigger than you usually wear.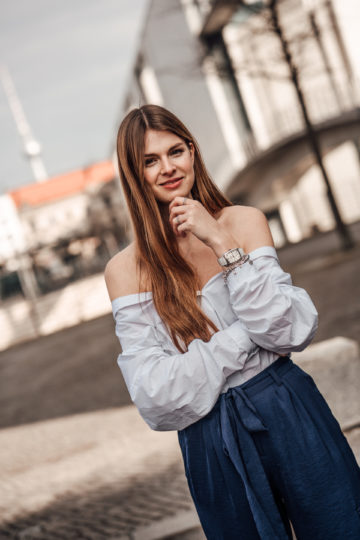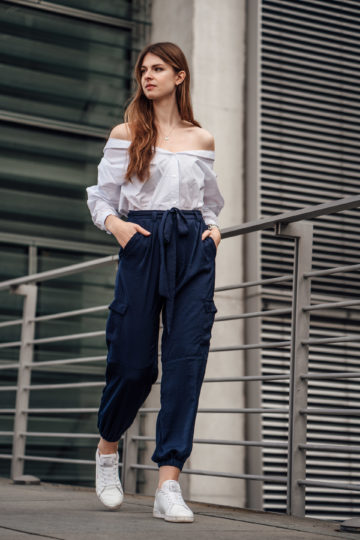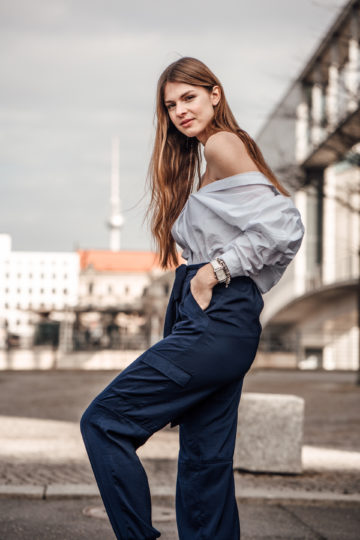 Put it on, unbutton the upper half of the shirt and pull it over your shoulders. I also would recommend tucking your shirt into the pants or jeans you are wearing, so it won't look too bulky in the back. And that's it. That's how you can wear your white shirt as an off shoulder shirt.
White Shirt, Blue Pants and White Sneakers
I combined my white shirt worn as an off the shoulder shirt with a pair of blue pants and white sneakers. The final outfit looks quite sporty but can transform it into a slightly more chic look by wearing high heels or flats.
This is only one way to combine this shirt. It offers plenty more outfit combinations. In summer I would combine it with a denim or leather skirt. For spring you can wear a pair of jeans instead of clothes pants and, of course, any other pair of pants or jeans works as well. I think it actually would look even better when you combine the shirt worn as an off shoulder shirt with a pair of skinny jeans. Add a pair of heeled boots or high heels to create a very chic outfit for a date, a very important meeting or for whenever you feel like wearing something chic.
How do you like this outfit? And what do you think about the way I was wearing my classic white shirt? Have you ever tried to wear it like this? Or do you have other ideas how to wear a white shirt? I am looking forward to reading your comments. xx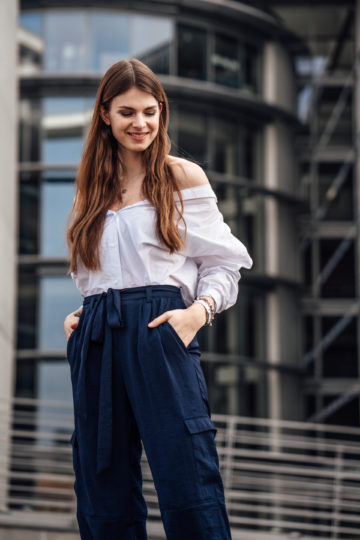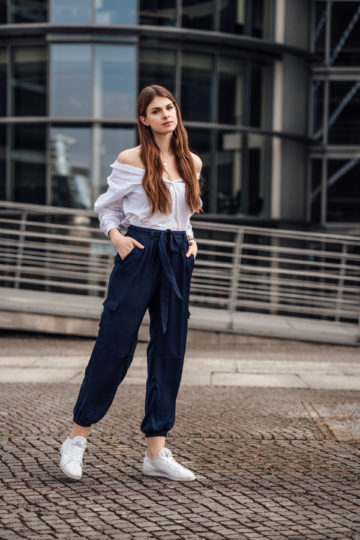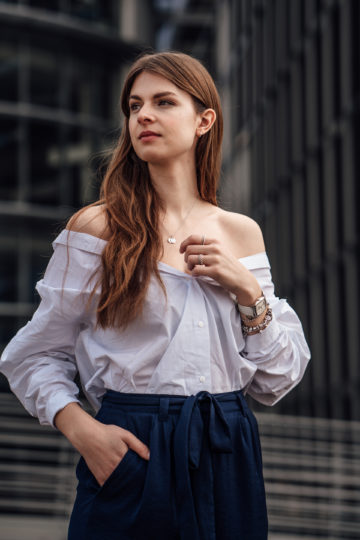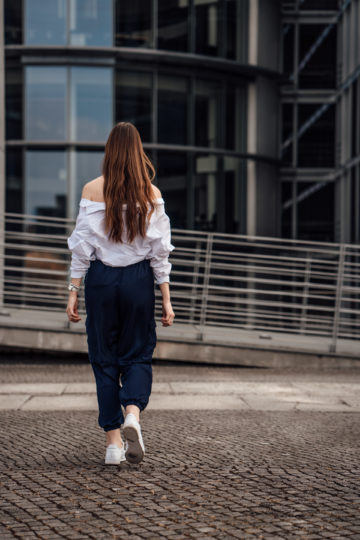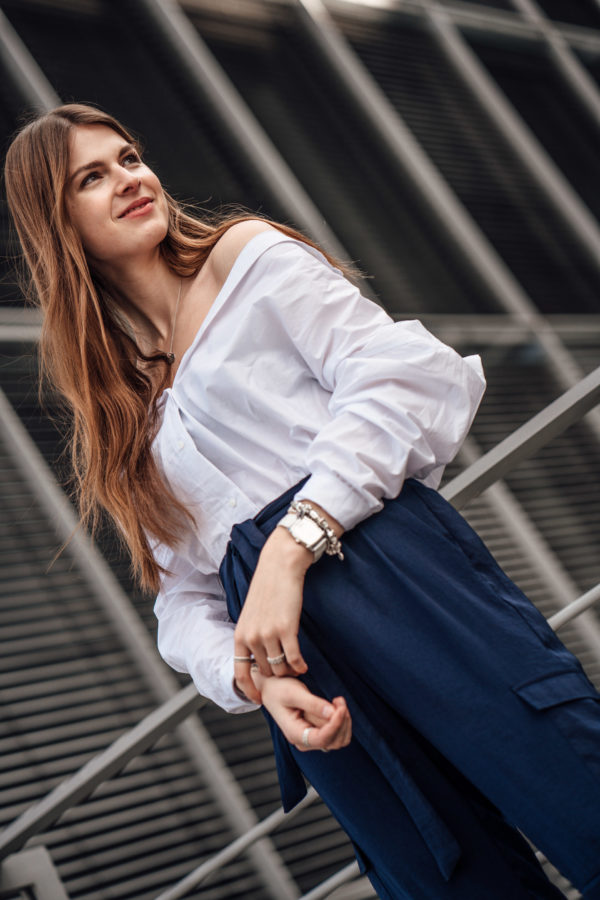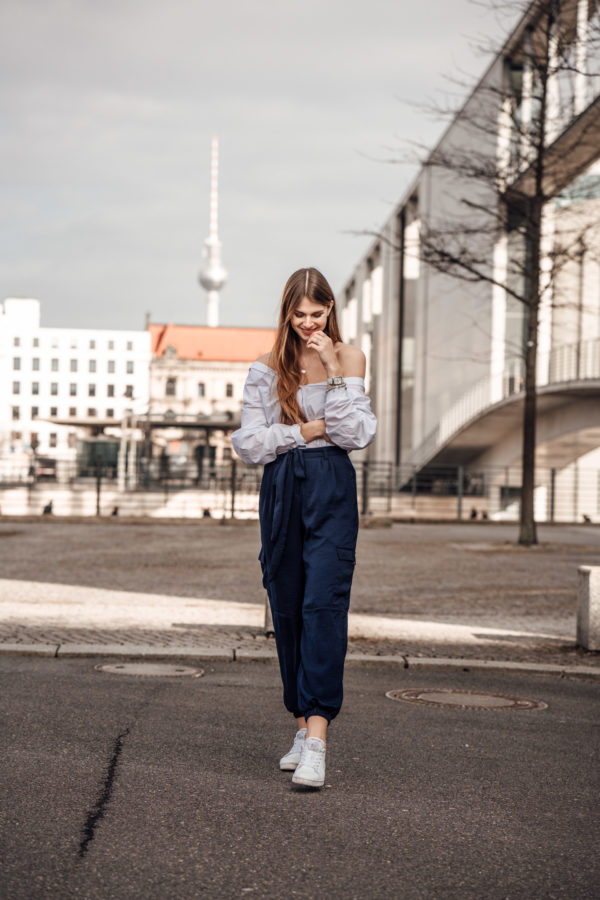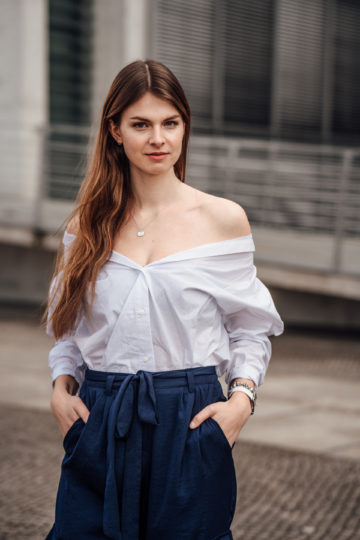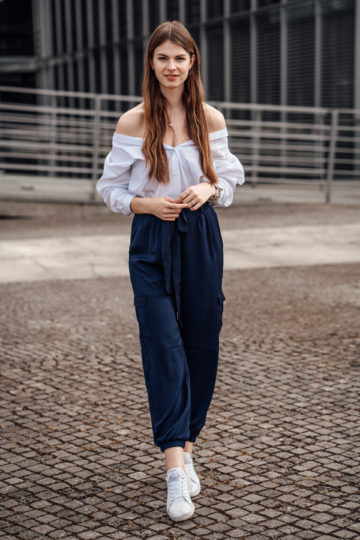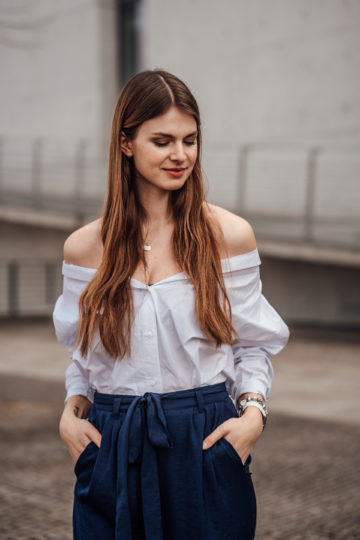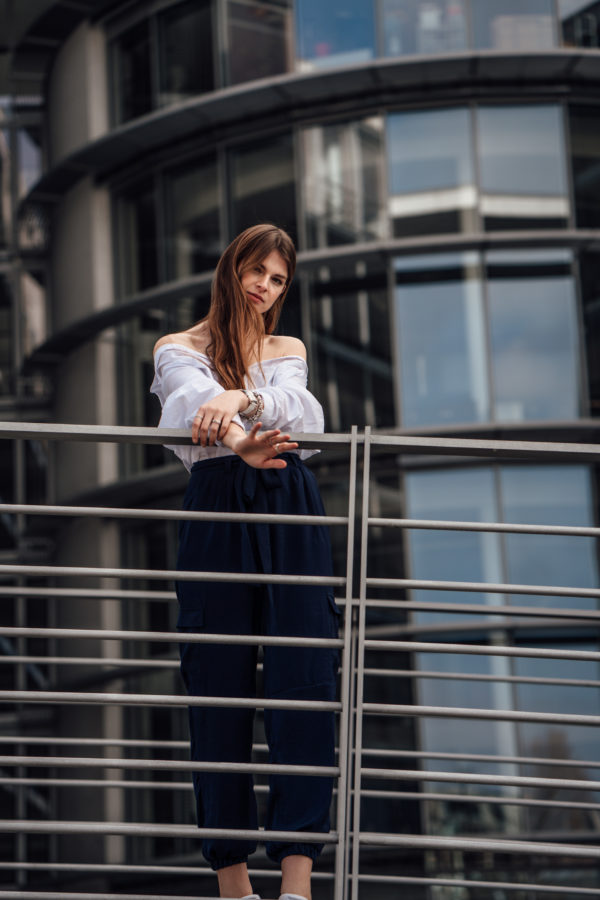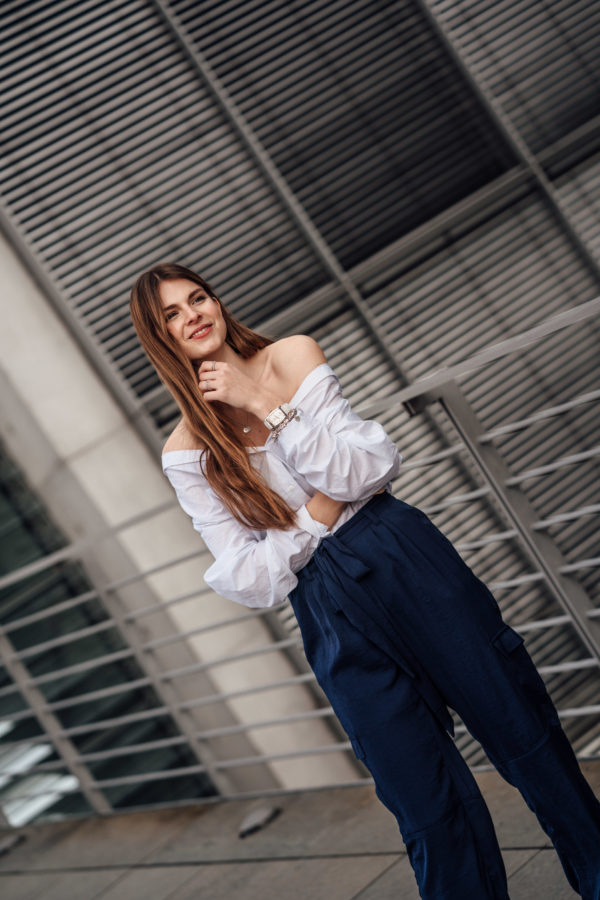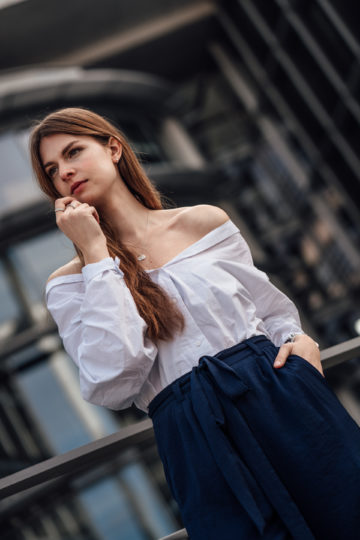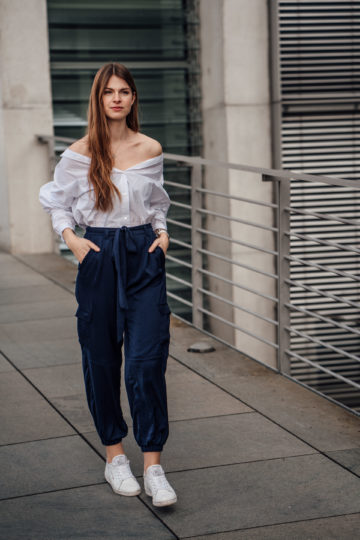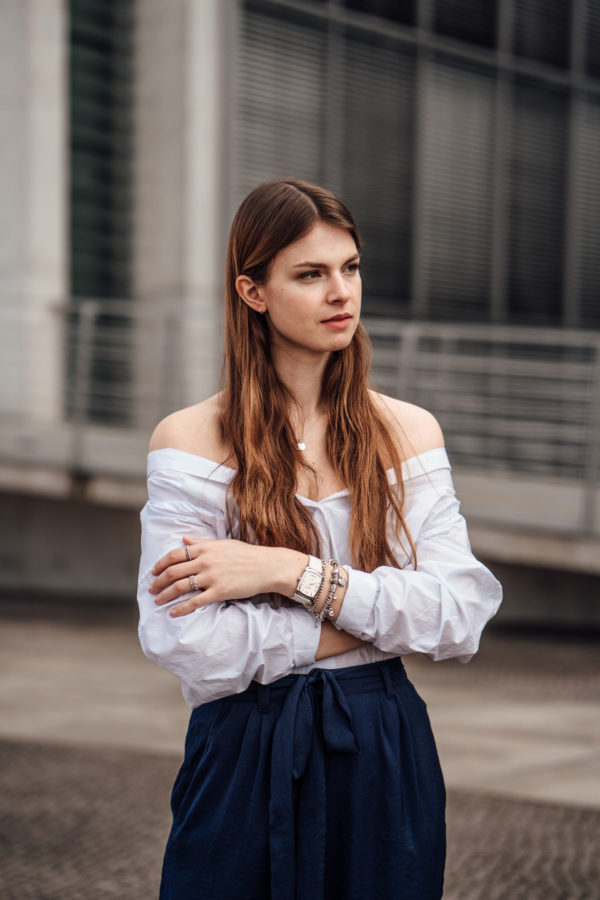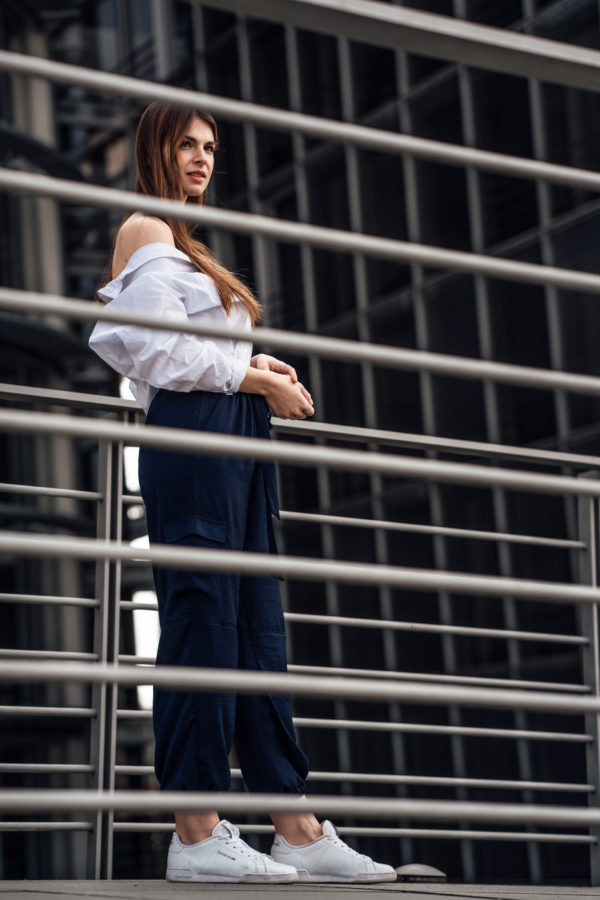 *PR Samples contained – Minimum Shirt || Missguided Pants || Reebok Sneakers