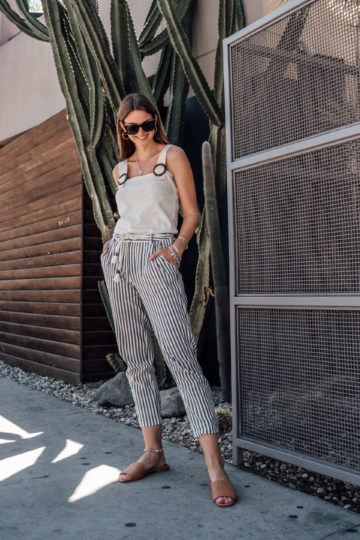 It's time to share the last post from Los Angeles before continuing with a few photos from Mallorca followed by content from Menorca and Berlin. As you know, I am very behind with the content, but since I spent the pasts months in summery places, the outfit I am sharing with you are actually perfect for the current weather in Europe as it is finally getting warmer here as well.
The last outfit from LA I want to share with you today is not as summery as the last two, but it is an outfit you can wear on a balmy summer day or one of these last spring days,
Striped pants combined with a beige top and brown slides
When it comes to striped pants, I can't decide whether I like them or not. I've tried many striped pants the pants years, and I liked some of them and others I didn't. Sometimes I even wear them two or three times before I decide that I don't feel comfortable wearing them. But this really depends on the pair of striped pants. I wore the striped pants I had with me in LA twice already and so far, I do like them, and I still feel comfortable in them. Let's see, if this changes after wearing them two more times haha.
I wish I could tell you what you need to know when you want to get yourself a pair of striped pants, but I don't know myself – not yet.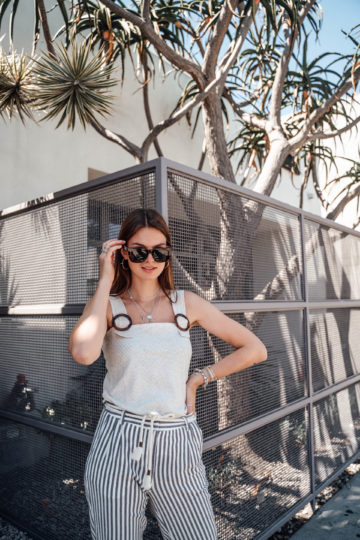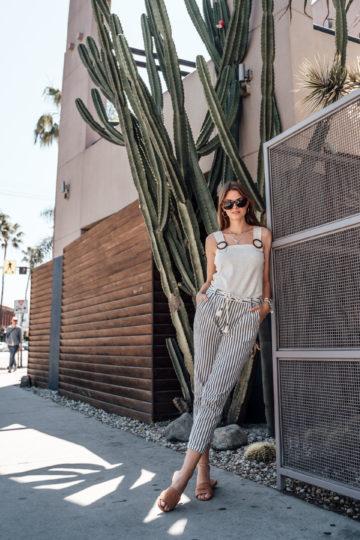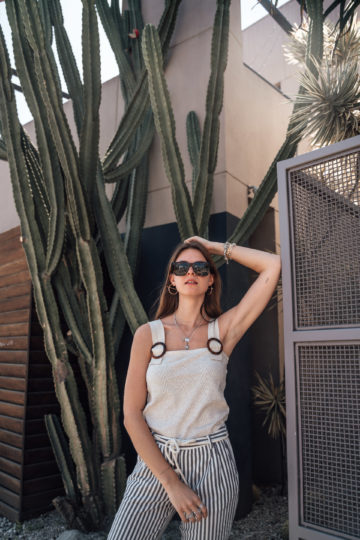 I think you definitely should choose the simplest pair of striped pants you can find when you are in doubt. And simple means that they shouldn't be too colourful or have stripes in different widths. If you know, what always works, don't hesitate to leave me a comment and let me know. 🙂
Let's get straight to how I combined these striped pants when I was in LA. I didn't feel like wearing dark shades and decided to style the pants with a beige top and brown slides. And I just realised that I was wearing my brown slides almost every day in LA and every of the last three outfit posts. But that just shows that they work with a lot of different outfits and are the go-to piece when you are looking for a pair of shoes you can always bring on vacation and wear when you don't know what to wear.
The top is one of my current favourites because I do like the colour a lot as well as the fabric and the detail in the front. I styled it with a pair of green leather pants the other day in Berlin, but it would also work with denim, black or white. You can actually even style it with more colourful pieces as well such as orange or red, lilac or a brighter green. I think I might try some more outfits with this top and maybe share some of them on the blog. 🙂 Is there anything, in particular, you would like to see?
I will also style the striped pants a couple more times the upcoming weeks to see what works as well as if I will still like them afterwards or if it's just another pair of striped pants I will sort out after all.
*Ad, brands named – Yargici pants || Yargici top || flattered shoes || Mr Boho sunglasses